Twice a year, these ephemeral masterpieces emerge, like the changing seasons, in limited-edition collections that captivate and inspire. Each piece is a testament to the fusion of imagination and craftsmanship, breathing life into the world of fashion with every stitch and contour.
In a world charmed by the captivating allure of black, where fashion revels in the intoxicating embrace of simplicity, H&M Studio's A/W23 collection emerges as a beacon of elegance in restraint. It's a dark symphony, a celebration of shadow and silhouette that dances to the tune of a thrilling new mood – one of dark glamour. Drawing inspiration from the enigmatic sophistication of iconic horror movie and film noir heroines, this collection is a canvas of stark-black opulence. Sharp tailoring, like a finely honed blade, finds its counterpart in meticulously sculpted silhouettes, as if each piece were a work of art. Wardrobe staples, bedecked with shimmering embellishments, stand in stark contrast to the sleek and polished accessories that adorn them.
Prepare to step into a world cloaked in the mystique of noir; where darkness unfurls its wings, and elegance speaks in hushed tones. The H&M Studio A/W23 collection, an embodiment of this timeless allure, will cast its spell in selected stores and on hm.com starting from the 28th of September.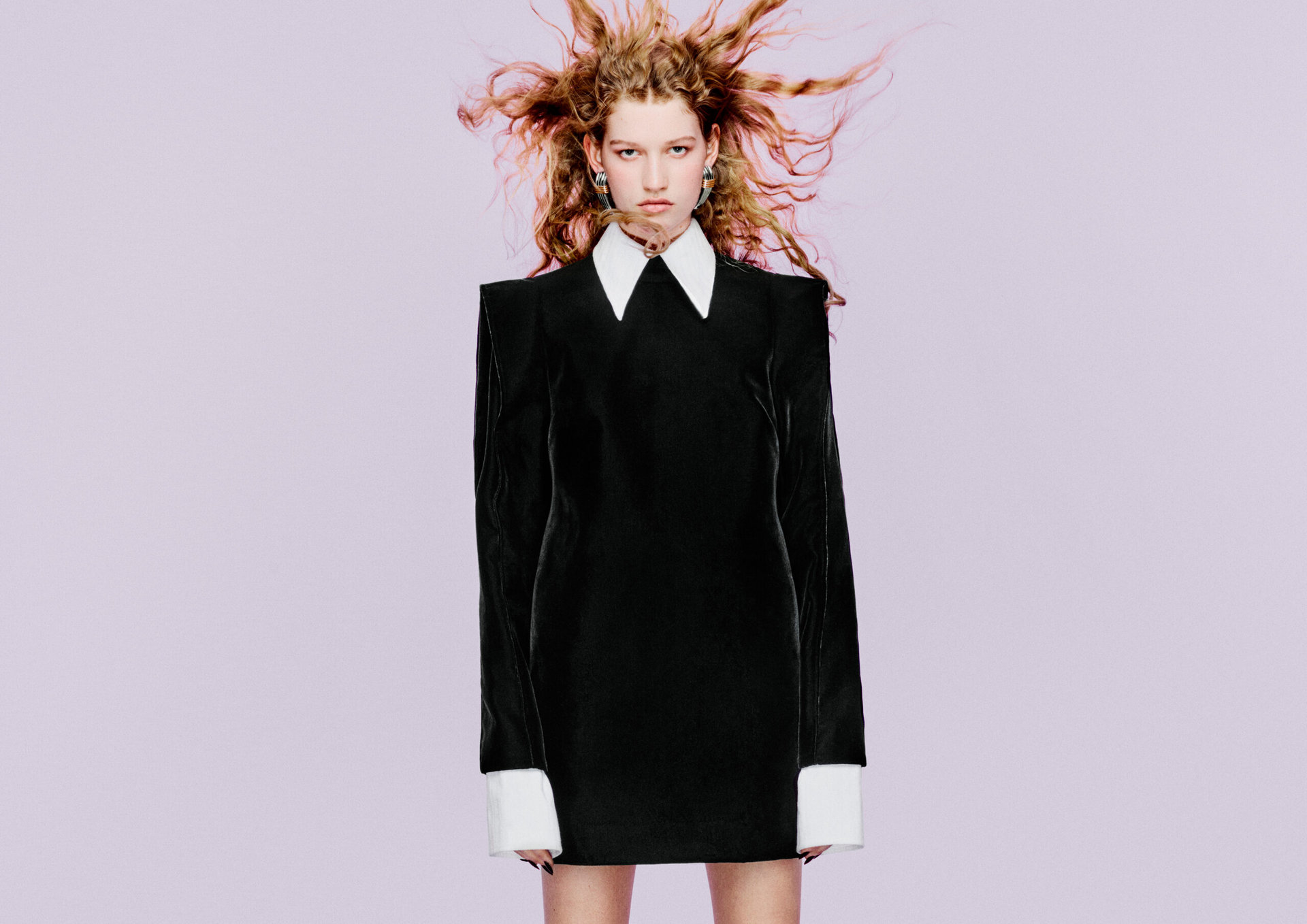 KEY PIECES:
Decisive, daring, and tailored to perfection, the A/W23 collection is designed to hold your audience captive. Make an entrance in a floor-sweeping tailored black coat, its nipped-in waist hinting at feminine allure. Prepare to dazzle in dressed-up denim, with low-slung jeans decorated with champagne-hued rhinestones. Embrace the forever appeal of a bright-white shirt, its crisp neckline punctuated with an oversized bow, then lean romantic come nightfall with a sheer tulle top with a ruffle-adorned front and sleeves that flare at the wrist. Or simply pull on a black A-line mini dress with a razor-sharp white collar that cuts through a crowd in singular style.
ACCESSORIES:
Sleek nappa leather boots with a sculptural heel have the power to elevate everyday looks, alongside a padded cushion-clutch bag with a detachable strap in black leather. The latter is one of several favourite pieces reissued from the H&M Studio archive, which marks 10 years with this A/W23 collection. Meanwhile romantic-with-a-twist lingerie taps into an opulent mood alongside jewellery, with chunky metallic earrings and a choker necklace lending a gently gothic edge to even the sweetest of looks.
FABRICS :
A sophisticated colour palette of inky black and bitter chocolate-brown is offset with flashes of turquoise and lilac. When it comes to fabrics, the collection heroes durable, high-quality compositions with the majority made from more sustainably sourced materials. In accessories, chrome-free leather has been used for bags and shoes, while post-consumer recycled brass, recycled zinc and recycled steel contribute to jewellery.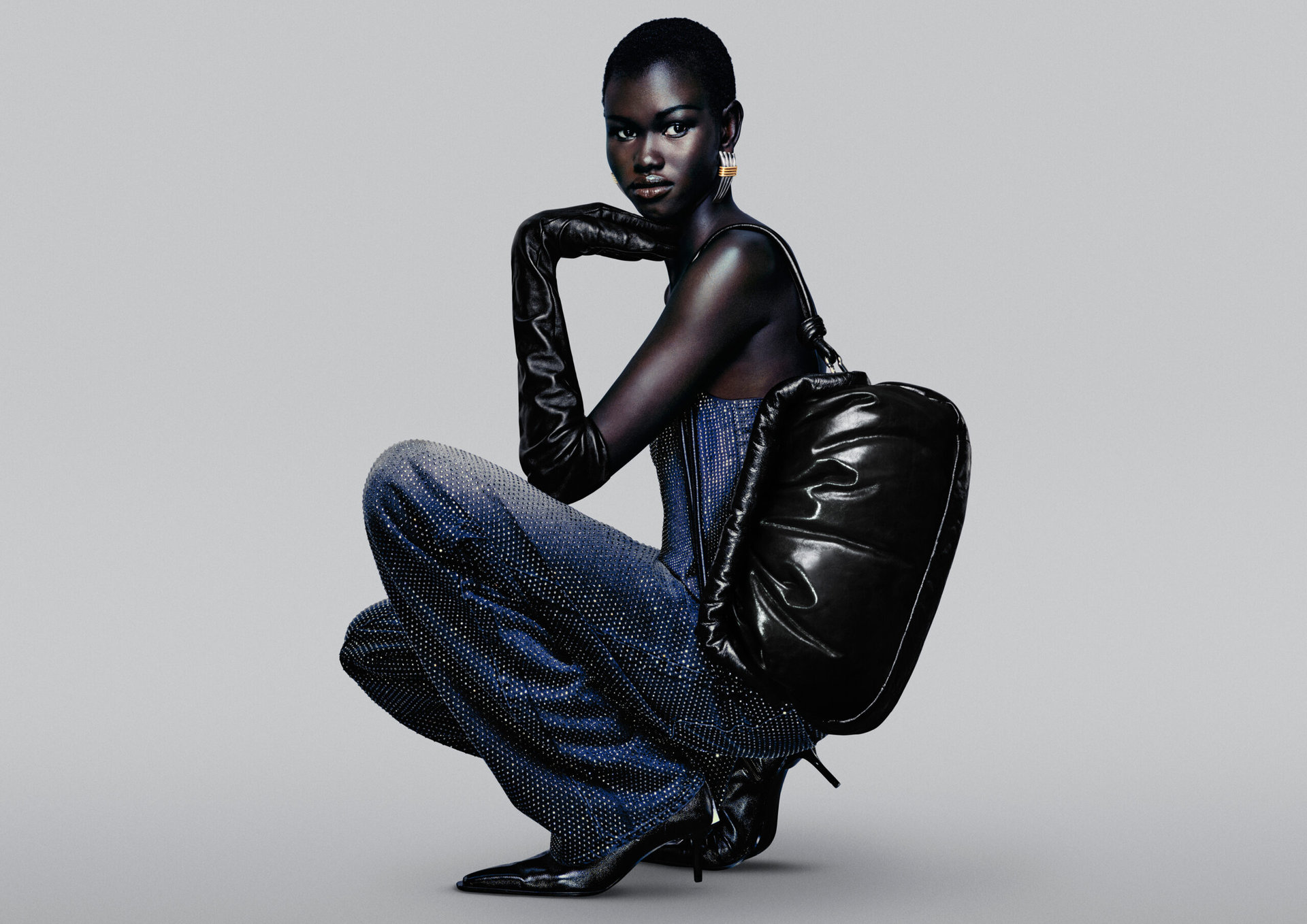 "Enthused by the current resurgence of horror movies, as well as fashion's decisive move back to black, the design team wanted to create a pared-back collection for A/W23 that nevertheless felt inspiring. With strong silhouettes and bold shoulders, the collection is full of worthy wardrobe investments, but it has lots of glamorous, feminine details that make it feel endlessly exciting too," says Ann-Sofie Johansson, creative advisor at H&M.
"The thrill of watching mystery dramas got us thinking about the thrill that also comes with an incredible fashion investment. We wanted to find a balance between versatile, futureproof pieces you can wear anywhere and special-occasion looks that make your heart beat faster," says Linda Wikell, concept designer for H&M Studio.
ALSO READ: PETER DO-ES HELMUT LANG FOR THE FIRST TIME IN NYFW AND HERE'S ALL YOU NEED TO KNOW.