"There is definitely an element of fun in the brand," Serge Brunschwig, the CEO of Fendi, tells me as we sit amongst the brand's bold creations in its newly reopened boutique in The Dubai Mall. "Fashion should be fun. We as a luxury house shouldn't take ourselves too seriously."
And if the mantra of the brand is to have fun, then it's coming from the top as sitting with Serge for 30 minutes was right on message. Charming, friendly and self-effusing, the businessman chatted with an ease that can only come from years in the business. Serge has worked at LVMH since 1995, most recently spearheading the menswear department at Christian Dior. Now at Fendi, Serge is embracing the brand's heritage with a thoroughly positive view of the future with plenty of laughs along the way…
You've been with Fendi for nine months, what are some of the key changes/developments that have happened in that time?
Not much (laughs). What can you do in nine months? (laughs). We are preparing the future. I have a bit of experience in this business now, which the colour of my hair can testify to, but the first thing you do when you join a fantastic brand like Fendi is to just understand what makes it strong, what works, what is there that you don't find somewhere else. And to communicate strongly on that to the people inside. This is the main thing. Then suddenly you realise what the brand is about and what you should invest in to make what you're strong in even stronger.
What have you found that Fendi is strongest in?
What is super strong at Fendi, first is the people, the teams, their passion for the brand. At the end that's everything that a brand like Fendi is; passion. And the passion from the people making it hopefully is transmitted to the entourage of the brand — the press, the clients — that's what makes it so strong. And we have many opportunities to judge it.
The Journée Particulières event which for me was a big moment because in our Palazzo in Rome to get all the Metiers, the crafts, of the brand reunited for the first time… In Italy you have the shoes in one place, the bags in another, in regions and those regions were united into Italy not so long ago. It's a bit older than the Emirates! (laughs). So these regions reunited in the Palazzo della Civiltà Italiana which was built [in 1943] to demonstrate the strength of the Italian culture. To bring all these pieces of Italian craftsmanship and culture into the palazzo and show it to the public was super strong. Some of the craftsmen stayed for three weeks and explained from 11 in the morning to eight at night, every day, how they were cutting the piece of the crocodile skin to make a certain bag and I don't think once they explained it without heart, and without showing how important it was. That's wonderful. 16,000 people visited, two thousand students, and they left with an extraordinary impression, not just from the physical display but the interaction.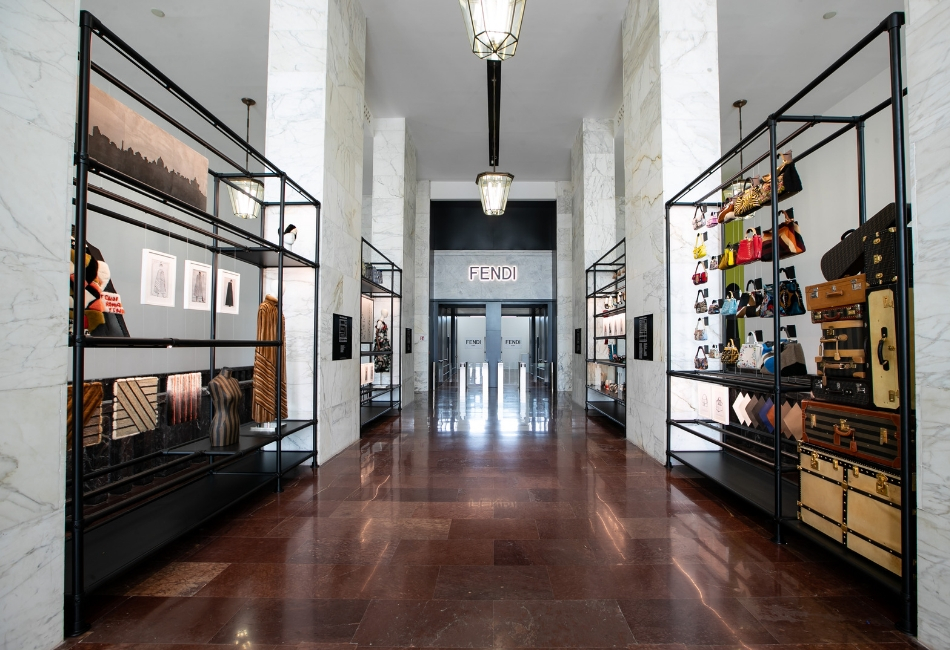 How important is the Middle Eastern market to the brand?
The Middle East is by definition important. They are wonderful people who have money and are happy to spend it on beautiful things. I come from a haute couture house where I was for 10 years so I know extremely well who is the clientele and their main clients were from here. It's super, and it's very important for us [because of the couture pieces we have]. So for us having very strong couture DNA in this market is super key and here we absolutely have to express the most creative [aspects of the brand]. That's why when we reopened the store, it was super important to position it at our level, and I think this market will love it. For example, we didn't put the FendiMania collection in this store. We had in Mall of the Emirates but in this store, we wanted to send the message of couture.
How did the collaboration with Fila come about? What was the thought process behind it?
Have fun! (laughs). It's always like this. The story really started when Silvia was following Hey Reilly on Instagram. He created this Fendi logo with the Fila colours so she gave him a call (laughs). That's how it all started. In the end, is there a marketing strategy? No. It's genuine, it's creative, it's showing an aspect of the brand — let's do it! And that's another strength of the house that it is extremely fast and flexible and happy to innovate and do something new.
In the most recent report by Lyst, it found that searches for the Fendi logo increased by 16 per cent month on month as a result of Kim Kardashian West wearing the monogram head to toe. What is the brand's celebrity strategy? Or is it more organic?
It's both. With Kim Kardashian, taking this example, we did one operation with her which was the Me and My Peekaboo which was organised. And then there are other times where she sees something and she likes it, then good! (laughs). She's authorised to wear it! (laughs).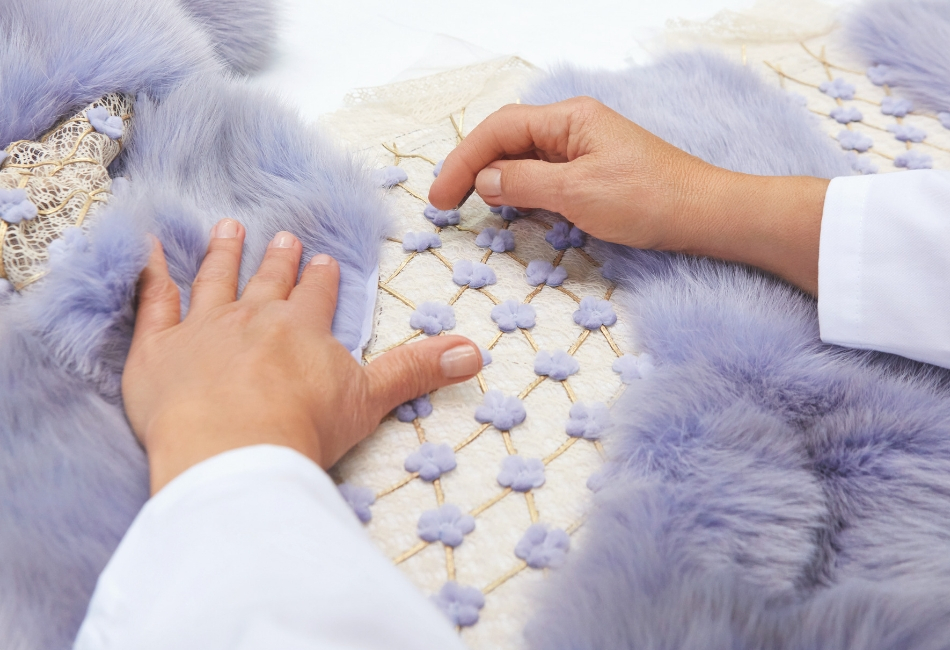 Fendi is known for its incredible furs — in the wake of seemingly growing consumer resistance to real fur, would the brand considering going fur-free at any point?
We have fur heritage and this extremely special way of working with fur. It's also possible to use this technique on other materials like silk, organza and wool and get an effect which would be close to fur. And we've done that at the July couture show. This show was an extraordinary demonstration of how we can mix fur with some other ways to express the savor-faire of the brand.
One thing is that, there was absolutely nothing synthetic about it. All of the materials we use are natural materials from animal (if you're talking about silk or wool) but absolutely nothing synthetic, nothing from the petroleum industry. So we are very comfortable using fur, using these other possibilities that our savoir-faire allows and offering customers what they want but nothing synthetic. We are very specific about this. We're very comfortable with what we are doing and the customer is free to do what they want.
And there's a demand for it?
There's a big demand for it which is increasing. There is a little bit of talk from time to time… the people who don't make fur say very loudly that they stopped doing fur because they don't do it [to begin with]…. (laughs). That's easier! They stopped before they started. So you know at Fendi we stopped making automobiles… (laughs).
What comes next after the first nine months?
Well what happens after nine months in general right? (laughs). There's a lot to do and there's always new ideas to grow and to develop in what identified as the main strengths and assets of the brand — it's savoir-faire, it's competence in creating beautiful objects, what else could we do?
The new Fendi boutique is now open in The Dubai Mall.