It's no secret that Crazy Rich Asians is one of (if not the) biggest films of the year. It's the most successful rom-com in America in a decade and has won praise from Hollywood and beyond for its dead-on, self-depricating depiction of the upper echelon of Asian society. Natalie Wong was brought on as a Fashion Buyer for the film and has spoken exclusively with Buro 24/7 Middle East about the fashion fairy tale…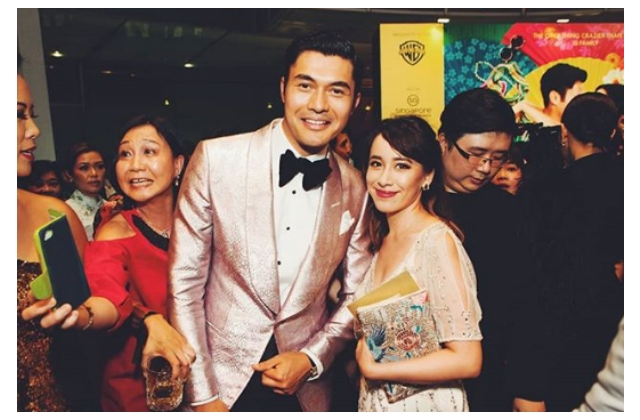 How did you land this incredible role as a fashion buyer for Crazy Rich Asians?
I was brought on board by Andrea Wong. Andrea was the former Editor-in-Chief of ELLE Malaysia and the fashion consultant for the movie. I met Andrea when she came to Hong Kong on a buy trip. It was an amazing experience to work with such an incredible team. I got the chance to work closely with Mary Vogt, who has about 25 years of experience in the film industry. Mary has worked on films like Hocus Pocus, Men in Black and Batman. Mary was also the designer that created Michelle Pfeiffer's iconic catsuit in Batman.
What did your role as a fashion buyer involve?
My role involved sourcing clothes and accessories for the main female leads — Rachel Chu, Astrid Leong, Peik Lin and Eleanor Young.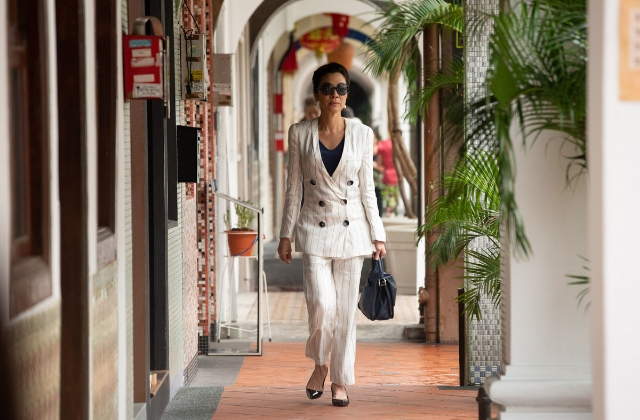 Where do you even begin sourcing outfits for a movie like Crazy Rich Asians?
The team held discussions with Kevin Kwan, the writer, to better understand the characters and we made lists of different designers and potential looks each character would lean towards. But it was also important that the actress wearing the outfit felt like they could portray their character authentically. It was a very collaborative process between our costume team and the particular actress when it came to choosing the outfits.
How much did you have to follow the book when scouting outfits, if at all?
It is challenging to strictly follow the exact brands and outfits that were mentioned in the book. That particular brand that a character wore in the book may not be available or sold out. The Crazy Rich Asians novel was released in 2013 and from a fashion perspective, it's important to find looks that connect with a contemporary audience in 2018.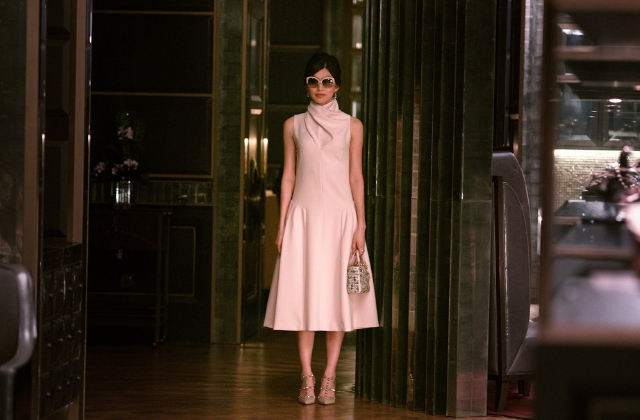 Were fashion houses responsive when you approached them for clothing?
Yes they were! Especially when some of their in-house marketing team were big fans of the book. Ralph & Russo, Ellie Saab and Marchesa were very generous and they lent us some exquisite dresses. Mary received a call from an executive for Ralph Lauren in Asia, asking if the team would consider any of the couture looks for some of the actresses. We thought we would be sent maybe two or three, but we ended up receiving around thirty!
How many pieces were already made versus how many did you have custom created for the movie?
Most of the outfits were already made. It was important to stay authentic to the story and the characters. In real life, these women would have made trips to the major high-end boutiques to purchase their clothes. For Astrid, we used a lot of Dior and Valentino. The Stella McCartney prints looked great on Peik Lin. For Eleanour Young's character, you will see her wearing a lot Giorgio Armani and Carolina Herrera.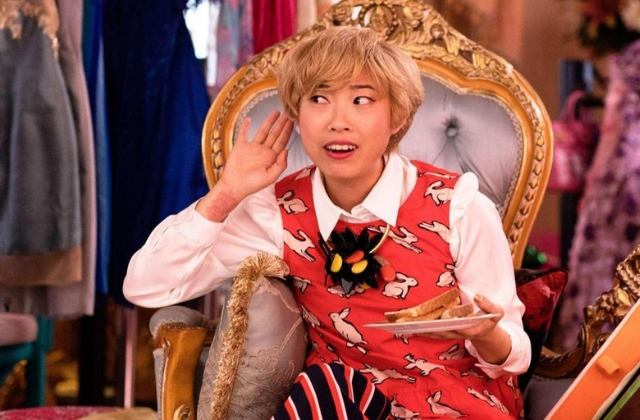 To make sure we stayed authentic to the world of Crazy Rich Asians, we researched the style Peranakan Chinese culture. Peranakan Chinese are descendants of Chinese immigrants who arrived to the Malay archipelago between the 15th and 17th centuries. We contacted the Peranakan Association and women from the group actually feature in some film scenes wearing historically-accurate outfits.
The biggest custom piece was Araminta Lee's wedding dress. The dress was made in Kuala Lumpur and there were 30 ladies carefully placing thousands of crystals on the dress. The design was complex and the team added this beautiful embroidery on the skirt to enhance the texture and shape of the fabric. The dress was actually a jumpsuit made of stretch tulle and embellished with gold Swarovski crystals, with the skirt sitting on top of it which was attached to the bodice. On the first layer, there is row of marabout (a special type of down feather trimming) that we dyed to match the dress to give it that Swan Lake feel. Mary took inspiration for the wedding dress from Sonoya Mizuno's (the actress portraying Araminta Lee) professional background in ballet.
It translated very well on-screen, the dress had great movement when Araminta walked on the water wearing it.
In your mind, what's the most incredible piece of clothing in the movie? My personal favourite was Rachel's dress at Colin and Araminta's wedding…
Yes so that dress is also my favourite! Jon Chu, the director, wanted that 'Cinderella dress' because it really is like a fairy tale for Rachel. For the team, that dress was the most important look and I remember searching everywhere for 'the one'. We knew early on that we wanted a dress that had a light coloured egg-shell blue tone. We had seen some red-carpet photos of Constance wearing this colour and thought it looked divine on her. Constance actually sent the team a picture of that Marchesa dress and everyone was sold when she put it on. For the movie, we customised it a little by removing the original gown's sheer sleeves.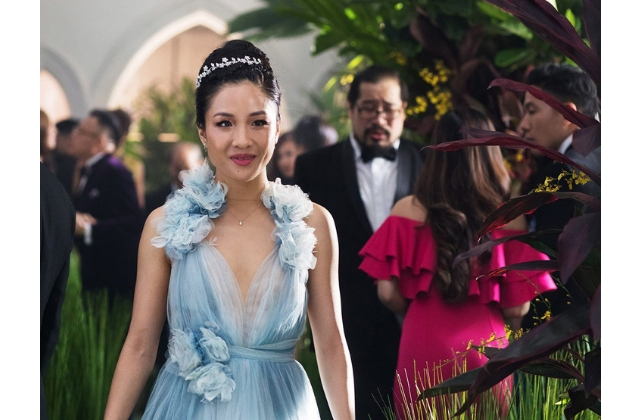 The film has blown up internationally — was there a sense that this might be the case on set when filming?
As a British Born Chinese, I recognised the importance of the film within the Asian communities living outside of Asia. However, I did not anticipate the global phenomenon it has become. I was completely overwhelmed by the amazing support from so many people around the world. I saw friends buying thirty extra tickets for complete strangers to see the movie. I saw some people buying out entire theatres and some were using the platforms available to their own businesses to promote the film. It was incredible.
Mary received a call from an executive for Ralph Lauren in Asia, asking if the team would consider any of the couture looks for some of the actresses. We thought we would be sent maybe two or three, but we ended up receiving around thirty!
What's the fashion lesson to be taken away from this film in your mind?
I've always believed that what we wear is a non-verbal communication to other people about how we want to be perceived. What we choose to wear is a powerful form of self-expression. The ugly side of fashion however is that some people will negatively judge by what you wear. Especially in certain circles in Asia, you get treated differently depending on whether you are carrying the latest or most exclusive handbag for example. Expensive clothes and accessories are a signifier of wealth and status for many people. Rachel seeks help to boost her style credentials to fit into Singapore's elite. That's true for a lot of people, wanting to belong to something and not be an outsider. For me, the fashion in the film is super fun, glamourised and eye candy to the max. It is a rom com! But wealth, and all its material trappings aren't everything. There are more important things such as love, trust and respect, as both Rachel and Nick ultimately remind us.
Now, discover what The O.C.'s costume designer had to say about dressing Marissa Cooper in the early days of the show.