The deadly explosions that took place in downtown Beirut on August 4 will forever bring us heartbreak. Since then, the city has been hit hard by widespread destruction, homelessness, death, shattered dreams and hopelessness.
Bringing damage to Lebanon's creative industry, they were quick to rise and rebuild Beirut. The Lebanese-Australian footwear designer, Katrine Hanna, although based in Dubai, was affected too.
"We are all affected by the blast, both mentally and physically. My home in Gemmayze was severely damaged along with the homes of my family and friends," shares designer Katrine Hanna. "Beautiful memories from every corner of Gemmayze and Mar Mikhael are destroyed. The damage psychologically and emotionally cannot be measured. It is utterly devastating."

To help those in need after the blast, the eponymous label released a limited edition of Carmen — a stunning footwear design inspired to be the perfect shoe to slip on for a drink in Beirut after a long day at the beach in Batroun, Lebanon. It comes adorned with curvy straps that mimic the wave ripples and colours, turquoise and deep blue, of the Mediterranean.

"Carmen is one of our best sellers, particularly in Beirut. It sold out within a month of its arrival in the city," adds the designer.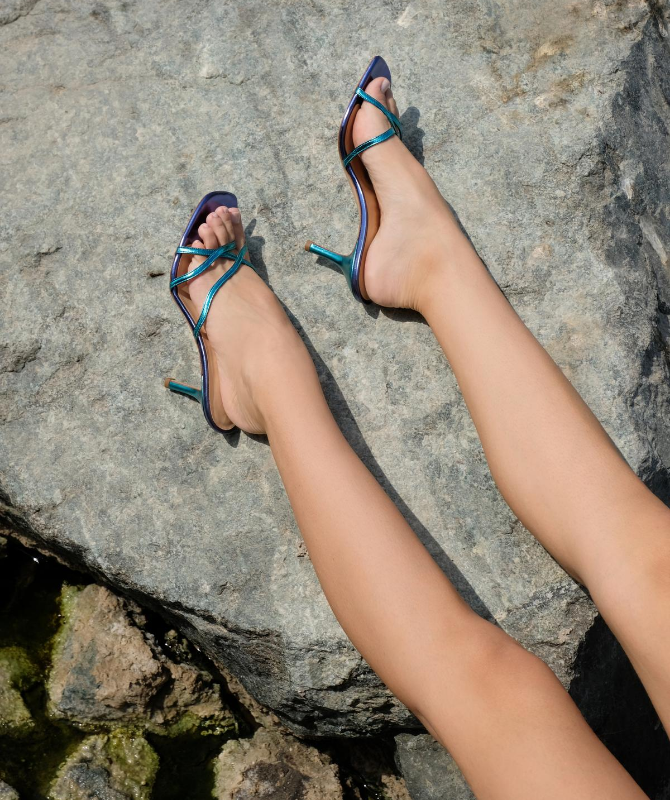 Katrine Hanna had her eyes set on opening a store in the Gemmayze district, but with those dreams now on the back burner, all we can do is remain hopeful. "The political and economic situation in Lebanon prior to the blast was already greatly impacting sales in Beirut. My shoes were displayed at Boutique Hub, Label Queen and previously Plum, who have all been suffering due to these factors and additionally were damaged in the blast. We all need to take this time to be grateful for what we have left, pick up the pieces, and grow into something better and greater."

40% of the retail price will be donated to the Emirates Red Crescent for the Lebanese Red Cross, to help those in need after the blast. This donation is licensed by Islamic Affairs and Charitable Activities. License no 3186.

Free worldwide shipping of Carmen can be made on katrinehanna.com.

Now, discover Dubai-based artist, Suzi Fadel Nassif's tribute to Beirut.