The sun is out, the foliage is in full bloom and the anticipation for the annual Metropolitan Museum of Art's Costume Institute Gala (Met Gala) has never been greater.
This year's theme, "In America: An Anthology of Fashion", is firmly embedded in affluence and all things ceremonial – think of wealth and gushing opulence. Within the realm of Vogue's style directive: 'gilded glamor', elbow gloves, tailcoats, the mandatory white tie and elaborate gowns reminiscent of modern-day royalty come to mind.
Sartorial references to the American Gilded Age (1870-1900) – which was a period of new order, economically, socially & in American fashion – will be very fitting to the present day. It draws on a metaphoric 'rising from the ashes' which is exactly what this year will be about. The May 2022 exhibit will mark a de facto return to some semblance of 'normalcy' that we knew prior to the COVID-19 viral outbreak, after two years of ensuing disruption to what is globally known as "fashion's Oscars".
Before nosediving into spectacles of American history at the Met tomorrow, it's time for a thorough refresher on the top 8 Met Gala looks of all time.
1. Cher (1974) | Designer: Bob Mackie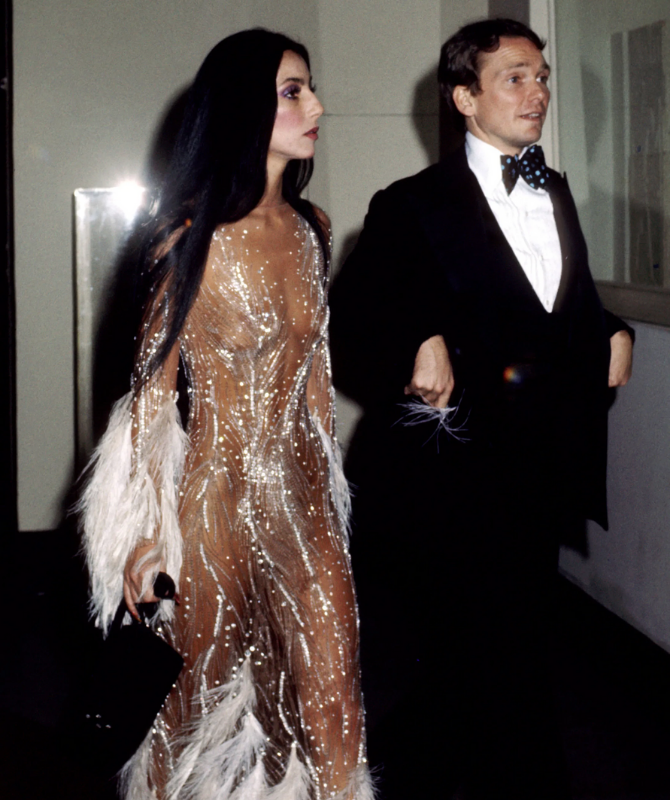 Other than for chronology purposes, we had to start with Cher's unforgettable, iconic sheer, shimmering 1947 Met Gala dress. Designed by Bob Mackie (her go-to costume designer to date), this spectacular dress was ahead of its time, inspiring younger generation 'it girls' to don diaphanous, bejewelled, feathered ensembles at the ball – we're thinking about Met Ball looks of Beyoncé in 2012, Kim Kardashian in 2015, and Blake Lively in 2017, keeping Cher (and Mackie's) legacy alive.
2. Diana Ross (1981) | Designer: Unknown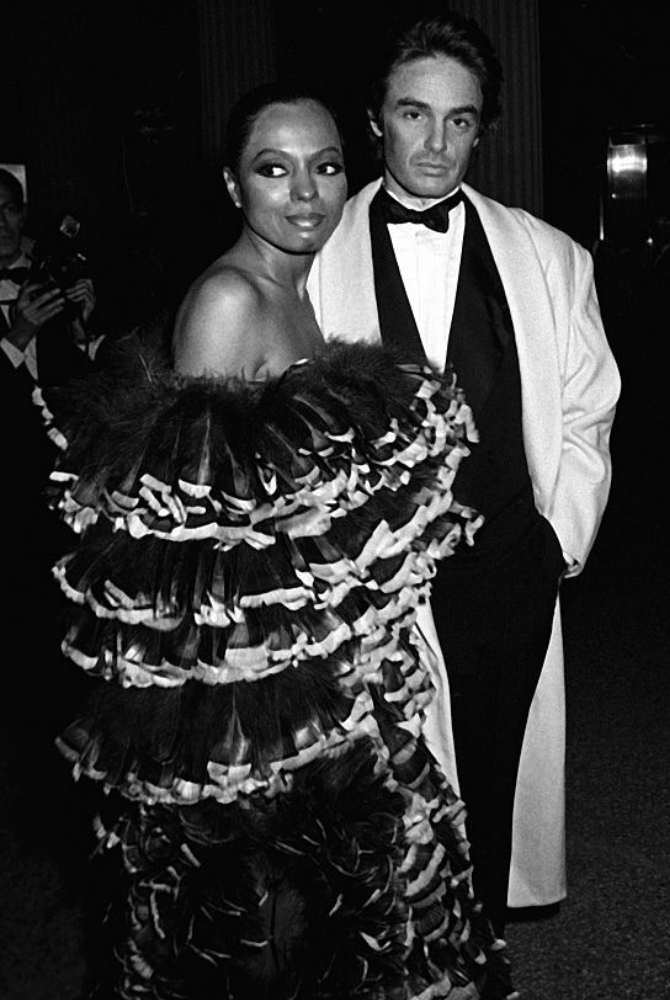 We'd expect nothing less than a striking spectacle from the 1976 title-holder of 'Female Entertainer of the Century' as decreed by Billboard magazine. Adorned in a grandiose ruffled tulle dress and matching coat set, celebrated motown artist, Diana Ross, channeled the theme of the night well. 'The Eighteenth Century Woman' was seen in the bouffant skirt, off-shoulder fit and structured dress in all of its feathery fanfare.
3. Naomi Campbell (1995) | Designer: Gianni Versace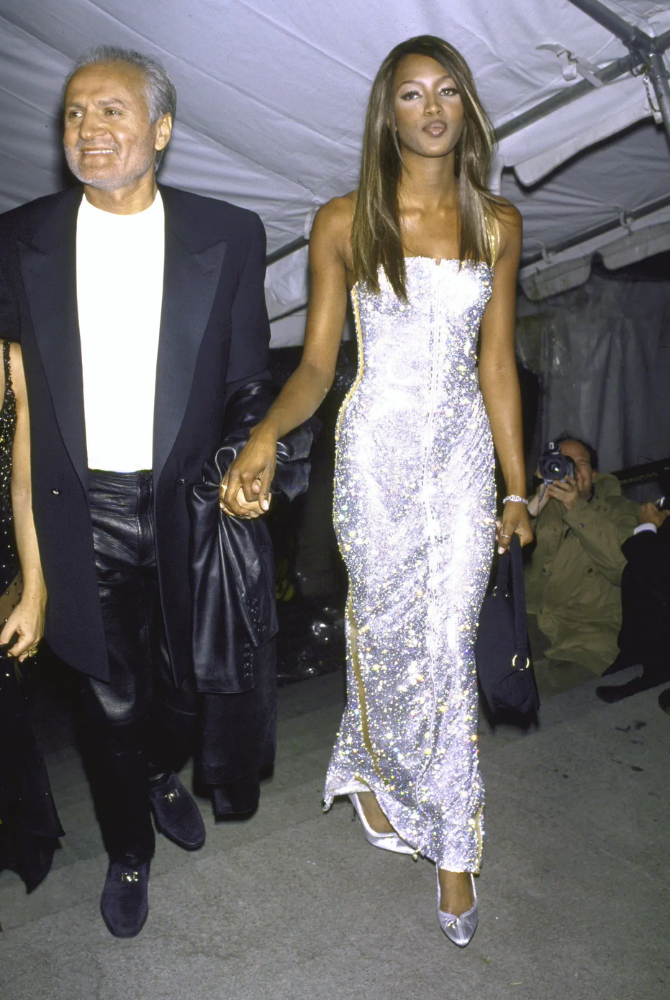 All that glitters may not be gold, but could be an extraordinary Met Gala look instead. Like Naomi Campbell in Gianni Versace's gem of a haute couture creation: a fitted column dress frosted with crystals. Campbell was styled with equally-dazzling silver kitten heels and understated silver wrist accessory to polish the raiment.
4. Rihanna (2015) | Guo Pei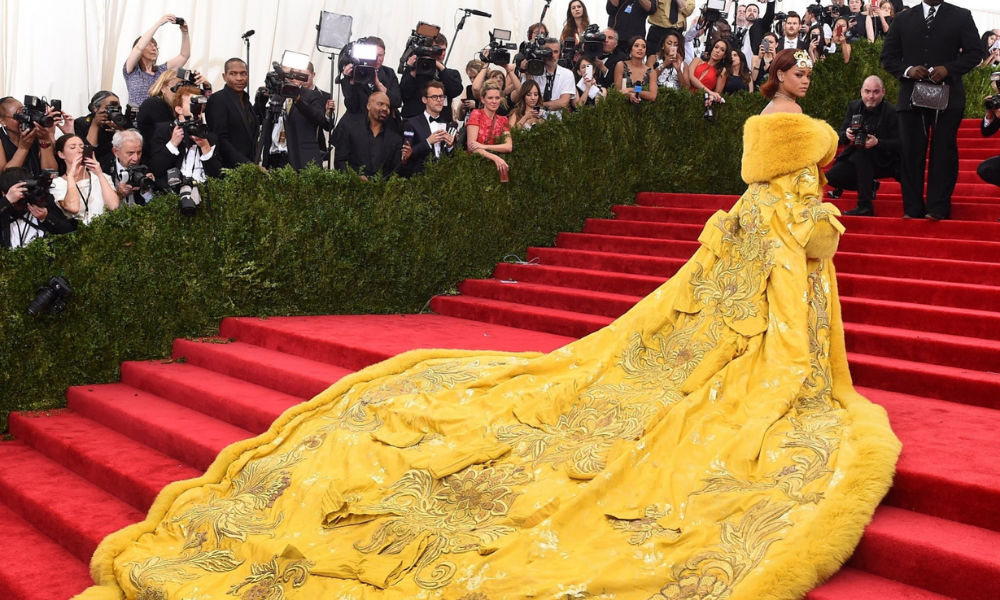 Taking the A-List fashion scene (and the internet) by storm, Rihanna's Guo Pei dress shunned the typical overindulgence in glittery, beaded and crystal-coated ensembles usually seen at the Met Gala. The fur-lined dress was on-brand with the 2015 Met Ball theme, 'China: Through the Looking Glass', through enchanting flower prints and the brilliance of rich imperial yellow.
5. SZA (2018) | Versace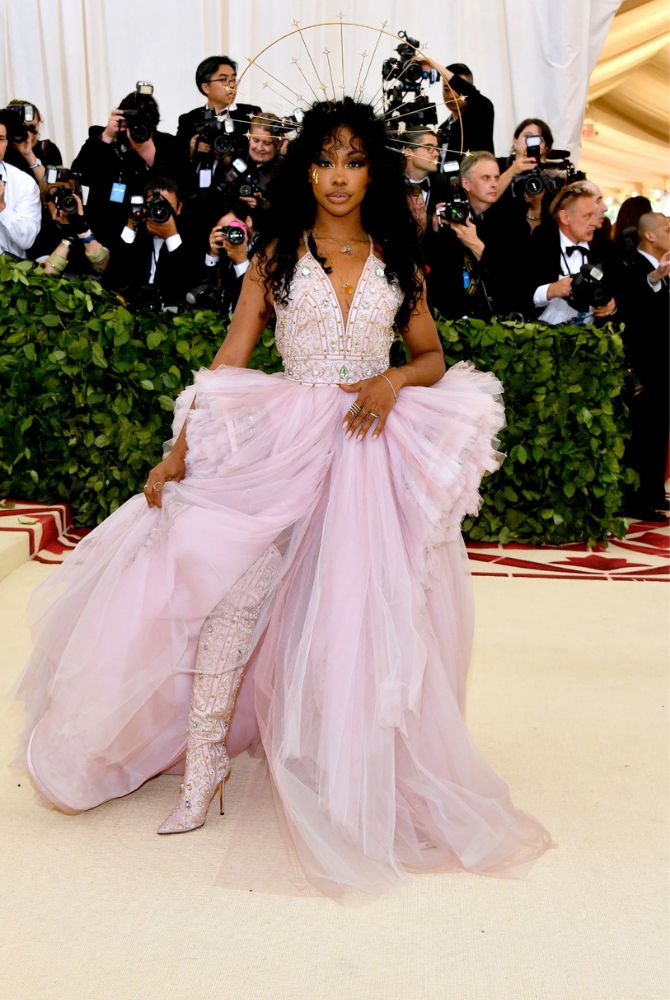 SZA's Versace gear honed in on a more abstract interpretation of the 2018 Met Gala theme, "Heavenly Bodies: Fashion and the Catholic Imagination", nevertheless, still looking like a cherubic piece of heaven. The elegant golden headpiece and matching thigh-high jeweled boots only empower the beaded, princess-like, light blush pink dress, giving out a resoundingly magisterial aura.
6. Lady Gaga (2019) | Brandon Maxwell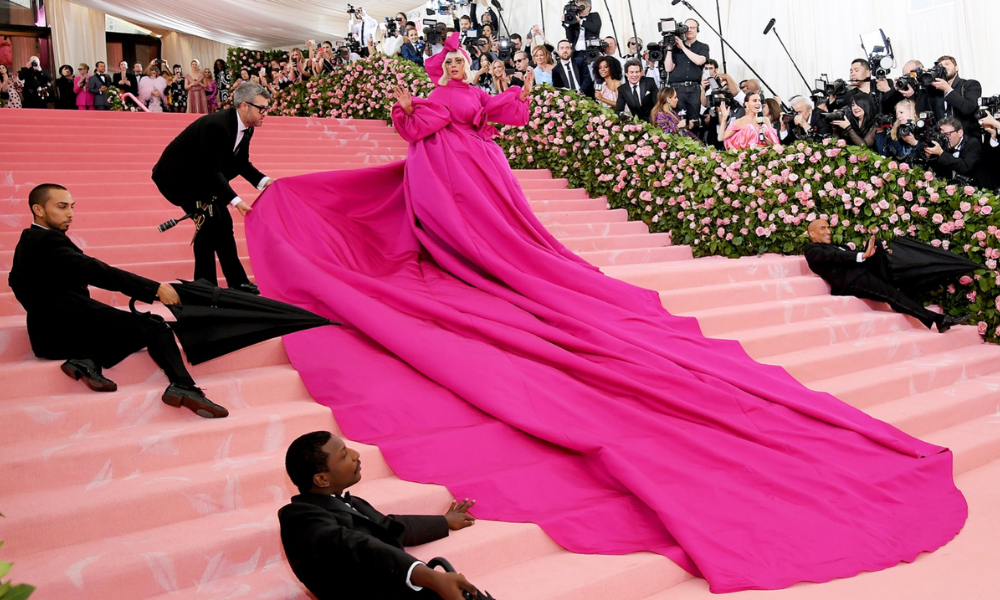 Lady Gaga's black and fuchsia, four staged get-up was definitely one to go down in Met Gala history. The drama of the custom Brandon Maxwell-fashioned garments was only elevated through the theatrical display, unveiling each of the 4 outfits matryoshka doll-style. With the help of Lady Gaga's umbrella-toting aides dressed in all black to contrast her, they left us all staring in awe and complete incredulity, leaving the bar set incredibly high for the coming Met Galas.
7. Jared Leto (2019) | Gucci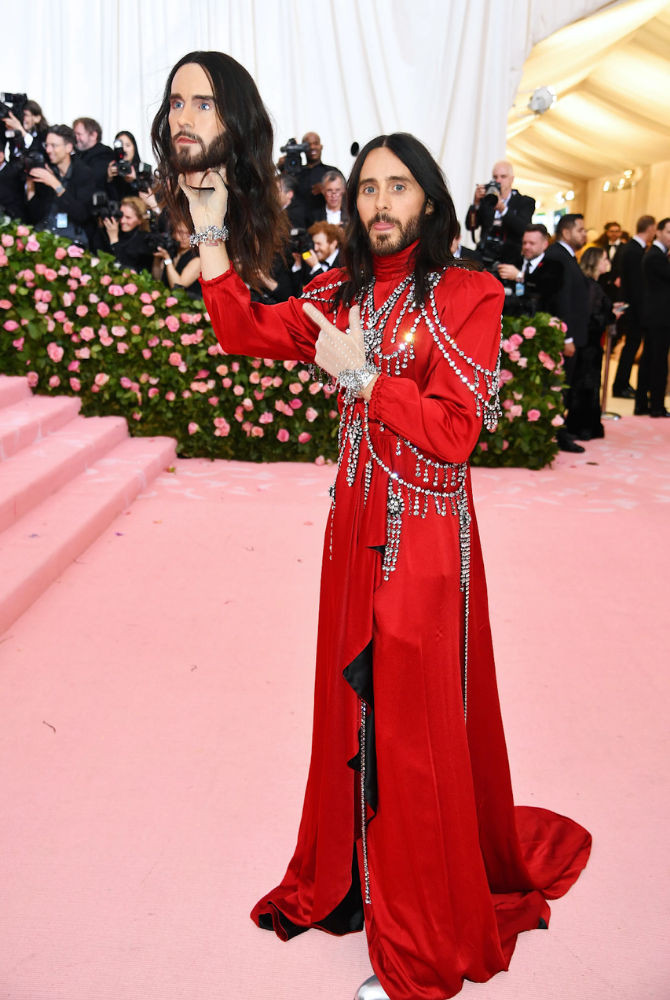 All the boxes on the 'camp' checklist were ticked with Jared Leto's 2019 Met Gala costume. Luxury and idiosyncrasy all came in excess through this cardinal red, high-necked Gucci piece, as far as 'campiness' is concerned. In addition to being draped by a ritzy body chain, the look was crowned with an unexpected accessory: a true to life replica of Leto's 'severed' head.
8. Lil Nas X (2021) | Atelier Versace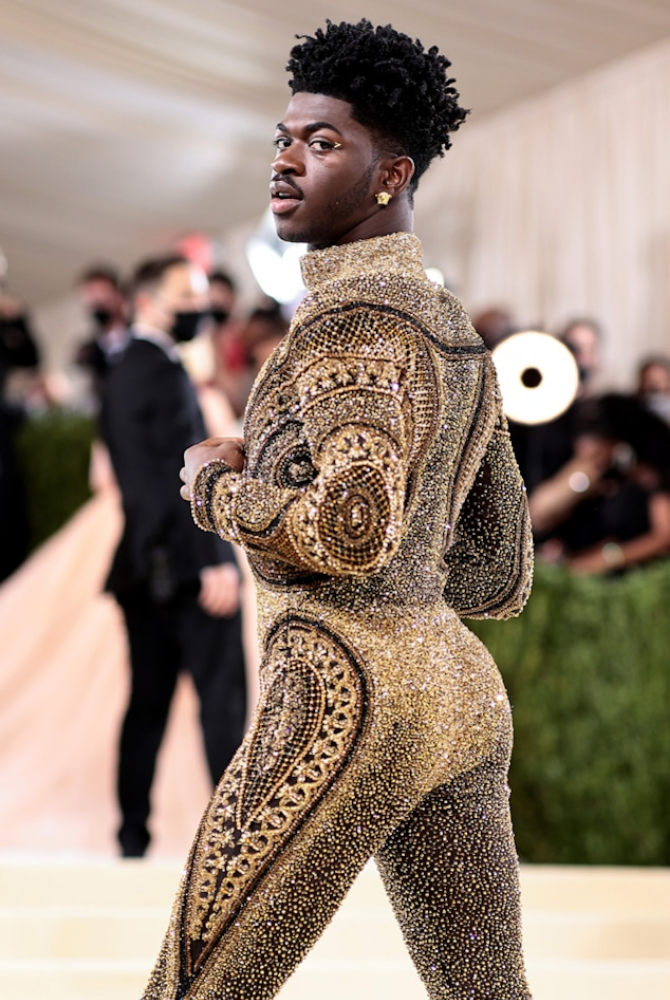 The recipe to Met Gala fashion success seems to lie in extravagant multi-outfit displays, and it's no wonder why. Lil Nas X took a page out of Lady Gaga's playbook with his three-part Atelier Versace attire at his first Met Gala in 2021: a lavish floor-length cloak, followed suit by a gold-plated knight's armour and finally, a glittery catsuit for a culminating finish to this gold-lacquered look.