The 2022 Met Gala is back and whilst it may seem a little too soon following its previous edition in September 2021, the night for fashion has returned and stars showed up to the Met Gala in the early hours of this morning, each exploring this year's theme "gilded glamour".
As always, attendees tend to dress as they please, with little to no nods towards the theme but this year, Blake Lively walked in and showed everyone that she understood the assignment. The Met Gala co-host and actress arrived on the red carpet alongside the arm of her husband (and fellow co-host), Ryan Reynolds, and it was immediately clear that she aced the theme as she stunned in a custom Versace dress inspired by Art Deco design and the details of some of New York's most famous landmarks.
But what truly stood out was that her gown started as a rose gold metallic gown before Lively summoned three tuxedoed men to unfold the train, revealing an even bigger turquoise train adorned with tiny little sparkles. Honestly, it took us a second to wrap our heads around the mechanics of it all.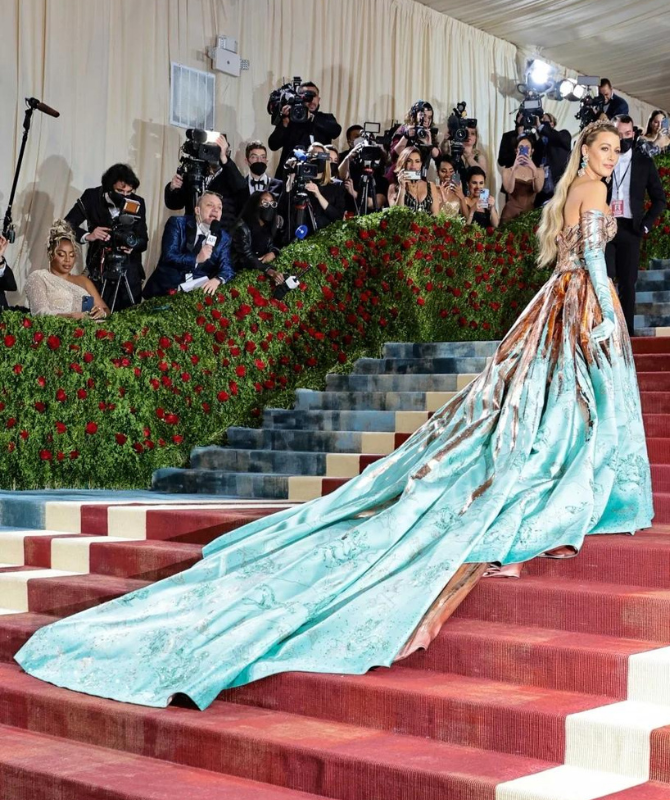 The custom Atelier Versace gown is an ode to the Statue of Liberty, which was of course constructed in New York in 1885 — i.e., during the Gilded Age. The dress paid homage to New York City and so many of the classic, iconic buildings including references to the Empire State Building, and some of the drapings from the Statue of Liberty. There was even a celestial map on the green train, which is inspired by the ceiling of the Grand Central Station.
Before our eyes, Lively's dress transformed and so did she. As she ascended the stairs to the entrance of the Metropolitan Museum of Art, the under-layer of her bow was released to reveal the rest of the sweeping ensemble – a light blue skirt covered in an embroidered celestial map. The rose gold metallic leather gloves came off and revealed matching blue ones, completing the full transition. The colours of her dress mimicked the copper statue and the blue-ish green hue of the iconic statue.
Here's introducing Lady Lively.
Blake Lively has officially joined the elite canon of Met Gala outfit transformations.