'New classics', that's what Amire's Pre-fall 2023 collection is all about, a lifestyle of discovery, newness and exploration guided by a DIY process channeling the California mindset. Fashion embraces the world of athleticism, weaving its influence into iconic silhouettes and innovative technical fabrics, the house's wool-blend blouson jacket becomes a captivating anthem of style. Embracing the heritage of collegiate athletics, varsity jackets adorned with badges pay homage to the timeless charm of university sports. Every garment meticulously crafted, strategic design elements seamlessly meld with cutting-edge materials, offering solutions tailored for transitional climates and landscapes. From the rhythmic beat of the stadium to the boundless vistas of nature, this collection embodies the harmony between sport, design, and function, creating a tapestry where style and performance intertwine.
Unveiling a new era in denim innovation, this visionary collection takes the art of jean craftsmanship to unprecedented heights. Each piece is a testament to meticulous detail and exquisite finishes through a labor-intensive process of repeat washes, hand distressing, hyper-detailing, and coloring, denim ascends to a realm of unrivaled opulence. Embracing its iconic status, the menswear lineup showcases basketball sets crafted from denim jacquard, textured with the AMIRI typeface logo. Signature MX1s soar to new heights of artistry, adorned with hand-painted Aloha prints, masterfully executed by skilled artisans. Blurring the boundaries of traditional tailoring, a denim suit emerges, carving a blazer silhouette that redefines modern sophistication.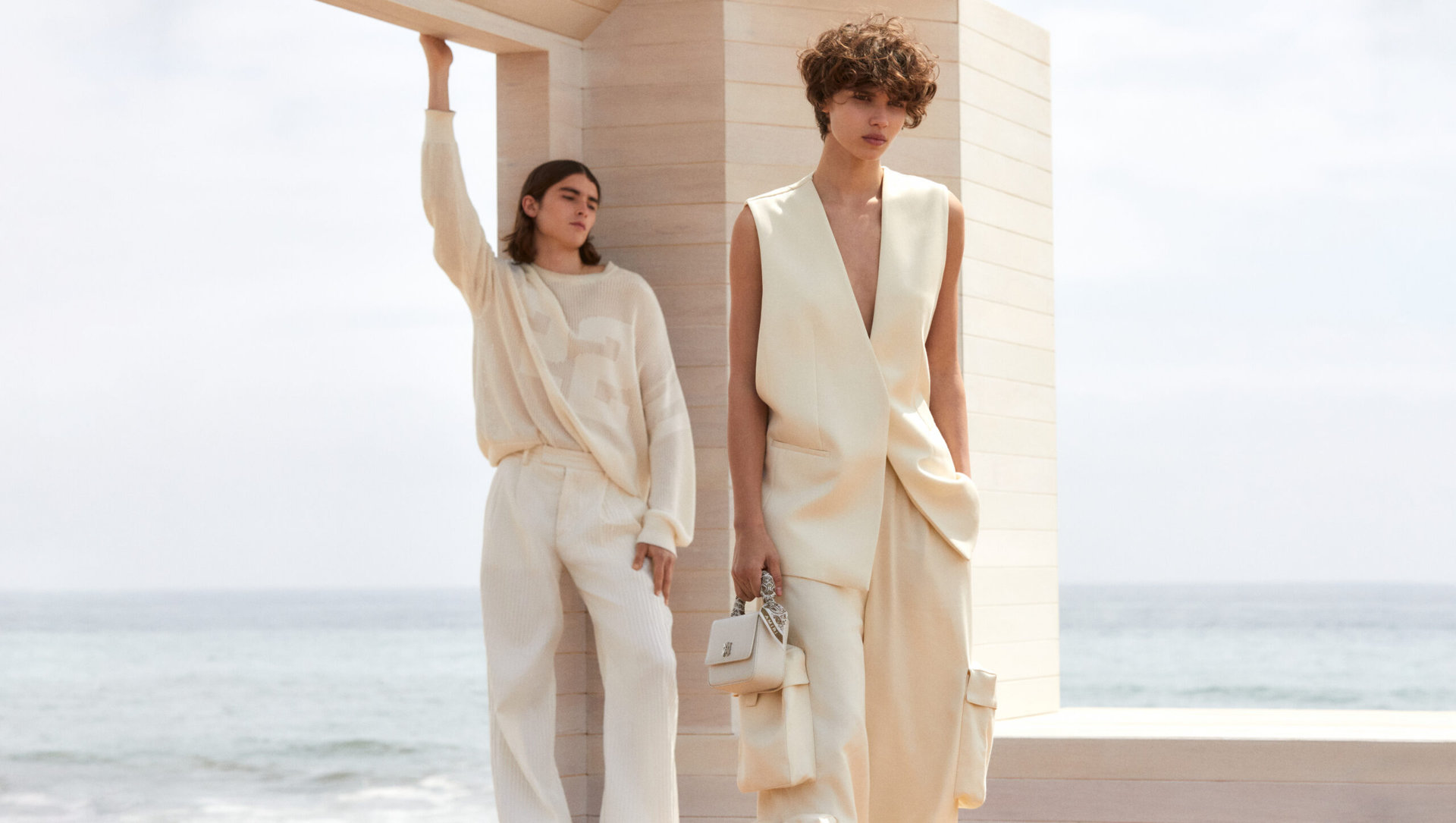 Meanwhile, the women's collection seamlessly weaves utilitarian elements into its fabric. The new wide-leg denim silhouette finds expression in multi-pocket cargo pants, while voluminous tailored trousers boast the adornment of utility pockets. In a dance of reinvention, traditional Americana influences are gently distorted, yielding fluid and sensual proportions. Embroidered varsity jackets, patchworked with classic AMIRI motifs, elevate denim workwear to an artistic realm. Silk bowling shirts become iconic pieces that effortlessly merge into the realm of womenswear.
A palette of mint, blue, and cream envelops the collection, instilling a tranquil mindset where individuality takes center stage. Womenswear unveils sophisticated silhouettes, drawing from drop shoulders and converging toward high-waisted trouser lines. Loose yet practical, each shape exudes an air of control. Tracksuits are elevated to the realm of tailoring, while blazers assume the role of everyday outerwear, worn over crop tops or draped elegantly across shoulders. Through this visionary collection, denim emerges as a medium for sartorial transformation, igniting a new era where innovation and style intertwine in perfect harmony.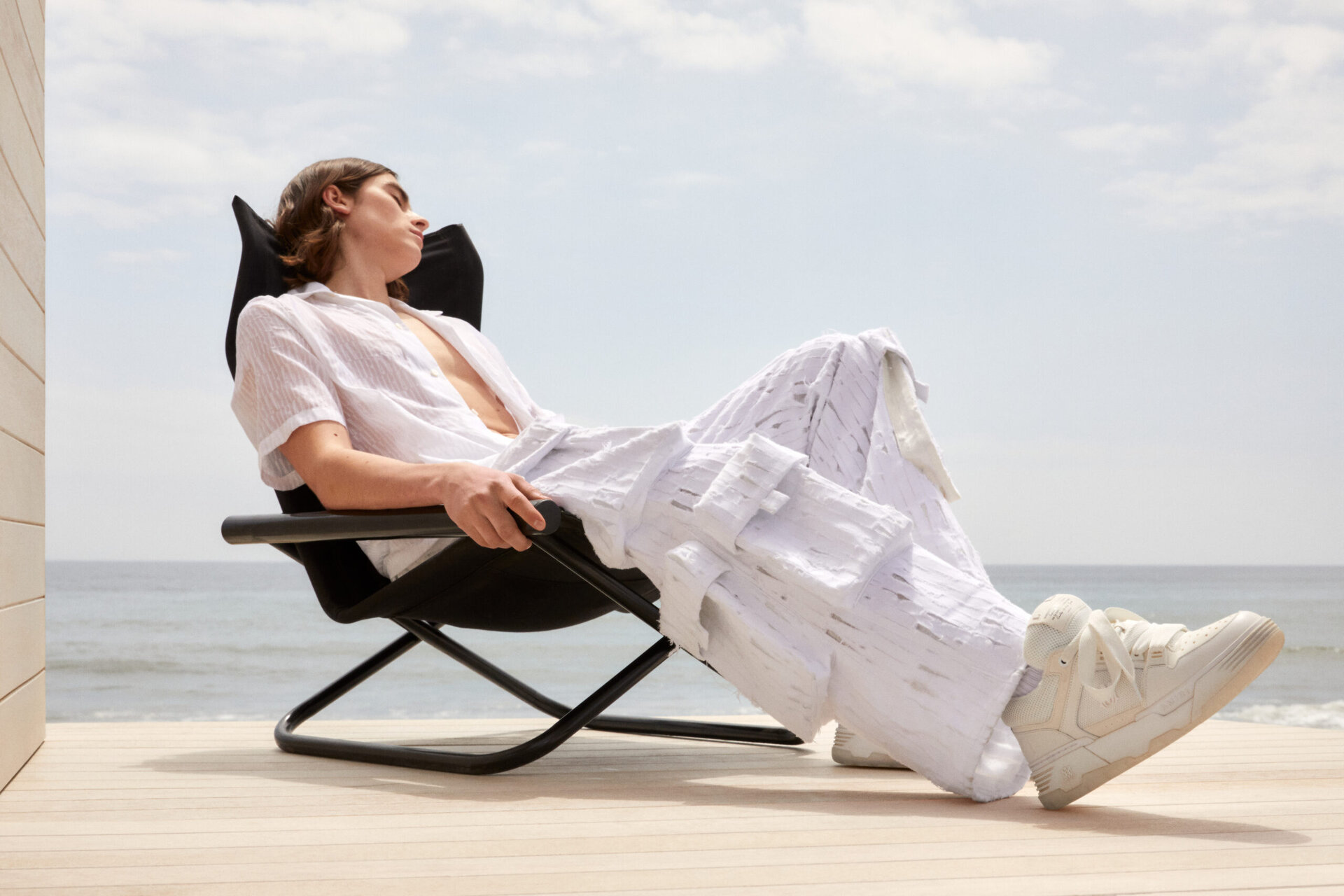 ALSO READ: REBEL BRUSHSTROKES: WHEN MAKE-UP BECOMES ART IN BURO'S LATEST BEAUTY EDITORIAL.