The malletage technique reflects yesteryears and sheds the light on ancient trunk craftsmanship. A delicate lattice of intersecting lines, this refined pattern once cocooned the innards of trunks, cradling history within its embrace. Enter the galon trim—a modest ingenuity that defied the whims of travel, steadfastly securing documents amidst tumultuous journeys. Nicolas Ghesquière, a modern-day conjurer, unveiled this forgotten marvel from Louis Vuitton's troves, infusing it with newfound life in his debut collection—a symphony that unearthed latent luxuries: "Embedded within Louis Vuitton are enigmatic codes, a realm I sought to resurrect and transpose to novel realms." Thus, the unassuming galon trim metamorphosed into an arresting signature—a lexicon of design etched upon garments and accessories, a thread weaving stories.
Today, the GO-14 emerges as a lavish testament to legacy, draped in supple lambskin that beckons the touch. This buoyant, velvety malletage sweeps over its form, every stitch tracing the gentle arcs and plush contours of its design. A spectrum of hues envelopes it, from the stark dichotomy of black and white to the muted, nuanced tones that caress its texture's subtleties.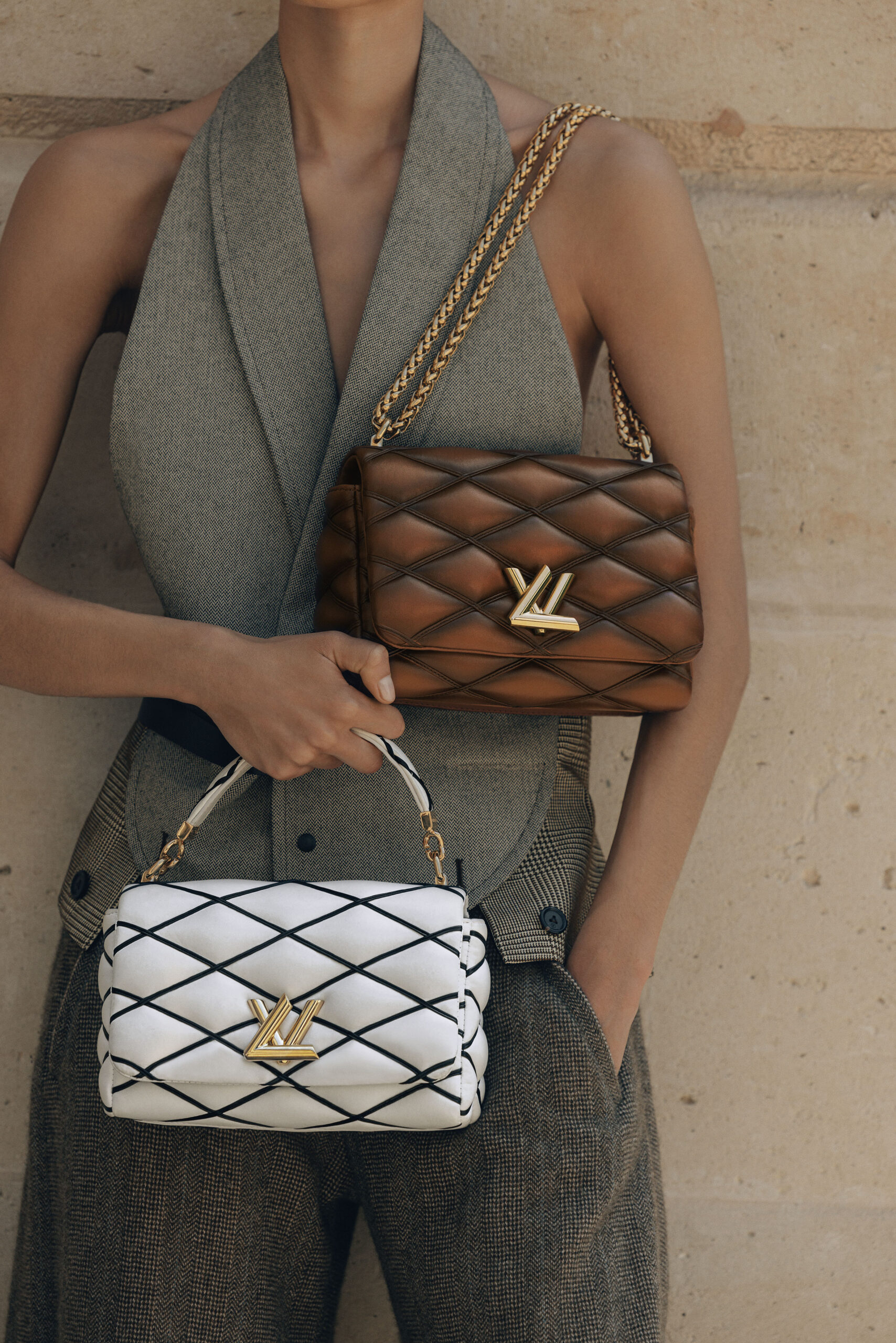 The GO-14 is more than a bag; it's a vessel of versatility, adapting to a woman's whims. Swing it from a shoulder, its chain a cascade of jewel-like grace; cradle it in the crook of an arm, a testament to poise; or wield it by hand, the chain's dance punctuated by a fresh groove system—a pair of precious punctuation marks. An added handle reinstates its status as an icon, an emblem of enduring allure. Elegance, a constant companion, resides within the GO-14's very fabric.
A testament to artistry and an ode to heritage, the GO-14 is an embodiment of legacy's triumph. The malletage, a relentless evolution from the dawn of trunks, poses a challenge for artisans. The creative odyssey entails over twenty intricate steps, from meticulously patinating the satin or toasted finish to masterfully orchestrating the trim's 17-meter journey. Each rounded malletage is a labor of precision, a feat more intricate than traditional quilting. The harmonies of the GO-14 resonate with the mastery nurtured within Louis Vuitton's ateliers—a culmination of savoir-faire and imagination.
ALSO READ: FIERCE HOROLOGICAL FUSION: AUDEMARS PIGUET TEAMS UP WITH DESIGNER MATTHEW WILLIAMS OF 1017 ALYX 9SM FOR THE HOTTEST WATCH COLLABORATION OF THE MONTH.