Just days before the 2019 Cannes Film Festival came to an end, Priyanka Chopra Jonas cut her trip short to travel to Ethiopia with UNICEF. She's already a global UNICEF Goodwill Ambassador for Child Rights but now, her role with the establishment is set to strengthen later this year.
The Indian actress, who will soon be in a wedding film with Mindy Kaling, has been using her power in this world for all the right reasons and it's earned her a new honour.
In December, the UNICEF Snowflake Ball is set to present Priyanka Chopra Jonas with the Danny Kaye Humanitarian Award.
Sharing her excitement via Instagram, the actress said: "So incredibly humbled. Thank you @unicefusa for honouring me with the Danny Kaye Humanitarian Award at the UNICEF Snowflake Ball in December! My work with @unicef on behalf of all the world's children means everything to me. Here's to peace freedom and the right to education."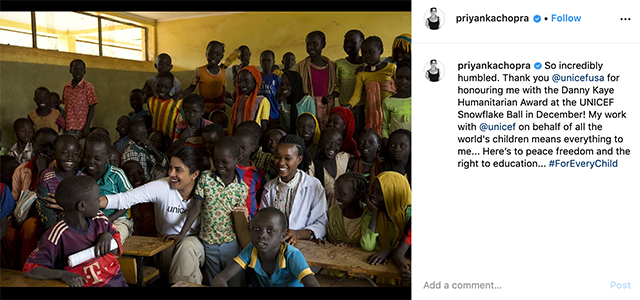 Last year, the UNICEF Snowflake Ball saw some pretty impressive names which included Diana Ross, Heidi Klum and Sir Ringo Starr so we're certain this year's ceremony will attract some notable attendees.
In the meantime, take a look at when Dua Lipa has an eye-opening experience at some refugee settlements in Lebanon.