In December last year, the Louvre Abu Dhabi revealed it had acquired Leonardo Da Vinci's 'Salvator Mundi' for display within its four walls. The announcement was particularly significant given that the painting is the most expensive in the world having sold for Dhs1.65 billion at a Christie's auction. Although the identity of the new owner was not known at first, it has since been revealed to be Saudi Arabia's Prince Bader bin Abdullah bin Mohammed bin Farhan al-Saud.
After much anticipation as to when the piece would go on display, Abu Dhabi's Department of Culture and Tourism has revealed it will be unveiled to the public on September 18, 2018. Speaking to The National, Mohammed Khalifa Al Mubarak, the department's Chairman said, "This is a very important and exciting moment for Abu Dhabi as we witness a masterpiece by one of the most important artists in history coming to our city. 'Salvator Mundi' highlights the inclusive nature of Louvre Abu Dhabi's narrative and Abu Dhabi's mission to promote a message of acceptance and openness. Having spent so long undiscovered, this masterpiece is now our first to the world and we look forward to welcoming people from near and far to witness its beauty."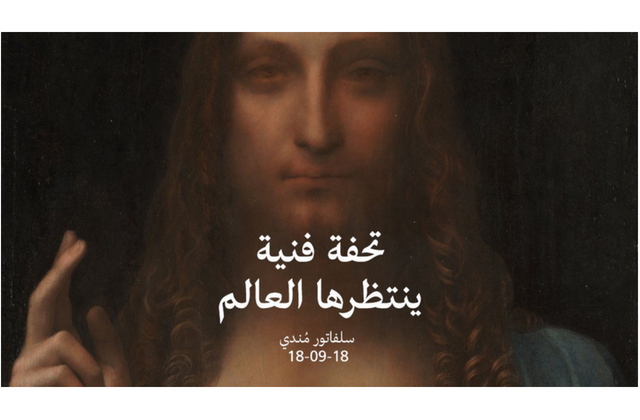 It is the first time any of Da Vinci's paintings have been displayed permanently in the Middle East.
Now, see the new installation in the Middle East honouring Sheikh Zayed.