Her captivating performances have graced stages around the globe, casting a spell over audiences from the grand halls of Europe to the sun-kissed shores of Mexico, from the resounding echoes of the United Kingdom to the tapestry of cultures that thrive across the Middle East.
Aziza's journey began at the age of three, as she harmonized with her father's melodic notes, painting vivid scenes with her angelic voice at various captivating events. Immersed in a vast reservoir of Classical Arabic compositions, Aziza's soul instinctively resonates with the task of breathing new life into the timeless melodies, seamlessly blending them with the contemporary sounds that pulsate in her surroundings. As if wielding a magical wand, she becomes the very embodiment of a "reviving sound" for classical oriental and tarab music, as aptly described by the esteemed As-Safir newspaper.
In a harmonious union of artistry and imagination, Aziza and Eli intertwine their individual gifts, their treasury of wisdom in traditional, regional music, and their audacious spirit of innovation, forging a path towards Retro Elektro—an extraordinary live encounter beyond compare. This transcendental journey springs forth from the fusion of timeless Arabic melodies, original compositions, and a tapestry woven with the resplendent threads of Middle-Eastern harmonies and instruments, interlaced with the evocative allure of vintage synthesizer tones and pulsating electronic rhythms. And amidst this enchanting soundscape, Aziza's celestial voice, both powerful and alluring, guides the audience on a voyage, their senses engulfed in a musical odyssey of unmatched magnitude. Prepare to be transported, for Retro Elektro awaits, a voyage like no other—a realm where the boundaries of sonic exploration dissolve and the beauty of the unknown unfolds before your very ears.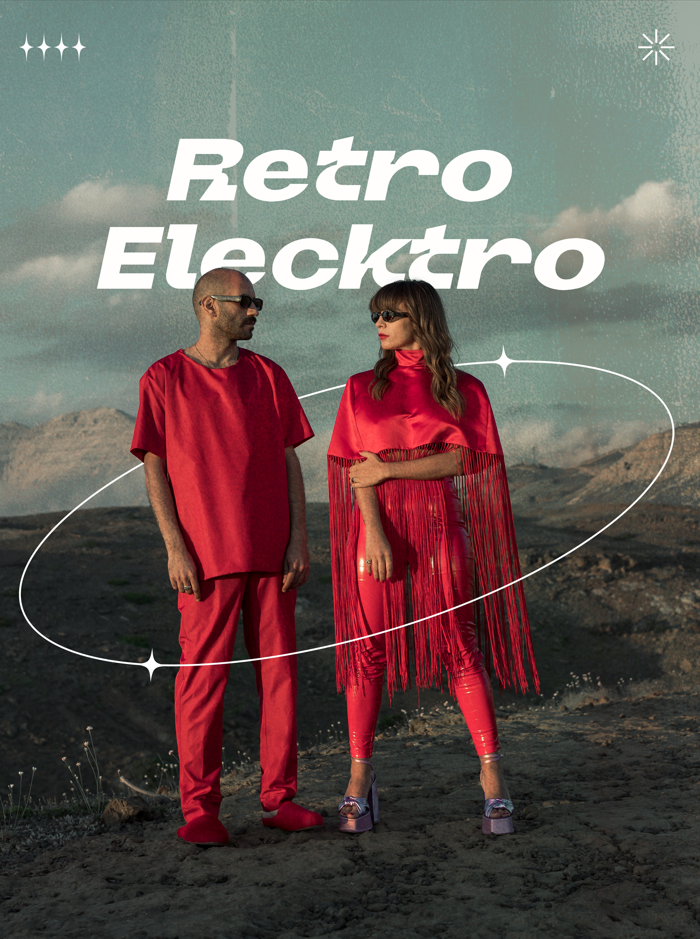 Describe Retro Elecktro in one word.
Bedouin Chic.
What can you tell us about your latest achievement?
Retro Elecktro is my passion project, a duet that brings 2 worlds together, my background from arabic music and Eli's experience with electronic music . We've been working on the music since almost a year and still in the process of tweaking and creating. We played few shows around Lebanon, Doha and Cairo . I'm extremely excited about it and can see it go places around the world, to help spread our beautiful heritage and language as much as we can in a modern electronic sound.
Your favorite dish.
Moughrabieh , a lebanese dish.
Something that inspires your the most.
Watching or reading my favourite artists biographies and life stories.
Where are you now? What are you doing?
In Beirut preparing for our live show next week at Sporting Beirut, the theme of the event is Futuristic Bedouins.
A song you keep repeating in your head. Why?
At the moment it's " Beit el Chaar ", a folkloric song for Samira Taoufic , that we did our own remake of it and should be released very soon.
A funny story about Eli.
Everything is Fun and Funny about Eli, although his stage character gives more of a serious impression.
Your favorite fashion moment.
Styled in very cool outfits by a lebanese designer called Manus. The brand makes the outfits from recycled bow ties. Brilliant!
What are you currently reading/watching?
Listening to an audiobook by the legendary music producer Rick Rubin called The Creative Act. Very inspiring, i would recommend it to fellow artists .
What are your plans and what are you currently working on?
Planning on playing more shows in lebanon and abroad, and taking Retro Elecktro on a tour hopefully, as well as spend more time in the studio and work on new tracks and releases.
ALSO READ: EFFORTLESS SWAGGER: DISCOVER THE COOLEST MEN CAPSULE COLLECTIONS.