Spanish born, Los Angeles-based artist Quim Bové currently finds himself residing in the Middle East whilst he puts the finishing touches on his latest series of work. Inspired by the deserts of the Middle East, the Liwa Desert in particular, the visually impactful works are almost ready to be shown to the public.
We caught up with Quim in his temporary studio in Alserkal Avenue's JamJar space to talk about his work, inspirations and his views on the art scene in the region…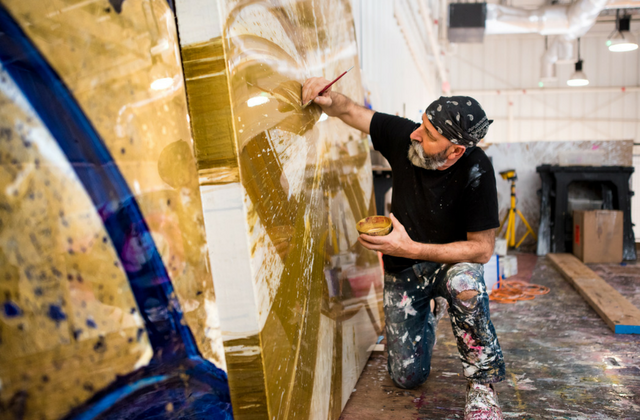 What was the inspiration behind these eight new artworks?
I am inspired by, well let me put it this way – since the dawn of time man has been admiring the universe, energy and everything that is up there. This is my main inspiration. So basically the expression of these forces – not necessarily physical but more metaphysical. This is where my inspiration comes into play, in places like the UAE, the desert. I feel like it has a mystical energy — it's hard to explain but when you go there at night and you see the stars, the sky, there's an emptiness there, it's something unique. This is what really inspires me.
I've been here a few times and the last time I was here I went to the Liwa Desert. It is amazing. I experienced the sunset, the night, the stars – these things are the inspirations. I sketch, I put my thoughts on paper and when the time comes, I put these images and ideas into the canvas.
And these artworks are the product of that?
Yes. I had several sketches that I took last year but it is unique to be able to do this here because this is the place that they belong in a way. The experience of being here for me is really cool. I'm usually painting in LA and here it's a different context and feel.
How does it differ painting in LA and here?
It's very different. Culturally, you are immersed into a different world and as far as being in this space, I feel like I'm home. I think the differences come from being immersed in a different world and culture but most of all, I think that being in this space, in the desert, makes me sensitive to [what I'm doing].
You're living here for two months whilst you create the artworks — why is it important for you to immerse yourself in the culture in that way?
That's really important because this is the DNA of my inspiration and my work. Being specifically where I get the inspiration, all the dots connect together. This is when I can really express myself in plentitude and that's very different. To me, you're in a whole different space and it makes a huge difference in my work.
When the exhibition opens, what do you want people take away from the pieces, to feel?
I think you said it when you came, when you said, 'wow it's impactful.' It's the energy. What I want people to feel is what I feel when I paint. So when you see the pieces and you get this impact of energy and this vibration and this special connection, that's exactly what I want. Some pieces you may get, some you may not, but this is the feeling overall that I want people to experience.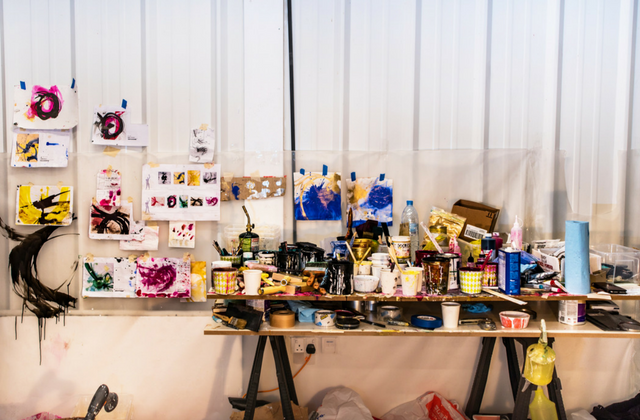 How do you feel like the digital world is affecting art, which is something so personal and needs to be experienced offline?
To me, digital or anything that comes with digital, is essentially a tool. So I think in terms of creativity, you work with different tools but in essence, if you're a creative person like an artist, it's about what you bring that's new. An artist has to bring something new otherwise it's irrelevant. Digital is a great tool in many ways because you're exposed immediately to any space in the world.
It's also a medium of communication to be able to promote exhibitions, too.
Yes absolutely. I'm not from the digital generation (laughs) but I see this amazing world that interconnects and people have the opportunity to communicate with others. It's an amazing moment that we're in.
When you're not painting, what are you doing?
I'm a really peaceful man. I like to be with my family, I have two girls (both of whom are expecting) and all three of my children are artists, essentially so I like to share everything with them.
my inspiration comes into play, in places like the UAE, the desert. I feel like it has a mystical energy — it's hard to explain but when you go there at night and you see the stars, the sky, there's an emptiness there, it's something unique. This is what really inspires me.
What about in the Middle East?
In the desert. My son took me to Jordan so we went to Petra and the desert there which is an amazing space and it's one of those things that you have to go and experience. These are signs of human kind that are so unique and it makes me vibrant and makes me feel like the next piece I create I want to touch people [in the same way].
And as an artist, you're gathering inspiration from wherever you go.
Yes inspiration can come from many places, particularly for me, it's the desert space. And obviously this is the desert space (laughs). When I came to the Middle East, I was a little in shock because the colours, the rock formations, the buildings, it was all amazing. Being [in Dubai], I love to go to the desert but of course this city has its own beauty in the city itself because it's an architectural hub with these amazing buildings.
What are your thoughts on the art scene in the Middle East?
I think it's in its primary stages. I think they have a long road to go but I think they're well aligned. I think the good thing that is happening here is the confluence of cultures and I think that could bring a more dynamic artist scene, with events like Art Dubai and other art fairs, to this place. They're really putting this city, this country, into the world of art. It's expanding but it's still in the baby stages. I think collaborating with other artists with help that.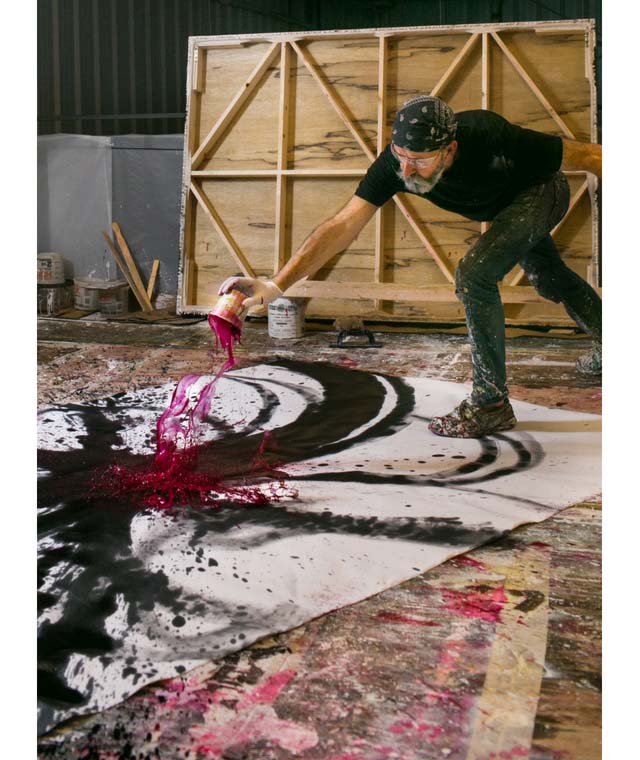 And you're the perfect example of that! Spanish born, living in LA but working in Dubai. It's the community that crosses borders and cultures…
(laughs) Yes! I think that's the beauty of it. I'm exposed to a very diversified cultural space in LA where it's many people from many places and I think that enriched the society and it looks like here, I don't know a lot about it, but it looks like that is what will happen here.
How would you describe your signature?
As an artist, I've been working pretty much all of my life to try and find my own style, what I call my own calligraphy and this journey is never-ending because you have to, first of all, be yourself, and of course in the first stages, you're looking at other artists in history for references. I love the Spanish artists, and the American abstract movement and from there I used it like a school, I learned from them but at the same time I was developing my own style. It's still in a stage of evolving but I think the most important is that when you see art from an artist you can recognise it and it has its own beauty because of that. It's important to create something that brings something new – art is an evolution, and a reflection of the society.
And something that gets people thinking.
Yes that's exactly right. It makes people wonder. I think that's the beauty of art – it makes people wander, dream and feel things that are outside of their normal life.
That goes back to the online vs offline topic we touched on earlier that people who are coming to exhibitions like yours come because they want to be challenged and they want to feel something outside of the screen they hold in their hands.
Yeah, you're right. It's a great point because when you look at my paintings, they're glossy, they have this surface and there's a reason for that – when a painting is in a gallery and you see yourself reflected in it, almost like a mirror, you're entering into the painting and I want people to feel that they're in a different space and abstract from their regular daily life.
A full exhibition of Quim Bové's works will take place at Opera Gallery, DIFC, in September however some of the pieces will be available to view in the space across the summer.
Now, find out more about Tashkeel's summer exhibition on display until August 30.