The beauty industry operates at a mile a minute. Every day there's a new drop on our desk. And today, it's Aesop's Gentle Facial Cleansing Milk's turn.
So, it seems milk is more than just good for our insides, there are benefits for our skin, too. In fact, loads of trendy ingredients are being capitalised by the industry – along the lines of honey, tea and kale, yes kale.
And if any beauty brand is going to think outside the box, it's definitely Australian brand, Aesop, who are purveyors of an achingly cool lifestyle more than anything.
Now, Aesop's latest product, the Gentle Facial Cleansing Milk is the brand's debut milk-based product.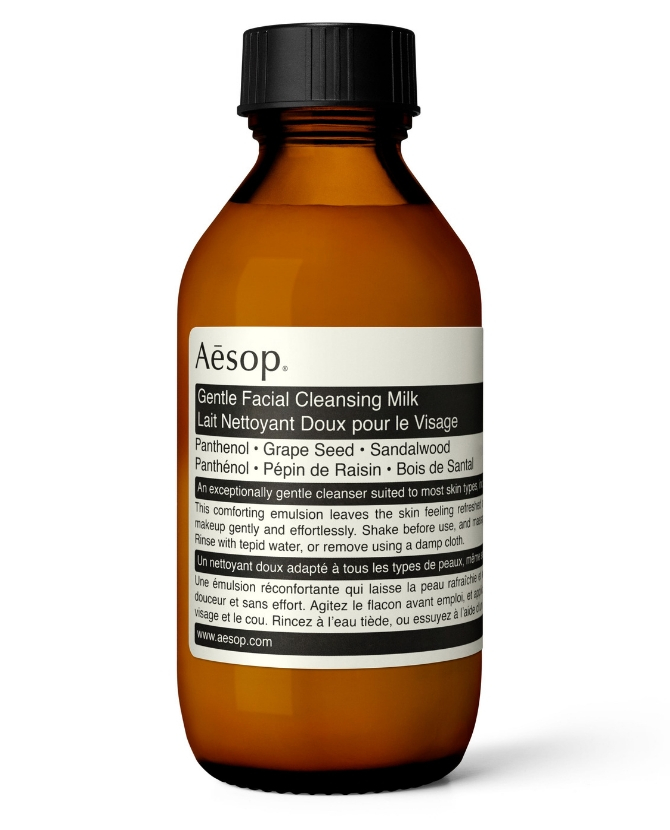 Basically the milk purifies the skin without stripping it of moisture, and very mildly, but thoroughly, cleanses most skin types – especially anyone with sensitive or dry skin. We've tried it and honestly, it's like yoghurt on your face, it's amazing. And living in Dubai, this is practically heaven-sent for our A/C culture. We feel so seen.
Dr Kate Forbes, Aesop's General Manager, Marketing and Innovation said, "Dry and fragile skin requires gentle cleansing that will not overly disturb protective skin lipids or unnecessarily aggravate the skin. To strike this balance, Gentle Facial Cleansing Milk includes skin-nourishing ingredients, such as Grape Seed Oil, to help reduce moisture loss during cleansing and leave skin feeling soft."
You know the drill, shake the bottle well and then dispense about a coin-size amount onto your palm and massage away into your face. The Grape Seed Oil will help take off your makeup while the Panthenol will hydrate and soften your skin.
Aesop's Gentle Facial Cleansing Milk will launch on 2 April. Prices are as follows: Dhs125 for 100ml and Dhs190 for 200ml.
Now, check out this niche jewellery brand that needs to be on your radar.