Christine Nagel made history with her appointment at Hermès. Why? Because she was the first female perfumer in the history of the house. Coming on board in 2014, Christine worked alongside the house's legendary nose Jean-Claude Ellena until he retired in 2016. Upon his departure Christine (who is the woman responsible for multiple Jo Malone fragrances as well as Narciso Rodriguez' For Her scent) assumed the top position and in the two years since has more than proven herself a worthy successor. Here, Buro 24/7 Middle East contributor Farouk Chekoufi meets Christine to discover more about her new creation for the house, Twilly d'Hermès…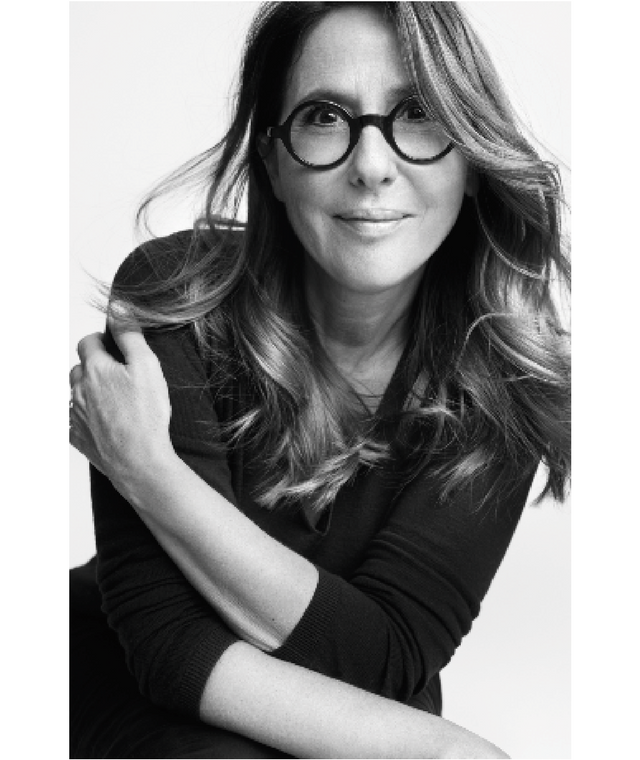 Tell us about your arrival at Hèrmes…
Working for Hermès is like an end in itself. When you realise your dream, you have a huge sense of happiness. It's so wonderful it almost feels unreal. That's the effect that call had, that announcement. If they have chosen me, then it's for this distinctive signature; and I have to say that the recognition is a pleasure for me every day, because I'm realising a dream. The dream of creating perfumes that communicate all the values of this house, they incarnate it. I consider it a tremendous responsibility because perfume is still the leading entry point into the world of Hermès. And it's an entry point that's accessible to everyone. I owe it to myself not to disappoint. And to be worthy of the task I've been set and the trust that's been put in me.
The most amazing thing for me is having complete freedom and plenty of time. Decisions are actually made between the Chairman of Hermès Parfums, Agnes de Villers and I. There's no market research, no consumer panels. Marketing is only there to support the creation, it doesn't influence it. I'd never seen that before. This stance gives the creation and the creator essential roles.
How would you describe the Twilly d'Hermès fragrance?
After I joined the maison as a perfumer, I noticed that there is "fantasy" present here in addition to the fact that the products are made with perfection and premium quality achieved through the uncompromising selection of materials. For me, fantasy is something to do with colour variations or energy to change the routine. I think we can find this attractive quality in the young women of today. To give an example, Grace Kelly wore Hermès scarves around her neck or on her bag, whereas Amy Winehouse wrapped it around her chest as if she were wearing a T-shirt. This fragrance was inspired by today's young women who prefer to do things in a different or unconventional way.
In the conceptual stage of the fragrance, I wanted to create something with a totally different impression using conventional ingredients. The aromatic component of ginger is usually extracted from dried ginger, but I came across a ginger with a completely different fragrance. It was extracted from fresh ginger. When I added it to the formula, the fragrance was quite the opposite from what you would get from ginger, and it met my expectations perfectly. It was the same with the tuberose and sandalwood. I think the selected quality of the ingredients made it possible to create this fragrance.
This fragrance was inspired by the free spirit of young girls, but it can be worn by women of other age groups as well. In fact, I find it perfect for myself, too. I would like anybody to use the fragrance if they think it's good. You can wear it daily or especially when you go on a date because I think it has a power to attract people.
Twilly seems to be a younger fragarance. Was the aim to target a new market with this fragrance?
Twilly is inspired by young women. Looking at them, I realised that they enjoy being surrounded by friends and hanging out in a group, not like seven or eight years ago when they would often go out on their own and take a selfie. The first thing I wanted to showcase in the product was the way the young women of today value connections with others. The other thing was to broaden the selection of fragrance for young women because most of the products intended for young women today have a sweet caramel-like fragrance. The responsibility of maisons like Hermès is to show other ways. I have this amazing freedom of creation at Hermès and I intend to enjoy it. That is why I chose ginger, tuberose and sandalwood for a change. The ingredients are all very classical, but I tried to portray their positive innocence by reinterpreting the combination. The market was dominated by sweet notes, all pretty much close to each other, and I decided to go against the trend.
What was the inspirtation behind the bottle design?
We wanted a bottle that would express true modernity but that would also convey our heritage. Florence Manlik, designer of scarves for the house, has joined in this pursuit of re-creation and transformation. She took our emblematic lantern bottle, and first of all cut it down, cleanly and drastically…. She has deliberately given our bottle a square cut. Then, in a generous and quirky touch, she increased the size of the cap to give it the appearance of an oversized hat. And lastly, as a finishing touch, a hint of whimsy: an idea by Bali Barret, who one day knotted a colourful ribbon-tie around the neck of the bottle, calling it a "spaghetti". This has become our distinctive mark, our rallying symbol.
Who is the Twilly woman?
Twilly girls or women are contemporary women who twist around conventions, who are creative, almost irreverent. Playfulness is in their nature… I observed them, watched them lead their lives; I got a sense of them, understood them… I then discovered an obvious connection between Hermès' free spirit and these young women. You only have to look at what they do to our scarves, and what we dare to do with silk in our house! It's the same free spirit! I wanted this fragrance to be our link with them.
When creating a perfume, is your nose your only work tool?
Becoming a perfumer is a very long learning process, and time is necessary for transcending. And this time allows the artisan to become an artist, which makes it possible for the handicraft to become art. Of course my nose is very important for creation, but it also requires a high sensitivity, a curiosity about the world and an open-mind which allows for the capturing the richness. It is necessary to have a certain generosity for the will to share it. Also, it requires you to be an assiduous and tireless worker. Well, this is as difficult to explain as absolutely essential but [you also need] a spiritual complement, an asperity.
Which perfume do you wear?
No personal fragrance for myself but at the same time all of them. My skin is my work tool; it is the tester of all the trials I make. I am well known for wearing colourful stickers all over my arms.
How should you preserve a perfume?
The fragrance is alive, it evolves, changes and moves. But the worst is the light and heat. My advice is quite simple: put your perfume far from light and heat.
Your ultimate ingredient?
Quality. Quality in everything, even in the smallest raw material.
Your first olfactory memory?
My mother putting talcum powder on my baby brother, using an Italian talc called "Borotalco". But don't spread that around too much, my brother works in perfumery…
Why is perfume a good vehicle for storytelling?
I think the most successful perfumes are those which tell us a story, fragrances which open your imagination. Perfumes have the ability to create emotions and touch the sensibility of the people who will wear them. A fragrance can resonate with our emotions, memories and hopes, because it represents something personal and emotional.
How long did it take to create the Twilly fragrance?
There is no defined time, there is no time limit. The time of creation is another singularity of Hermès. I present my projects when I judge them accomplished, mature. This is an incredible luxury, one that allows the beautiful. In the house we call it "the Hermès time".
Your favourite perfume that you've created?
It's like asking me which one of my children I love the most…. I love them all!
Who inspires you?
A lot of things and people have influenced me throughout my career. There are perfumes that moved me deeply and impacted my journey. But some perfumers were also very important in my life.
I immediately think about Germaine Cellier, the highly talented female perfumer. A woman with a great deal of taste, she created the fragrances like a painter. Making bold creations, forthright, a little bit raw… Free to think, she experienced the women's liberation before it happened. So yes, she inspired me and she certainly opened a few doors for the women in Perfumery. Women have always had talent, and God knows they needed it to make any kind of mark.
But two perfumers also played pivotal roles in my wanting to become a perfumer. Firstly Alberto Morillas. From my office window I saw him asking two young women to smell his perfume trials — I saw them smile, knew what they were feeling, felt their pleasure. At that exact moment I knew, I was convinced that this job that allows you to give so much was for me.
Later, at Création Aromatique I set up the Chromatography department and met Michel Almairac. He became my mentor and it was under his supportive, watchful eye that I created my first perfumes.
In your opinion, are stores still essential to the luxury experience? How is Hermès embracing digital?
Of course distribution changes, our habits are changing. We are following this transformation with a lot of interest but it seems important not to lose common sense. It is not physical against virtual but physical and virtual.
Now, back to the fragrance, what can you tell us about the campaign shoot?
Perfume is of course a fragrance but also an image. A lot of houses have brand ambassadors to represent their image. It is not the case with Hermès, which relies on the creator's vision. It is this encounter with a generation illustrated by Twilly that we wanted to show in the movie. It tells a story about this generation's encounter with the Faubourg Saint-Honoré, our emblematic and historic flagship store.
How do fashion and fragrance come together in Twilly?
Twilly d'Hermès was named after our silk Twilly. Young women don't wear this piece just one way — you can wear it during the day or at night, however you choose. The idea is to twist it and make it your own.
What are you most happy with in the Twilly fragrance?
A perfume is a complex composition of know-how and expertise. It is not an element or two elements of which I am proud but it is the whole. I can not and do not want to dissociate the elements that compose Twilly d'Hermès: the perfume of course but also the bottle, the packaging, the communication… My greatest pride is perhaps to show a new way. As I mentioned earlier, the market was dominated by sweet notes, all pretty much close to each other and it is the responsibility of Hermès to show other ways. I have this amazing freedom of creation at Hermès and I intend to enjoy it!
Now, read Farouk's earlier interview with Caroline Gaspard, the founder of Akilis jewellery.