What do you love most about Bois Mystérieux?
Even if the Absolus d'Orient is a unisex collection, I strongly think that Bois Mystérieux is the most masculine one because it's very hoody, but it also has a very fresh and aromatic start when you first spray it.
How different is Bois Mystérieux compared to the Absolus D'Orient collection?
This collection is very diverse. Santal Royal was the first of the collection, after we did Ambre Eternel which disappeared, then we created Musc Noble, Oud Essentiel, Cuir Intense, Encens Mythique and Bois Mystérieux. Every single opus, has its own subject. It is like different explorations of the world of Oud, Santal, Incens, Musc, etc. And here, the theme is woody, so it's very different.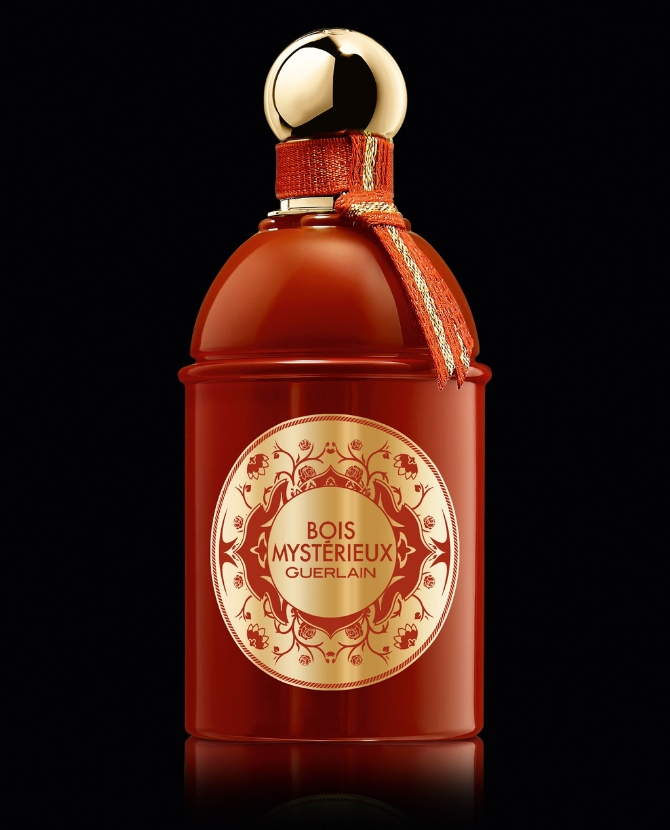 What does Bois Bois Mystérieux's "wild and distinguished" theme convey?
I think that choosing deep, sexy, textural woods are distinguished. The distinction comes from the choice we made of the different woods which are blended in Bois Mystérieux.
What attracted you most to this new project for the Middle East?
Well, it is not a secret that I loved working with this collection. So obviously, the attraction is about the Middle East, not about the collection. Every time I travel to the Middle East, I discover new things! My last trip, as part of the opening of the new Guerlain Perfumeur store in Riyadh, was a true source of happiness. Also, when I went to Jedda or Taïf, to see the people who make the famous rose, here again, I had amazing moments where I could discover so many things that are very inspiring! Especially in Taïf, I shared that wonderful cake with almond and honey. It was the best thing I ever ate!
Were there any challenges when creating this very Middle Eastern fragrance?
No, the challenge is the one you want to put in your head. If you're happy, in that surrounding, you're not challenged at all. It's easy! When you try to express love and friendship through your creations…you don't have any challenges.
What's always the most important element in your creative process?
The most important element is that every time you create a new fragrance, it is like telling a new story, and I always have a story to tell! The most important element is to live your life fully so that you can have a story to tell!
Do you make use of sustainable resources in perfume?
My definition of sustainability and resources is very simple. It is common sense. And now, it is a subject on everybody's mind. But at Guerlain, we have been employing sustainable practices since our creation, in 1828! That's why after more than 190 years we're still here – because we can manufacture fragrances with raw materials, which we fetched around the world in a sustainable way. Otherwise, they would be gone.
Are the ingredients traceable?
That's another topic of modernity. Now everybody wants sustainability and traceability. When you work with the same partners for generations, it talks by itself about traceability. The bergamot that is produced in the South of Italy, and more precisely in Reggio Calabria, is the same since Jacques Guerlain. So here again, we can always improve, and we are very adamant on the topic, and truly committed to that. But once again the best proof of sustainability and traceability is our relationship with our partners around the world.
What are your 7 favourite smells in the world?
As perfumer, it is very hard to make a choice as there are so many smells that I love! But one of my favourite ones is definitely rose oil. Every year, I travel to Bulgaria, Turkey or Iran, and I can tell you that I know my roses inside out. I am also in love with santal wood and jasmin sambac. But I would have to say that my true love is…vanilla.
What do you love most about Dubai and the Middle East?
What I love about the Middle East and Dubai is the approach that people have towards fragrances. Culturally and historically, people from the Middle East have a love for scents and fragrances from their inner core. You can imagine that for a perfumer, it is a dream. It's like being in heaven.
Now, see how this luxury jeweller is bringing next-level luxury to the Middle East.