Upbeat and with a full-wattage smile, luxury jeweller Roberto Coin is in the Middle East to open his new flagship store in the Fashion Avenue at the Dubai Mall. "It feels like I am home, to be honest, because I am the most proud of this store, it's the best."
The Italian founder and designer isn't short of passion and enthusiasm – a key characteristic of Italians, and of a man who has spent his career essentially looking after people.
And after many, many decades at the forefront of luxury, Coin's long-standing partnership with Damas Jewellery has brought his new flagship store into fruition, which has a distinctly royal touch, courtesy of some gold leaf accents.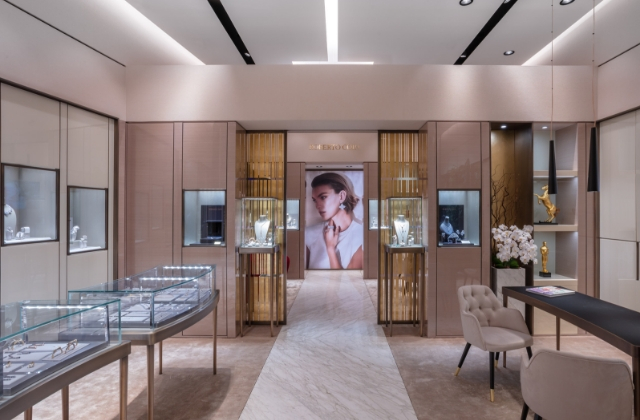 What can you tell us about Roberto Coin and its synergy to the Middle East's love of high-end luxury jewellery?
From a personal perspective, I love and respect the UAE and its people. It's an essential part of how the world of Roberto Coin and the Middle East meet. At Roberto Coin we believe in unique, individual pieces and the women of this region seek luxury that speaks to them on a personal level. We as a brand want to dress women differently. Most brands want to dress women equally or the same.
It seems like you really understand women…
Yes, in jewellery, I understand women better than anyone. I have studied a woman's world – my company is made up of 90% women. I want to elevate and support women wherever I can. I want to be able to offer something new for women all the time, which is why we make 600 new models every year. We invest a tremendous amount of money to create – it is our strength, we have the mental energy to continuously produce and think of new ideas because our clients want something new all the time.
What is the most important part of the customer experience in your flagship store?
We have our private room which can be closed off for a personalised service. I want our customers to feel that they can have something special made for them. We offer all possibilities. If a customer presents us with a large stone that they want us to play with, we will meet their requirements based on their needs. We are a family business, we are real and our customers deserve our undivided attention.
You've come from a hospitality background. What have you transferred from that industry to luxury jewellery in terms of the consumer experience?
Every consumer is the same: they like to be looked after. I have always gone out of my way to take care of my customers in a gentlemanly manner. When you're in hospitality, nothing is ever good enough, you always want to do better. This is the main challenge. I was trained to really understand the customers in hospitality and now, I do the same in luxury jewellery by really listening to what they want. Over time my VIP clients have become a part of my life and Roberto Coin has created a calendar of events to bring them together. And finally, if I had to pick one key ingredient for a successful customer experience, it's loyalty.
Tell us about the Dubai flower collection?
The original flower collection was tremendously successful. There is a nuanced difference between the original and Dubai flower collection. The Dubai flower is very sophisticated and slightly less ostentatious – women in the region have become more about timeless elegance and I wanted this collection to reflect this evolution of style.
We've heard that each and every one of your pieces has a ruby embedded in the design to touch the skin. What's the story behind it?
Egyptian legend has it that the ruby stone is a source of positive energy when it touches your skin. So, every piece has it, whether it's a ring, a bracelet or a necklace. It's one of the ways I propose something optimistic and prosperous to my clients.
The Roberto Coin flagship store is located in the Fashion Avenue of the Dubai Mall.
Now, find out about the art of watchmaking with Vacheron Constantin.