Sustainability first.
Copenhagen Fashion Week is often referred to as the "greenest" fashion week: to be on the calendar, you have to meet strict 18 Minimum Standards, developed in conjunction with CPHFW's 2020-2022 Sustainability Action Plan. For instance, more than 50% of the collection must be created from either certified organic materials or recycled fabrics and deadstock. And if a designer no longer passes the "green" test, he or she can lose a place in the calendar (every year a commission of 18 international experts reviews the dossiers of the participants). Things are quite strict here. For example, international editors covering CPHFW often specialise in the questions of sustainability and prefer not to include brands in their feature stories if they have the slightest suspicion of greenwashing.

Most of the show this season was held outdoors, and instead of the typical Copenhagen August sunshine, guests had a good dose of torrential rain. As the CEO of CPHFW Cecilie Thorsmark noted in her speech at the opening ceremony, this is a sure sign that climate change is irreversible and we need to act together now, without postponing the problems of the industry's impact on the planet for later. That's why Copenhagen's catwalks always showcase the latest developments in eco-textiles. For example, this year's Woolmark Prize winner in the innovation category, A. Roege Hove used in her new collection the revolutionary Circulose material, produced from 100% recycled old clothes; Ganni presented minimalist looks in black made from Oleatex (a textile developed from olive peels left over from oil production); and Stine Goya showed bags crafted from apple skin.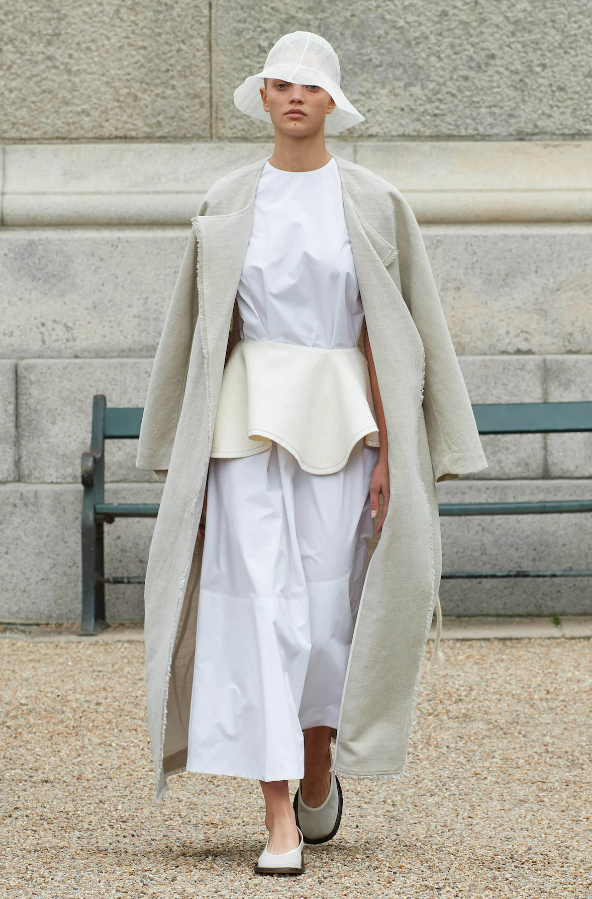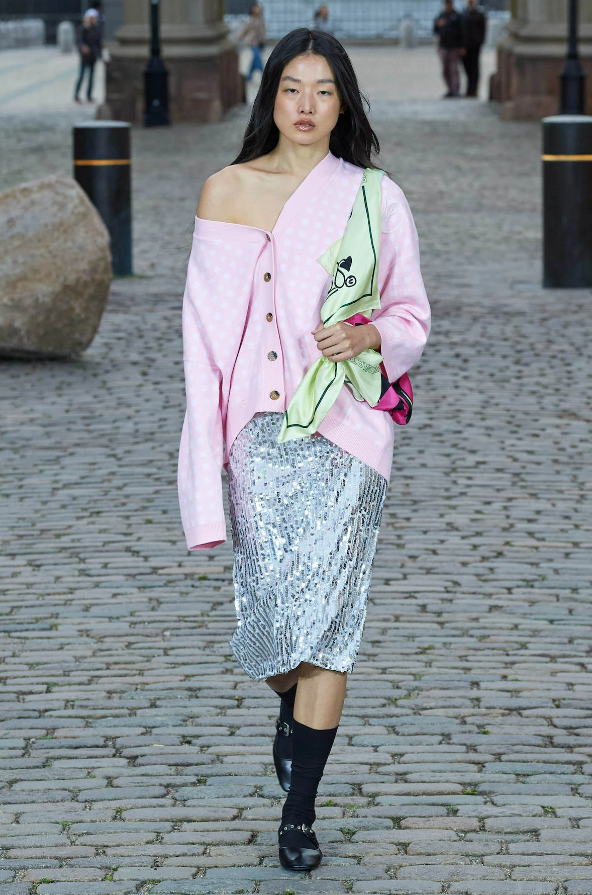 Celebrating the Danish Girl.
The Danish girl has become an icon of its own. Barbara Potts and Catherine Saks from Saks Potts celebrated her and the never-ending summer on the shores of their favourite holiday spot near Copenhagen's Charlottenlund Park. Stine Goya invited the guests to her home on Eckersbergsgade, where the models walked around a table set up. Here, in one of the most expensive areas of the city, it is a tradition for neighbours to actually host dinners right on the street. Baum und Pferdgarten dedicated their new collection to a girl from Denmark and presented a selection of iconic postcard silhouettes to a poignant remix of the Love Shop's track "Copenhagen Dreaming". That said, the Danish girl can be contrastingly different. She can dress in white shirts, suits and trench coats like the models at Lovechild 1979, The Garment and Skall Studio shows or choose to wear minimalist floor-length trapeze dresses designed by Mark Kenly Domino Tan. Or show more skin, as models who marched down the runway in beaded strawberry and cloud triangle bikinis at the Helmstedt show, in lace blouses at OpéraSport, or in shiny latex dresses at Rotate.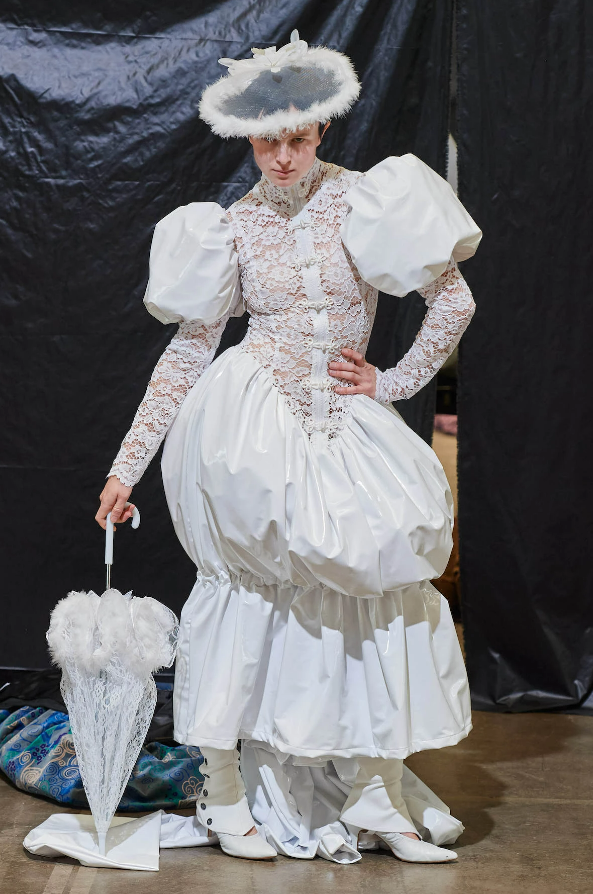 An alternative vision of Scandi style.
Scandi street style is changing. This season, the images from Copenhagen boasted none (well, almost) minimalist looks in black, white and beige, or girls in floral dresses and/or puffy lantern sleeves riding bikes in comfortable flip-flops or trainers. Instead, we saw more motorcyclists' and rockers' leathers, acid-coloured knitwear and a lot of avant-garde designs. Who is to "blame"? Actually, it's the rise of alternative brands that play boldly with fashion codes and go against the rules of the "good Danish girl". For example, P.L.N. staged a show in a former church (now home to the Nikolaj Kunsthal art centre), where models walked the runway with fake bruises and boxing mouth guards. While Deadwood focused on rocker looks made of vegan and/or recycled leather, Gestuz masterfully played with upcycled denim. Another reason, the increase in new generation avant-garde designers, who graduated from the CPHFW New Talent scheme supporting young creatives. Think Nicklas Skovgaard, A. Roege Hoeve or Latimmier, who already made their mark incorporating more daring looks into their collections – and we can already spot these silhouettes on the streets of Copenhagen.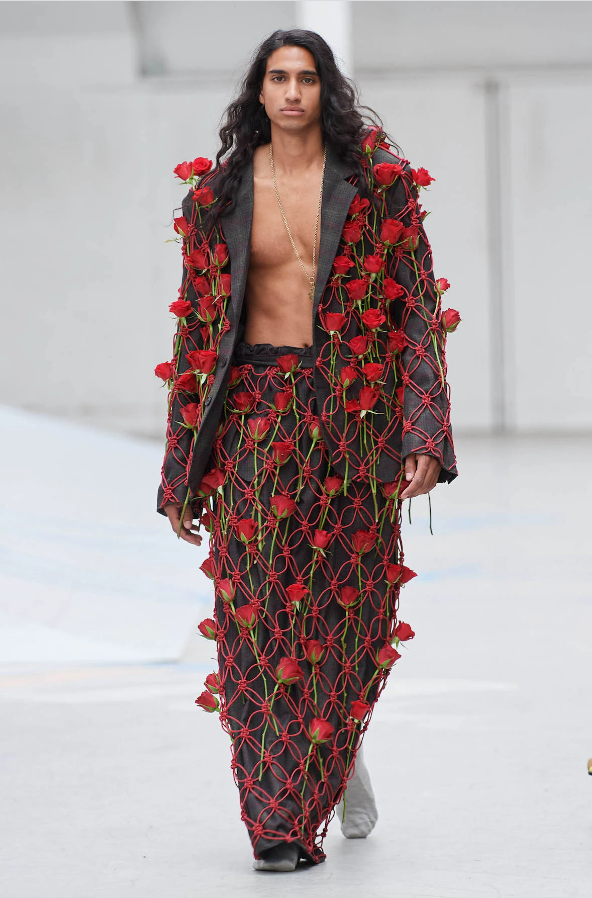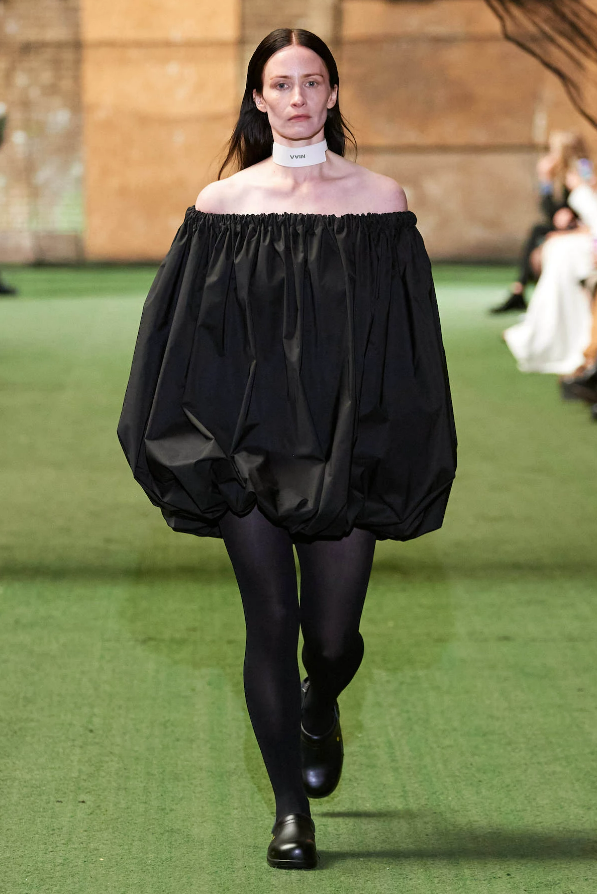 The Finnish are coming.
Copenhagen is hosting many Scandi talents, and this year we saw a bunch of designers coming from Finland. Most of them are graduates of the Aalto fashion school (NB, their mentor, Tuomas Laitinen, creative director of SSAW magazine, now runs fashion at Parsons in Paris). This season, Ervin Latimmier opened his show, a tribute to "The Wolf of Wall Street", in the conference room of the Radisson Blu Hotel with an unexpected drag performance (it's his long-standing hobby, he has a drag club in Helsinki), and then presented his vision of new office uniform. Rolf Ekroth showed his collection in an indoor skate park, where models walked around an improvised catwalk in rose-print coats and jackets – the same flower could be seen on a hand-embroidered dress (made by Ekroth's mother in traditional Finnish knitting techniques) and on chain mail tunic. Vain put on a show in a container warehouse: a bold fashion statement, it had this unique fashion energy, reminiscent of the years when Demna was friends with Lotta Volkova and everyone dreamed of getting a ticket to Vetements' show in Paris. Finnish fashion giant Marimekko, known worldwide thanks to its numerous collaborations with Uniqlo, celebrated the 60th anniversary of the iconic Unikko floral print at the Design Museum with a live performance from Finnish rock diva Malla Malmivaara.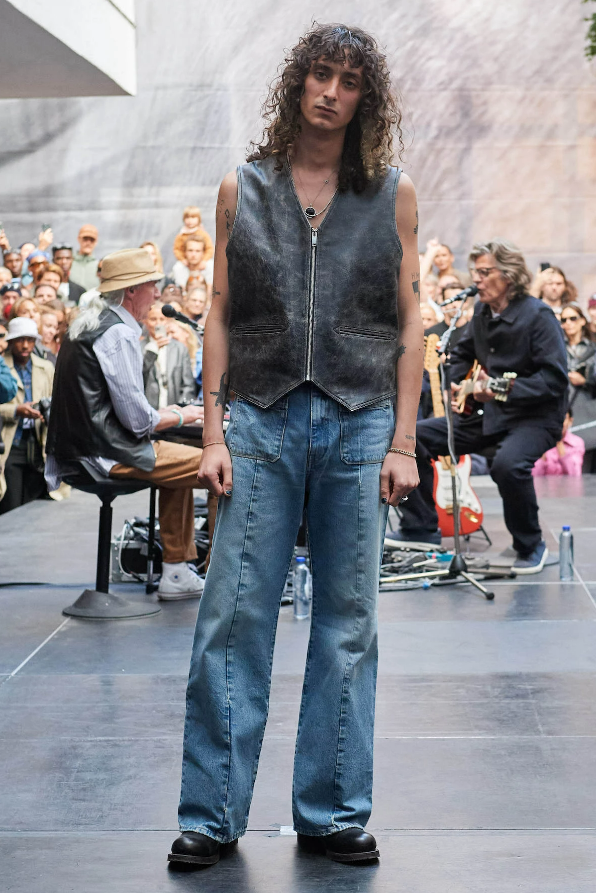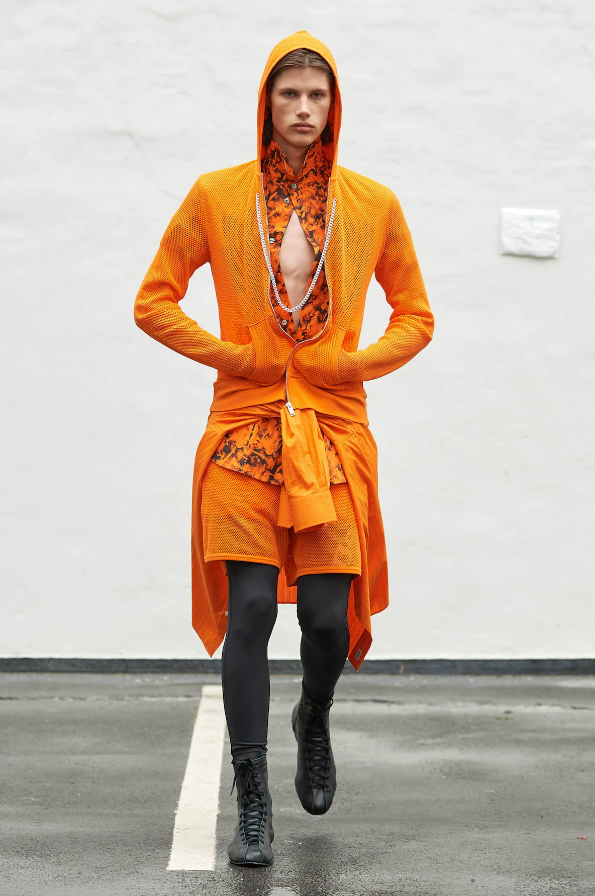 The Danish boy.
A menswear boom is on its way in Copenhagen. Highlights include everyday wear from Wood Wood, elegant looks from Sunflower (they had electronic musicians from the Danish duo Laid Back playing live at the show), comfortable and sporty silhouettes from J. Lindberg, avant-garde fashion from Henrik Vibskov and gender-neutral wardrobe from Stamm. And let's not forget the Finns – Vain and Rolf Ekroth, both labels specialise in menswear and were invited to present at the most important menswear fashion fair Pitti Uomo last January.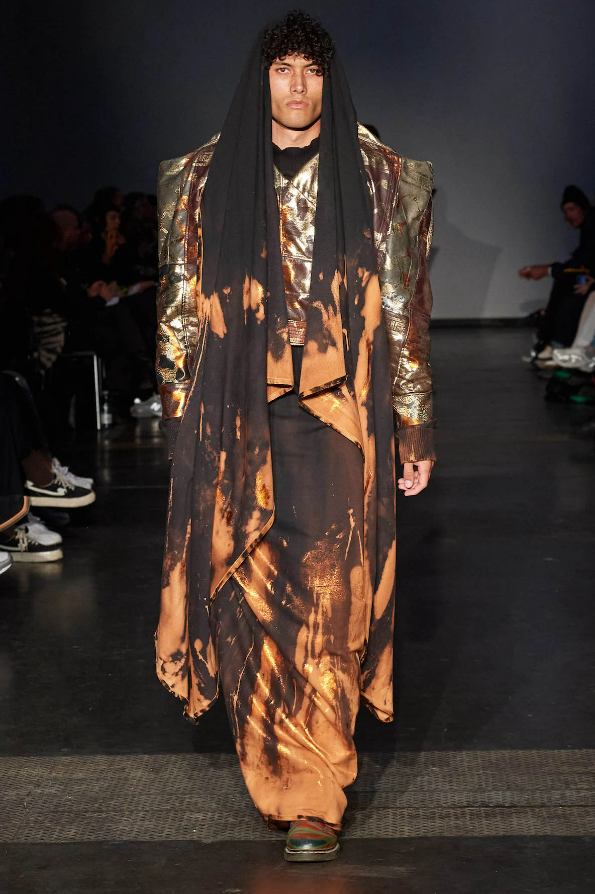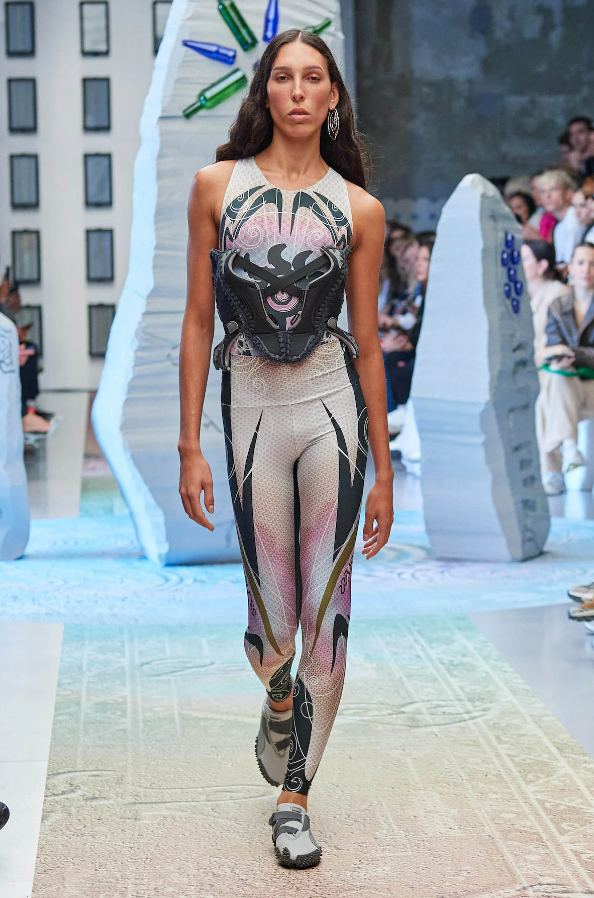 The new designers to watch.
The breakout star of the season, Nicklas Skovgaard instead of a classic runway show staged a one-man performance by his favourite model and former ballerina Britt Lyberg, who changed from one baroque dress to another for fifteen minutes in front of an amazed crowd. Another new name you need to know is the 2023 LVMH Prize finalist and Zalando Visionary Award winner, Paolina Russo from London, who showed one of the strongest outings of the season. Based on recycled denim and multicolored knitwear, one had a feeling that this collection was destined for a dreamy rave in East London. A highlight of CPHFW, the graduate collections of the MA Program at the Royal Danish Academy always attract attention of both press and the buyers. This season, Shengnan Huang from China wanted to find a way to overcome toxic masculinity by playing with traditional Chinese wardrobe items. And Sarkis Dersakhakian, who immigrated to Denmark from Lebanon showcased how a young man of Arab culture can fight the stereotypes of the West transforming himself through exuberant fashion designs.
Focus on casting.
Copenhagen Fashion Week is probably the most inclusive fashion week in the world, with models of different weight and age categories, tall and short, with different backgrounds and genders walking the catwalk at all the shows. Here, you can even spot models with disabilities, like on Kernemilk and Paolina Russo runways. Unsurprisingly, the top model moments worthwhile of the four major fashion capitals also happen in Copenhagen. This season, Erin Wasson closed the Saks Potts show and Helena Christensen walked at Stine Goya. And it was Copenhagen that Bella and Gigi Hadid's older half-sister Alana chose for her modeling debut. On the first day of the shows, she opened the Saks Potts show, and then walked the catwalk twice at Munthe.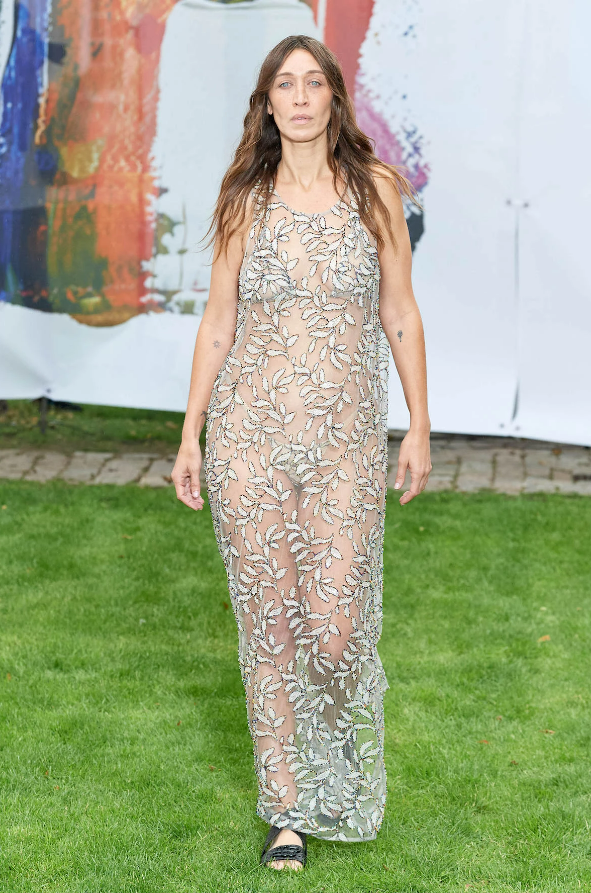 ALSO READ: QASIMI ILLUMINATES FUTURES FOR SUDANESE YOUTH THROUGH A DYNAMIC PARTNERSHIP WITH UNICEF.