The temperatures in the UAE have noticeably dropped and with that, comes the rise of excitement for glamping season. The country is home to some of the most luxe desert experiences and below, we've rounded up our top five favourites to serve as inspiration for your next desert destination getaway.
MOON RETREAT, SHARJAH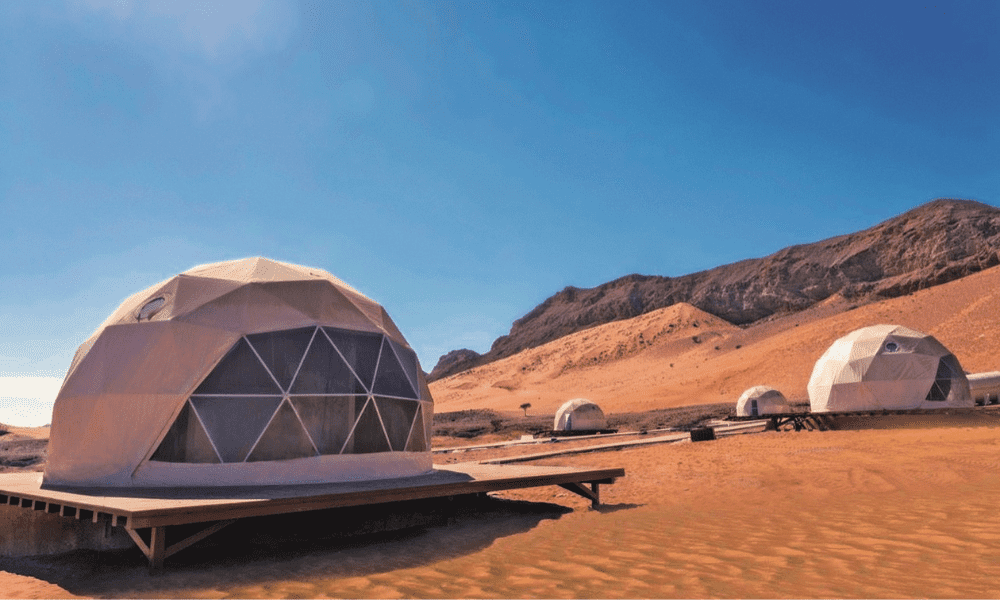 Under the Mysk umbrella, Moon Retreat is the ultimate glamping experience that will leave you wanting to book immediately. Located in Sharjah, Moon Retreat is a getaway that offers simplicity, adventure, discovery and privacy. With 10 domes and 6 creatively designed tents to choose from, each coming with breathtaking views of the desert's serene skies and surrounding dunes, as well as private swimming pools that are temperature-controlled. For the adventurer in you, you'll be able to explore the Mleiha Fossil Rock and the desert by the day, whilst enjoying a canopy of stars by night.
For more information or to book, please visit myskhotels.com.
STARLIGHT CAMP, DUBAI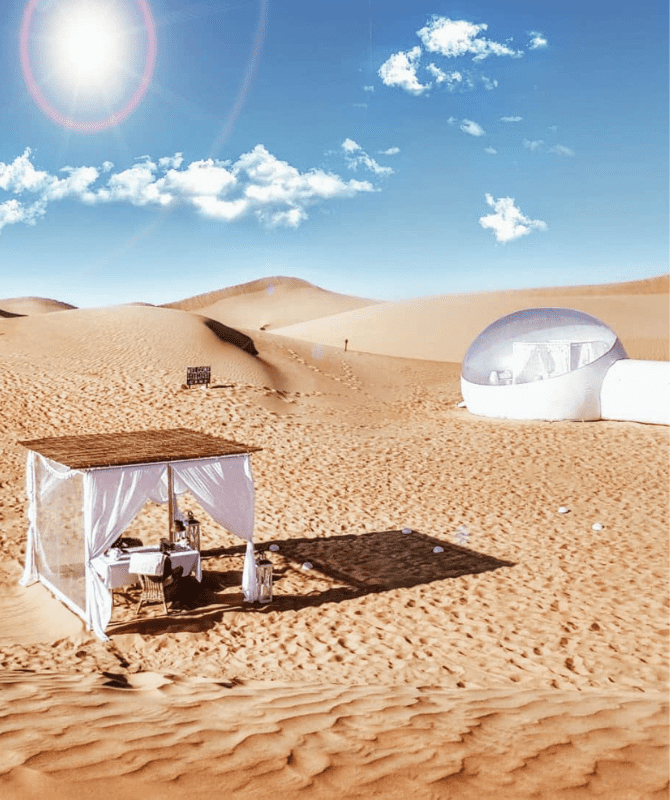 There's a new level of desert glamping in Dubai, where you'll be nestled within a natural amphitheatre in the Arabian desert and surrounded by dunes. The Starlight Camp features a dome-shaped tent that allows guests to fall asleep with views of the starlit open night skies above courtesy of its crystal roof, and also comes complete with an outdoor dining area, beverage station, a telescope, Bluetooth speakers and a fireplace with firewood for guests to use. It's a refreshing escape from the constant bustle of the city
For more information or to book, please visit starlight-camp.com.
THE NEST, DUBAI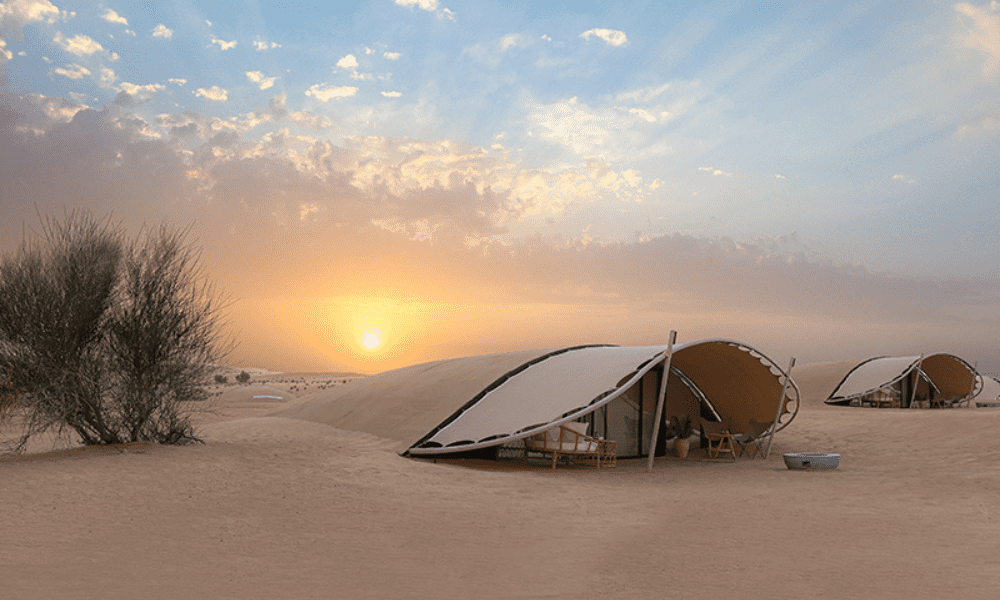 This isn't your average glamping experience. Brought to you by Nara Desert Escapes, the team behind the luxury desert restaurant Sonara Camp, The Nest is the latest luxury accommodations in the desert dunes. Nestled away in a cool hideaway within Dubai Conversation Reserve, The Nest is home to 14 desert nests, each of them blending seamlessly into their surroundings, and comes with a bedroom area, a private en-suite bathroom, and an outdoor majlis for enjoying the sunset. Enjoy a peaceful and innovative sleeping concept for unforgettable nights in the desert.
For more information or to book, please visit nara.ae.
BAB AL NOJOUM – AL MUGHEIRAH, ABU DHABI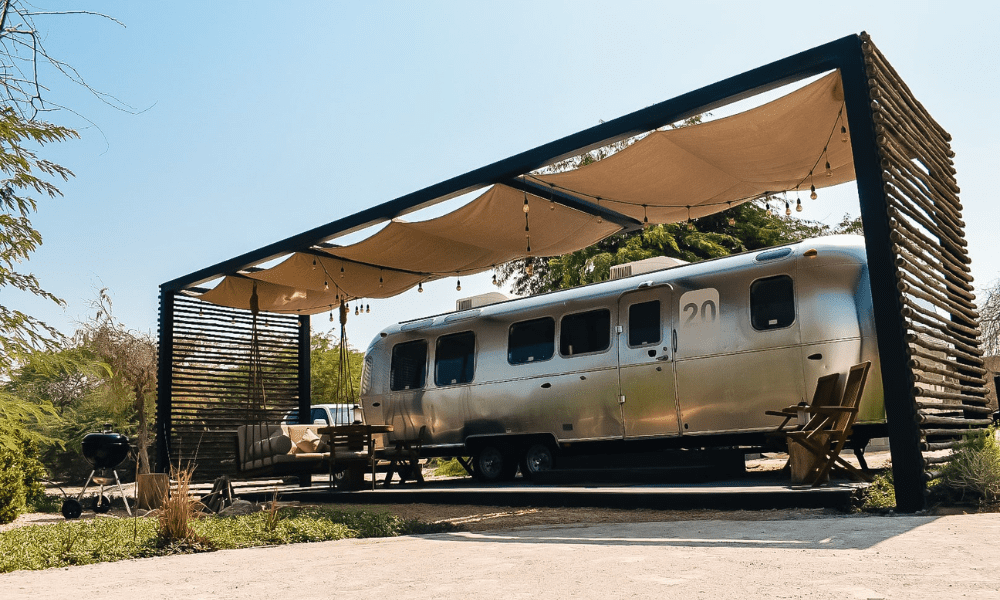 Welcome to Abu Dhabi's enchanting luxury escape where stars meet the sea and sand. Book your stay at Bab Al Nojoum's Al Mugheirah Resort where your eco-glamping experience features accommodation with a restaurant, free private parking, free bikes and an outdoor swimming pool. Boasting family rooms, this property also provides guests with a sun terrace. Some of the units are available with sea views, however, every room is equipped with a patio so you can truly embrace your surroundings.
For more information or to book, please visit babalnojoum.com.
MYSK AL FAYA, SHARJAH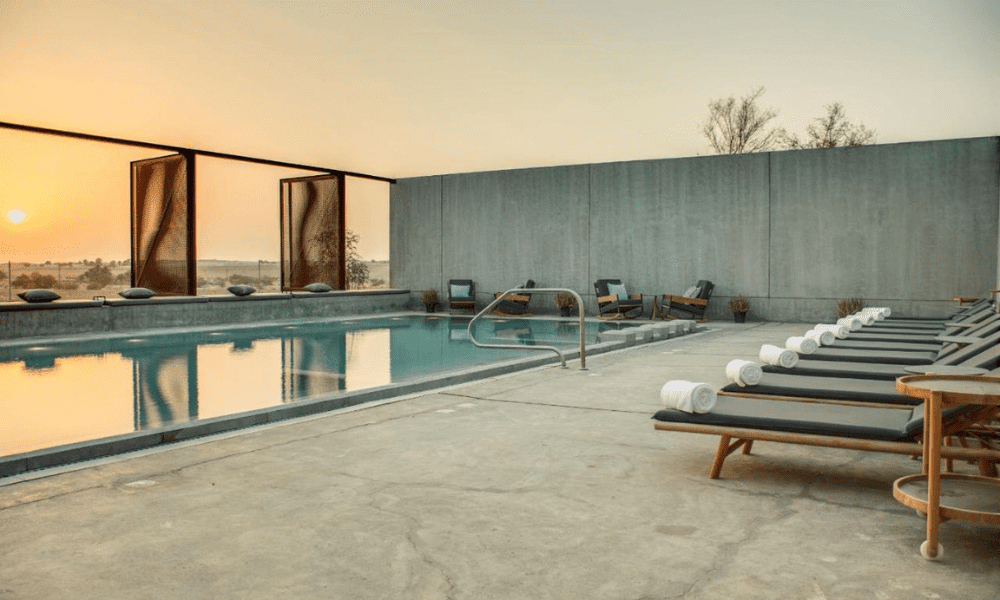 A complete cocoon of comfort awaits at Sharjah's hidden gem, Mysk Al Faya. A desert resort that offers a boutique experience unlike any other, it's the ultimate retreat escape from the bustling city offering amenities such as an herbal room, salt pool, tropical shower walk and a hands-free spa. Since Mysk Al Faya is situated on the foothills of sandy mountains, the resort also offers guests the opportunity to explore the true beauty of the Mleiha region which was nominated as a UNESCO World Heritage Site.
For more information or to book, please visit myskhotels.com.