If like us, you've been endlessly scrolling through social media for inspiration on where to travel during the upcoming Eid holidays, you're not alone. The ultimate destination for couples, families or anyone looking to escape reality for a moment is just over a 4-hour flight from Dubai. People from around the globe head to the Maldives to discover its crystal-clear waters, white sandy beaches and endless experiences that are bound to give you a sense of unwinding.
And whilst we know that the options available for a vacation in the Maldives are varied and luxurious, there's one in particular that we've tried and tested, and it's bound to make your holiday experience that much sweeter.
The Hilton Maldives Amingiri Resort and Spa is a short 20-minute boat ride from Malé airport. Located on a stunning tropical island surrounded by lush greenery and turquoise waters, the vibrant resort brings world-famous levels of hospitality to life whilst adding a flair of local traditions.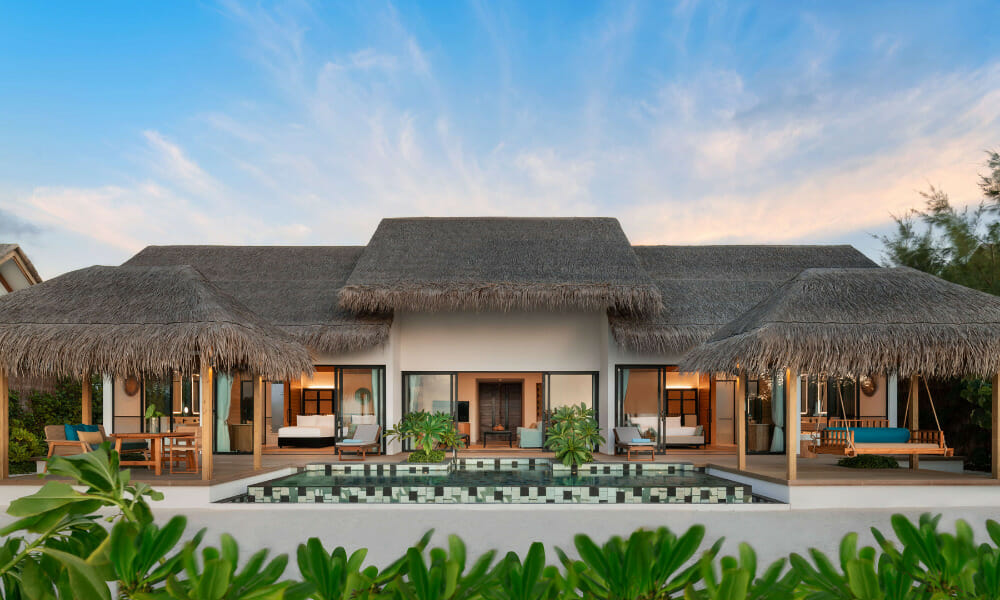 The resort features 109 beach and over-water villas, each with its own private pool, as well as the exclusive 6-bedroom Amingiri Villa, perfect for families to celebrate. With the most delightful occasions, the villa is located within a carefully designed cove, and provides a private dock to receive guests with a sun terrace that offers panoramic views of the island.
Genuinely allowing its guests to feel at home, its inviting interiors, floor-to-ceiling windows, modern creative touches boast serenity as it pays tribute to the surrounding natural environment. Building upon perfect harmony, the overwater villas built over the surface of the water are equipped with stairs that provide direct access to the lagoon – so, imagine waking up to the sandy beaches at your very doorstep? Paradise, right?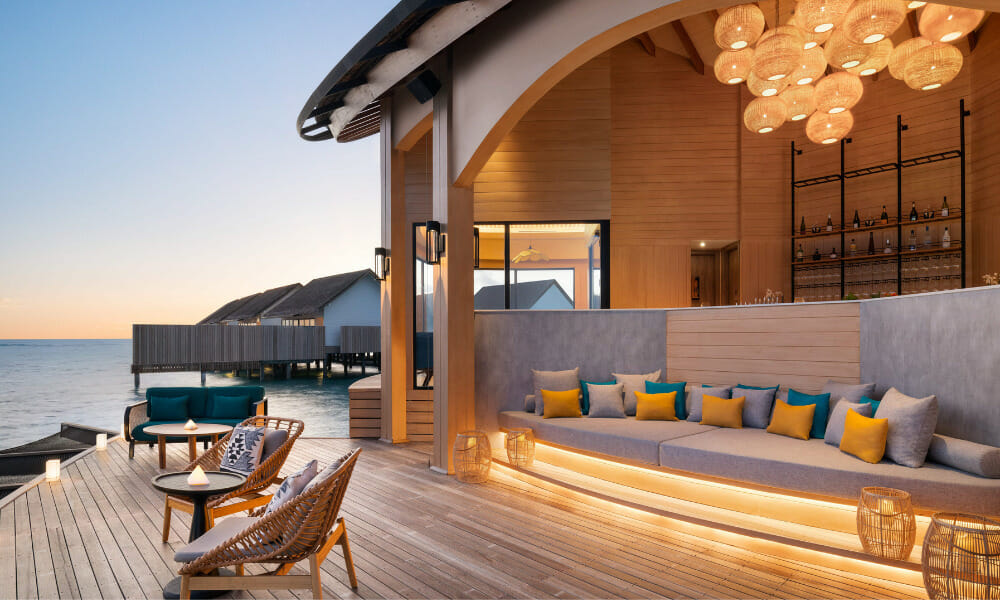 In addition to where you'll be spending your nights, the hotel is home to a plethora of dining and drink experiences where guests will be able to discover a taste of the Maldives with romantic beach dinners, floating breakfasts, and sunset cocktails. With eight restaurants and lounges offering a unique setting to enjoy fresh and flavourful cuisine, there's something to satisfy every tastebud out there.
Think: the Beach Shack is an upscale, yet unpretentious, feet-in-the-sand dining venue, whilst Origin is only open for dinner and is an overwater speciality restaurant that takes a mindful approach to dining, presenting seafood at its best through sustainable sourcing, ageing, and reduced waste. Oh, and don't forget to keep your eye out for themed buffet nights, wine tastings, and a private masterclass with a mixologist.
From sandbank picnics to a private cinema setup or floating breakfast, you'll be able to create everlasting memories with our exclusive dining experiences at Hilton Maldives Amingiri Resort & Spa.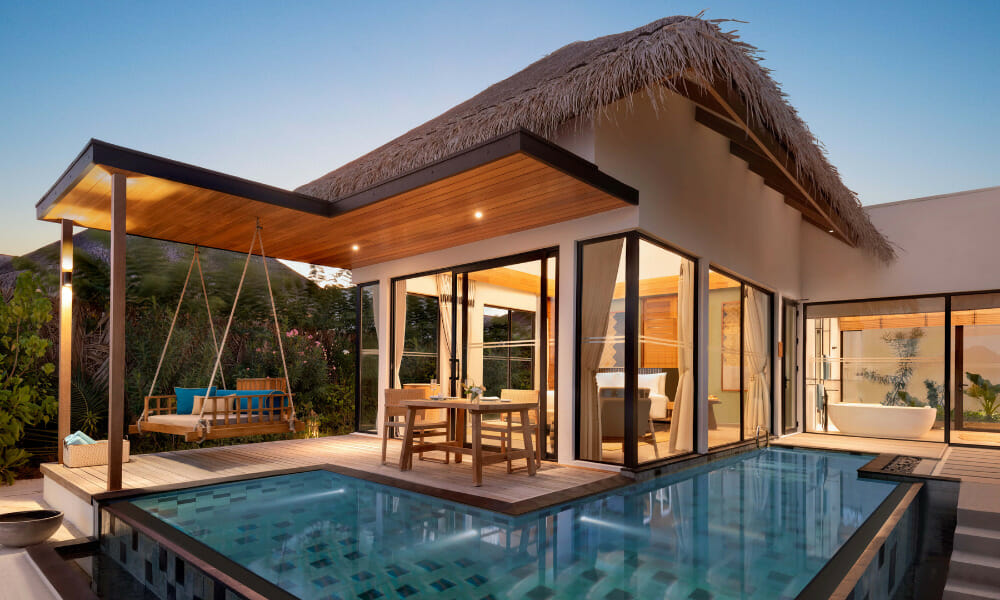 And you can't possibly plan a visit without experiencing the resort's spa and wellness offering. Here, you'll be able to reset the mind and body with rejuvenating spa treatments with expert Wellness Designers on site to guide you through bespoke selections as you embark on a transformative journey.
From hammam rituals to body treatments and facial care, you might want to book a whole day to truly indulge in all the services. There will be various options for care and recreation, where you can try the yoga suite, the fitness centre, the hair and makeup salon, or the body care lounge. Trust us when we say that it's an oasis of calm and tranquillity.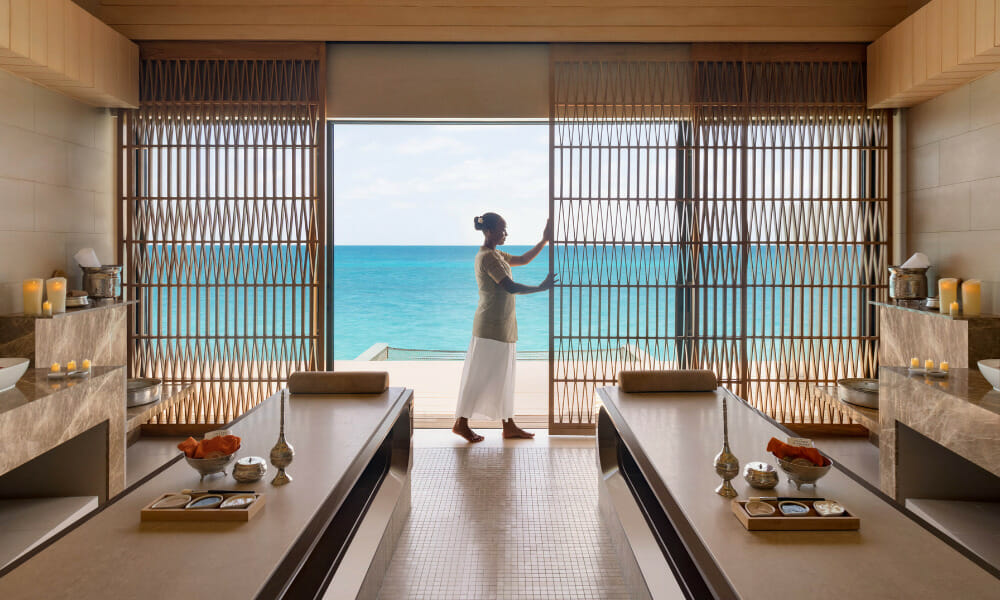 Another key offering of the resort is its commitment to sustainability. The Hilton Maldives Amingiri Resort & Spa is mindful of the community and the environment as it collaborates with local partners on recycling, wastewater treatment, sourcing local ingredients as much as possible and eliminating single-use plastic to protect marine life.
It's a win/win for us at this picturesque location. To know more and to make a booking, please visit Hilton.com.