"The Apple Watch has become our companion", says Tim Cook. "This year we're introducing our best Apple line-up yet".
At the official 2022 keynote, the Apple CEO took to the stage to share details of what'll be in store this Fall – kicking off the keynote with details of the all-new generation of the Apple Watch. And just when we thought we couldn't love it anymore, we're proved wrong.
Joining the line-up of the Apple Watch is Series 8 – featuring advanced sensors and technology. It's swim-proof, crack-resistant and dust-proof (helpful to those of us in the Middle East) and comes with a series of health and safety features. The new generation of the Apple Watch focuses on women's health with new temperature sensors that contribute to tracking a woman's cycle – whether it's monthly period tracking, ovulation (including possible deviation) or overall body temperature – and will give women further insights into their health.
Utilising the new temperature-sensing capabilities in Apple Watch Series 8 with a sensor design – one on the back of the watch, nearest the skin and another just under the display – there's also a new safety feature that can detect when you've been involved in a car crash. To enable Crash Detection, Apple developed a new algorithm that can detect real-world accidents, including head-on, rear-end, side-impact, and rollovers, and can even check in with the user and dial emergency services if they are unresponsive after a 10-second countdown.
Another highlight of the Apple Watch Series 8 is the extended battery life. Now, users can remain connected for even longer with 36 hours of battery life courtesy of its Low Power Mode, which will temporarily disable, or limit select sensors and features, including the Always-On Retina display, workout autostart, heart health notifications, and more.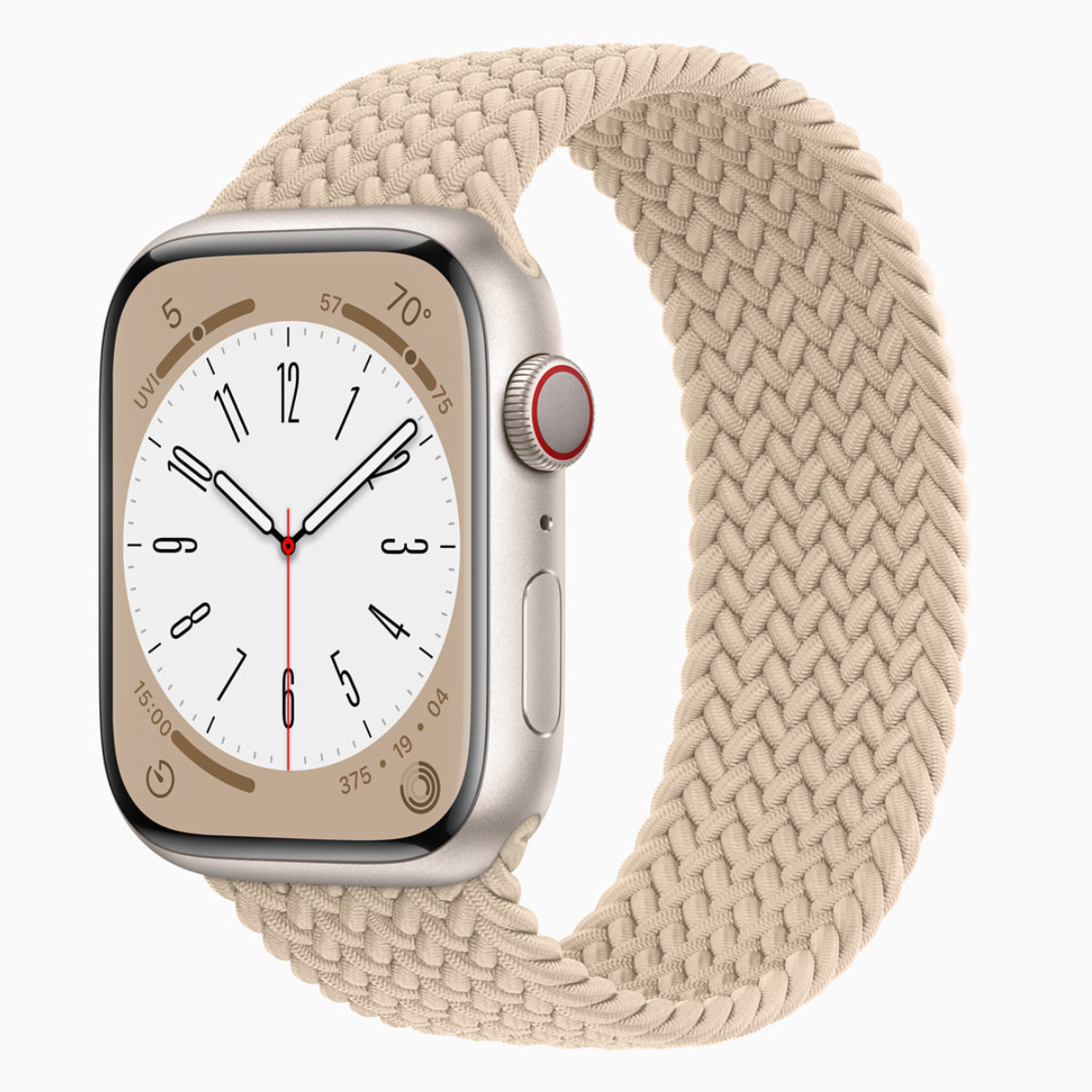 The new line-up offers a variety of sleek case finishes, colours, and band types to fit your own personal style. Available in aluminium and stainless steel cases in two sizes, 41mm and 45mm, the new aluminium case colours for Apple Watch Series 8 include starlight, midnight, silver, and (PRODUCT)RED, while the stainless steel case offers silver, graphite, and gold.
And, just like every season, Apple Watch continues its partnerships with Nike and Hermès to debut new bands and watch faces for the autumnal season. For the former, sport bands are introduced in new colours and a sport loop featuring the "Just Do It" logo woven right into the band and for the latter, two new Hermès bands – H Diagonal and Gourmette Metal – will give that luxury update to your watch companions. There's also a whimsical new Hermès watch face called Lucky Horse that celebrates the equestrian roots of the house with an animated horse that sleeps when the wrist is down and comes alive when it is raised.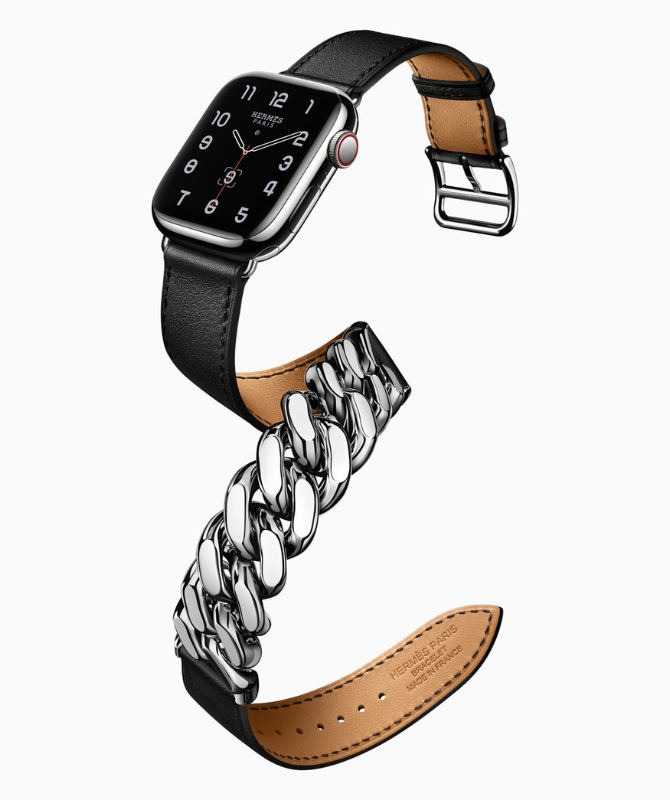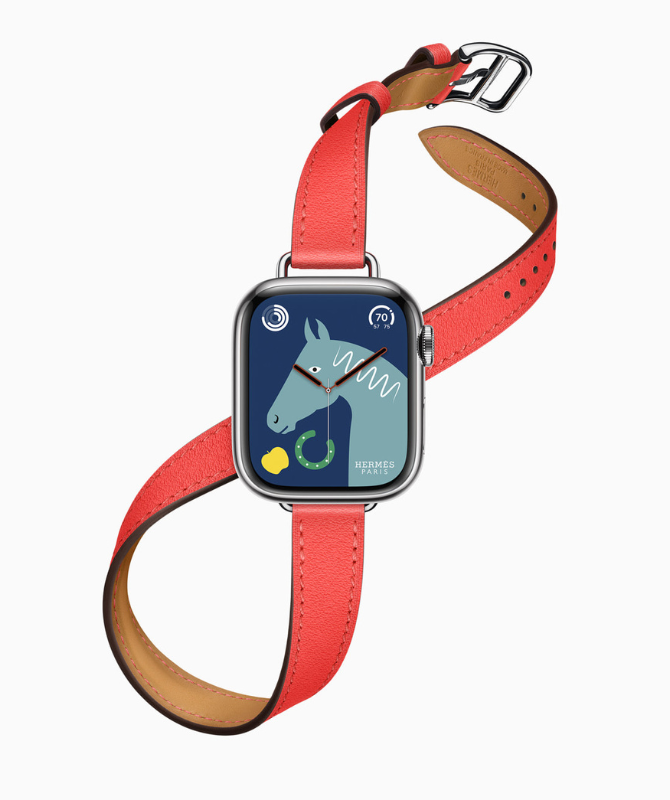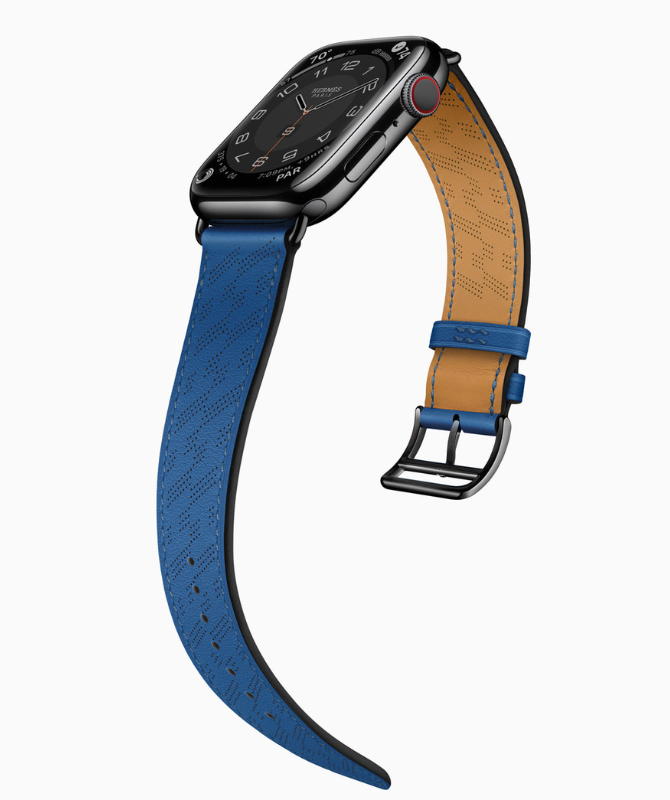 The Apple Watch Series 8 starts at AED1,599.
Apple Watch SE
The Apple Watch experience continues with a more affordable offering. Enter: Apple Watch SE. The new line-up allows users to continue enjoy the benefits of the Apple Watch but with a redesigned matching back case made of nylon composite materials (making it lighter than ever).
Delivering the core Apple Watch experience, Apple Watch SE users can appreciate the benefits of the new Compass app, Crash Detection, enhanced fitness and wellness features, and Family Setup – all whilst enjoying upgrades including the S8 SiP advanced dual-core processor.
Apple Watch SE is available in 40mm and 44mm aluminium cases, in midnight, starlight, and silver finishes, and is compatible with all bands.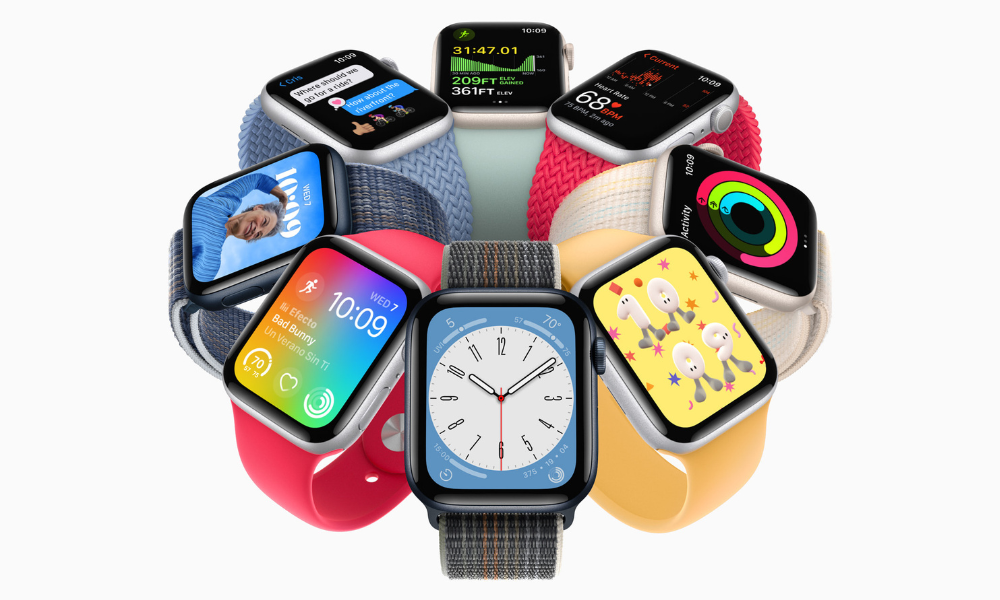 The Apple Watch SE is priced at AED999.
Apple Watch Ultra
There's an exciting new expression of the Apple Watch. Introducing the Apple Watch Ultra – made for the adventurer in you and for those who want to keep pushing boundaries. The revolutionary design comes with breathtaking capabilities to help you in extreme weather conditions courtesy of a wide range of features built for endurance, exploration, and adventure.
If you're into endurance sports, Apple Watch Ultra will be your new best friend as it includes new advanced running metrics to measure performance, like Stride Length, Ground Contact Time, Vertical Oscillation, and Running Power. Also, for the first time ever in an Apple Watch, the precision dual-frequency GPS integrates both L1 and the latest frequency, L5, plus new positioning algorithms which means it'll deliver the most accurate GPS of any Apple Watch to date. We might also add that with its generous battery life, there's enough to last users to complete a long-course triathlon.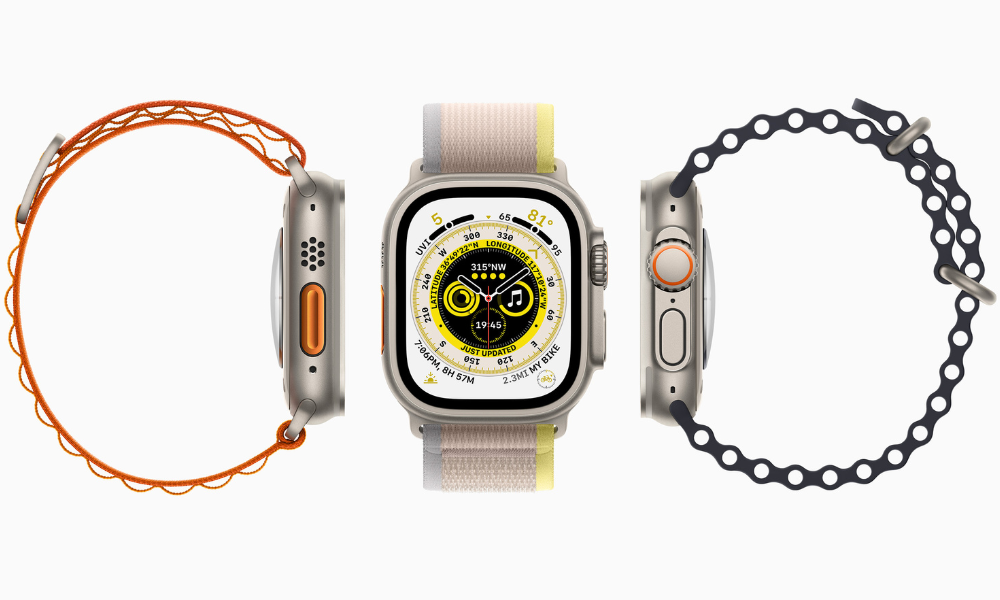 On the other hand, explorers will get to enjoy the completely redesigned Compass app which displays a new hybrid view that simultaneously shows both an analogue compass dial and a digital view. Turning the Digital Crown reveals an additional view that includes latitude, longitude, elevation, and incline, as well as an orienteering view showing Compass Waypoints. And, if you forgot your way back (which, isn't uncommon), the new Backtrack feature uses GPS data to create a path showing where the user has been.
Another impressive introduction is the on-wrist operating temperature system which was designed to help explore the most extreme and remote locations, from freezing cold mountains at -4° F (-20° C) to the blazing desert heat at 131° F (55° C).
Now, for those ocean and water sports enthusiasts, Apple Watch Ultra supports those underwater adventures by introducing a Depth app designed with an intuitive user interface. With just a glance, the Depth app displays time, current depth, water temperature, duration under water, and max depth reached. Users can program the Action button to instantly launch the Depth app. There's also the new Oceanic+ app which turns Apple Watch Ultra into a capable dive computer allowing users to truly discover the depths of the ocean through a new and enriched experience.
"Inspired by explorers and athletes from around the world, we created an entirely new category of Apple Watch designed for new and extreme environments — it's the most rugged and capable Apple Watch yet," said Jeff Williams, Apple's chief operating officer. "Apple Watch Ultra is a versatile tool that empowers users to push their boundaries with adventure, endurance, and exploration."
Available with three new bands — Trail Loop, Alpine Loop, and Ocean Band — the Apple Watch Ultra offers unique design features that provide a secure and comfortable fit for every type of adventure.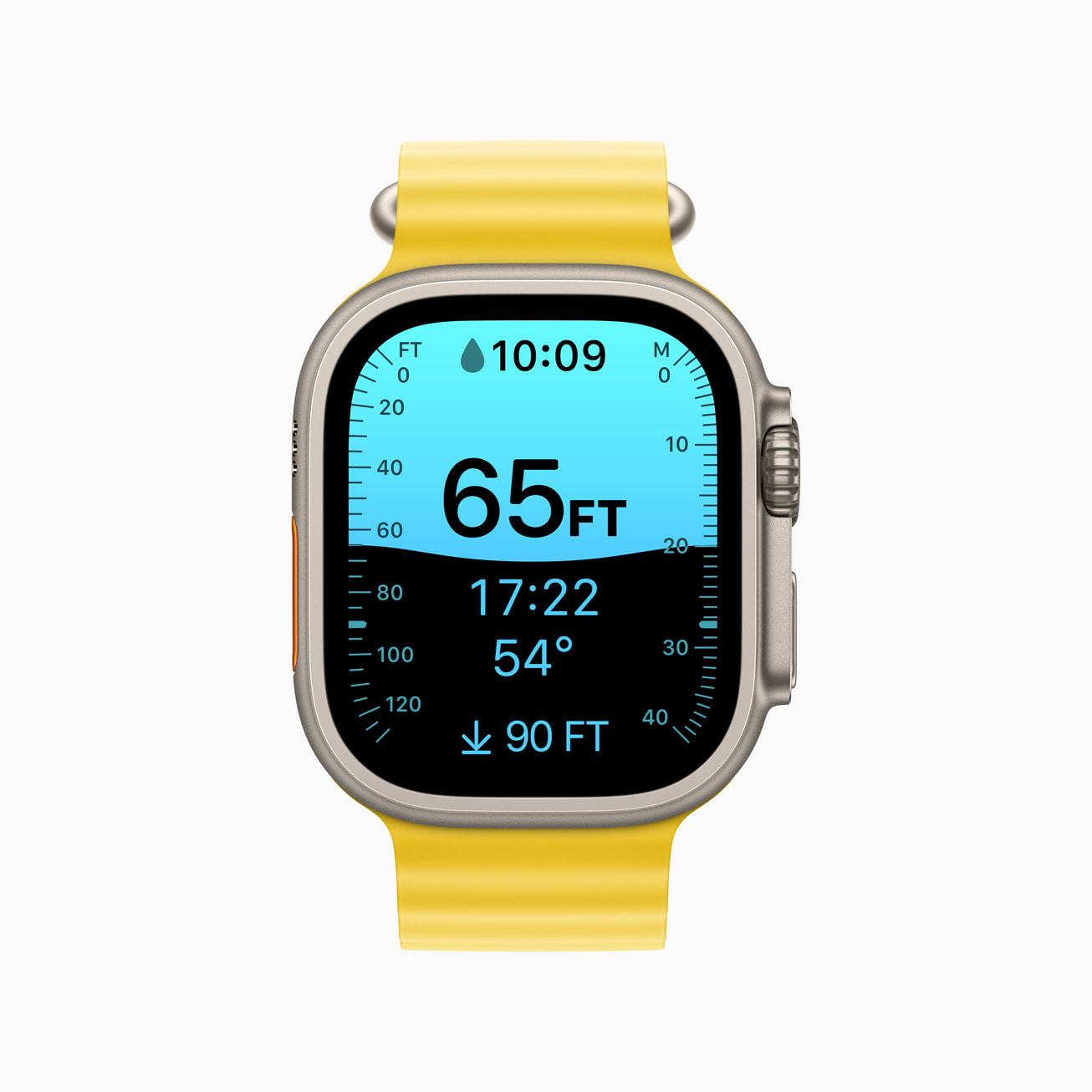 The Apple Watch Ultra is priced at AED3,199.
AirPods Pro Second Generation
Continuing the ultimate audio and cinematic experience, there's a new generation of the AirPods Pro – and it's better than ever before. Delivering even better sound quality and a more immersive listening experience, the AirPods Pro Second Generation introduces Personalised Spatial Audio and transformative audio features such as Adaptive Transparency (a customer favourite) and 2x more noise-cancelling power than the original AirPods Pro.
There's also the introduction of several convenient features to the second generation of the AirPods Pro including Touch Control, where users can control media playback and turn up the volume without using another device, as well as offering a new extra small ear tip to better fit more customers and longer battery life (think 6 hours of listening time in one single charge and a 33% increase from the original AirPods Pro).
Another major game-changer that comes with the second generation of the AirPods Pro is the newly designed charging case which is now sweat- and water-resistant, and features a built-in speaker to deliver louder tones, so once you've got Precise Finding on, it's even easier to locate. Customers will also be able to charge their AirPods Pro cases with an Apple Watch charger, in addition to a MagSafe charger, Qi-certified charging mat, or the Lightning cable.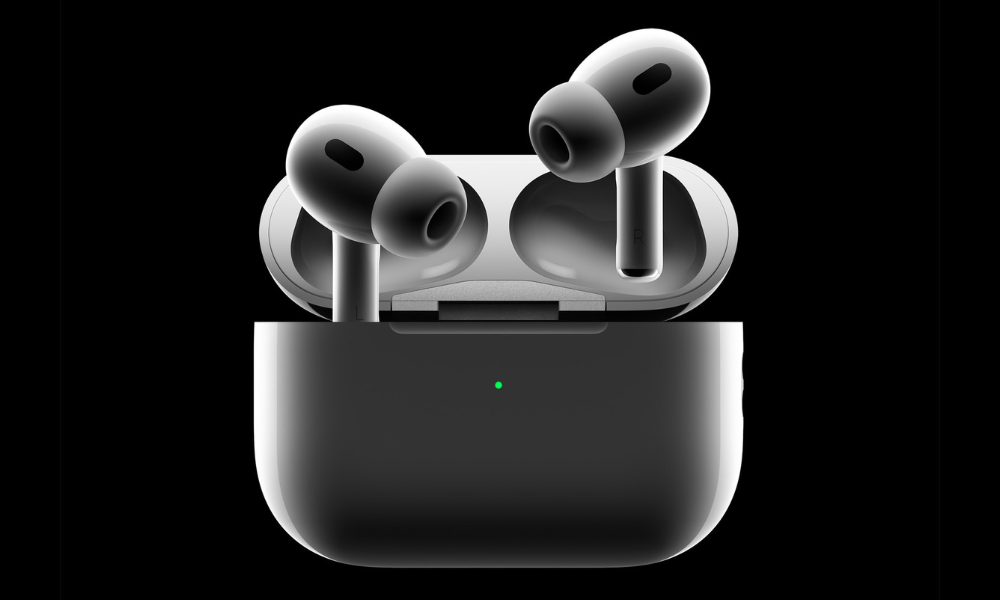 The AirPods Pro Second Generation is priced at AED949.