Virgil Abloh is a busy man. After succeeding Kim Jones at Louis Vuitton earlier this year, the Off-White designer is currently creating his second collection for the brand (which is set to debut during Paris Fashion Week next month). However he still had time to add in another collaborative collection.
Overnight, Virgil Abloh and Nike hinted that a new collection was in the works and what's even more exciting is that the collection's muse is Serena Williams.
Known for slamming the courts in style, the renowned tennis player will return to the U.S Open (where she'll compete for her 24th Grand Slam title) wearing pieces from the capsule collection.
Called the 'Queen Collection', Abloh has created custom designs built around the Wimbledon player, and the collection will consist of tennis dresses in black and white, a bomber jacket, a bag, a pair of NikeCourt Flare 2 sneakers, as well as limited-edition styles of Abloh's previous Nike collaboration (which includes a Nike Air Max 97 and The 10: Nike Blazer Mid SW with gradient-colored soles).
And of course, no Off-White collection is complete without its signature elements such as zip-tie tags, quotes and "Serena" logos.
According to Fashionista, Abloh said in a statement: "What I love about tennis is the gracefulness. It's an aggressive and powerful game, but it takes touch and finesse. So the dress is feminine but combines her aggression. It's partially revealing. It's asymmetrical. It has a sort of ballerina-esque silhouette to symbolize her grace. It's not about bells and whistles and tricks. It's just about it living on the body, and expressing Serena's spirit with each swing of the racket."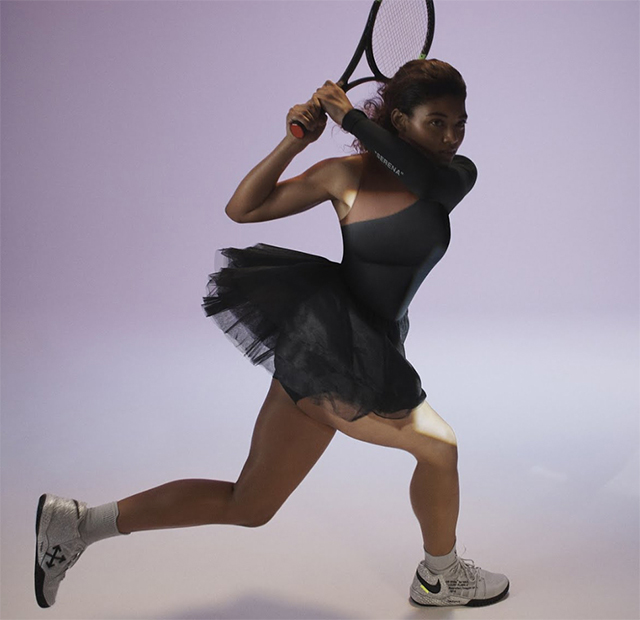 This isn't the first time Nike and Virgil Abloh has worked together. During the early days of the summer season, news emerged that the sportswear giant had teamed up with Abloh to create a collection to celebrate the upcoming World Cup.
Virgil Abloh's Queen Collection will be showcased on Serena Williams at the U.S. Open in New York later this month. The collection will also be available at select Nike and NikeLab retailers, as well as Nike.com.
Now, take a look at Reebok's new star-studded campaign which encourages women to support women.