We've just received word that one of our favourite houses — Louis Vuitton — is expanding its offering to include one of our favourite items — candles. Colour us thrilled.
The brand has announced that its in-house perfumer Jacques Cavallier Belletrud, the man behind its fragrances, has created a new range of four candles to expand upon the brand's olfactory offering.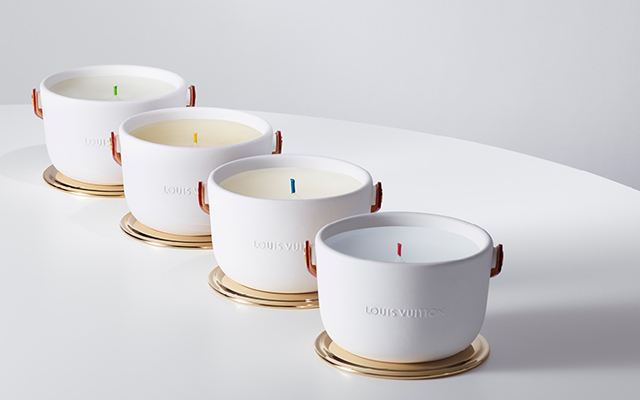 The scents, as described by the brand, were imagined "like a house with windows open to the world" capturing the essence of a breeze travelling from the outdoors, in. "These four fragrances have been composed like snapshots of moments suspended in time, which can be relived when the candle is lighted anew," the brand explained in a release.
There are four scents on offer: the first is L'Air du Jardin, which bottles the scent of the rose centifolia that blossoms in Grasse each spring; Île Blance, an imaginary island where the air is fresh with ocean spray, the sun and white cotton, embodied in the scent through the use of orange, jasmine sambac from China as well as neroli and cardamom; Feuilles d'Or which gives the impression of walking through the woods with notes of Indonesian patchouli and Virginia cedar combining to transport your senses; and finally, Dehors Il Neige, inspired by the smell of a fireplace crackling inside whilst it snows outside made using star anise and cinnamon (to recall holiday memories in December) and finished with raspberry.
The candles are cast in handmade white ceramic pots that will look good literally anywhere you decide to put them, both whilst the candle is burning and when it is finished. The containers also have a natural leather hand-sewn handle, a gold lid and are finished with a fun detail: colourful wicks which were hand-painted in Grasse.
The candles will be available in store from November 5.
Well, there's all forthcoming presents sorted then.
Now, see Emma Stone in her first fragrance campaign for the brand.