victor Sanz, the Creative Director of Tumi, knows everything there is to know about high-end suitcases and luxury bags for travel. After starting his career at the US-based brand as a Senior Designer in 2003, his creativity blossomed into a vision that would soon change the way everyone thinks about travelling.
Responsible for the impeccable designs of Tumi's new offerings, Sanz (who is continuously on-the-go) jetted to Dubai for just 42 hours to officially celebrate the opening of the brand's largest store in the region at The Dubai Mall.
During the short trip, Sanz sat down with Buro 24/7 Middle East to discuss the latest trends in luggage, the importance of functionality and style, how the lifestyle segment affects millennials and upcoming collaborations…
How has luggage changed since you joined Tumi as a Senior Designer in 2003 versus now?
Yes. In 2003, there was like five collections total. It was all black, black, black, black and black. So they hired me to come in and design something new and younger, unique and fresh and I was lucky enough that the people that were there in the design team were fantastic. They were educating me on how to build a product that wasn't just about the product, but it was about building the right product with a purpose that lasts, and why it's important that it lasts. Not just the durability but also products that stand the test of time. It should still look good in 10 years and the person should want to carry it around and it shouldn't look dated.
How would you describe the Tumi traveller?
I think one of the big things for me is that they're kind of multi-faceted. They're not just a singular person but what I see is that they're very efficient. One thing that I've also realised is that they're very flexible and that they need that flexibility in their lives. With a bag like this, you should be able to walk into the office, then go to the gym. So we spend a lot of time studying what our customers do and their lifestyle.
Most of your designs are very functional. Talk us through the importance of functionality and style…
I think more now than ever, there shouldn't be a trade-off. There is no reason why a product should be stylish and not functional. If you look at our women's collections that we're developing, they're super clean, sleek and they're still functional. Then you have Voyager, which are soft, easy and you still have that functionality layered in. You see the colours and the prints that you add on to it. For us, it shouldn't be a compromise. Especially within our women's area, why should women have to compromise function for style whereas, for men, that isn't the issue? We're really focusing on that and bringing more collections to women because we know the customers and they want that product and they're asking us for those pieces and we feel the world should have it.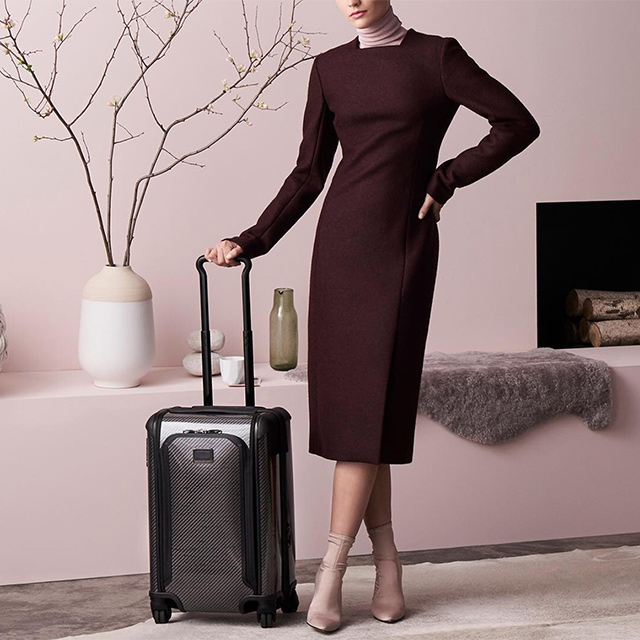 Where does your design inspiration stem from?
I get it from a lot of different places. Obviously the more I travel, talking with people, I just love talking with people in general (laughs). You know you just trade stories and you hear their journeys and how they travel and of course, you go to museums, you're listening to music, you're trying the food and experiencing all of these cultures and you start seeing these details. You allow yourself to take that path, it's about an industrial process but having it hand-crafted and hand-touched, still using a lot of those manufacturing elements. I love travelling with the team, we're so diverse, and the passion that's there is infectious within the brand.
Obviously, Tumi doesn't just sell luggage but it sells a lifestyle concept. How do you think the lifestyle segment has affected millennials?
Ah, the millennials. Everyone is trying to crack the millennial code (laughs). I think the millennials are defying themselves. What I look at is what's important to this new generation, and what I'm seeing is that it's about the experience, it's about going places, it's about capturing these moments, and they're living in this social media gratification type of journey. So, how do we create products that help millennials on their journey? We're developing collections that are much more geared towards that person that is travelling, less for business but much more for travel. We're creating much more fashion-forward bags that have flexibility. Another part of the millennials is that it's less about the generation but more about the mindset. They want colour but they also want black, so we're allowing them to define themselves and give them the tools to define that definition.
so, how do we create products that help millennials on their journey? we're developing collections that are much more geared towards that person that is travelling, less for business but much more for travel.


Source: http://www.buro247.me/beauty/insiders/backstage-exclusive-here-s-how-to-recreate-dior-s/
What are some of the newest trends and styles in the luxury travel industry?
There are definitely regional trends like how cross body bags are really important here. Backpacks in North America are massive, but then one thing about the brand is that we have loyal customers. Whether you travel to New York or to Asia, you'll always find products that you want but you're also discovering different silhouettes that are unique to those regions but there are definitely favourites within different regions.
Speaking of the Middle East, you announced your first Middle Eastern brand ambassador, Ali Mostafa, earlier this year. In what direction would you like your relationship with the Middle East to grow?
The reality is that you have a city like Dubai and it is so international. You have everyone from every region that is here and we see Dubai as a global opportunity. For us, we were like "OK, let's embrace this region" and so we're engaging with people that reflect the region and the wants of that region. I think it's a powerful thing to have as a brand where it's not singular and now, with our big push on women's especially, it's not just a male brand. It's for everyone.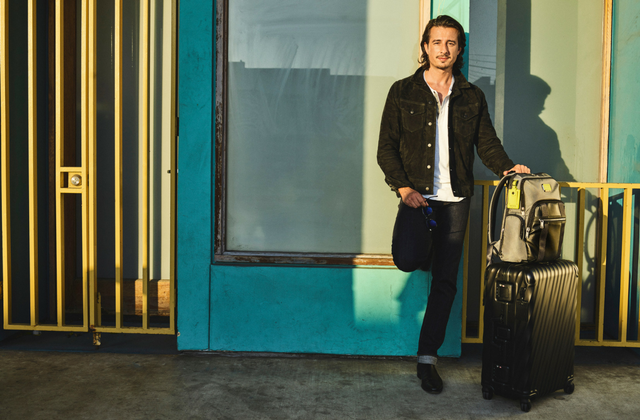 Also speaking of the Middle East, what do you think of the new store in The Dubai Mall?
I love it! They did such a great job. I think it's kind of a good representation of where we're going as a brand and you know, the brand has evolved so much over the past eight years and it's no longer "Oh, it's just a black bag company", it's a lifestyle brand that's pushing the limits of what the brand is and we're heading into new territory like outerwear and electronics and tracking devices. You name it!
Any upcoming collaborations?
We always have collaborations coming up!
Anything that you could share…
I don't have anything I can share yet but stay tuned! (laughs). At Tumi, we're always collaborating with people that are at the top of their industries, people that share similar values as Tumi, which is always fantastic. We know we have a wide breadth of an audience from NBA superstars to jewellery designers to artists to DJs and they're all loyalists of the brand. They are true users and that has always been an amazing engagement for us because it's authentic and I think that's something that resonates when you see us talking about it. You can see that it is an authentic story. We're constantly pushing ourselves, the brand. We're looking to inspire people, inspire the industry and there's still a lot of exciting newnesses to come. This is just the beginning!
Tumi's new store is located on the first floor at The Dubai Mall. You can also get your Tumi products personalised, courtesy of the brand's bespoke services.
Now, read more about the new range of stylish luggage by Off-White x Rimowa.