With Ramadan due to start at the end of this week, we're on the lookout for ways to stay healthy during the Holy Month. Enter Dubai-based designer Yasmin Al Mulla, who has teamed up with ENCAS, a French dessert company, to produce a healthy dessert with an Arabic twist.
The dessert, called 'Dubai Delights' is gluten-, dairy- and refined sugar-free and is made using cardamom, organic dates and saffron.
We caught up with Yasmin to talk about the new venture and find out why giving people a healthy option this Holy Month is important.
1. How did the collaboration come about?
Highlighting and supporting health and fitness is part of my daily routine. I always aim to spread awareness in any possible way. Visiting relatives and friends is an important element of Ramadan tradition therefore I wanted to introduce an interesting dessert (that was gluten-, dairy-, and refined sugar-free) with an Arabic twist to be the perfect go-to gift. Ramadan is great timing to try to change the misconceptions of healthy food being boring.
2. Why is eating healthy an important focus during Ramadan?
Eating healthy is important all year round but during Ramadan it's extremely important. Fasting for 30 days plays a huge role is detoxing your body, so eating healthy and having a balanced diet of protein, fibre, carbohydrates and fluid is essential to retain the [health] benefits of Ramadan.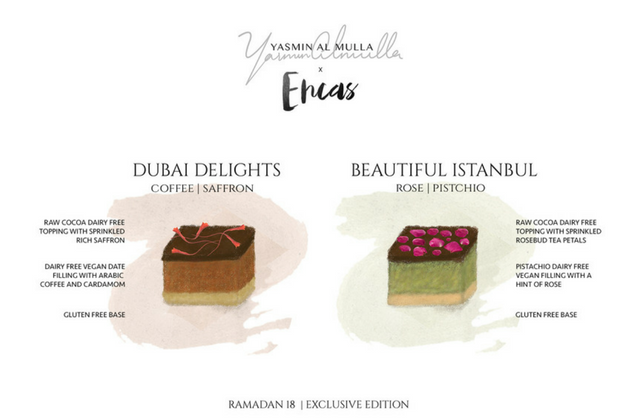 3. Tell me about the flavours — how did you come up with them?
'Dubai Delights' combines authentic Arabic flavours in a very unique way. Using organic local dates, rich Arabic cardamom, and topping it with original Saffron makes it all very interesting. We have paired it with ENCAS's bestseller 'Beautiful Istanbul' as it's rich with rose and pistachio flavors which is perfect for Ramadan.
4. What ingredients were used in the making?
Everything is gluten-, dairy-, and refined sugar-free, as well as fresh, organic, and most importantly, very delicious.
5. How did Dubai inspire the collaboration?
Being a huge health and fitness enthusiast I completely believe that optimal eating [helps lead to] a beautiful lifestyle. I wanted to highlight my city in a very modern and healthy way. With everything developing on a daily basis, one of my ultimate goals and dreams is to promote healthy lifestyles in the UAE, by raising nutrition education and elevating health awareness in any possible way.
Dubai Delights will be available to purchase from tomorrow online on Deliveroo (in JLT and Business Bay), in store at Galeries Lafayette and Home and Soul as well as via the eatclean and Plotos apps.