One of the most prestigious events on the cultural calendar, Dubai Design Week, has officially commenced and if you're willing to get artistically enriched by some achingly cool design concepts, we've rounded up the top things to do, see and experience.

Take a look here…

What to see

Dubai Design Week always hosts a series of super cool design installations crafted by upcoming and established designers, both internationally known and regional-based. This year, there are 40 designers from the UAE and 20 others from neighbouring cities in town for the fair's newest edition, Downtown Editions. Visitors of the fair will be able to commission and purchase works straight from the designers, brands, collectives and studios resulting in a great art piece for your homes whilst supporting the region.
Some of the names you can expect to see are Dubai-based designer Layth Mahdi (who will be debuting his new collection developed using algorithms to guide robotic manufacturing), as well as other regional names including Designed by Hind, Fadi Sarieddine, Talatah and Tinkah.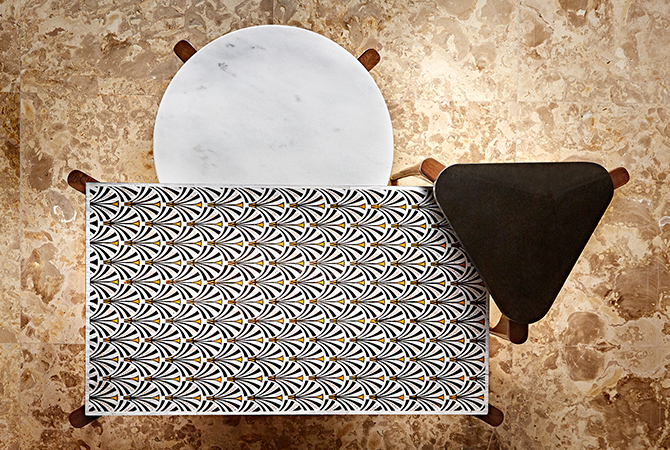 Also taking part in Downtown Editions is Tashkeel's Tanween stand where UAE-based designers Alya Al Eghfeli, Hala Al Ani, Renad Hussein and Myrtille Ronteix will highlight pieces made with traditional and modern elements of culture and design from the Emirates. It also marks the designers' worldwide debut. Also, on the Tashkeel programme will be a celebration of the innovative design that has resulted from Make Works UAE, the Tanween design programme and the Van Cleef & Arpels Middle East Emergent Designer Prize.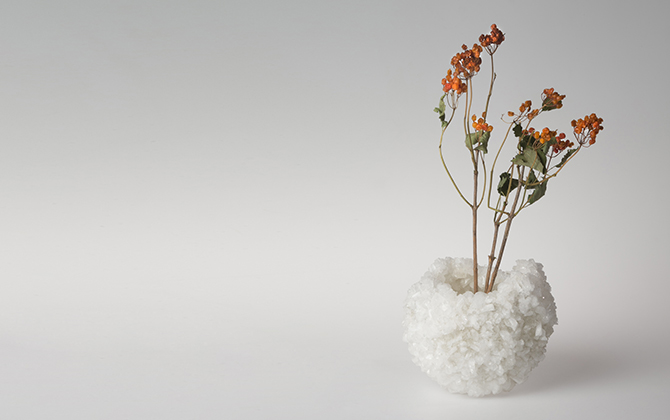 Another noteworthy piece of work to capture is Aglow, a fluorescent hexagon that is made up of one-hundred and sixty-nine acrylic bowls. Set to portray the artist's aim to highlight femininity and creativity, the piece (made by Nemozena in collaboration with female artist Liz West),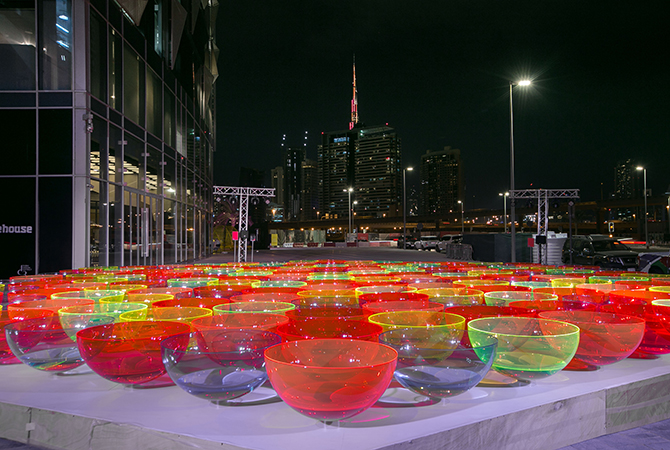 What to do
The space for Dubai Design Week at Dubai Design District (d3) has been painted with several beautiful installations scattered around the area and one that is very Instagrammable is a piece made by an award-winning sculptor, David Harber. The artist playfully incorporated several elements including nature, reflection, light and water in his design and it features 256 aluminium spikes and 1,280 sheets of 23¾ carat gold leaf.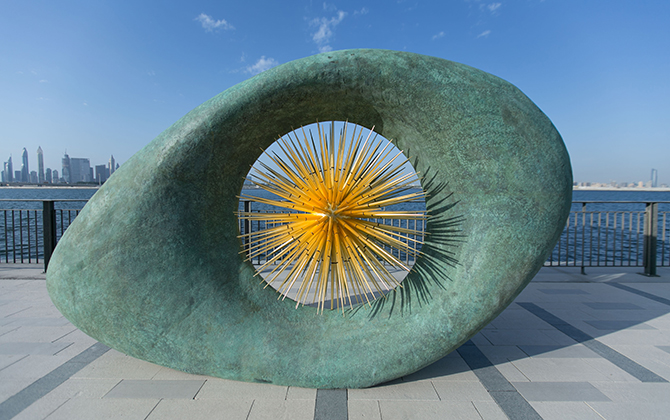 Whilst there's plenty of installations and exhibitions taking place, there's also a slew of interesting panel discussions and talks you can take part in. Everyone from designers, creatives, thinkers, international practitioners and regional influencers will take the stage to discuss different topics of the industry.
Some of the talks not to be missed are The Audi Innovation Talks (which will discuss solutions and advances in design through problem-solving) and The Forum (which will discuss design professionals on building environments of the future) and will see award-winning designers Ini Archibong and Matthew McCormick speak for the first time in the Middle East.
What to experience
During the event, there's plenty for you to do and take part in too, including learning more about jewellery design. You can get the full experience by hearing it from Emirati jewellery designer, Ameera Al Araimi, who will be on site to speak about the importance of innovation and creativity in her industry.
There will also be a creative gym by Palmwood which allows participants to use design products to monitor how wild their brain can go, as well pressure them to go outside of their comfort zones with surreal challenges.
Other experiences also include bouquet-making with expertise from Fine Blooms, how to dye wool the traditional, Emirati way, and miniature modelling techniques.
Dubai Design Week will run until November 17, 2018. For more information, visit Dubaidesignweek.ae.
Now, take a look inside Hermès' Species of Spaces exhibition in The Dubai Mall.