Philippe Daher's architectural career has brought him across the globe (to countries including Bahrain, Malaysia, UAE and Lebanon), and it was only in 2007 that the designer fully founded his own architecture firm, Philippe Daher Architects, in Syria. However, it was when the war broke out in his home country that he was forced to explore untapped areas of design, eventually relocating to Beirut in 2013.
Since then, Daher has been recognised for his geometric designs and strong concepts, and in 2015, he started Rayxander — a multidisciplinary design studio with a rich portfolio of projects.
Whilst you can spot his works on commercial buildings and in night clubs, restaurants, cafes, corporate offices, residential villas and apartments, you'll also be able to see his designs up close at Beirut Art Week.
The Rayxander Founder will unveil two statement pieces at South Border Gallery and Abroyan Factory: The Sphex Bar Cabinet and Gentleman Valet Chair.
The Sphex Bar Cabinet
Adding to the Sphex family, the new Sphex Bar Cabinet is inspired by bees and beehives, and is made up of a metal spine that supports the main body. With a hexagon shape compartment made out of burl wood, glass shelves and partitions on the inside, the unique piece also comes complete with a drawers compartment (made in burl wood) and an L-shaped tray made out of mirrors and diagonal steel handles.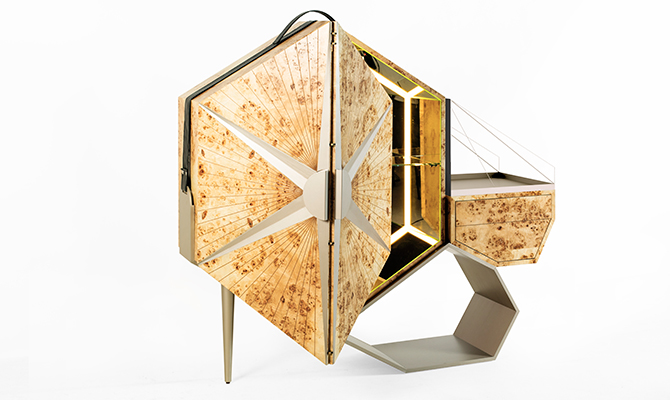 Gentleman Valet Chair
During the fair, Rayxander will unveil its first very product made for the younger design-loving generation. The Gentleman Valet Chair is a versatile piece that was inspired by little ones embarking on an independent journey, and it aims to experiment and serve in a modern urban environment where flexibility, adaptability, and practicality are all essential.
Complete with a dark grey textured steel frame and burl wood, you can transform the Gentleman Valet Chair into a regular looking chair to a three steps/shelves unit — making the perfect design piece to fill up those tiny spaces in your homes.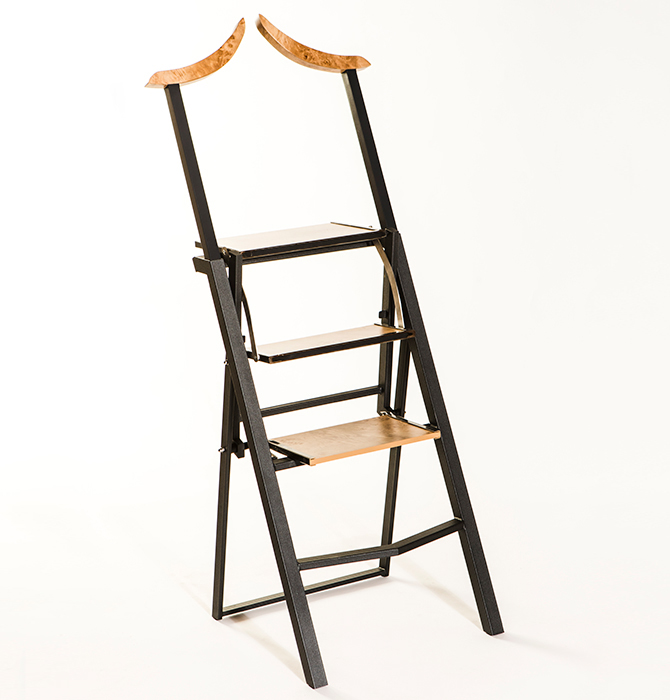 Beirut Art Week is set to run until September 22, 2019.
Now, read more about Zaha Hadid Architects' new exhibition at the 2019 London Design Festival.