The country is already home to a slew of impressive cars and for the first time ever, Gargash (a leading business conglomerate) is launching a limited-edition car with Mercedes-Benz, made exclusively for the UAE. Exclusivity is something we all love in the UAE and the new Mercedes-Benz MPV V-Class Falcon Edition caters to the region's needs and demands by combining unrivalled design, luxury and quality.
A perfect passenger car, seating up to 8 people, the limited-edition car is the newest (and chicest) way to transport all of the family, whether for business or leisure, long trips or exciting adventures through the Emirates.
Bridging the brand's avant garde with super luxury models, the V-Class Falcon Edition comes with an array of features, created exclusively for the UAE — both on the inside and on its exterior.




The perfect companion for your next drive, the V-Class Falcon Edition has design cues from the brand's iconic sport line, the AMG. The exclusive features include the luxurious Alcantara finish on the roof of the van, which comes adorned with 550 LED lights to create an enchanting starry night experience.

The high quality interiors redefine luxury as it includes nappa leather seats (with the exclusive Vline logo in 3 unique colours including Kahwa Brown, Desert Beige and Haute Red), completed with a plush carpeted floor. And yes, the luxury seats are expertly crafted with reclining and back massage functions as well as air conditioning pamper occupants, and two wireless mobile charging stations.

Along with the high quality interiors and spacious seating, the Mercedes-Benz V-Class Falcon Edition comes with a powerfully shaped front, unrivalled design, Intelligent Drive (the brand's vision of accident-free and more comfortable driving with intelligent technologies that actively support drivers) and an intuitive multimedia concept that highlights a new generation of telematics.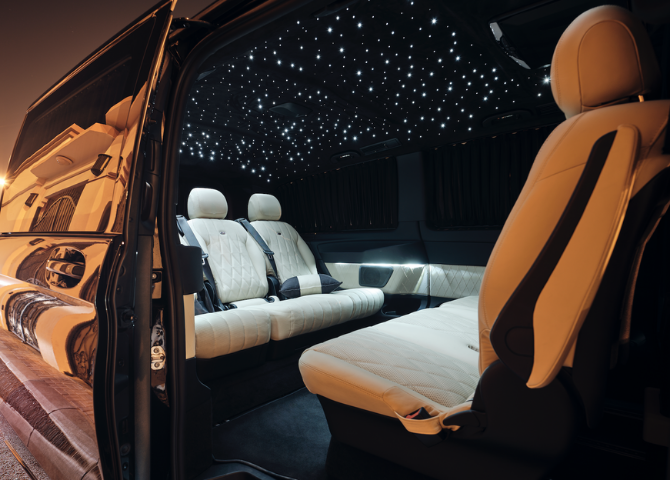 The limited V-Class Falcon Edition is available in five colours — rock crystal white, obsidian black, silver grey, graphite grey and canvasite blue, with upgraded light-alloy wheels.

Available in Dubai now, the exclusive design has been produced in a limited quantity, available across all Gargash showrooms in the UAE.

Now, immerse yourselves in famous paintings at ToDA, Dubai's new digital art exhibition.