Dubai's art world continued to shine through this challenging year and opened a new exhibition that has completely changed the landscape of digital art in the city.
Ushering an entirely new era of fully immersive interactive art, Her Excellency Hala Badri, Director General of Dubai Culture and Arts Authority (Dubai Culture), officially inaugurated Theatre of Digital Art (ToDA) at Souk Madinat Jumeirah — offering visitors something they can experience all year round.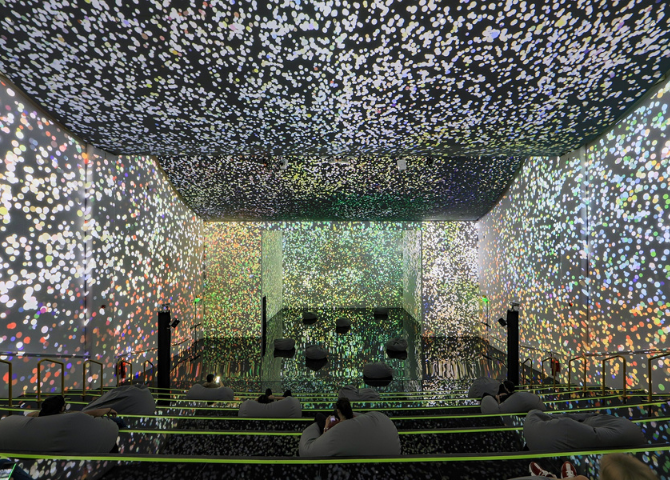 Covering 1,800 sqm, ToDA is broken down into three digital art format presentations — a multimedia exhibition, virtual reality (VR) and interactive exhibits for children — and trust us when we say it's worth going to.

Currently hosting a first-of-its-kind presentation of classical art in a digital format, the exhibition titled 'From Monet to Kandinsky, Revolutionary Art' is 45 minutes of artistry bliss. You'll be able to immerse yourselves (quite literally) in works that stemmed from the most important art movements of the late 19th and early 20th centuries — think masterpieces by Vincent Van Gogh, Claude Monet, Wassily Kandinsky, Georges Seurat, Paul Cézanne, Edvard Munch, Juan Gris, Robert Delaunay and Paul Klee.
In a separate room, a sensory experience awaits as ToDA's VR space incorporates 3D, Virtual Reality and Augmented Reality. You'll be able to bring famous artworks to life, to unique artifacts and immersive experiences. And if you've got little ones, ToDA's interactive exhibit for kids has been especially designed as an art space that features multi-dimensional spaces with secret passages and portals to magical worlds.
"The Theatre of Digital Art Dubai brings a new era of art and entertainment to Dubai," said Gabriel Afrim, General Manager at ToDA. "It offers something special for Dubai's many art enthusiasts, and this truly engaging experience will delight families and individuals eager for culture and entertainment. We believe the Theatre of Digital Art Dubai will reinforce Souk Madinat Jumeirah's already diverse cultural offering."

ToDA Dubai is open daily from 12 noon to 11pm. For further information on the theatre's engaging exhibits, ticket prices, shows and more, visit www.toda.ae.

Now, discover Apple Music's new playlist showcasing emerging talent in the region.