Big Bang Integral Ceramic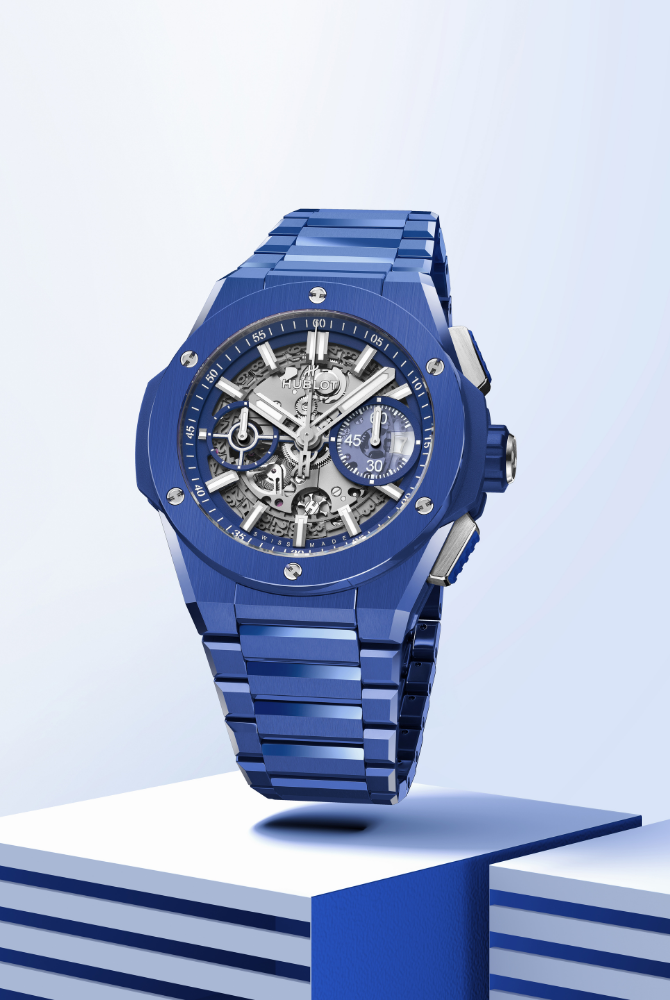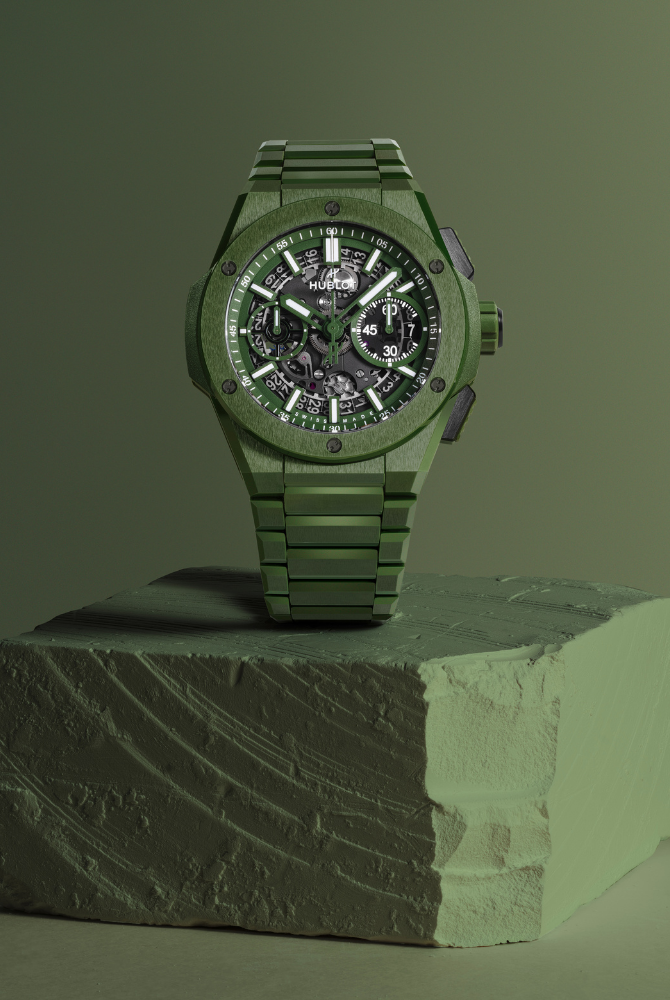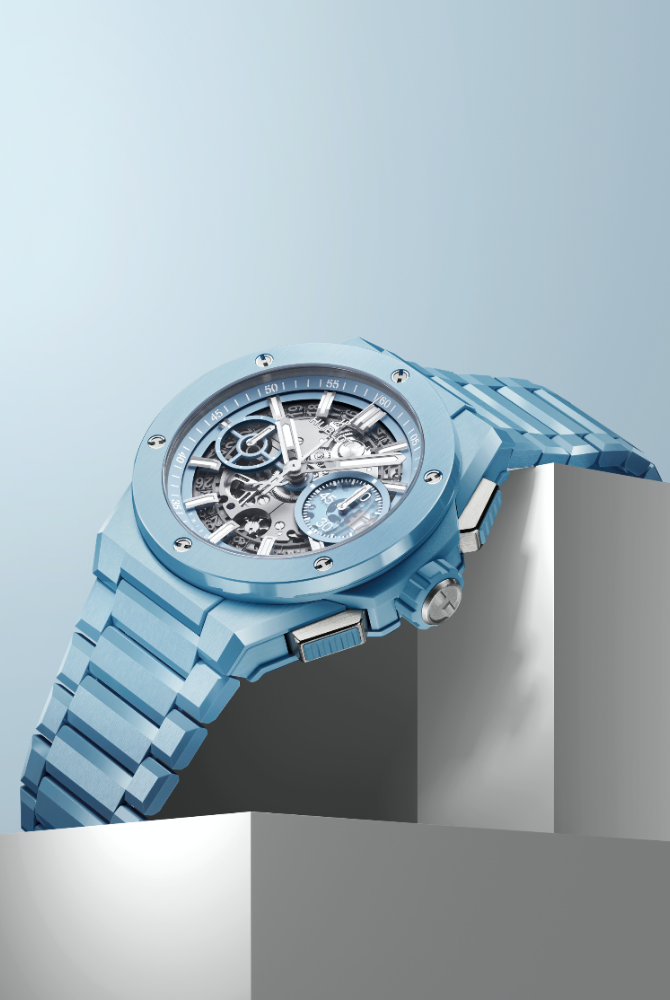 Hublot is known for incorporating a plethora of colours into its timepieces and its latest round-up of novelties, the Big Bang Integral Ceramic, is proof. Introducing four new shades that will take you on a colourful trip around the world, the Big Bang Integral Ceramic (now available in blue indigo, sky blue, sand beige and jungle green) comes available in a limited edition of 250 pieces, all packed in a 42-mm case, a slimmer design, new architecture an integrated bracelet featuring 3 bevelled and chamfered links – enhancing its legibility and functionality.
Speaking to Hublot's Regional Director, David Tedeschi, during Watches & Wonders, we asked him about incorporating the use of ceramic in the new novelties: "Since 2006, Hublot is known to be one of the leaders in terms of ceramic watches, and ceramic is one of the most important materials for us because people are always keen on Hublot in showing them and introducing them to watches with new types of colours that other brands are not able to achieve. For example, we are the only watchmakers to be able to have succeeded with bright red ceramic, it's a colour that we are extremely proud of and we have also the bright yellow ceramic that was another achievement so far. Ceramic is very important for us which also makes a lot of our customers wait for our novelties from year to year.
The timepieces also couldn't have been more perfect for women to flaunt. When we asked Tedeschi which new hue would be the ultimate must-have for a woman, he said: "I would pick the Integral in sky blue that we have in our collection. It's absolutely incredible and I believe it's a versatile and innovative material and colour."
Big Bang Tourbillon Automatic Purple Sapphire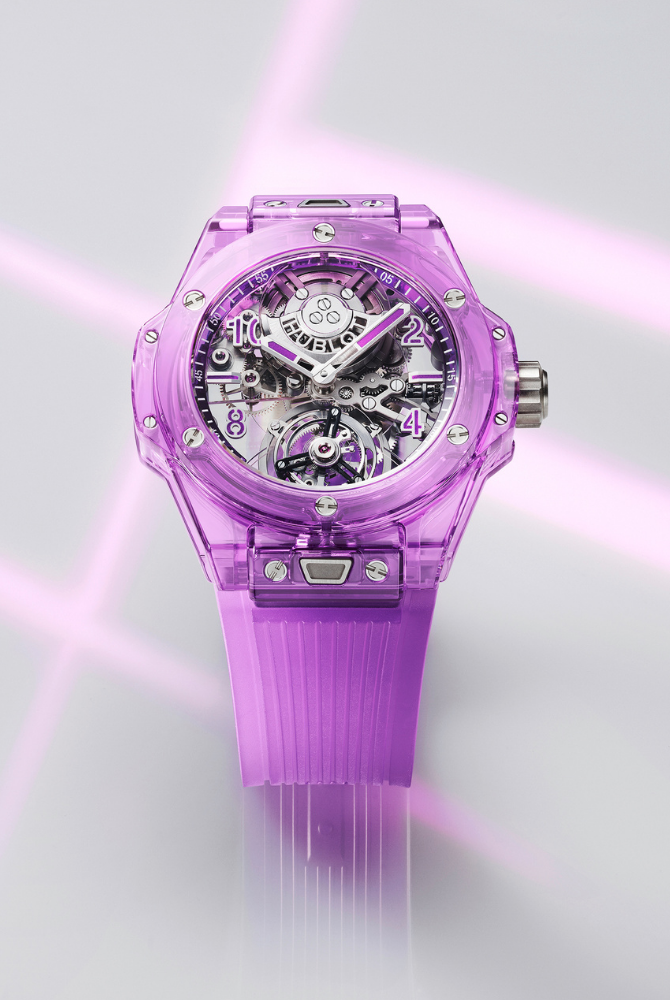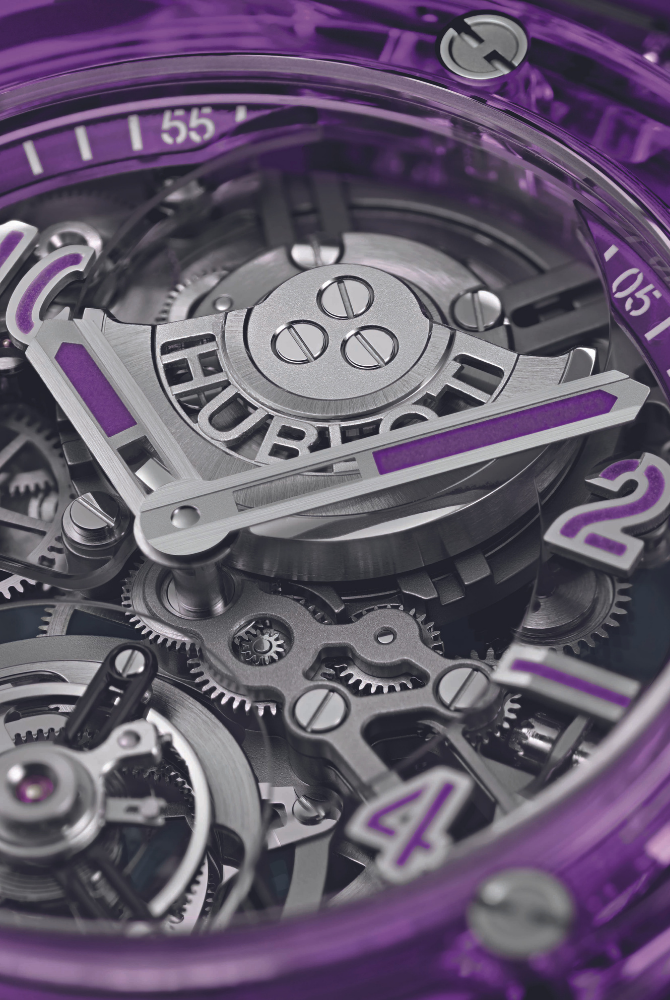 A new frontier was reached with the art of sapphire, introducing the Big Bang Tourbillon Automatic in a show-stopping shade. Opening a new chapter as the world's first, the translucent purple and synthetic sapphire is a completely new colour in the field of fine watchmaking and is more than just a colour. Combining a traditional complication (the tourbillon) with a disruptive material (sapphire), the timepiece features a limited edition of 50 pieces.
"We have launched our first sapphire watch back in 2016, the Big Bang Unico 45 mm in transparent sapphire and since that our research and development department along with the Swiss partners have worked a lot to be able to put a lot of energy into research for us to be able to create and propose to our clients different colour combinations made out of synthetic sapphires. We have black, pink, blue, yellow, and last year we introduced it for the first time orange sapphire and this year as a world-first it's the purple sapphire."
Classic Fusion Orlinski Bracelet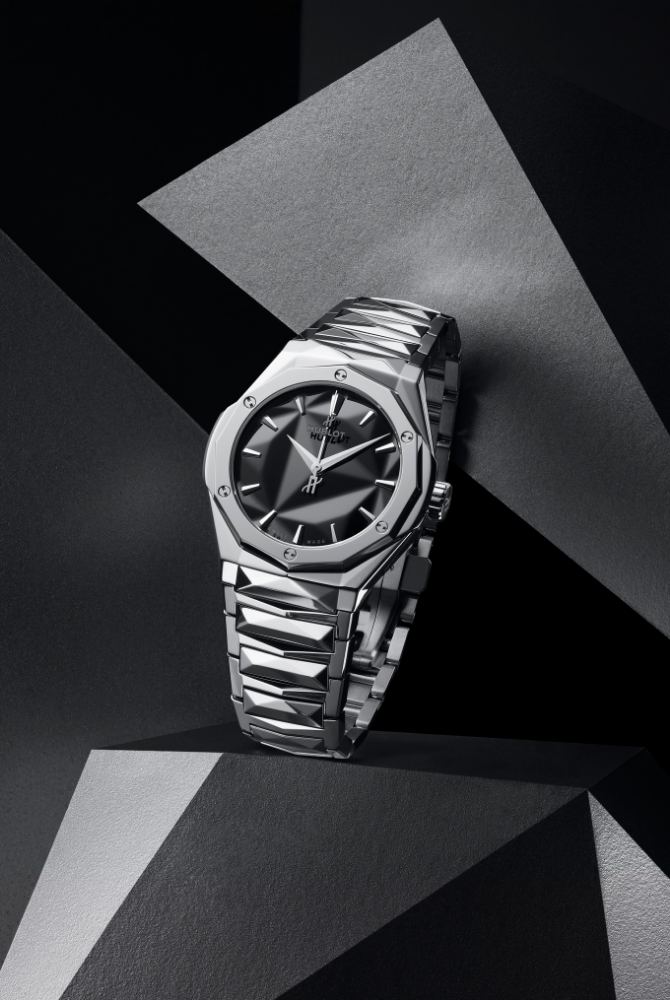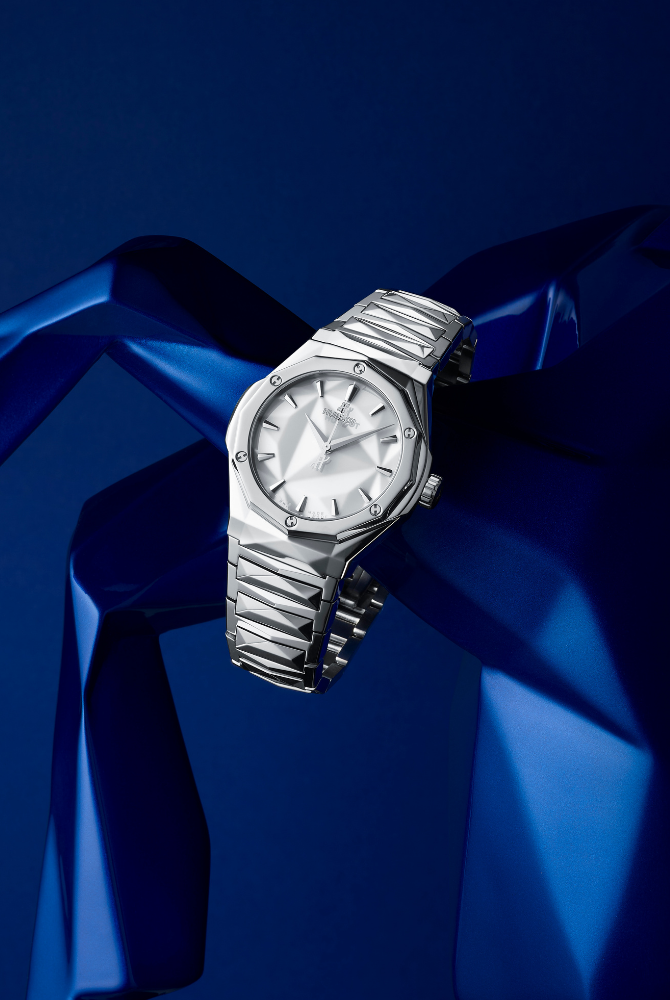 After five years of collaboration, Hublot and Richard Orlinski have revealed the latest chapter of their shared collection. During Watches & Wonders, a line-up of watches featuring a new metallic bracelet using the facets of the French artist's famous sculptures has been revealed. Four versions of the Classic Fusion Orlinski Bracelet have been introduced with a 40 mm diameter – allowing it to suit all wrists and all genders. Like a jewelled piece of art and mechanical expertise, the timepieces come with a polished titanium case that encloses a HUB1100 movement, a self-winding calibre with a power reserve of 42 hours. Its dial comes in a choice of black or white ceramic and displays the angular facets so unique to Richard Orlinski.
"As a sculptor, expressing my art on a watch with only a few centimetres of diameter as a canvas was a real challenge," explains Orlinski, a Hublot ambassador. "This creation on the entire bracelet made it significantly more complicated for the engineers at the manufacture. Yet, thanks to the unparalleled technical know-how of my partners at Hublot, we were able to carry out the mission."
Square Bang Unico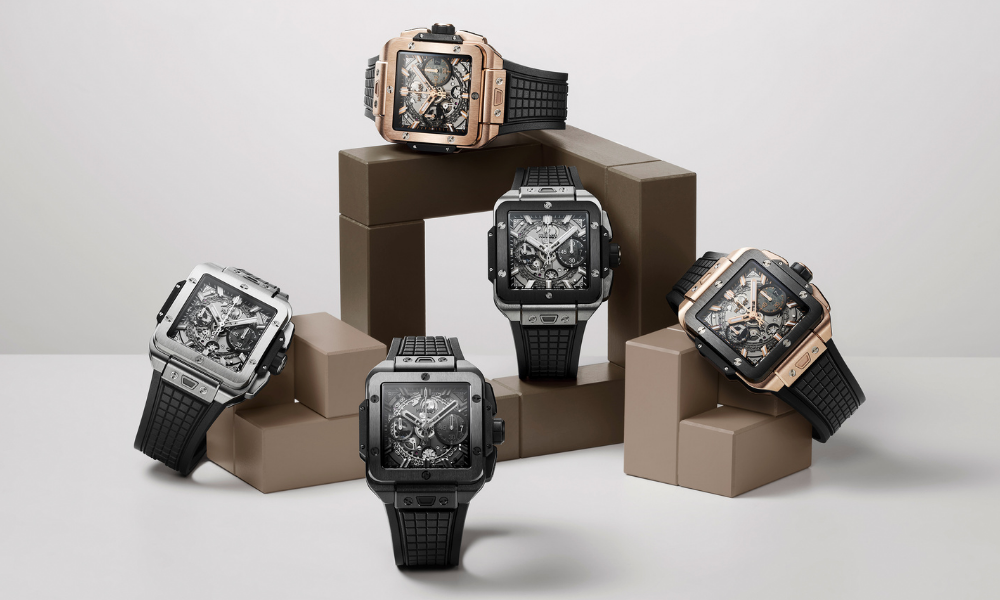 Perhaps one of the most exciting launches from Hublot this year is the new watch shape that has officially taken its form at Watches & Wonders. Unveiling its very own interpretation of the square watch, the Square Bang Unico was inspired by the Maison's iconic Big Bang and features a sandwich construction of its dial, giving it different levels of depth and a highly architectural feel.
There's also a collector's edition that features a limited piece of 250 pieces – in fact, it will be the only limited edition of the Square Bang Unico collection.

Also read: Welcome to Gucci's Wonderland.