Zenith has long been recognised for its exquisitely-designed timepieces infused with technological innovation. It truly stood the test of time since its founding in 1865 and whilst its history is marked by a heavyweight of horological inspiration, there are elements within the brand that truly make it stand out. Take DEFY, for example.
In 1902, Zenith introduced the world to its first DEFY pocket watch and decades later, in 1969 DEFY was created with the El Primero. The legendary El Primero movement remains to this day the world's most accurate series-made calibre. Simply created before its time, DEFY was built to survive and hence, has launched the DEFY Extreme – perhaps one of the most experimental timepieces that combine tradition and technology.
Zenith's success is unmatched in the watch industry and its latest DEFY Extreme E 'Desert X Prix' edition is proof. Partnering up with Extreme E as its Founding Partner and Official Timekeeper, Zenith introduced the first edition of the timepiece dedicated to a specific race. This year, the DEFY Extreme E 'Desert X Prix' Edition 1/100th of a second chronograph was inspired by the Extreme E electric rally race that took place in Neom, Saudi Arabia. And BURO. Middle East was on site for the big reveal.
Crafted in a robust carbon fibre case with titanium elements and powered by the El Primero 21 1/100th of a second automatic high-frequency chronograph calibre, the watch is delivered in a suitably sturdy waterproof and crushproof watchcase inspired by the extreme conditions of the rally.
Below, we spoke to Julien Tornare, CEO of Zenith (and one of the youngest CEOs of the luxury watch industry), as we discuss his role at the brand, Zenith's partnership with Extreme E, the new timepiece and the importance of having a young team.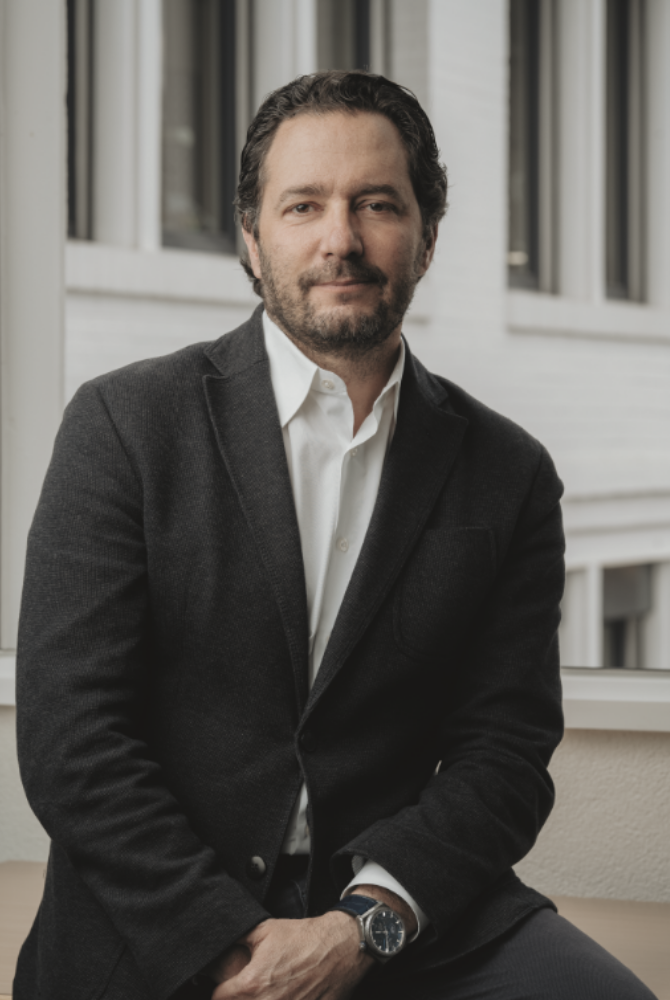 Let's talk about your role when you joined as CEO in 2017. Coming into your role, what was your vision for Zenith?
Because I had been in the watch industry for 20-something years already, I knew that Zenith was a beautiful but rough diamond that needed to be cleaned and cut the right way to shine properly. I knew that and that is why I took the job because I knew that the inside of the brand was super healthy and beautiful, but there was a job to do. In the past, the brand went in different directions, it was turned too much into the past and that's a very important element to appeal to the younger clients. It was too traditional, turned to the past, old-fashioned and I needed to remove the dust and turn this company into a strong brand – and that's probably the first vision I had.
When I came on board, I looked at every aspect of the brand and I made quick decisions on things I could change quickly. Then, I made a plan on what I would change in the longer term and tried to update that to arrive, basically, where we have arrived today. Because, if you look at the brand today, it's a very modern and contemporary brand. You could see today that through events, our website, and our social media.
I'll give you one example to illustrate. Five years ago, in 2017 when I came on board, our website was not even responsive. I couldn't believe it! How could you expect to talk to your clients and young clients, if you're not even accessible on devices? That's one example amongst others.
Based on that, did your e-commerce sales increase during the pandemic?
Yes! E-commerce was supposed to be put into place between 2020 and 2022, but on March 15, 2020, when we locked down the company, I made two decisions. I told my team that we were going to talk to each other every day from 9 – 10. Maybe we had nothing to say but we spoke about life just to keep in touch and strengthen our bond. Because in many companies, their executives got lost at home and it was terrible. I also asked our team 'how can we digitalise our jobs" and turn our daily jobs into digitalized forms. So, this is in terms of marketing, communications and sales. We decided to speed up the development of e-commerce. What was supposed to be done in two years, we did in a few months.
Another example is that in March we closed and in June, we opened our e-commerce in Europe, in July it was in the US. A month later, it was in China and Japan, and it was very quick. This year, we are going to open in 22 markets around the world with e-commerce. So, to answer your question, e-commerce was there and if you want to be modern and contemporary, you have to be there. But, for me, is it a new source of business? Yes. But not only. It's also a great service that you give to your clients.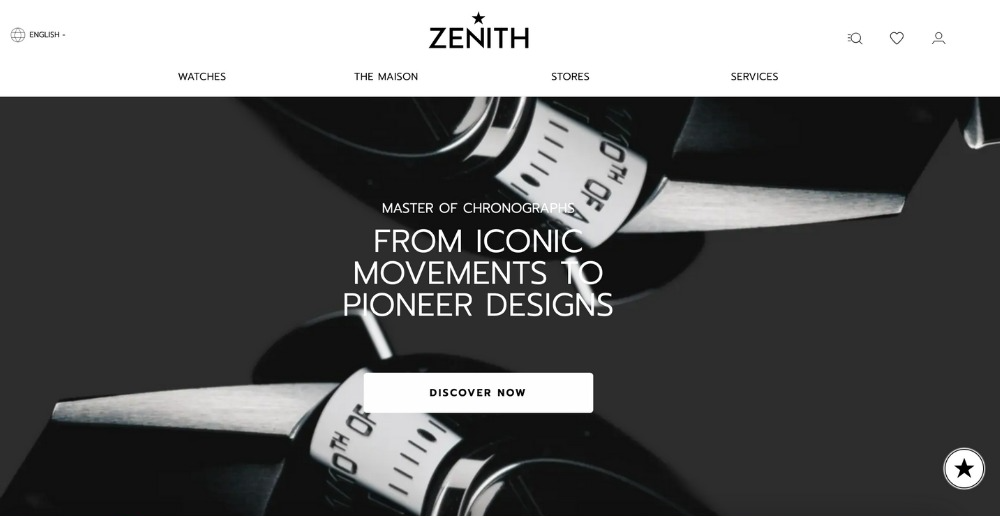 Of course. You mentioned earlier that you wanted to appeal to a younger and more contemporary clientele. You, yourself is young at heart and so is your team. Why was it important to you to establish a young team?
Because if you want to build a future, don't build a future with older people. You build a future with younger people because they know, and they're going to help you stay young and into this world. It's one of the biggest challenges in the Swiss watchmaking industry, the traditional and mechanical one. One of the risks is that the new generation either have a cellphone on their wrists or they don't buy a watch anymore. If we are turned too much to the past, we tend to become a museum brand or a museum industry, young people will run away from traditional watchmaking so, we have to show that we have the heritage, we have very strong know-how but we live in this world. That's why we do cool events (like Extreme E) and many more. I need to stay young; my kids help me to stay young and my staff of course – and I also trust them. This is the most important because often, older people – I'm not saying that I'm old (laughs) – who have experience, they believe they know and I think we should always remember that it's not because we're older that we know. Very often, we actually don't know and we have to learn from the younger generation.
Can you tell us more about the partnership between Zenith and Extreme E?
As I mentioned before, when I joined the brand, it was a bit turned to the past. Now, we are turned to the future and one of our mottos is to build the future of Swiss watchmaking. And if you want to do that, it's not only by having innovative products because that is not enough. You need to change the whole brand and turn it into an innovative, dynamic brand. In today's world, if you want to be moving forward, you have to consider the environment, gender equality, inclusion and diversity – and not only put those in your values because it looks good. You have to do things concretely. So, a few years ago we started to take action inside the company. We did not publicise or communicate on them but we've been organising how we manage trash, how we've been working on a paper-free company organisation, all of the company cars are either electric or hybrid, solar panels that will be installed very soon to be autonymous with our electricity – so we've done a lot in the shade without talking about it.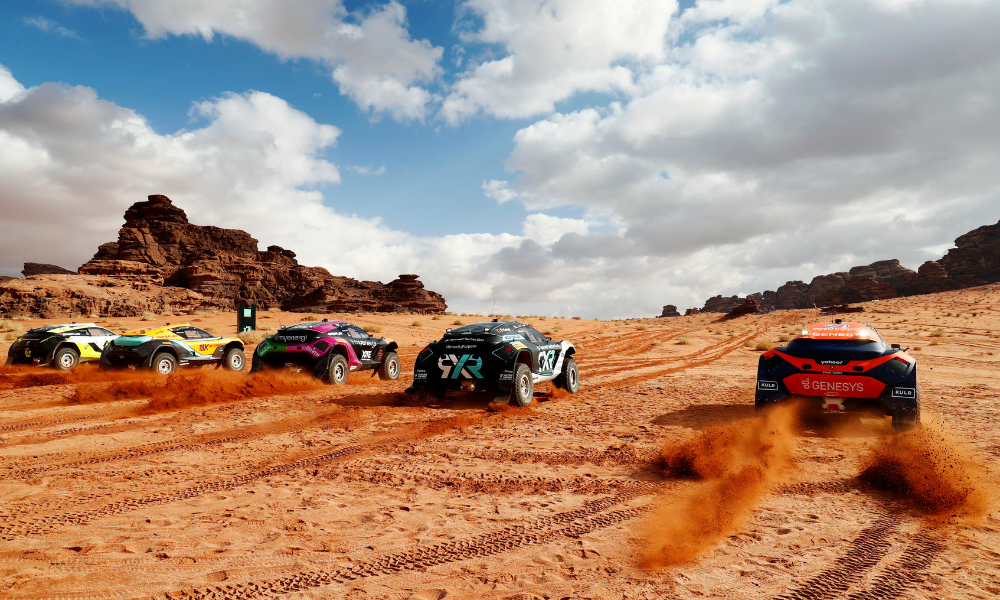 And then of course, if we do these things for us, we need to do it for our partnerships as well. That's why when we stopped the usual car-and-watch partnerships, I said that I wanted something that matches this philosophy. When I met Alejandro and he explained his project, it was perfect. Not only do we have the same name – Extreme – but also, it's exactly in line with that. Plus, Extreme E's spotlight on gender equality is something that I didn't know about, in the beginning, and I thought 'this is perfect! This is exactly what we're doing at Zenith'. It's a match!
"In today's world, if you want to be moving forward, you have to consider the environment, gender equality, inclusion and diversity – and not only put those in your values because it looks good."
Can you tell us more about the launch of the DEFY Extreme E watch?
First of all, DEFY is not a new product line because the original DEFY is a pocket watch from 1902. Then, it was a bit forgotten but there was a beautiful DEFY created with the El Primero in 1969, and when I joined in 2017, Jean Claude Biver started to launch the DEFY 21, and we, of course, we had brought a lot of developments to this product line. A year and a half ago, I wanted to make a bigger one. Something that will be called "Extreme" because of the dimensions, the proportions, and the ruggedness is extreme. That's how we basically came up with this watch that is redesigned with different elements, and interchangeable straps, resulting in a very powerful watch. It's a unisex watch as we don't talk about genders at Zenith, by the way. On the website, we even removed 'For Men' or 'For Women'. I banned this. We make beautiful watches but who are we to decide if it's she or he to decide.
Extreme came like that and then the partnership with Extreme E, and then of course the Extreme E limited editions that we are producing today.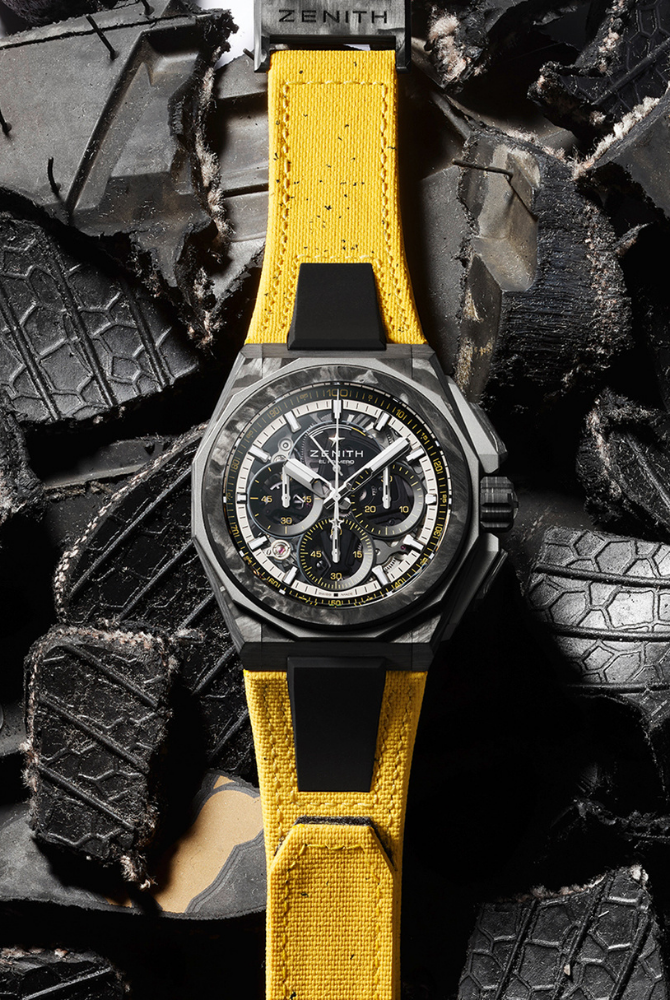 The strap of the DEFY Extreme E 'Desert X Prix' edition has a unique strap. Can you tell us a little bit more about that?
Yes of course. When we started the partnership a year ago, we had nothing. It took us a while to create a dedicated product and it had to be an Extreme E, with the logo of the race, a special colour code, and we wanted to bring something about sustainability, which is quite complicated with watches. We worked with Extreme E partners, Continental Tires, and they helped us get some used tires from the previous race and worked on them to inject them into our straps. So, our straps and the watch are not fully sustainable but it has some elements coming from recycling. It's just the beginning. We are also learning.
We're here in Saudi, in beautiful Neom. What are your thoughts?
I'm very impressed! One of the reasons I chose this career is because I love meeting people from different cultures and I love discovering new places. I was so excited to come to Saudi Arabia because I have never come here before. I'm super happy. Especially in Neom, you have this project that we heard about this city of Neom and how this place will be the city of the future, how it will be an experimental way of living in terms of nature and resources, and it's the whole future. So for me to be here, it's not only enjoyable for me or for the team but it's also perfectly in line with what we want to do at Zenith. I think it's a great match! And I have to tell you that the people are so friendly, so nice, so welcoming from the people at the customs all the way through to the people I've met so far, they're super friendly. It's a pure moment of happiness for me.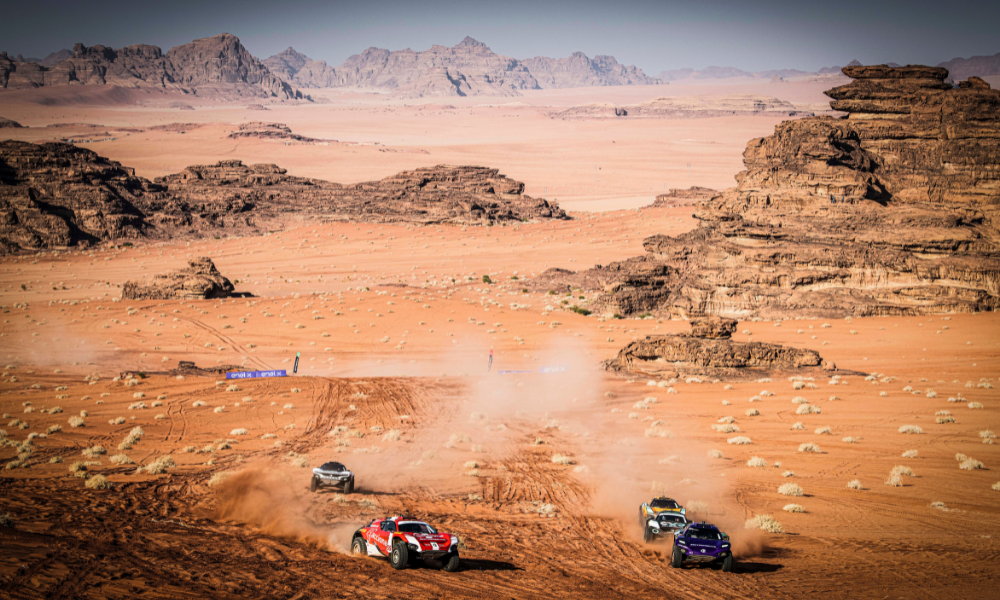 Discover more about Zenith's DEFY Extreme E 'Desert X Prix' Edition here.