Followed its Dubai Mall flagship opening and launch on the region's definitive digital home of luxury, Ounass, Jacob & Co. further strengthen its ties to the region by revealing a collection to celebrate Ramadan.

Presenting 'Sharq', the New York-driven brand embraces Islamic phrases and words in an exclusive jewellery collection crafted with diamonds, yellow, rose and white gold, and intricate detailing.

The collection features necklaces and bracelets – the former bearing the word "Allah" on the front and "Ayat al-Kursi" on the other side, crafted in pure gold, with a bezel studded with diamonds, whilst the latter either comes in a double-chain bracelet or cuffs featuring the phrase "There is no god but God, Muhammad is the Messenger of God" beautifully engraved on rose gold.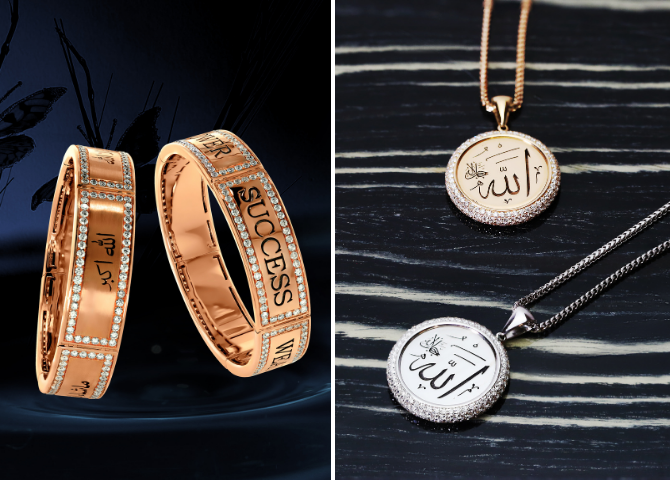 The selection of Ramadan-ready pieces also includes pendants with the word "Allah" carved in rose gold and diamonds, and a pin-shaped clip with the expression "Masha'a Allah", carved and studded with diamonds.

"The Middle East is one of my favourite places in the entire world," says Jacob Arabo, Founder and Chairman of Jacob & Co. "I love this region, there is so much warmth and knowledge here, and I pledge to continue to work hard to surprise and delight our customers there."

The collection is available at the Jacob & Co. store in Fashion Avenue, The Dubai Mall and on Ounass.com.

Also, discover Piaget's dedicated Ramadan campaign.