Both Princess Iman bint Abdullah and Princess Rajwa Al Hussein embodied a softly plush, non-outré, elegance as their chosen bridal aesthetic. The jewelry on everyone's tongues however, the young royals' engagement rings and earrings, bore all the hallmarks of a contemporary sensibility with an incognito twist. With the ink still wet, we take a page out of the Princesses' bridal playbook, explaining the anatomy of how to achieve an iconic bridal jewelry moment.
An education in effortless juxtaposition by Princess Iman. HRH's stunning emerald cut diamond is set in presumably white gold or platinum, with its designer unidentified to date. Most peculiar however, is its setting. The gemstone's horizontal orientation, commonly referred to as East-West setting, provides the ring with an alluring modernity. Furthermore, the unembellished band amplifies the diamond's beauty, free of neighbouring visual interruptions. Conversely, Princess Iman's chandelier style earrings (allegedly designed by Chaumet), displayed what appeared to be a selection of marquise cuts, a diamond shape that features a rounded silhouette compared to its angular emerald cut counterpart. How does one reconcile such aesthetic difference? Through the mirroring of subtle design elements within visually opposing pieces. Here, the recurrence of white gold throughout all three pieces and the inclusion of the tiara that reflects the diamond cuts portrayed in the earrings, visually ties all three pieces harmoniously together – from head to finger.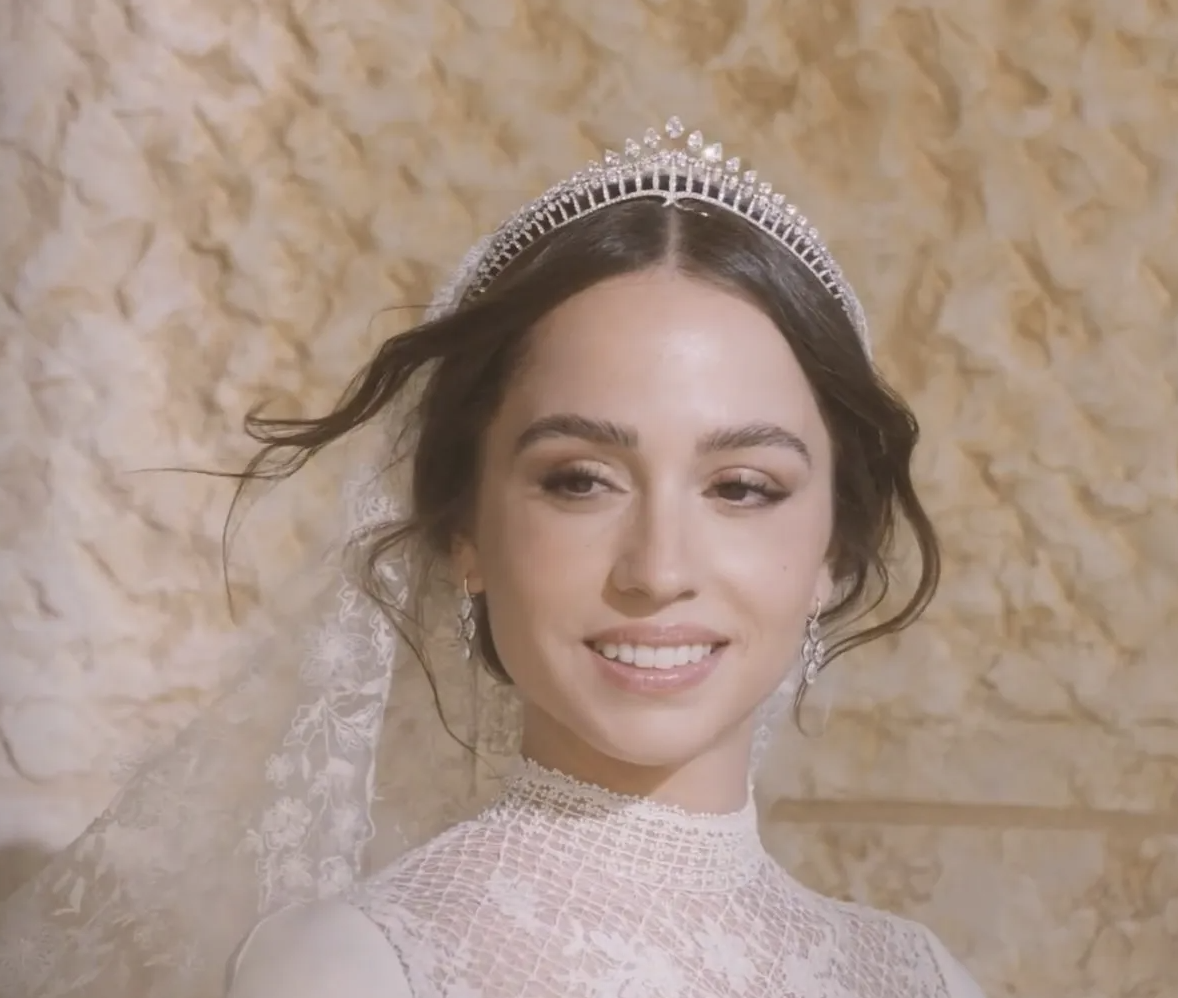 For a foray into seamless cohesion, look no further than to Princess Rajwa. The trained architect's engagement ring was everything but the quintessential image of a round cut diamond that is synonymous with bridal jewelry. Instead, a three-stone wonder, fit for a pear cut fiend, crafted by "The King of Diamonds," Harry Winston, accompanied the Princess during the royal weddings. The central stone is expertly set with two pear cut accent diamonds, which lend the ring dimension and an element of interest. An equally awe-striking piece, demanding a second glance by onlookers, were the Princess' hypnotic earrings. The inverted and irregular c-shape jewels, offered the piece a compelling aesthetic resembling the look of dancing diamonds, moving melodically. The Fred fashioned masterpiece blends with the ring's design by experimenting with the scale and position of pear cuts which, too, appear throughout the creation. A stunning example of pairing pieces together, imbued with similar silhouettes, that need not be preconceived sets.
The Princesses' sans collier adornment is possibly the most modern-day styling choice of all, perfectly aligned with a lighter and fresher, "less is more," feel. Nevertheless, the ultimate jewelry lesson by Jordan's Royal brides, is the departure from being drenched in a full-fledged suite (wearing matching earrings, bracelet, necklace and ring), an aesthetic that is redolent of a bygone era. Rather, skip the necklace, opt for fancy cuts, do not shy away from statement earrings (and sporting a name-bearing tiara never hurt anybody).
ALSO READ: ANALYSING AND CURATING 'SUCCESSION' CAST MEMBERS' JEWELRY.