Earlier this week, we posted the first of a three-part series with author Nicholas Foulkes on Van Cleef & Arpels' Alhambra collection's 50th anniversary. First, we discussed the dedicated tome he researched and authored to celebrate the occasion and here, as we sat in the French Consul's garden in Marrakech with the Koutoubia Mosque visible in the background, we touch upon the enduring legacy of the fine jewellery icon…
In all of the research you did, was there one, or perhaps a couple of things, that particularly stood out to you about the Alhambra?
It was seeing the original docket for the first one. It was a silly little bit of paper really. It's quite brilliant, because I was looking at this thing and the person that was filling it out didn't really know that they were beginning a 50 year story that has taken us to the French Consul's house today. And that's what I liked about it, it was a real thrill for me. Obviously these were written without any sense of the future, it was just a piece of clerical whatsimacallit. And then suddenly it becomes something and you're seeing the birth of something that has become a phenomenon and for me that is really quite exciting. I know it sounds silly but it is thrilling for me to hold this thing that has survived even though the person who filled it in is probably dead, and the person who made it also, and the workshop that they dispatched it might be out of business…
But it has lived on.
It has lived on. All of these things and yet this thing is still here, better than ever. And I'm looking at the birth certificate if you like so that's great. And then finding out more about the boutique was great, finding out more about the character of the Arpels brothers was great and then just filling in the gaps by looking in the archives of Van Cleef. I mean this was a job but it's something I would do for nothing.
And it's amazing for you to be such an integral part of the brand's history by compiling this book that forms part of Alhambra's history and will also endure.
I hope so. It's nice that Van Cleef want to do that. You've got so many brands now that just get a hashtag, pay a few million dollars to a Hollywood personality and get their inevitable influencers and nobody really knows or cares why or what it is they're doing. There's nothing wrong with a commercial transactional relationship but this ceaseless… it's sort of pathetic trying to be the latest next thing when actually there's nothing new under the sun. The thing is, you've got to understand where you've been so you can go into a different place next, you know?
It was funny, I was with a brand — I won't mention who — with one of their young-ish clever marketing people and I said, 'Oh I remember seeing that watch from some great examples from the '20s.' And they said, 'Oh no, that wasn't introduced in the '20s, I've seen the marketing plan, that was introduced in the 1990s and of course, all he'd seen and been aware of was the last 20 years. He didn't realise that this was something that dated from the '20s. I think that's what Nicolas Boss is very good at — he's very culturally aware, he's very aware of contemporary art and contemporary music but also he understands the importance of… you can't have only the past, I love the past, but it is part of the present, it's what makes the present. I'm just delighted to be working with them on something like this that is really enjoyable for me to do and they really want to have it.
It's interesting that you mention heritage — heritage is what makes something iconic.
This is what I don't understand — when you have something of far greater value and quality under your fingertips and yet you're going out and trying to be young. Also, for the long term, people may not know they like something because they may not analyse it. They may not say, 'I like the Alhambra because it references this and that', they just like it. Not because you're patronising them or trying to speak their language, you're doing what you do and yes you want to put it in front of them but you don't want to get some sort of YouTube kid sensation…
There's a delicate balance between making it available to people and not…
Trivialising it, yes.
People are wearing it at Coachella and then you have Grace Kelly having worn the same thing. That's a pretty impressive cultural bandwidth.
From all of your research, how does Alhambra translate for the new generation?
It's brilliant, it's casual. It works with everything. What's that festival all the young kids go to?
Coachella?
Yes that's the one. It's like they rediscovered wellington boots. It's that. You can wear it there. And then you have Grace Kelly having worn the same thing. That's a pretty impressive cultural bandwidth. And it looks great on some woman in ripped up jeans and a T-shirt just as it does if you're dressed up to go to a cocktail party in Paris.
It allows for interpretation.
And that is the key. It becomes yours. It's not prescriptive. The love bangle is the obvious comparison but it's a bracelet and it is what it is. Yes you can put diamonds in it, but even when you put a hole in the back of it you've destroyed the whole point of it because it's screwed on by somebody that you love. Maybe you can use it to make earrings or a ring but they're not as successful as the original bracelet. Whereas [the Alhambra] is a proper thing.
Because the shape is what is iconic.
Yes, it's the shape, which is the most famous execution of it. The shape belongs to Van Cleef and as long as you don't distort it, you can make it as big or as small as you want, you can make it bigger to accommodate a watch, smaller to become an earring. I want them to do a set of dress studs for men just using the little motif and cufflinks. I think that would be great! There's so much that can be done with it that you're really only limited by your imagination. You see a lot of people wearing a sautoir [a long necklace] wrapped around their wrist.
I think that's what speaks to the creative minds that came up with it.
Yeah, I mean Pierre Arpels was a genius. Genuinely a genius. [He was] a farsighted man commercially but also artistically. Rhythm and throb — if you get to that point in the book, Pierre Arpels says there'll be rhythm and throb for Van Cleef and Arpels and this was in the '60s and you think, wow, good on you. It's identifiable what it is and yet you can make it what you want it to be.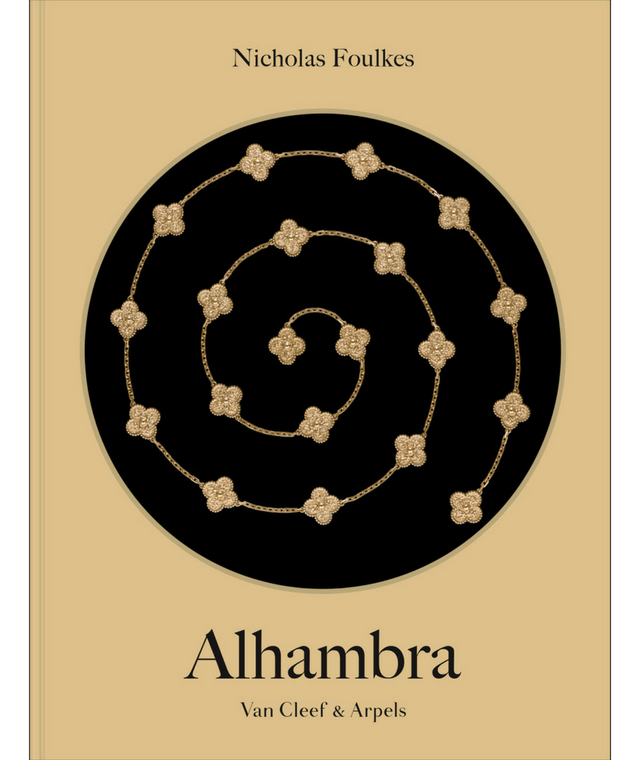 Stay tuned to Buro 24/7 Middle East for Part Three: The Future of Alhambra on Friday, June 8.