Throughout its history, the House of Garrard has had the honour of working closely with the British royal family, as well as royalty around the world — a long-standing regal and fruitful relationship. First commissioned in 1735 by Frederick, Prince of Wales, and then appointed Crown Jeweller by Queen Victoria in 1843, Garrard has since served every succeeding British monarch. Over the years, the luxury brand has created many famous jewels (including Duchess of Cambridge's sapphire ring) and its heritage continues to blossom through iconic designs and new jewel creations today.
Here, we speak to the maison's Creative Director, Sara Prentice, to further understand its history, its regal relationship and what to expect next…
What is your earliest memory of jewellery?
My first memories of jewellery revolve around a box of treasures that my mother had inherited. These intricate antique pieces fuelled my passion of jewellery design. In particular there was a sapphire and diamond bracelet that was my favorite piece.
How would you describe your passion and relationship with jewellery?
I have a passion of the intricacy and detail required in jewellery design, which drove me to master this particular craft. Since joining the House in 2012, I have not only created signature motifs, inspired by past Garrard creations, that integrated into the current collections and high jewellery but I have also brought a renewed focus on Garrard's heritage and the wearability of its jewellery. It is a key focus of mine is to understand the lives of modern women in order to design modern versatile pieces that encapsulate the Garrard heritage.
What is your favourite colour? Why?
Royal Blue. I admire the rich and deep intensity of Royal Blue colour, especially when this is seen in exquisite gemstones. Blue sapphires are a key part of Garrard heritage and in 2018, Garrard continued its rich legacy of sapphire jewellery creations with a 118.88ct royal blue Burmese sapphire presented in a brooch that features the House's signature cluster setting.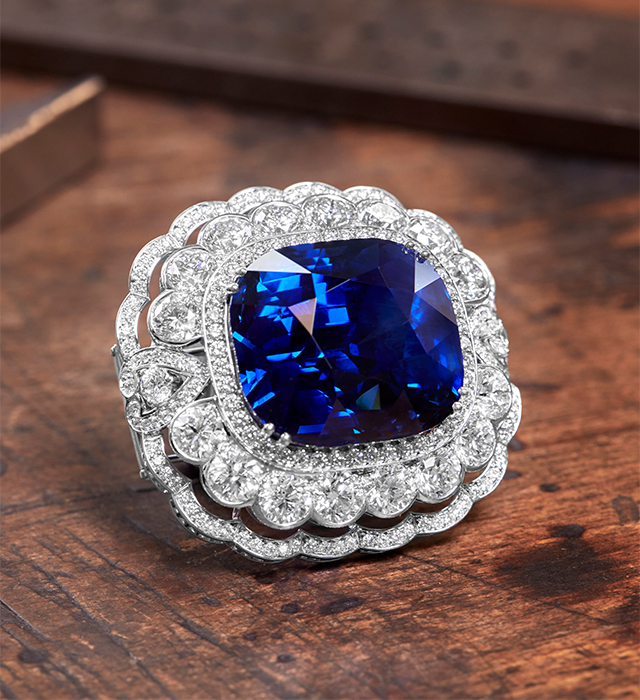 What is your favourite stone? Why?
Diamonds. From a design perspective, diamonds have a huge amount of versatility, allowing us to be very creative in the way that we choose to work with them. They also come in a wide spectrum of colours that continue to inspire us and our use of colour in our creations.
Can you tell us more about House of Garrard's long-standing relationship with the British Royal Family?
The House of Garrard is the longest serving jeweller in the world. Its origins can be traced back to 1735, when Frederick, Prince of Wales became its first royal patron. His order marked the start of a long relationship with the British royal family, formalised in 1843 when Queen Victoria appointed the House as the first official Crown Jeweller. Iconic jewels have been created for each successive generation, including the Duchess of Cambridge's sapphire cluster engagement ring.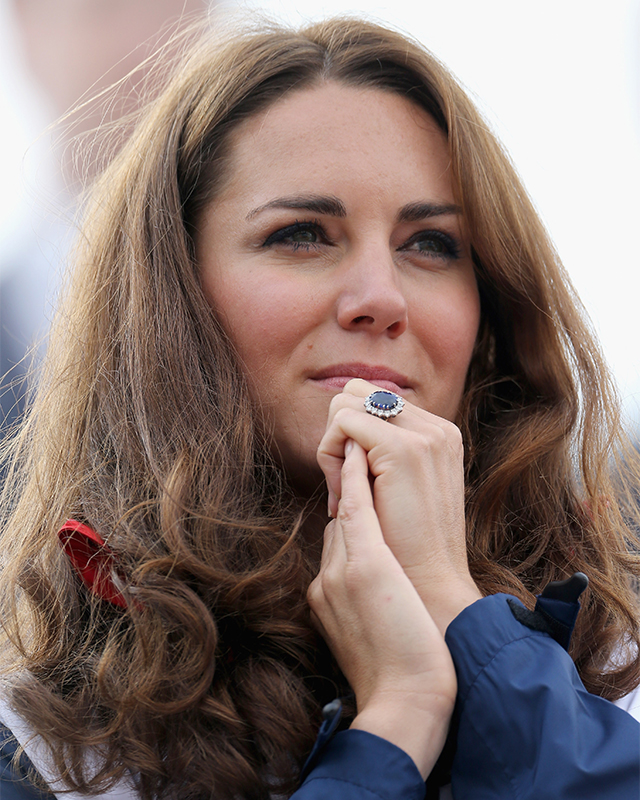 Silverware and trophies have also been commissioned over the centuries, among them the Royal Ascot Gold Cup and the Dubai World Cup. This rich past informs a creative present where heritage and design combine to bring out the beauty of the precious stone or metal. From tiaras to trophies and rings to regalia, every Garrard creation bears the quintessentially British hallmark of history, craft and quality.
Can you describe your design studio?
The Garrard design studio is situated on the top floor of the London boutique on Albemarle Street. The space is flooded with light to allow the designers to immerse themselves in the detailed and iterative process of jewellery design. Being based at the House also allows the design team to immerse themselves in the Garrard archives that are stored here. From the extensive archives comes the inspiration of all of the current collections and high jewellery.
What has changed the most since you began designing?
As in many industry and crafts, technology has developed and changed throughout my career in jewellery design. At Garrard we embrace new technologies across the creative process however we are also proud to keep using traditional techniques such as hand painting the finished jewellery design with gouache.
How would you describe the House of Garrard woman?
The Garrard woman is one that is discerning in her jewellery tastes. She has an eye for handcrafted quality and seeks out the very best materials and precious stones for which the House is renowned, including investment pieces such as those from the Jewelled Vault. She is also looking for pieces that are comfortable to wear and offer the versatility to adapt to different occasions, such as tiaras with removable centerpieces that can be worn as pendants, detachable tassels on earrings and variable necklace lengths to transition from day to night. Finally, she is someone who looks for authenticity and trusts Garrard as the world's longest serving royal jeweller.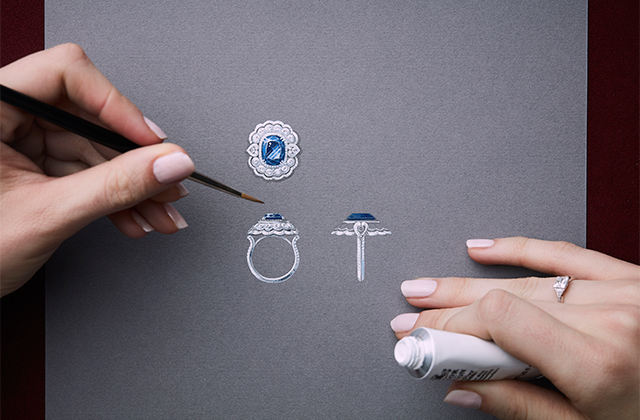 What is the signature style of the brand?
From iconic Garrard jewels like the Girls of Great Britain Tiara, I have developed signature touches for the House, like the diamond and dot pattern that runs along the base of the tiara and can now be seen in many of the current collections and High jewellery pieces. Another signature design that is seen across the collections and high jewellery is Garrard's regal setting. This motif is inspired by the setting Garrard used in 1907 when they transformed the Sovereign's sceptre design to incorporate the pear-shaped Cullinan I diamond. Garrard framed the diamond within an enameled heart-shaped setting.
What does luxury mean for the brand today? What are next generation of luxury shoppers looking for?
For Garrard the definition of luxury has evolved over the years, today Garrard clients are keen to explore the wonderful stories behind Garrard's unique heritage spanning almost three centuries. In order to do this Garrard create highly personalized and exclusive experiences at the House that allow guests to not only immerse themselves in Garrard's heritage and creative process but also to become a part of the brands history with their purchases.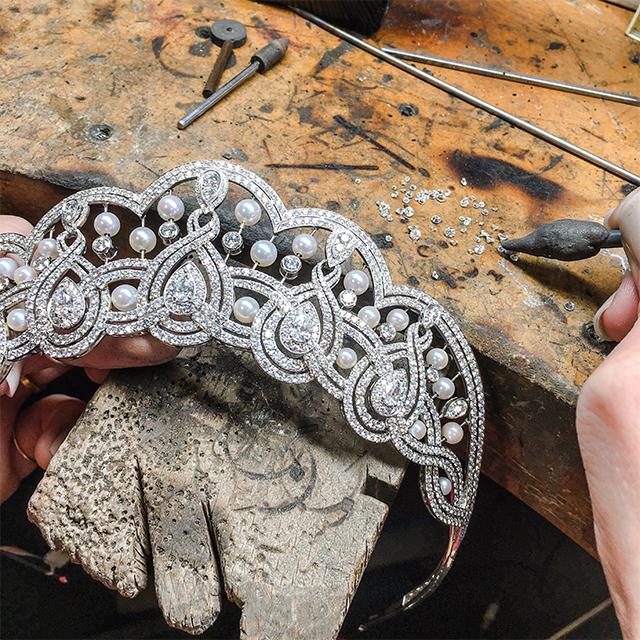 What are the key markets for brand?
With over 32 points of sale worldwide, the brand is renowned internationally for beautiful jewellery, royal regalia and sporting trophies. However the key markets for Garrard continue to be the UK, USA, Middle East, China and Russia.
And your next steps for the brand?
The Middle East in particular is an increasingly important market for Garrard. The brand is expanding so that more of the region's discerning, elegant women can have the pleasure of discovering and wearing Garrard's unique jewels.
What is your vision today for the brand?
It's amazing to work in the place that has created some of the famous jewels in the world. We never stop learning, there are so many stories about the people, the occasions and the stones themselves that provide us with an extensive archive of inspiration that we can draw on. It is always here in which we start our research into the concept of a new collection or high jewellery suite.
The key to designing timeless pieces for today is an understanding of modern women's lives. Versatility is part of that equation. Everything we do is designed to be worn, to be seen, and to feel comfortable in. It is this balance of heritage, wearability and timeless design that has set a course for Garrard that will continue to yield exciting results for anyone passionate about jewellery.
Now, watch our exclusive video with Messika Paris' Founder and Creative Director, Valerie Messika.