Since 1972, Michel Almairac started to learn perfumery at Roure Perfumery School and has eventually become one of the most respected perfumers, globally. With over four decades under his belt, Almairac has become synonymous with composing some of the richest fragrances to date, with his latest olfactive journey alongside Van Cleef & Arpels.
Adding to the maison's haute parfumerie, Almairac was the nose behind the Santal Blanc perfume. The new note symbolises purity, softness and finding the perfect balance and luckily, we had a few minutes to chat with Almairac himself.
Discover what we he had to say about the new perfume below…
What are five things we need to know about Van Cleef & Arpels' new Santal Blanc perfume?
Santal Blanc is a creamy milky woody perfume, a new standard for luxury. It is composed of a precious balsamic sandalwood essence and is the perfect balance between authenticity and olfactive excellence. The sandalwood essence has a spiritual facet, and helps reduce anxiety thanks to its soothing, relaxing scent. Also, white is the purity, softness color emblem, which perfect fits with Santal Blanc ingredients.
Which elements of the Santal Blanc fragrance inspire you?
My first idea was to create a woody milky fragrance, more sophisticated than gourmand. The velvety facet of sandalwood has to be enhanced, in order to highlight the white purity.
How did you then translate sandalwood into perfume?
Sandalwood, with its creamy texture, was clear to me because it unconsciously refers to the idea of a pure and tender white. Combined with fig milk emphasizes the delicate elegance of Van Cleef & Arpels.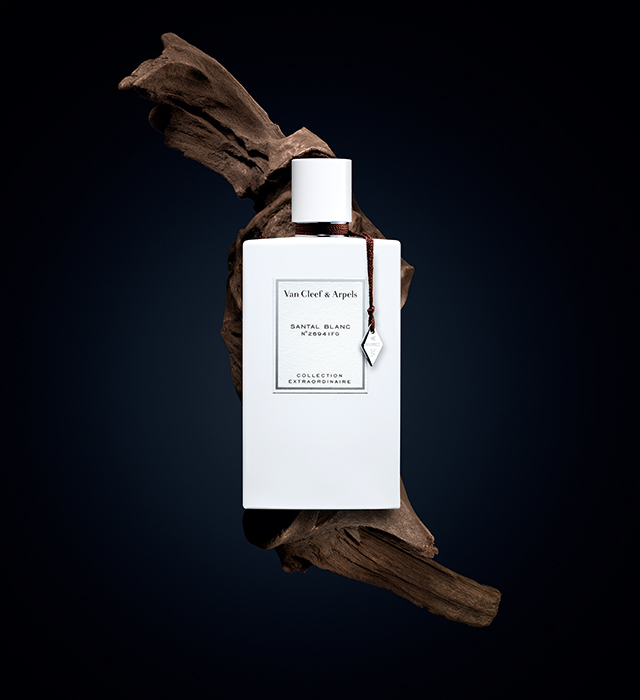 Can you walk us through the creation process?
There is no secret to create a good perfume; it takes a lot of work and patience. It also requires a great amount of culture and knowledge of what has already been done, to be able to create a new, unique and distinctive fragrance. The ingredients available being the same for everyone, it is important to have a strong idea in order to create something at once unique and timeless.
How long did it take?
Approximately one year, from the perfume brief to the final product.
What does the word "luxury" mean to you today?
Today, luxury is associated with a technical and innovative creativity, an accurate sense of craftsmanship. In perfumery, we have to focus on the high-quality ingredients, and the best combination.
What are you favourite ingredients or raw materials to use in perfumery?
There are certain raw materials that I particularly like, others that I like less. More than liking the former category, I understand them. This makes it easier to work with them and to combine them to creative innovative accords.
Tell us about the women's perfume routine in the Middle East? How is it different than others?
Middle East perfumery is strong, heady and addictive, with an intense oriental facet. Women have an alluring perfume routine; they immerse their clothes and their hair in the bakhoor smoke. It is a captivating ritual, which cannot be seen anywhere else. Middle East rituals are an innovative inspiration to create new fragrance.
What is the best part of your job?
Meeting people, working with an almost non-limit creation. Perfumer needs to adapt to a non-routine pace.
Why do you think perfume is a good way for storytelling?
Perfume is a reflection of the brand, it is like the olfactive DNA. It tells us a part of the brand story, in an emotional way. Santal Blanc, with its pure sophisticated accord, connects us with a relaxing feeling combined with an idea of luxury.
Your first and best olfactive memory?
I do not remember about a precise olfactory memory. However, I was born in Grasse, that's why I have always been surrounded by scent. It was at 15 years old, visiting the Roure atelier, that I realized that I wanted to discover the hidden and magical universe of perfumery.
Also, here's your first look at Lady Gaga's Haus Laboratories beauty products.