Gucci continues its journey through an enchanting world of ephemeral yet recurring beauty, one that is a majestic ode to nature and an insight into Alessandro Michele's kaleidoscopic universe. With the launch of the third chapter of its High Jewellery collection Hortus Deliciarum, Michele built a multi-faceted future by revealing pieces that belong to five enlightened and enlightening chapters of a travel diary.
A vision into Gucci's mythical continents and fantastical themes, the first chapter is an ode to what the Creative Director is best known for: his storytelling. Capturing the wonder and desire for ancient splendour around Rome – think the Colosseum, the Pantheon, the Roman Forum, the Temple of Vesta, the Temple of Hercules at Cori, the waterfalls at Tivoli and the Pyramid of Cestius – Michele transforms his obsessions into a plethora of pieces including necklaces, bracelets, earrings, brooches and gold pendants.
The next chapter is an ode to kaleidoscopic beauty. Highlighting the influence of travel between Rome and India of Maharajas, more specifically, the magnificence of the eclectic architecture of the royal palaces and the lush nature of the gardens, the narrative translates into colourful yet dreamlike jewellery pieces that feature stones such as rubellite, imperial topaz, yellow beryl, tourmaline and garnet.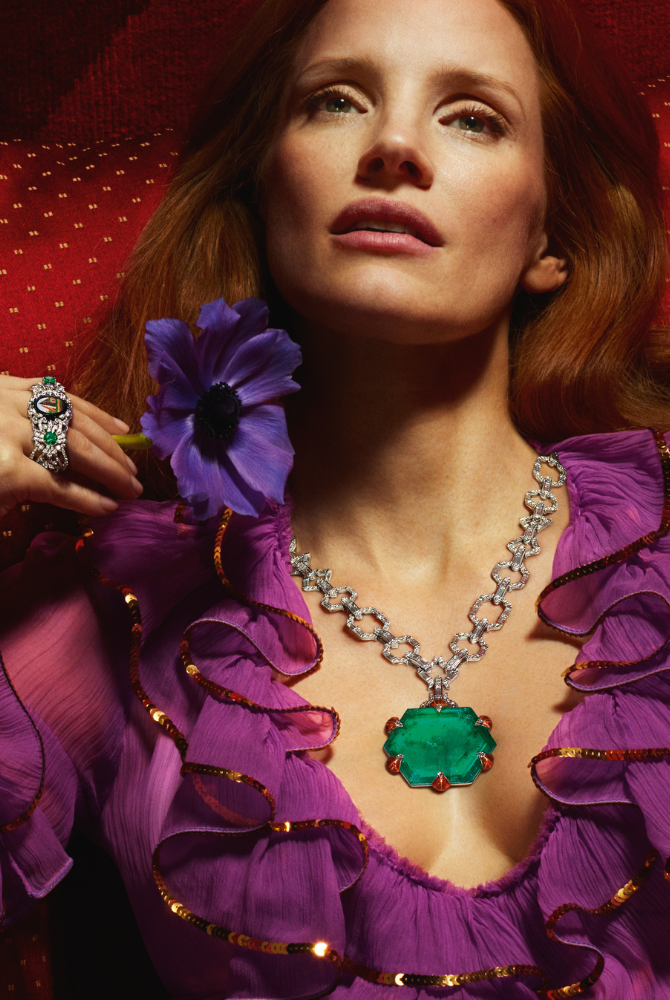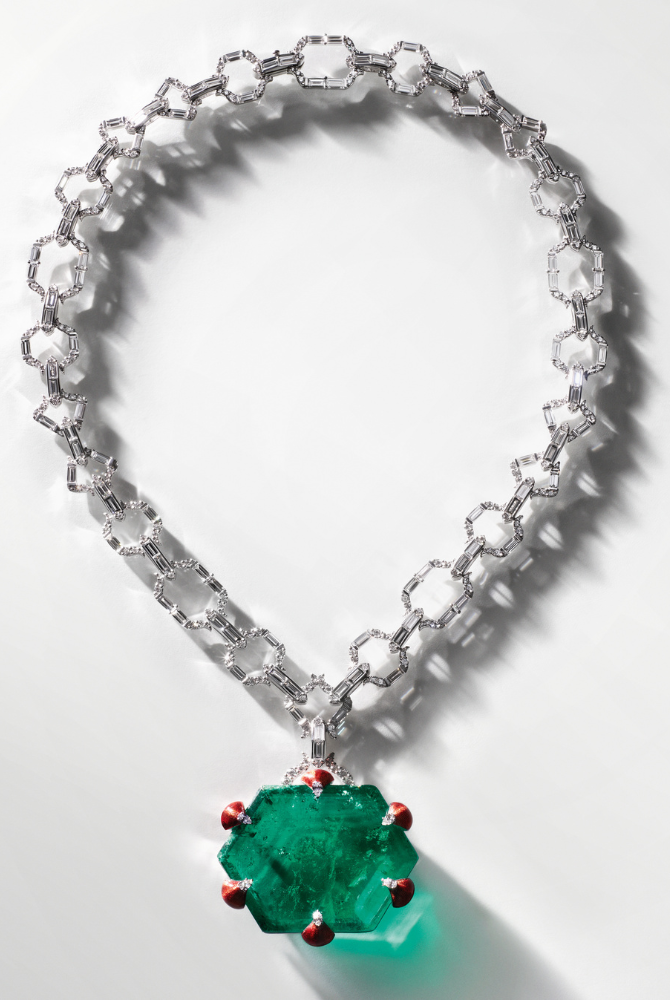 Next up, the pearl is the foundation of the third theme of this Gucci High Jewellery collection. Whilst pearls convey mythological origins and symbolism, it's also a symbol of femininity and mystery, which are captured in sautoirs paired with earrings and brooches while holding detachable pendants in imperial topaz or alternating with multicoloured tourmalines and diamonds.
Flipping the page onto the next chapter, we arrive in the New World of the '30s and '40s. This imaginary journey consists of playing with the geometric shapes of necklaces, bracelets, earrings or central pendants set in cages of baguette-cut diamonds. The pieces are also adorned with amethyst, aquamarine and cushion-cut blue-grey beryl.
The drama unfolds in the final chapter, eventually reaching the 1970s – where pop culture, free self-expression, the desire to discover foreign worlds and an attitude are present. The jewellery pieces that fall under this theme are meant to "protect" ideas, visions and stories.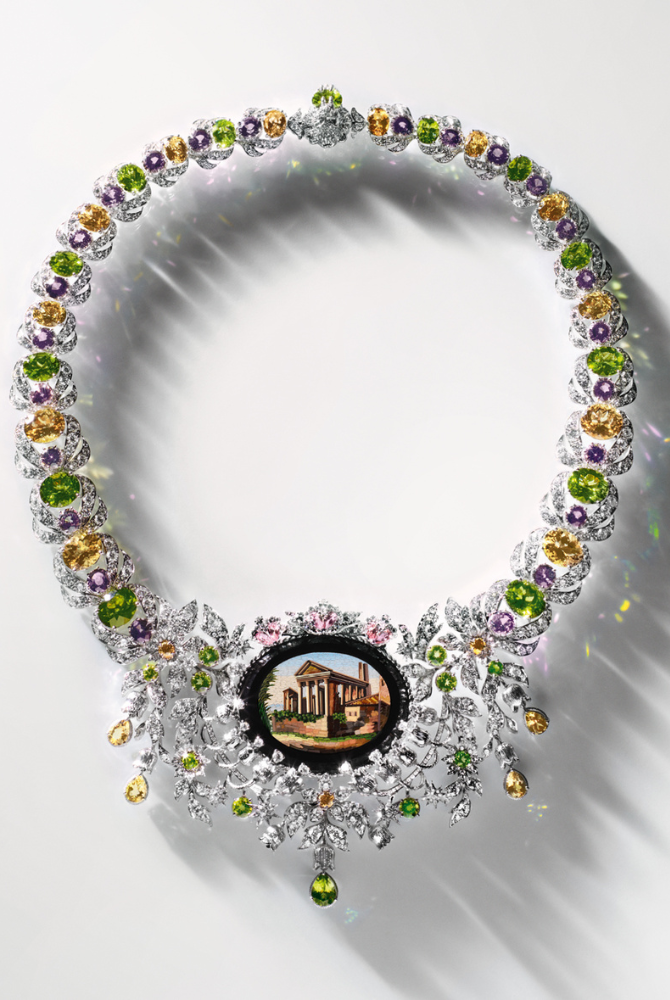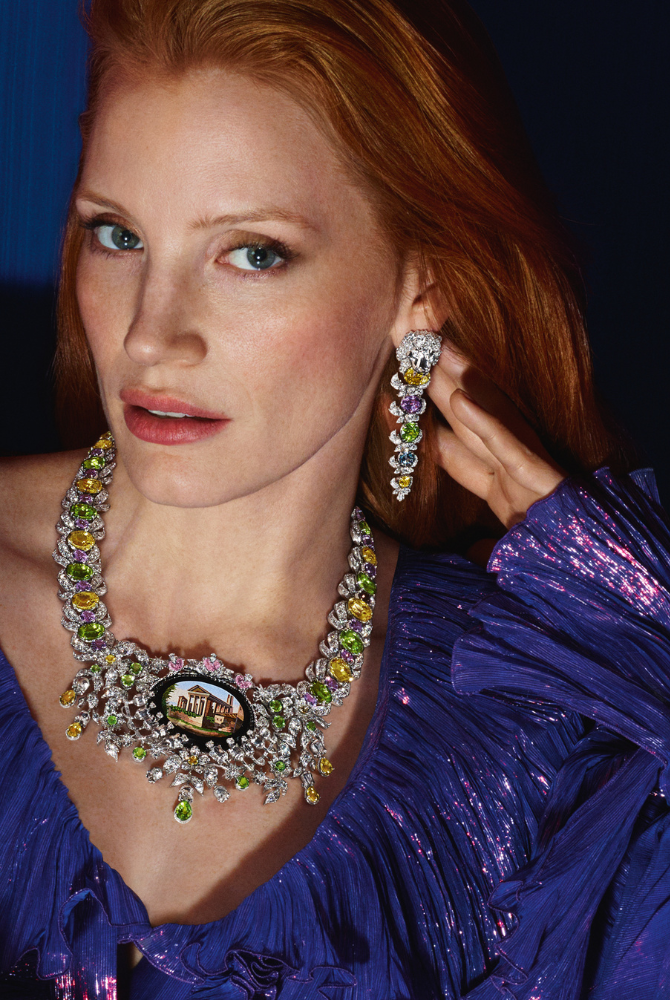 To front the collection, Gucci taps Oscar-winning actress and film producer Jessica Chastain to star alongside the High Jewellery pieces. Embodying the same poetic and timeless aesthetic as the collection, Chastain inhabits psychedelic elegance and eccentricity through the captivating new campaign.
ALSO READ: GUCCI LOOKS TO THE STARS FOR ITS COSMOGONIE SHOW.