Under the stars at the Castel Del Monte in Puglia, Gucci took us on a cosmic tour as Alessandro Michele revealed Gucci Cosmogonie – a burst of mystical encounters and a celebration of the celestial body. Like everything the Creative Director does, his vision and approach to fantasy tell a story and for Gucci Cosmogonie, it was a celebration of the stars and philosopher Walter Benjamin, to which he paid homage.
"Benjamin, after all, is a collector of quotations," he wrote. "He discovers them from the depths of the sea and he brings them back on the surface of the water as rare and precious pearls. He reassembles them like shreds of thoughts that need to be recomposed, reconstructed, updated."
Using the same approach, the designer produced a shimmering midseason collection, one that intertwined fabrics, a poetic fete of colours, new designs and a narrative that traverses eras – think past, present and future.
"Mystical encounters and mythological places – it is all written in the stars," the house explained of the inspiration. "In Gucci Cosmogonie, Alessandro Michele gathered elements that at first sight seem atomised and dispersed, but become an assembly of complicity – 'a connective structure that lights up the darkness through the epiphany of a constellation.'"
The 101-look offering made up of menswear and womenswear took a less celestial approach but was unabashedly glamorous. Given the Gucci treatment, '70s-esque pieces were met with opulent colour pairings, shimmering chainmail capes, bejewelled embellishments and roomy tailored separates. Meanwhile, the collection was a window to infinity and geometric perfection with zig-zag lines on a bodice, vertical rows on a shimmering frock, swirling vortexes and psychedelic squares.
On the accessories front, latex gloves clung to the arms, whilst a selection of looks was completed with pieces from Hortus Deliciarium – giving us an exclusive preview of the new Gucci High Jewellery collection, which will be revealed in June. On the runway, we also witnessed the debut of a new top-handle design inspired by a doctor's bag from the House's archives revealing a selection of Gucci Beauty products within.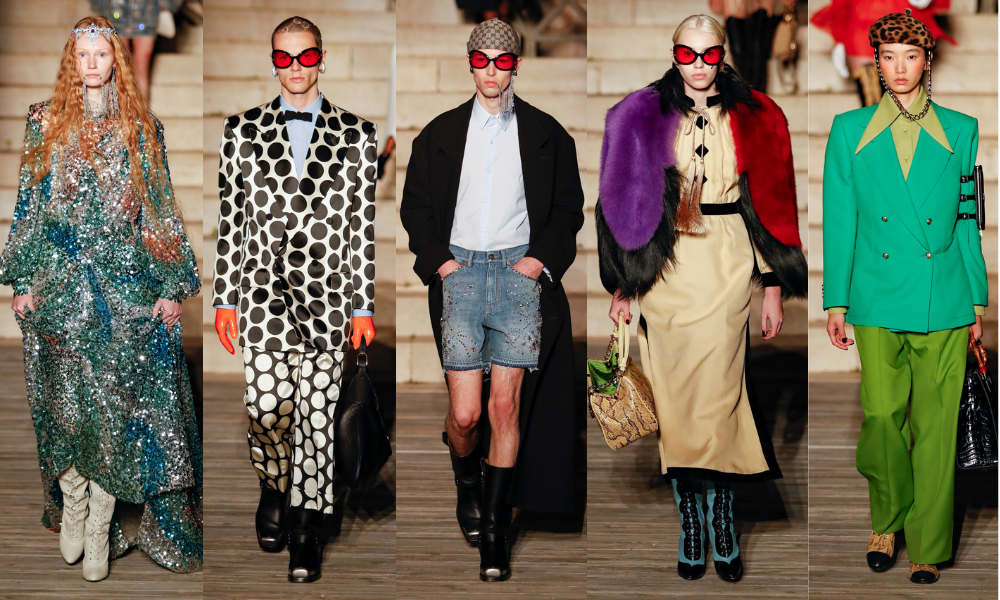 For Gucci Cosmogonie, Michele weaved a new storyline of elegance, one that played into his narrative of continuous evolution. If nothing else, it was a reminder to look up.