On day one of Paris Haute Couture Fashion Week, we saw Sonia Rykiel and Givenchy present beautiful couture collections for the autumnal season to some seriously stylish show-goers.
Now, the line-up for day two has many more coveted names on its roster. Take a look at Schiaparelli, Iris van Herpen, Georges Hobeika, Christian Dior, Ralph & Russo and Giambattista Valli's new collections here…
Schiaparelli
What you need to know: Maison Schiaparelli was first up on the schedule for day two. Taking over the Paris Opera House and delivered a collection that perfectly embodies Elsa Schiaparelli's love of nature and art with fluid silhouettes, beautiful graphics, the house's signature butterfly motif and intricate embroidery.
Wish-list item: There's a beautiful oversized ivory silk kaftan (pictured far right) that is a perfect example of wearable art as it features a graphic image of the founder herself. Plus, the modest piece would work with the Middle Eastern consumer.
Iris van Herpen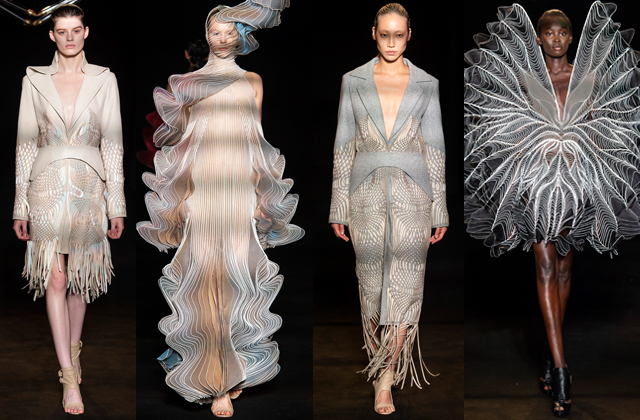 What you need to know: Iris van Herpen's new collection is the perfect combination of fashion, nature and technology. In a very neutral colour palette, the Fall/Winter '18 couture creations captured the attention of many with unusual detailing, a reworking of the traditional blazer, structured dresses and skirts.
The details you might have missed: Whilst most of the ensembles look as though they're pleated, they're not. The designer expertly experimented with chronophotography and according to WWD, it's "a technique from the Victorian era that captures movement in several frames, to guide the draping of a garment, breaking the process down to emulate the layering of a bird's feather on sculpted dresses with undulating hems."
Georges Hobeika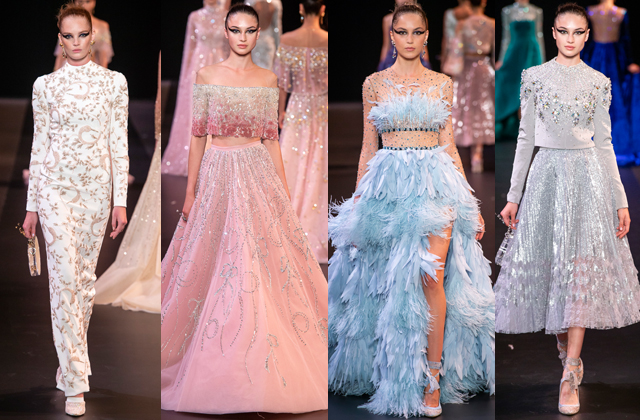 What you need to know: Lebanese designer Georges Hobeika worked his magic on the couture calendar overnight. Sending several dreamy looks down the runway, the range consisted of ball-gowns, long dresses, A-line skirts, embellished crop tops and beautifully-made capes.
Red-carpet worthy: Whilst every single look is red-carpet worthy, we've rounded up just the top four looks (pictured above), that can work for upcoming Fall '18 season.
Christian Dior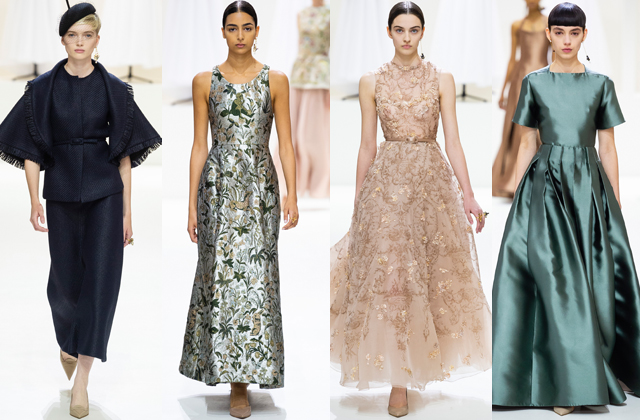 What you need to know: Every haute couture season, Dior is one of the most highly anticipated shows on the calendar. For Fall/Winter '18, Maria Grazia Chiuri injected her brilliant creativity into a range that celebrated the process of haute couture creation. In a beautiful set-up that consisted of a white floor-to-ceiling grid with all of the collection's fabrics on dress forms, the runway show delivered some of the maison's most iconic silhouettes, suits, coats, skirts and dresses.
Model of the moment: Whilst Ruth Bell continues to open each show for Maria Grazia Chiuri, we also spotted Moroccan model Nora Attal sporting a beautiful printed metallic long dress (pictured above).
Ralph & Russo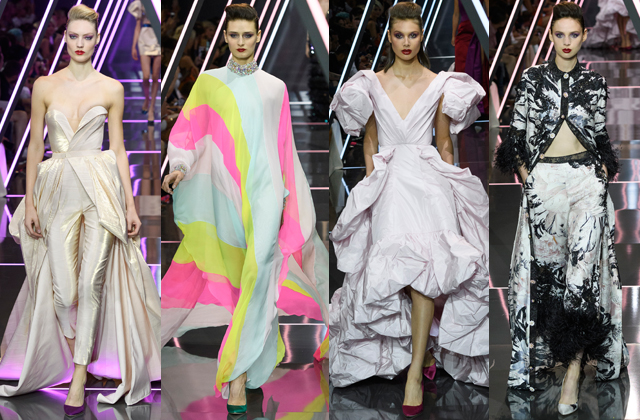 What you need to know: This season, the duo behind Ralph & Russo took a more colourful approach to couture dressing. Not inspired by Meghan Markle this time (the Duchess of Sussex wore the label for her engagement photos), the brand looked towards French fashion icon Jacqueline de Ribes as the muse for this season. There were a lot of looks that had a strong '80's vibe with tailored dresses with cut-outs, off-the-shoulder necklines, multicoloured chiffon kaftans and lots of crystals and feathers.
Shop the collection: Although the Fall/Winter '18 couture collection is not available yet, you can shop Ralph & Russo's ready-to-wear, gowns and accessories at the brand's first store in the Middle East, located in The Dubai Mall.
Giambattista Valli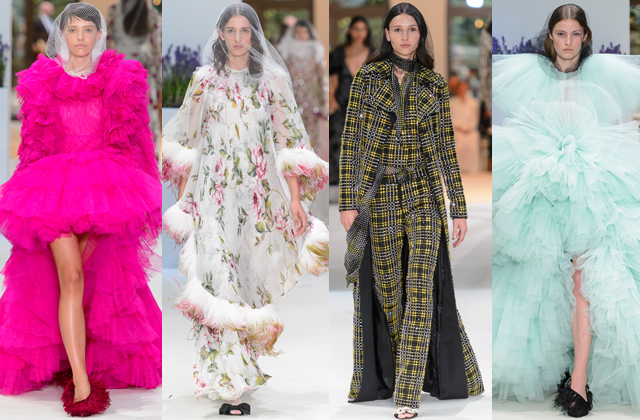 What you need to know: Giambattista Valli's new couture collection was a blend between couture and streetwear. The designer, who is known for excessively using tons of fabrics to create gowns, still released dresses to that effect, but also added more black bow-tie bandeau tops, high-waisted pants, simple mini dresses, jumpsuits and trenchcoats.
In case you missed it: The designer took a minimal approach to beauty this season (perhaps to complement the bright hues of the creations), and instead, used black or white knitted veil fabrics to slightly cover the face.
Now, find out when you can watch your new favourite reality show, Model Squad.