BALENCIAGA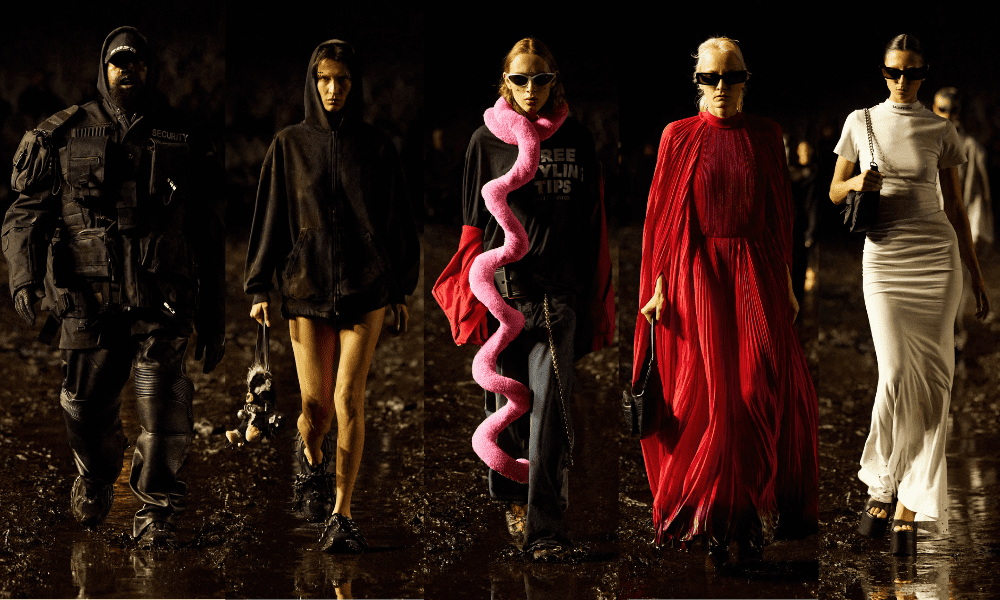 Welcome to Balenciaga's 'Mud Show'. For the Spring/Summer '23 season, Demna took us all to a mudslide as we witnessed headline-making moments on the runway – including Kanye's official debut as a model during Paris Fashion Week.
In his show notes, Demna explains that he has "decided to no longer explain my collections and verbalise my designs, but to express a state of mind" and honestly, we were transported into his state of mind where identity and self-expression prevail. "The set of this show is a metaphor for digging for truth and being down to earth. Let us let everyone be anyone and make love not war."
The collection itself featured a typical Demna language, one where tactical jackets, leather pants, pleated dresses and statement accessories alluded to a post-apocalyptic understanding of his world.
CHANEL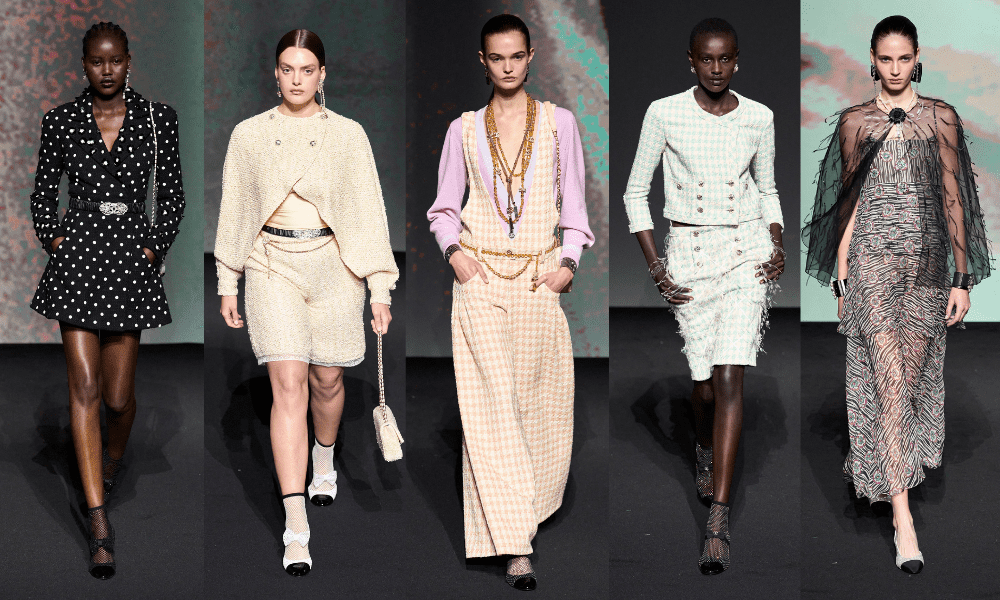 Virginie Viard presented her latest collection for CHANEL and as always, we were obsessed with her take on some of the house codes. For Spring/Summer '23, CHANEL's show highlighted its relationship with the world of cinema.
During the show, models walked in front of a cinematic backdrop within the Grand Palais Éphémère dressed in a collection punctuated with the very essence of 'allure'. With an exploration of old-school colours such as black and whites, the seasonal range also featured silhouettes that were free of movement and expression including sheer capes, loose suiting sets, two-tone tweeds and plenty of feminine-friendly tailoring.
COPERNI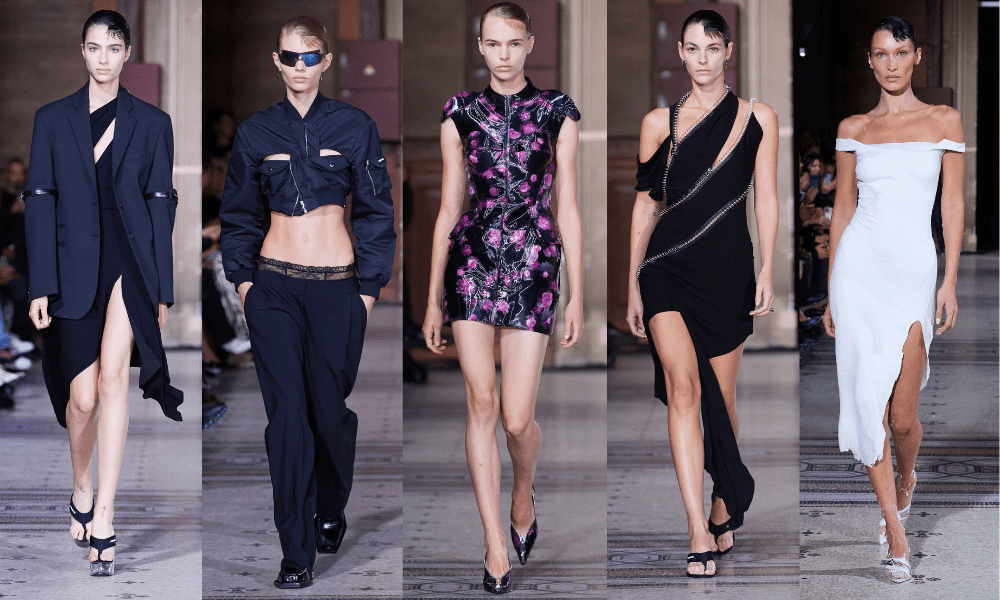 Perhaps the buzziest moment to come out of Fashion Week this season was Coperni's excellent exploration of fashion and technology. As the majority of its Spring/Summer '23 collection made its way through the runway, Bella Hadid walked solo at the end with nothing but nude underwear before Manel Torres — the creator of the patented spray-on technology, Fabrican — and two scientists applied a misty liquid that transformed into a wearable material.
As the innovative material dried into a fitted dress on Hadid, the label's head of design, Charlotte Raymond, walked onstage and manipulated the neckline and cut a dramatic leg slit.
The viral moment garnered around $26.3 million in MIV.
ELIE SAAB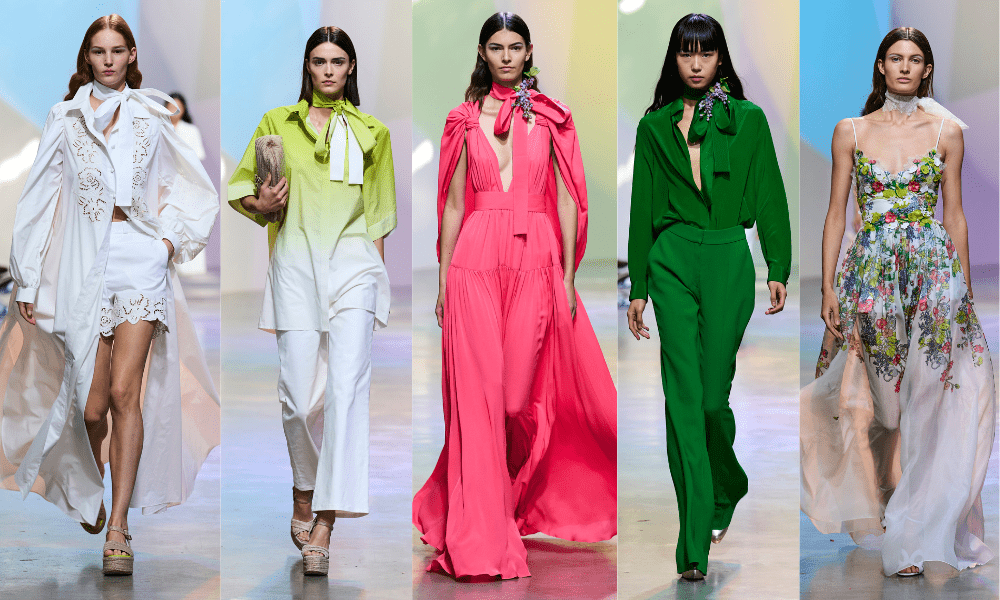 Elie Saab offered us a breath of fresh air at his Spring/Summer '23 collection showcase in Paris. With a star-studded front row that included Monica Bellucci, Eva Longoria, Olivia Palermo and Sarah Rafferty, a collection unfolded on the runway gently.
It exuded a timeless, chic aesthetic as the collection featured luscious lace seen in crop tops and high slit skirts; chantilly-hemmed summer dresses with white gardenia embroideries, as well as a plethora of light and luminous silhouettes that will seamlessly carry you from the brightness of the day into the splendour of the night.
GIVENCHY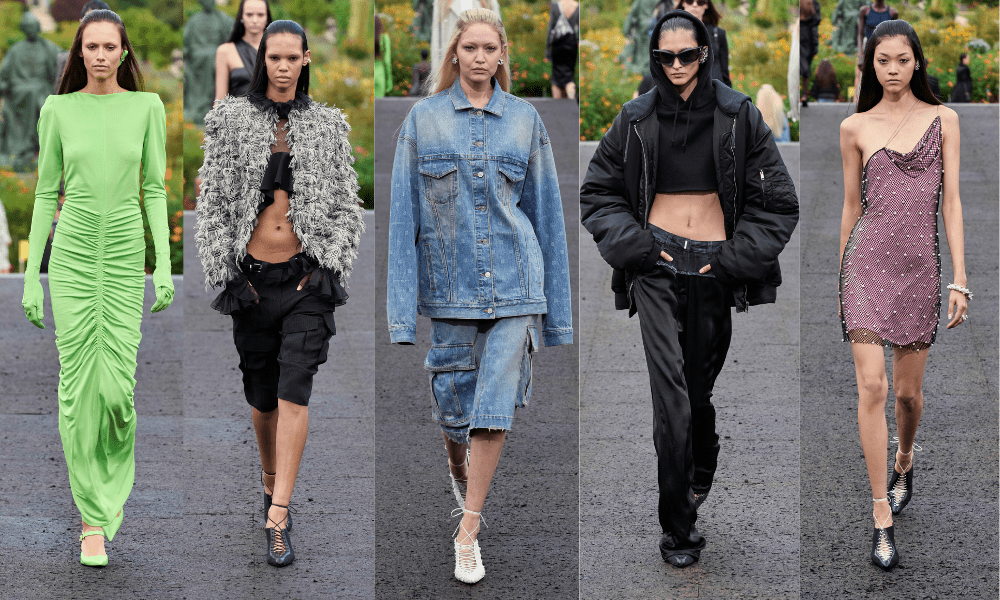 In the midst of torrential downpour, the Givenchy team decided to make the best of the situation and proved that 'the show must go on', as they revealed the latest Spring/Summer '23 collection by Matthew M. Williams.
"This collection is an investigation into the dress codes that tie us together across mentalities and continents: two culturally-specific wardrobes from very different places – Paris and Los Angeles – which have transmuted into a truly universal look for a global and generational community," explains the Creative Director in notes. "I wanted to communicate this interaction with a new clarity and strip the final expression of any complexities."
To highlight his transatlantic inspiration, the clothes echoed 'Parisian chic' and 'Californian cool' through streetwear – think denim, slouchy combats and oversized hoodies – as well as a series of dresses that featured more refined hemlines and plenty of bows (something he dug up from a series of archival looks).
ISABEL MARANT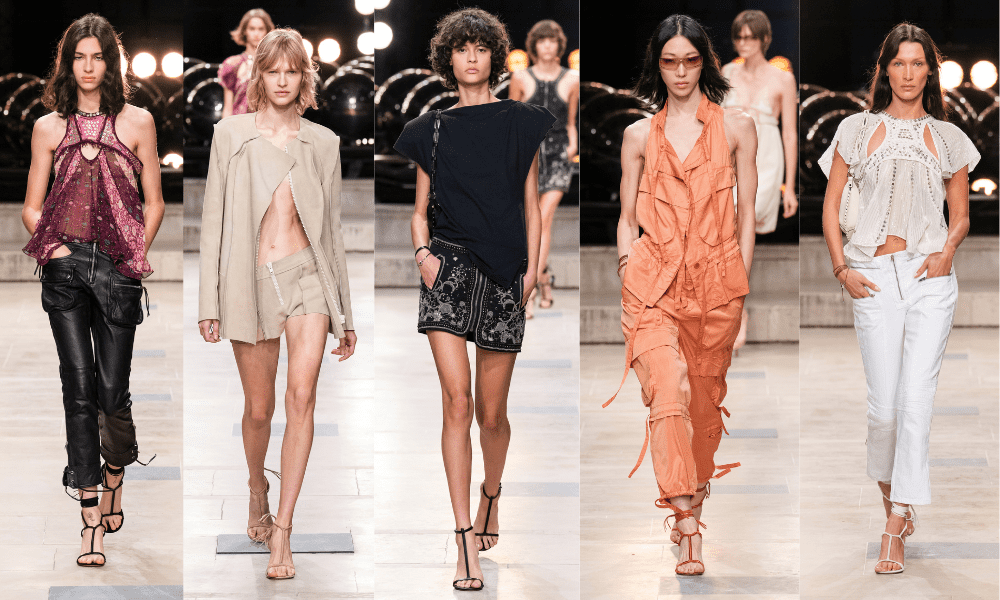 Paying tribute to the '90s, Isabel Marant's leggy runway show was filled with unlimited energy. As always, the designer delivered her signature boho aesthetics with a plethora of fluttery minidresses, tops, leather looks and denim.
The iconic House codes were remastered for the modern-day 'Isabel Marant' girl, one who has a captivating and effortless nature. Further revealed on the Spring/Summer '23 runway were strong silhouettes imbued with the spirit of the house's inception and chiffon silk tops covered in shimmering metallic embroideries.
LOEWE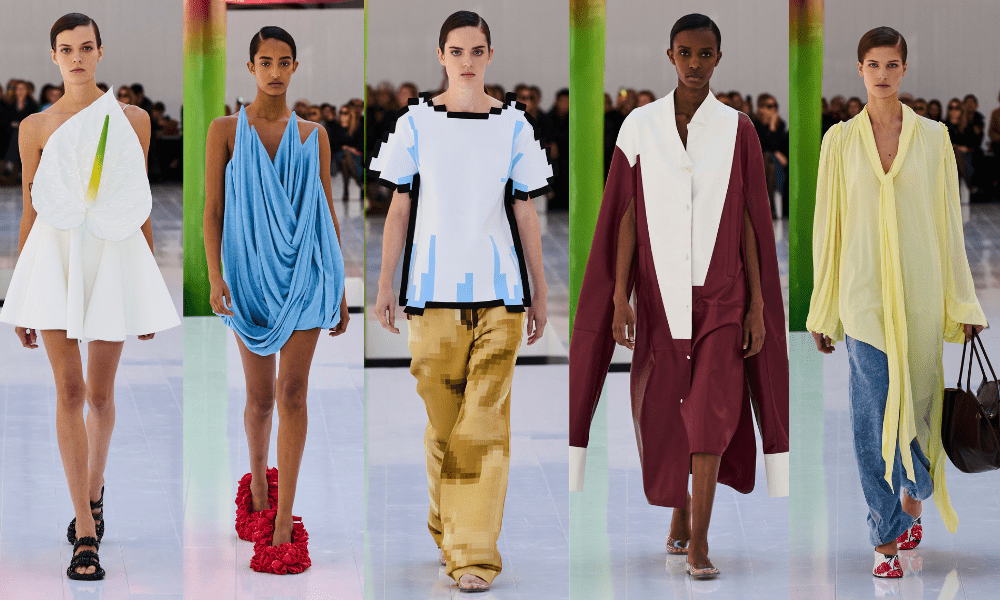 Watching a Loewe show is like watching JW Anderson's personal experiments with fashion unfold on the runway. For Spring/Summer '23, it was purely a design statement – one that focused on lines, colours and shapes. Playing with the precision of an anthurium flower (which also served as the main centrepiece at the show space), the collection featured the flower on short dresses that were shrunken, and its known-how with leather on oversized shirtdresses and sweatshirts.
Continuing his exploration of objects of design, Anderson delivered a series of pieces that were pixelated squares of Minecraft glitches. This odd illusion suddenly breaks the pattern and is reproportioned through T-shirts, shirts and chinos.
The accessories were another major highlight as spike-heeled pumps, flats and pumps were swarming in deflated balloons; the Puffer Goya bag gets an XXL update whilst the new Paseo bag is streamlined.
LOUIS VUITTON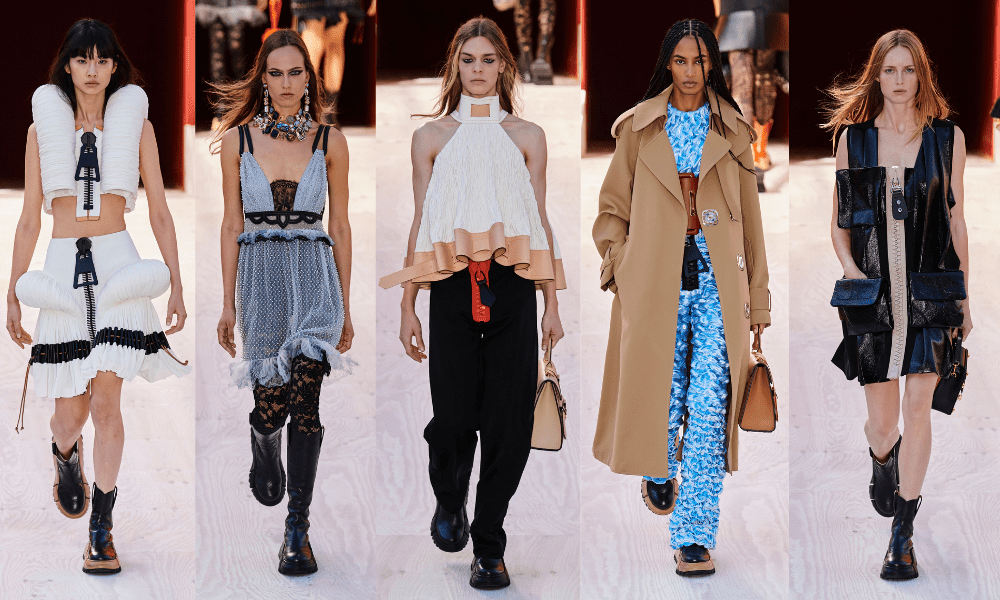 Ending Paris Fashion Week on a high note was Louis Vuitton. For the first time, Nicolas Ghesquière invited his longtime friend and contemporary French artist Philippe Parreno to create a multi-faceted concept to serve as the Spring/Summer '23 show space. Bringing both of their creative visions to life, the setup felt a little bit like an LV-embossed fairground.
The collection was playful, too. As soon as actress and House Ambassador Ho-Yeon opened the show wearing an ensemble with dramatically oversized zippers, we knew we were in for a line-up of emphasized proportions. Femininity fell into the spotlight as signatures of Louis Vuitton's DNA took over the collection's narrative.
MIU MIU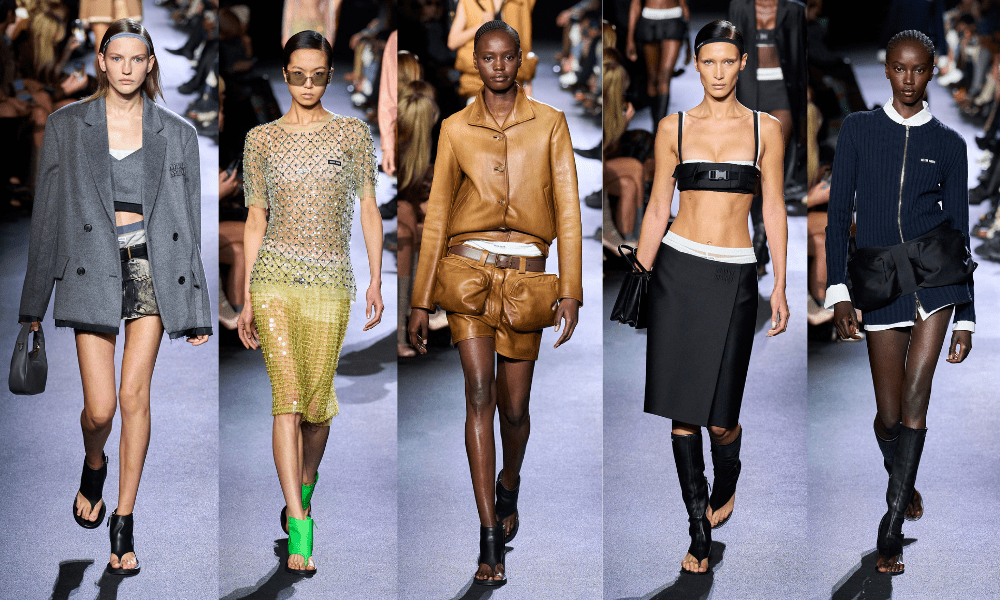 On the final day of Paris Fashion Week, Miu Miu revealed its latest Spring/Summer '23 collection in a specific set installation that beautifully showcased the collaborative work of Shuang Li. On the runway, Miuccia Prada had a purpose and that was to both dress the body whilst expressing broader feelings surrounding individuality and culture.
"For this collection, I wanted to explore the purpose of fashion, its reason. Its usefulness in society and in culture today," explain Miuccia Prada. "Fashion can have a meaning and a reason beyond utility – to decorate, to attract, is a meaning. But it is important that fashion functions – I am not anti-luxury but I am anti-ostentation."
The collection was an expression of utility and complexity which was translated through plenty of pockets, layering of cottons, silks and cashmeres in deliberately subtle colours, or nylon tricot in sharper hues. There was also a continuation of Miu Miu's classic garments reimagined for the season including tailored jackets, the Miu Miu miniskirts, coats, shirts, sweaters, leathers and washed denims.
The collection was also fronted by a star-studded cast including Esther McGregor opening the show, with Ísadóra Barney, Lindsey Wixson, Ethel Cain, Miranda July, Sibyl Buck, Emily Ratajkowski, Bella Hadid and FKA Twigs who closed the show.
OFF-WHITE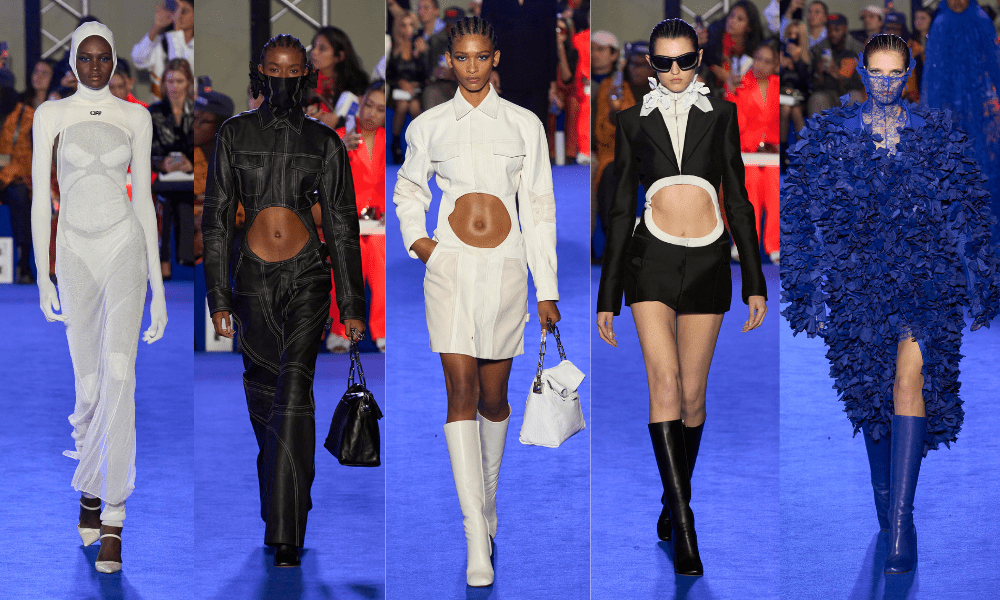 Virgil Abloh's legacy was celebrated at Off-White's latest showcase in Paris as the brand revealed a new Spring/Summer '23 collection (one that was still at its earliest stages when conceived by Abloh before his death). Ibrahim Kamara, who was named as the Image and Art Director of the brand by CEO Andrea Grilli, helped put the collection forward as he took the original brief and built on it.
Re-emphasizing the Founder's codes, the new seasonal collection highlighted holes that exposed the navel on a plethora of looks including on patched leather dresses, workwear, feminized tailoring, shirtdresses and knitwear.
Off-White's signature unfinished, "work in progress" concept also echoed through the collection's tailoring with half-constructed elements, puffer jackets and Out Of Office sneakers.
STELLA MCCARTNEY
Stella McCartney held her first-ever outdoor runway show in Paris to showcase her latest Spring/Summer '23 collection and truth be told; it was a winning collection in our eyes.
Not only is it 87 percent sustainable (which is her most sustainable yet), but there was a re-energising force behind the collection. With high-octane Y2K references, the show opened with gold chain tops worn under oversized blazers, there were asymmetrical skirts, net stockings, low-rise denim pants and several other power players.
However, nostalgia wasn't the driving force behind McCartney's collection. Instead, it was Japanese artist Yoshitomo Nara who used his depictions of children as motifs on garments, and focused the collection on his slogan, "Change the History" – and that narrative stood out to the designer.
VALENTINO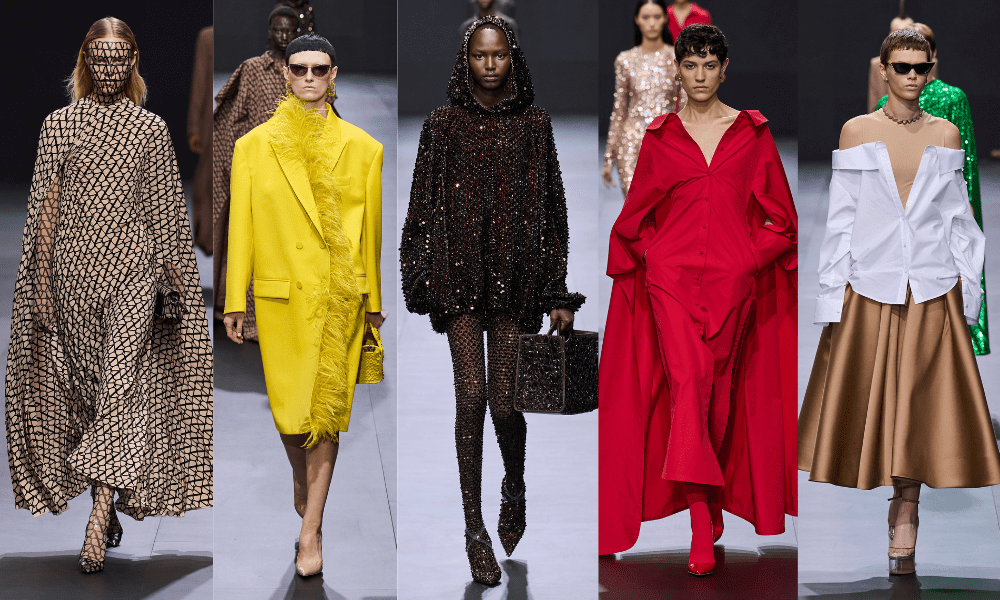 Putting a haute spin on logomania, Valentino's show was a highlight on the calendar.
Shying away from all of the neon-pink colours, Valentino's Spring/Summer '23 shifted its focus to neutrals that were well-crafted and classic. Of course, there were pops of colour (Creative Director Pierpaolo Piccioli is a master of colour) but it was mostly a range of tones that melded with skin to create seamless garments, as unique as the people who wear them.
Under the theme of unboxing, Piccioli wanted to unbox shapes and silhouettes to showcase how specific pieces such as bodysuits, gowns, capes and blazers blended with the body.
VICTORIA BECKHAM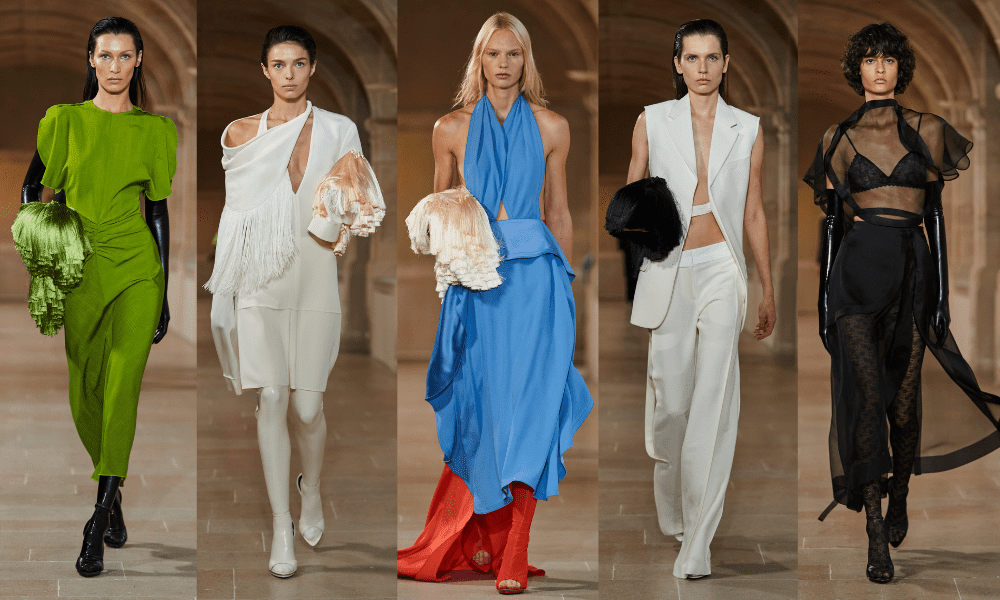 After winning over fashion sceptics in New York and London, Victoria Beckham has also sealed the deal in Paris, and she hosted her first-ever show during Paris Fashion Week. Well-received by the star-studded front row and critics around the world, the Spring/Summer '23 collection was dominated by satin dresses with delicate spaghetti straps for drama, as well as fringed detailing with silk tassels on bare shoulders.
The monochromatic collection also featured a plethora of flowy dresses, well-tailored suits, statement shoulders and coveted accessories we're certain will become a cult favourite.
ALSO READ: THE FIVE COLLECTIONS THAT WOWED AT PARIS FASHION WEEK.