Across the first weekend of New York Fashion Week, some of the industry's coolest names presented their newest collections. Discover them below.
Jason Wu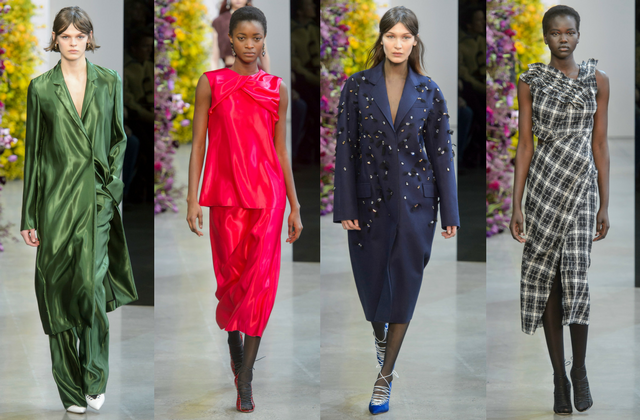 What you need to know: For his latest collection, Wu took inspiration from jewellery makers and subtly embellished dresses, jackets and sheaths with Swarovski crystals for the slightest hint of shine. The pieces were cut in an array of modest silhouettes (leaving us cheering for more) and finished in a rainbow of jewel-tone hues for added impact.
What you might have missed: Each of the models wore shoes by Manolo Blaknik that were created specifically for Wu's show. According to Footwear News, the pair created three new styles that built on existing creations in Blahnik's repoirtoire — whether point toe, mule or open-toe, the shoes were finished in a variety of suede, pony and leather and each featured beautiful corset lace-up detailing.
Brock Collection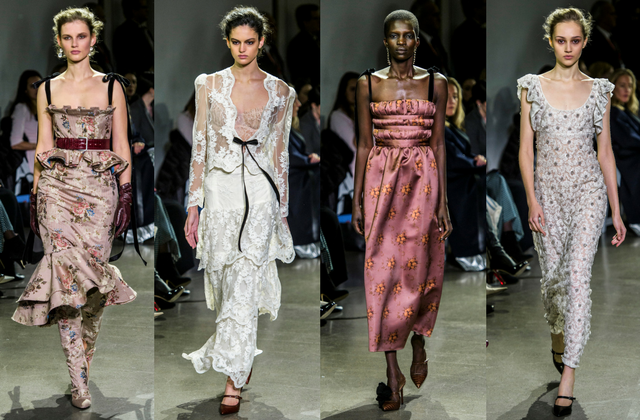 What you need to know: If the name sounds familiar it's because the brand is a red carpet go-to for Oscar nominee Margot Robbie, and its latest collection was filled with plenty of options for the star's next appearance. Known for its ultra-romantic designs, the brand delivered floor-sweeping gowns in cuts of velvet and tulle with rich embroidery alongside more minimalist pieces that still spoke to the brand's signature feminine aesthetic.
Screenshot-worthy ensemble: Whilst the entire collection was swoon-worthy, we couldn't go past the show's opening look (seen above, first on the left). Velvet, embroidery and ruffles? Tick, tick, tick.
Cushnie et Ochs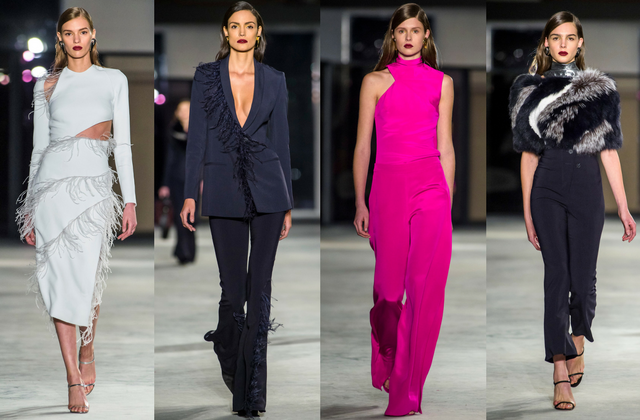 What you need to know: Another red carpet favourite, Cushnie et Ochs designers Carlie Cushnie and Michelle Ochs delivered once again for Fall/Winter. Dresses, which featured the brand's signature cut-out detailing and body-con fit, were finished in silks and satins and accessorised with faux furs and feathering for added oomph. Sleek suiting was a collection highlight, too. Dripping in evening-ready elegance, the collection is certain to be a hit with both the A-list and the brand's regular consumer.
What you might have missed: This show marked the brand's 10-year anniversary and was a celebration of, not only the brand's success in that time, but also the women who have helped put it on the map. On Instagram, the brand created the hashtag, #ByWomenForWomen, as a way of highlighting its success thanks to Carlie and Michelle's intuitive approach to investment-worthy pieces over the years.
Tom Ford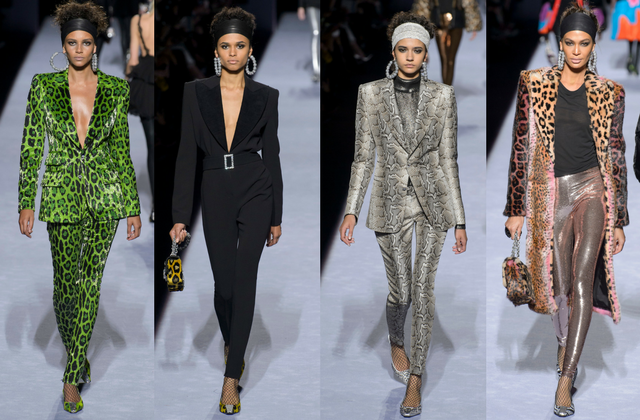 What you need to know: There was a distinctly Eighties vibe to Tom Ford's newest womenswear collection, presented just days after his menswear show. Vibrant colours adorned suiting, mini dresses and outerwear with retro animal prints reigning supreme. Many believed the collection was an ode to overstated Italian elegance, and it certainly was far more maximalist than the designer's previous collections — but equally as cool and compelling.
Instagram-worthy moment: The designer nodded to the #MeToo movement via the collection's accessories with one pair of heels adorned with one of recent history's most powerful feminist statements, spelled out in sequins, naturally.
Noon by Noor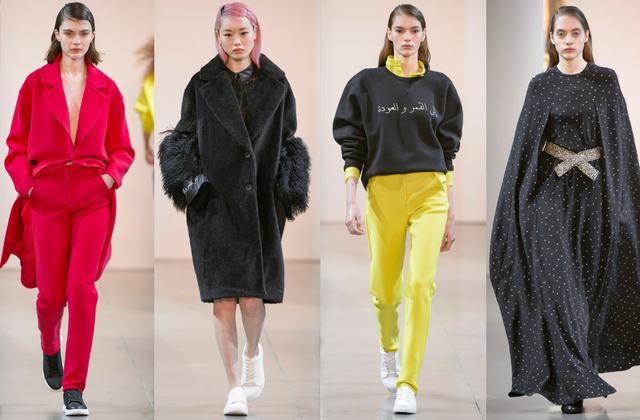 What you need to know: Bahraini designers Shaikha Noor Rashid Al Khalifa and Shaikha Haya Mohamed Al Khalifa "drew inspiration from Bahrain's starry night sky" for their latest collection. As such, the collection was light and luxurious with cool detailing like neon yellow colouring, Arabic script and feathering reminiscent of Bahrain's national bird, the Bulbul, resulting in a collection that was as wearable as it was whimsical. Alexa Chung and Olivia Palermo were spotted front row, too.
Wish list item: The black jumper with Arabic script which read "To the moon and back."
Now, catch up on our live streams of Tory Burch, Tadashi Shoji and Bottega Veneta.