The penultimate day of London Fashion Week has officially ended and day four had plenty to offer. On the schedule, we spotted royal-approved designers Erdem and Emilia Wickstead, as well as Christopher Kane and Roksanda. Take a look at their best runway looks here…
Roksanda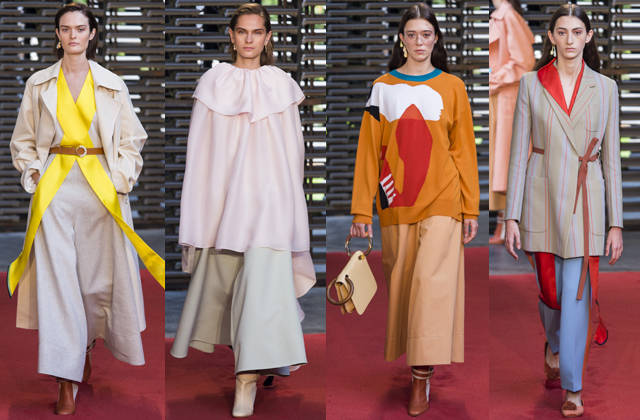 What you need to know: Roksanda continued to showcase a feminine collection for Spring/Summer '19 and of course, soft and fluid silhouettes were at the core of the seasonal range. With a strong utilitarian colour palette that was dominated by sandy shades, the ensembles came complete in the form of loose shirting, sweatshirts, maxi skirts, gowns and a more androgynous approach to the brand's signature trench coats.
Wishlist-worthy: We're obsessed with the double handle handbag.
Erdem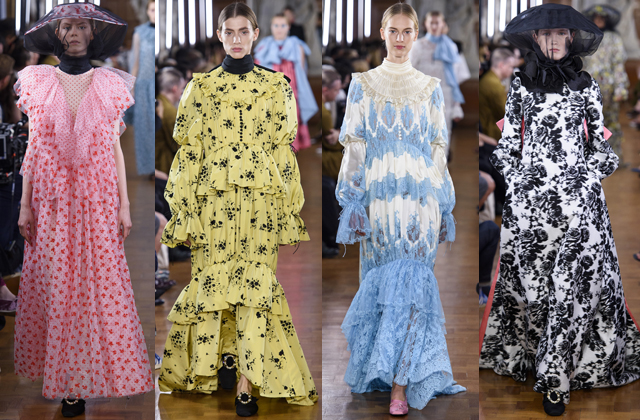 What you need to know: Erdem's Spring/Summer '19 collection consisted of a blend of different references that ranged from the Victorian era to the '90s. The ensembles showcased strong feminine silhouettes that had a hint of masculinity. Plus, a touch of theatrical elements were injected into maxi dresses, bomber jackets, long coats, monochrome suits and sleek trousers.
On-point accessories: Erdem is known for creating statement silhouettes but this season, it was the accessories that caught our attention. There were a lot of lace boater hats, embellished earrings, sequinned gloves and simple string handbags.
Christopher Kane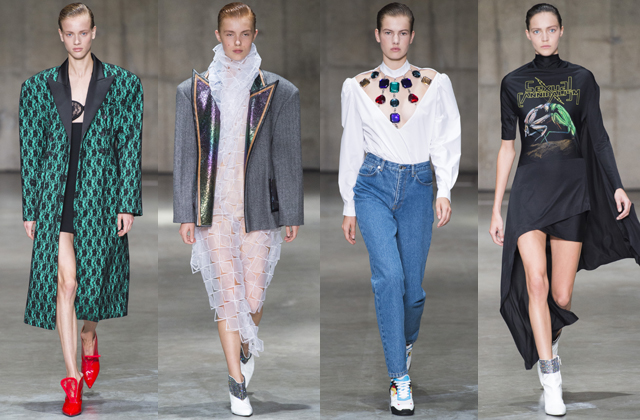 What you need to know: Christopher Kane's new seasonal collection consisted of ensembles that came in contrasting shapes, sizes and forms, all complete in the designer's bold design aesthetic. Some pieces were romantic with lace cutouts, jewel-embellished necklines and short hemlines, but we also spotted wide collared blazers, relaxed denim and asymmetrical skirts.
Did you know: The simple tees sported by some of the models had graphic drawings on them drawn by the designer himself (example: far right).
Emilia Wickstead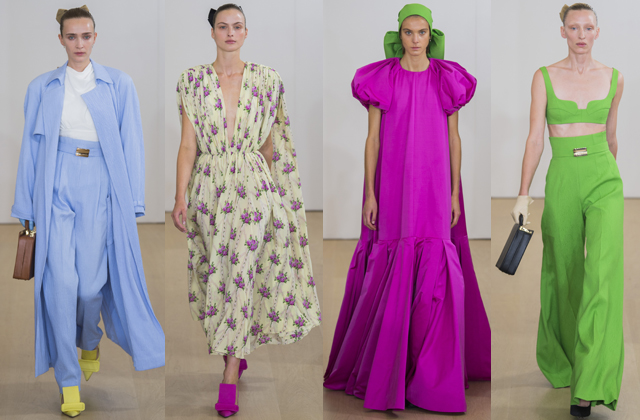 What you need to know: Emilia Wickstead's Spring/Summer '19 collection remained flirty and feminine. Loose silhouettes were finished in a sweet colour palette that consisted of bubblegum pink, bright red, cornflower blue and white (some of the designer's key shades). There were exaggerated shapes for eveningwear, too, and a slew of modest cuts that we're certain we're going to see on the royals soon.
In case you missed it: Each look came complete with different bows, including one that fell to sweep the floor, trailing behind the model like a traditional train.
Now, take a look at some of the best shows from day three of London Fashion Week.