Maria Grazia Chiuri has been known for transporting us into an alternate universe — one made of dreams, destiny and a whole lot of mystical decor — and for her latest take on Dior's Spring/Summer '21 Haute Couture collection, it was no different.
Digitally revealed as part of Paris Haute Couture Fashion Week, the only female head at the Maison offered elements of fantasy in a fairy tale video that was captivating right from the start.
The high fashion short film "Le Château du Tarot" directed by Matteo Garrone and shot at the Castello di Sammezzano in Tuscany, opens up with a scene featuring a young woman sitting for a tarot reading (dressed in an iconic Dior Bar jacket) before finding herself in a voyage meeting mystical characters drawn from the deck. Each of the characters are brought to life debuting the majestic Dior Haute Couture outfits.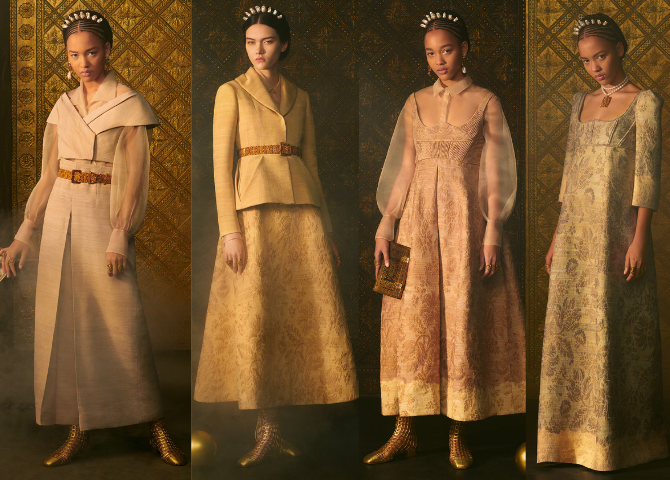 The film continues on the woman's quest to find out who she is and is then transported into a magical world where she encounters the 15 different figures of the Visconti-Sforza tarots — each dressed in the designer's coveted new creations. As she makes her way through the majestic yet mysterious castle, she ends her spiritual journey of self-discovery.
Paying homage to Christian Dior and his fascination with superstitions, the tarot motif has long been an element of inspiration for the storied Maison. Maria Grazia looked to an array of looks inspired by the medieval Visconti-Sforza tarot decks (which were hand-painted in the mid-15th century) and some of the looks were punctuated and reinterpreted through illustrations by Pietro Ruffo.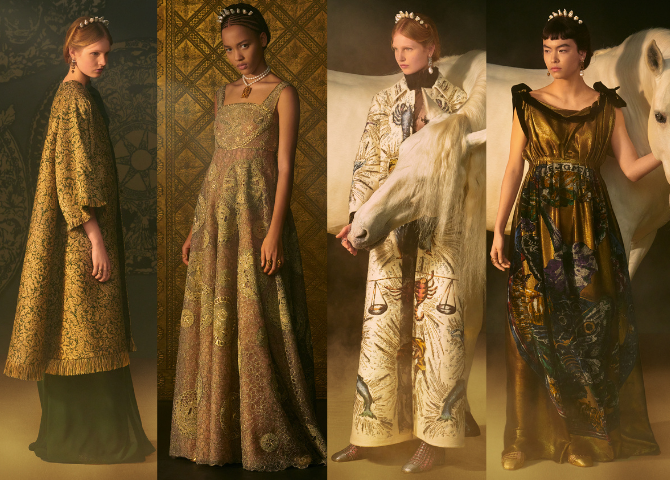 The collection is perhaps one of Maria Grazia's best to date. There was a series of extraordinary evening gowns featuring abstract constructions — some hand-pleated in silk lamé and gauze; and draped dresses in velvet, chenille or chiffon.
Expressing a new attitude, the iconic Bar jacket is revisited in a black velvet whilst embroidered coats came crafted with crystal jewel applications, feathers or flowers. We spotted an array of jacquard trousers too, symbolising the aristocratic taste of the Visconti-Sforza families.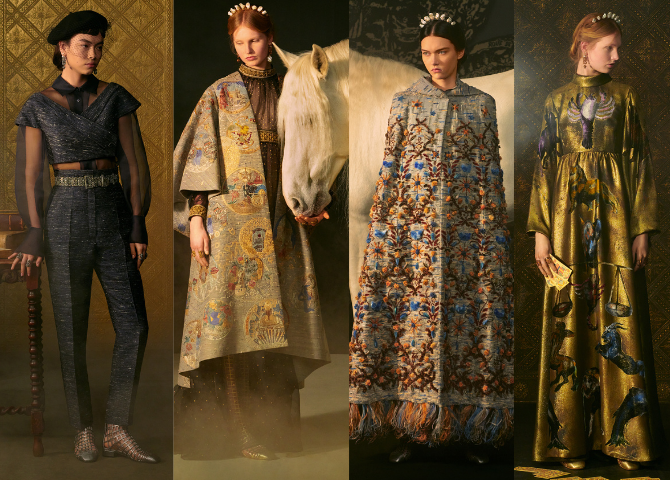 We can all use a little magic in our lives and this short film just gave us hope for the future.
Now, take a closer look at Dior's latest menswear collection revealed during Men's Paris Fashion Week.