EMPORIO ARMANI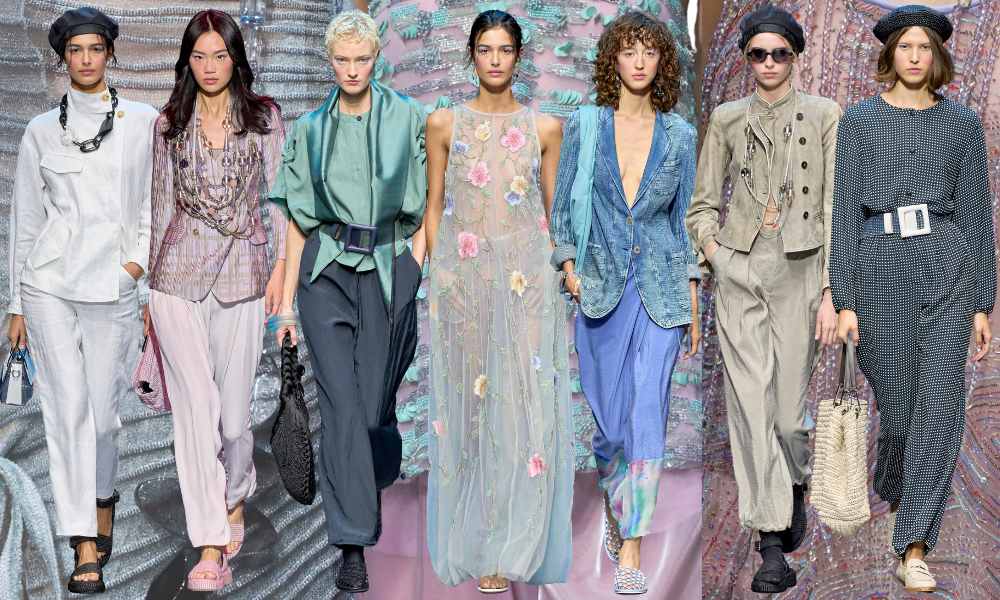 There's no doubt that Italian designer Giorgio Armani is the ultimate fashion veteran. For Spring/Summer '23, he sent down a slew of models on his Emporio Armani runway signalling a light and free approach towards seasonal dressing. The womenswear offering was almost a renewed affirmation of this inherent nature featuring elongated volumes, rhythmic patterns and silhouettes with soft precisions in chromatic tones. The collection – dominated by jackets, pea coats, skirts and light dresses – was conceived for city life and neutrals, blacks and whites were turned to mellow tones of mauve and green to light up with sparkling nocturnal shimmers, which were then distributed over long dresses and weightless jumpsuits.
ETRO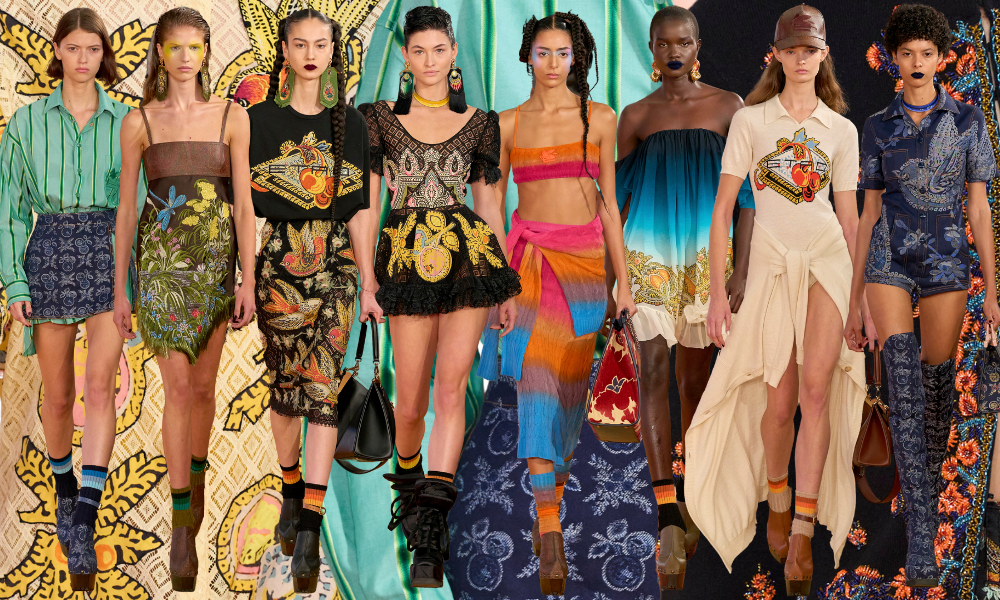 Etro's Milanese showcase revealed a new direction – a vision from Marco de Vincenzo – and it was a journey across reality and imagination in search of our own individuality. Paying tribute to the brand's heritage in an eccentric and eclectic way, we saw a new line-up of prints, colours and interesting cuts that were an exploration of Etro's expressive potential and possibilities in an abstract manner, whether it was through the reimagination of 11 historical fabrics, jacquard textures, decorative motifs or the brightness and lightness of separates.
MISSONI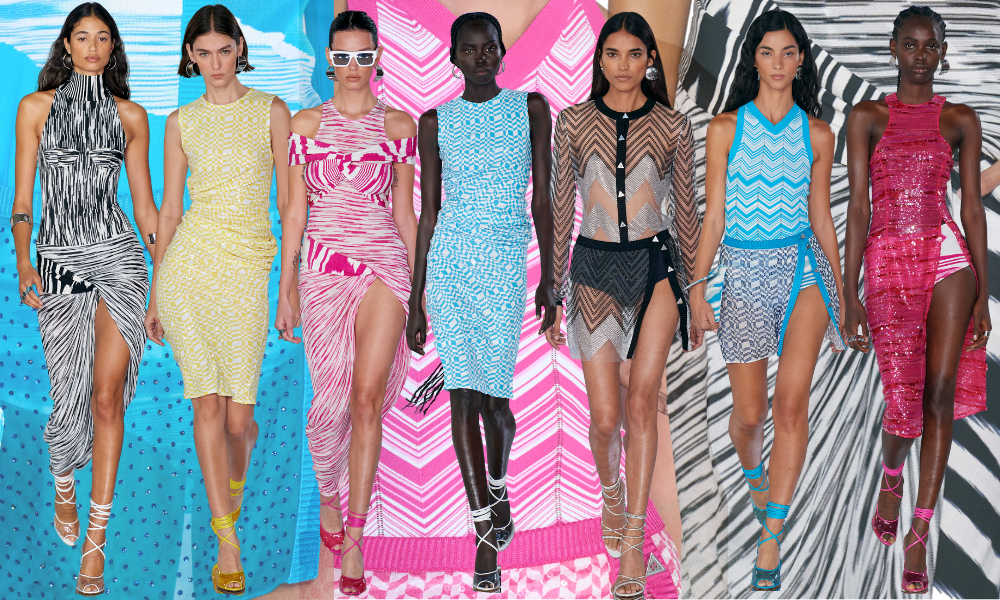 Speaking of the new Missoni dialogue, the runway features a palette-cleanser with a collection revealed by the brand's new Creative Director Filippo Grazioli. Pairing things back to the foundation of everything, the collection was revealed in a rigorously scattered order – one that looks to the fundamentals of colours: think yellow, magenta and cyan, amongst the black and white graphic rhythms. Transformed into a visual sensation and overload, the new language of Missoni merges sequins and crystals mixed with colour to add lighter and further refractions.
MOSCHINO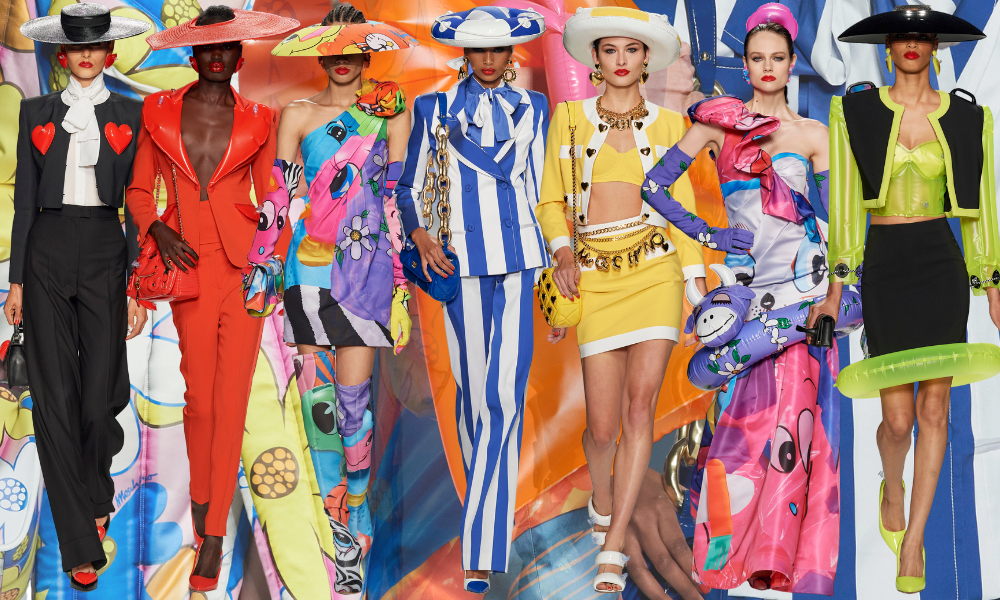 As always, Moschino reveals a playful and colourful collection, and for Spring/Summer '23 it was all about taking the beach to the runway – inflatables included. Jeremy Scott's blowout collection saw inflatables as part of the looks' details including bows, collars and cuffs, which were seen on Moschino staples (think striped colourful suits, short skirt and cardigan sets, and one-shoulder dresses).
PRADA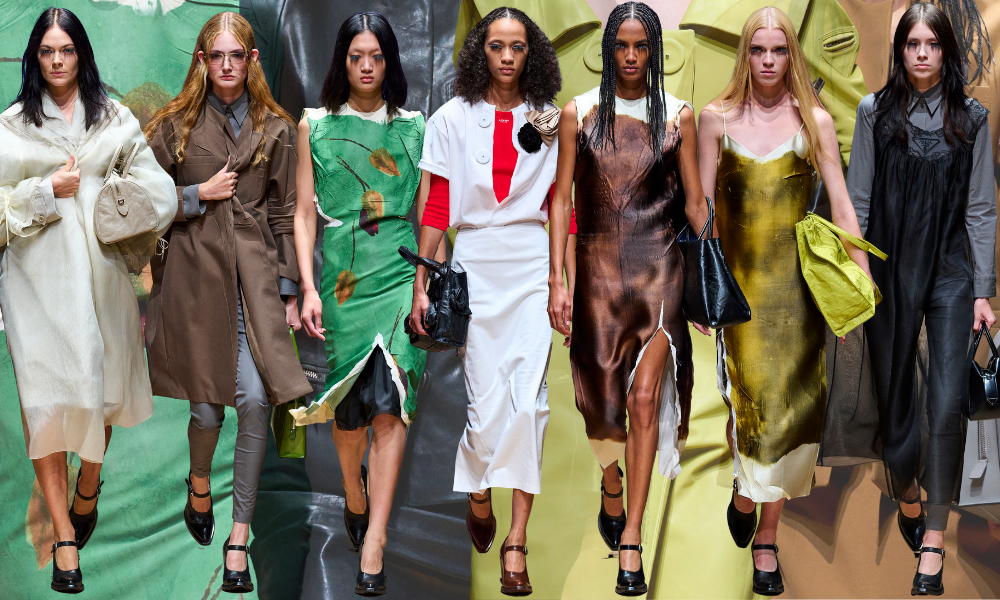 Raf Simons and Miuccia Prada have joined forces once again to deliver another multidimensional show that followed the sequence of realities: reflections, refractions, and observations. The designer duo brilliantly highlighted that, as in life, sometimes the unanticipated dichotomies are observed, explored and embraced and a prime example is the use of a black paper 'panopticon' – a fabric that was used for a series of dresses. Torn against the body and highlighted as an intimate and impulsive take on the silhouette, it almost represents what can be easily torn down.
These polarities were further explored between minimalism and decoration as the collection featured clothes in delicate pastel tones whilst fused with outerwear, or the notion of a Prada uniform (bodysuits of poplin shirting are now seen in industrial colours) denotes minimalized reality. It was all about the interrelationships between the raw and the sensual – and we're so here for its brilliance.
SPORTMAX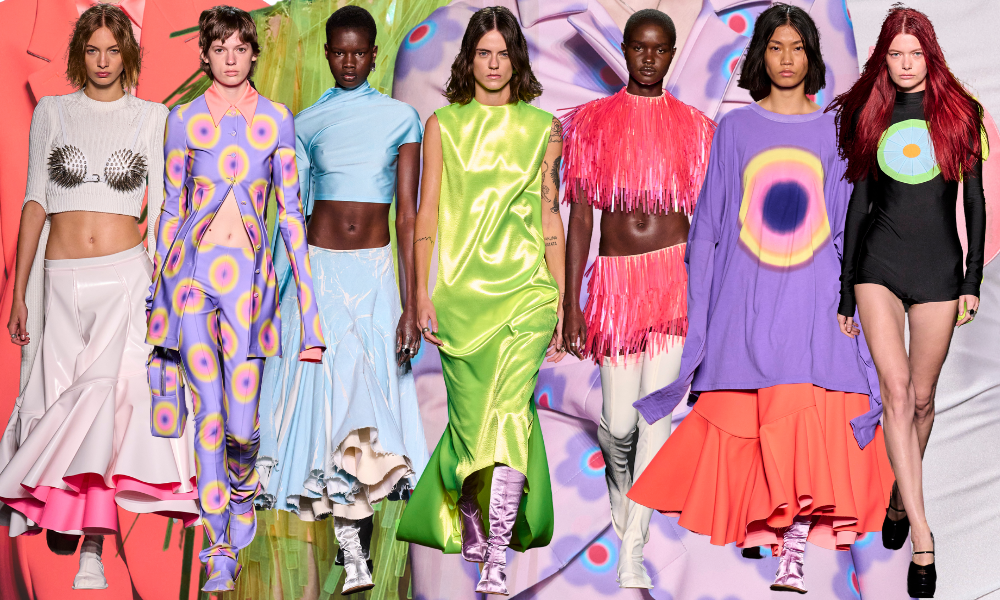 We're about to have a psychedelic summer courtesy of Sportmax. The Italian fashion brand revealed its Spring/Summer '23 collection in Milan over the weekend, showcasing a range of futuristic fabrications, retro shapes and neon hues in an experiment of colour therapy. Acid lime and orange intertwined with Pantone's 'colour of the year' Very Peri are just some examples of the colourful tones presented on the runway and in terms of shapes, we witnessed new over-length sleeves, lace-edged patchwork dresses, puff skirts, petticoats and paillette-plastered two-pieces.
TOD'S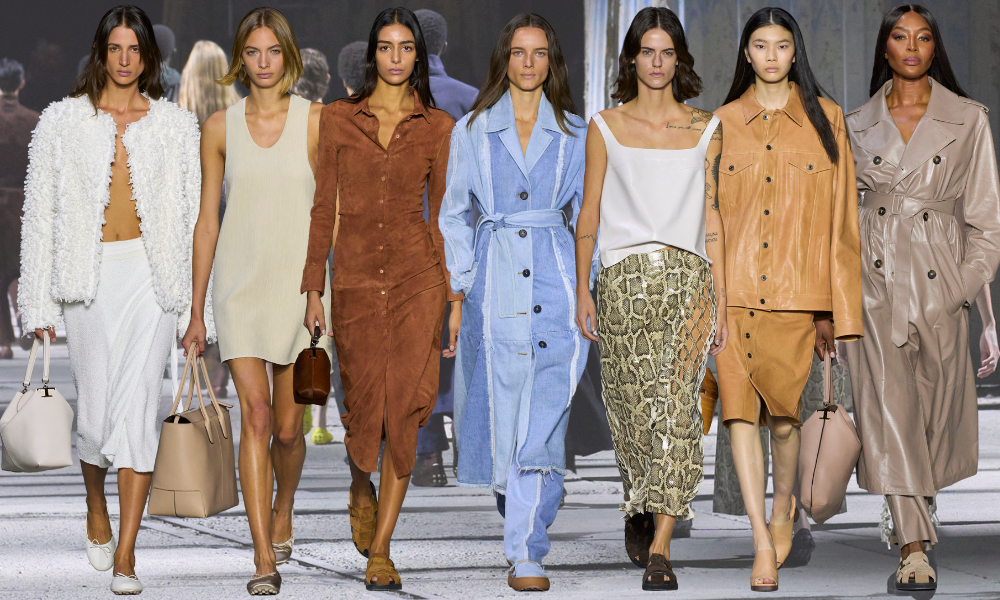 Tod's Spring/Summer '23 collection was an ode to confident femininity, highlighting a unique blend of art and architecture in a stunning range of essential pieces and iconic garments. The brand's Creative Director Walter Chiapponi brilliantly customised construction and proportions resulting in a wardrobe made of unexpected combinations of shapes and materials – something that remained constant as the leather becomes almost like fabric, soft to the hand and sensual on the body.
It was a collection made for the new generations, those who dress with freedom as their identities are customised through their personal style choices. Featuring oversized volumes, light silhouettes, modern tailoring and structured statement pieces, there's a minimal flavour to the collection that is so effortless.
VERSACE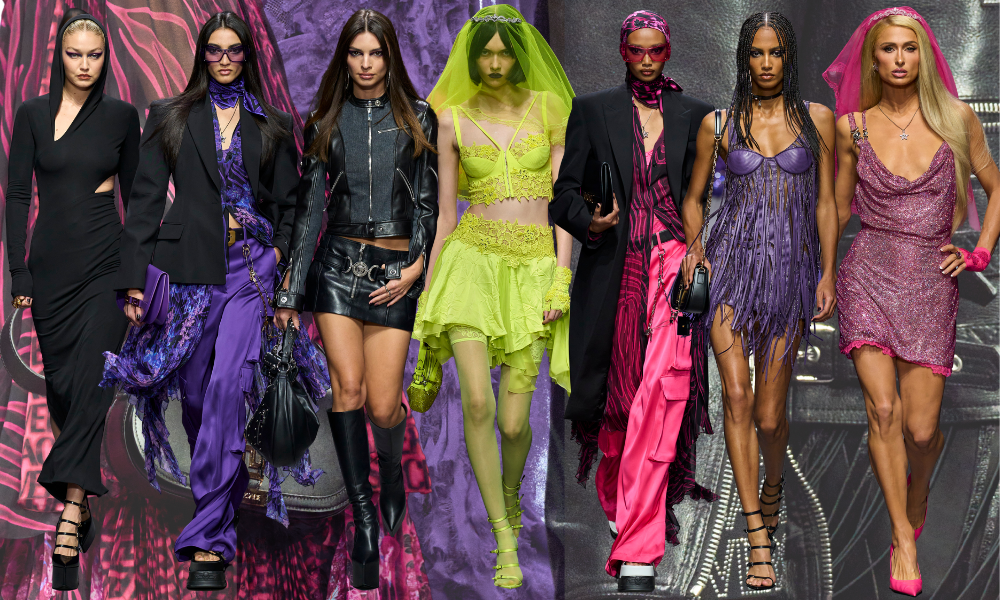 As always, Versace delivers another seasonal collection in typical Versace vocabulary: high-glamour, hard-edged and daring. A stellar cast of models – think Gigi and Bella Hadid, Nora Attal, Em Rata and closing the show, Paris Hilton – were giving us "goddesses gone rogue" vibes through leather motorbike jackets, fringed dresses, lace-trimmed separates, metal studs and frayed denim.
The colour palette stayed true to the rebel aesthetic with plenty of black across all shapes and sizes but there was also a pop of monochrome colour: electric fuchsia and purple which paid tribute to a pop-culture blast (which is probably why none other than Paris Hilton closed the show in pink chain mail). All kinds of rebels are welcome here.
ALSO READ: AND SO, MILAN FASHION WEEK BEGINS.