BOTTEGA VENETA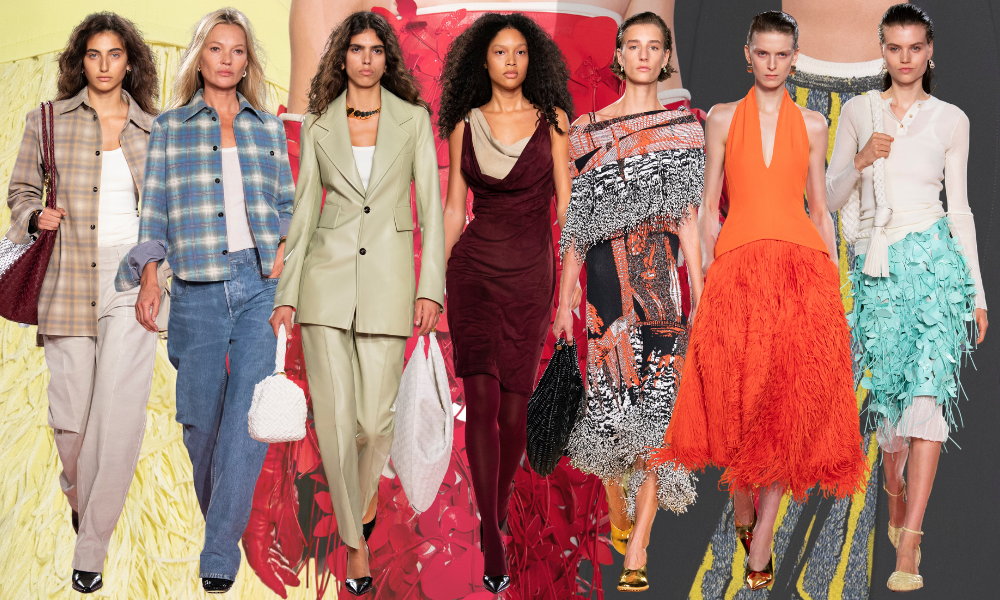 During Milan Fashion Week, Bottega Veneta revealed the second collection by Creative Director Matthieu Blazy and whilst we got a taste of his understated yet highly technical day wear during his debut, this season's collection further epitomised this. Blazy was dressing for a woman who is living her life and living it well. It was so fantastically brilliant that whilst it oozed an effortless aesthetic, it was still very wearable.
The styling itself was on point as layered denims, plaid shirts, swingy fringe dresses and collarless trench coats were perfectly layered or paired with contemporary separates. And as if we couldn't love the collection even more than we do, the plaid shirts are printed leather – signalling opulent luxury that feels extraordinarily contemporary. Talk about upgrading the basic into something better – that's what Blazy succeeded at.
DOLCE & GABBANA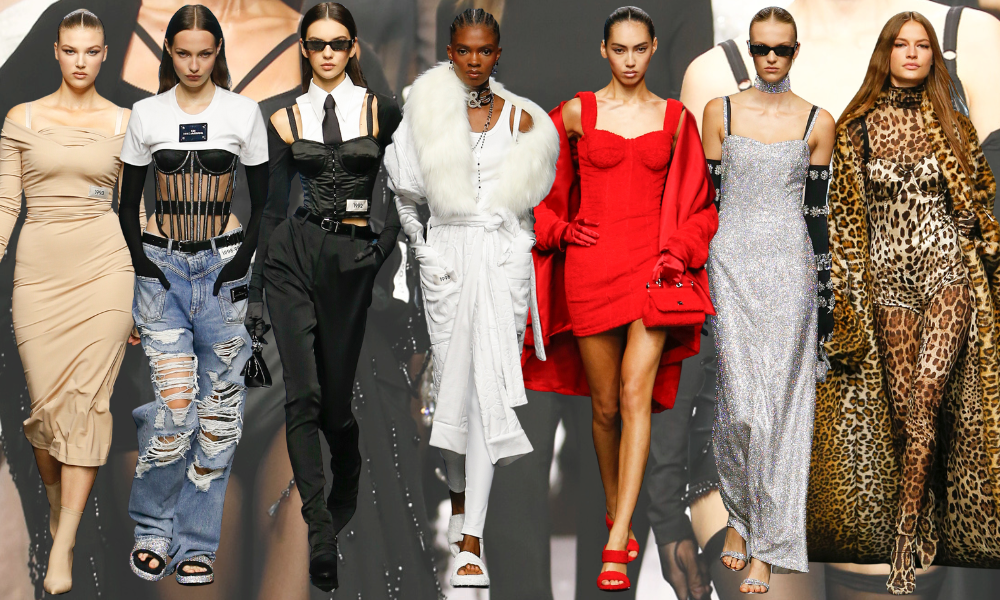 Dolce & Gabbana's Spring/Summer '23 runway show was one of the most talked-about shows of the season. Perhaps because the duo designers asked Kim to act as a curator for the collection. What her role entailed was to select pieces from previous collections (think between 1987–2007) and really dive into the current Y2K trend that we've seen dominating the industry and rework those pieces for today – with a Kardashian spin.
On the runway, we saw plenty of skin-tight pieces (perhaps paying tribute to Kim's own interests including her shapewear brand, Skims), as well as corsets, wiggle dresses, tailored trousers and distressed denim. Although we could see Kim's influence on the #CiaoKim collection, Domenico and Stefano's signature Italian elements still echoed through – whether through leopard prints, lingerie separates, lace and sequins.
ELISABETTA FRANCHI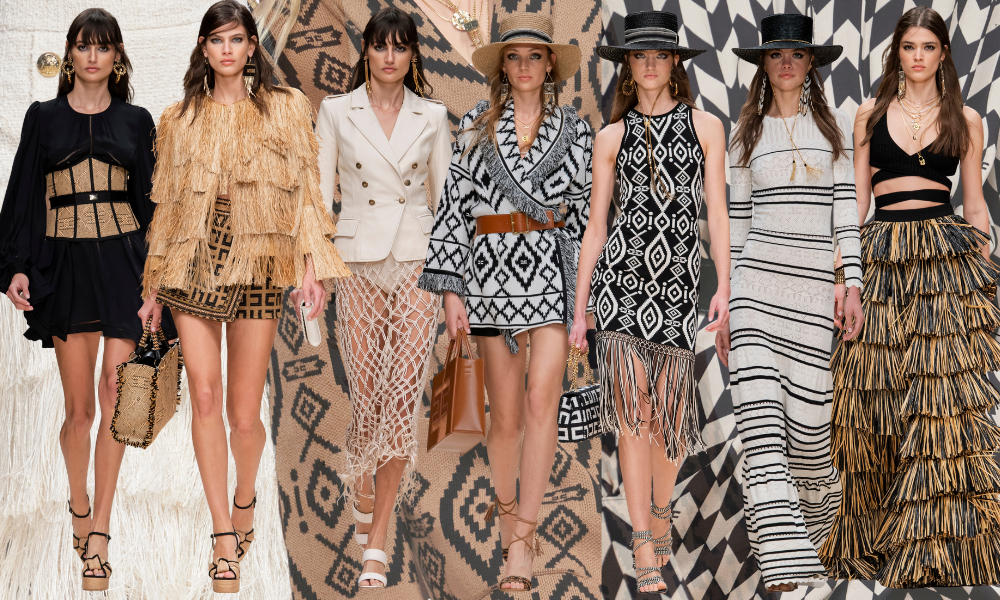 Following Elisabetta Franchi's influencer-run showcase last season, Spring/Summer '23 delivered a collection that paid tribute to the desire of travelling and longing for rebirth. There was a joyous and nomad instinct to the wardrobe offering with a chromatic palette (think butter, dark chocolate, milk, squid ink or liquorice) seen through tactile textures, raffia fabrics, knitted and crochet pieces. There was a generous selection of dresses, fringed skirts, knitted tops. cropped tops, coats and a plethora of achingly cool accessories.
FERRAGAMO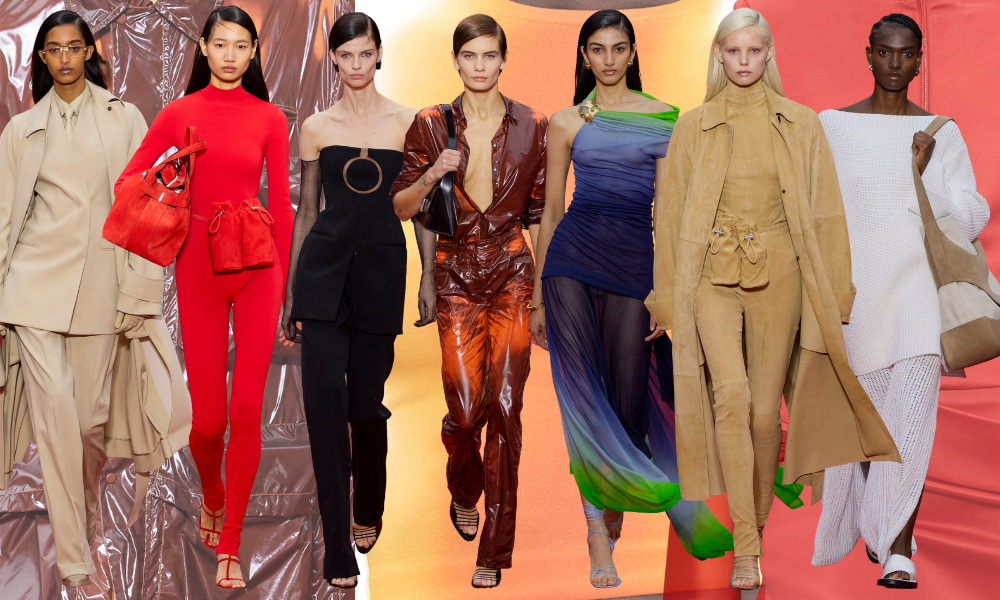 Another well-received collection during Milan Fashion Week was Maximilian Davis' debut at Ferragamo. The designer, who has a loyal band of famous fans, executed his vision for the legendary Italian fashion house by unveiling a new dawn for the brand: a renaissance of its Hollywood history. "I wanted to pay tribute to Salvatore's start by bringing in the culture of Hollywood – but new Hollywood," explains Davis. "Its ease and sensuality; its sunset and sunrise."
The fresh new language still pays tribute to the heritage of Ferragamo but infused an ethereal elegance seen through sheer knits, liquid silk and layers of organza. Contemporary aesthetics were merged with luxury and beachfront glamour of the so-called "new Hollywood" with organic forms in linear precisions, tailoring twists and everyday essentials – think tank tops, polo necks and leggings – highlighting the simplicity of the collection too.
You may have also noticed that Ferragamo dropped the Salvatore and completely rebranded its logo. Now, the brand's iconic hue is a new Pantone red which was dominantly visible throughout the collection and within the show space where red sand covered the floor. "The sand relates to Ferragamo, to Hollywood, to the ocean – but also to me, and to my own DNA," explains Davis. "To what the sea means to Caribbean culture: a place where you can go to reflect and feel at one. I wanted to show that perspective, but now through the Ferragamo lens."
GUCCI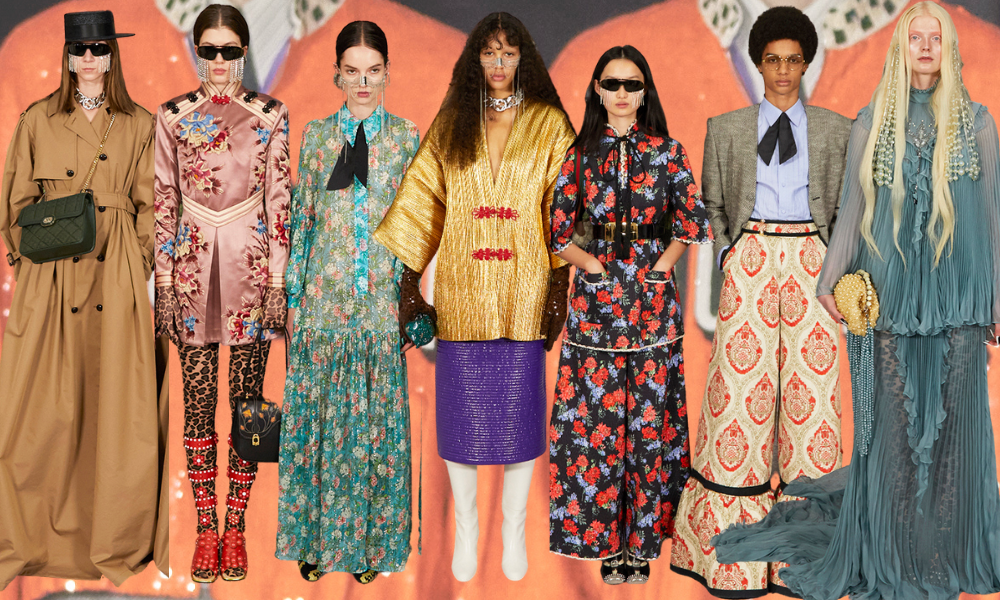 Gucci had us doing a double take in Milan. Alessandro Michele has always been known for his fantastical elements and creating collections that feels like viewing a natural wonder of the world and for Spring/Summer '23, he's done it yet again. The brilliant showcase paid tribute to his mother, who is a twin, by sending down 68 pairs of identical twins dressed in pairs of Gucci finery. And whilst, yes, that alone was enough to set us ablaze, it was the way the whole show was conducted. The audience was divided between two separate rooms yet didn't know they were watching twins until the finale, when a screen dividing the rooms lifted and each model joining hands with their twin.
The runway was now seen as a theatrical stage (in the best way possible) – graceful and reflective. The clothes magically multiplied in the form of tailored suits, cut-out garters, sequinned gowns and of course, a selection of archival reprisals. Giving us an intricate look into the house's past and future, a core theme seen throughout the show is nature.
Honestly, all we can say was that it was twintastic.
GIORGIO ARMANI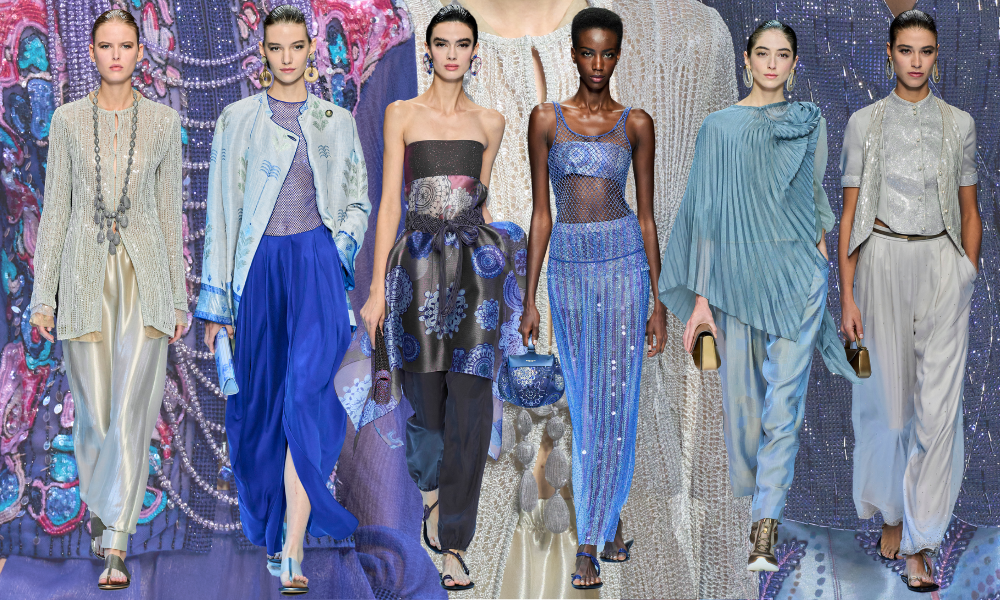 Another power played on the Milan Fashion Week schedule is Giorgio Armani and the legendary designed delivered a collection that was an exploration on light themes and forms. Titled Fil d'Or, the runway collection focused on a thread, one that is illuminated with golden gleams. The show opened with a series of richly fabricated looks that sparkled with golden sequins and crystals. The silhouettes were long, liquid and almost seemed weightless – although there were beaded dresses, sequin and stone embellishments – and featured light duster coats, fluid jackets, tailored trousers, lightweight skirts and silk zip-up shirting and dresses. The wardrobe was created to embrace the female figure with a sweet spirituality and dreamy tangibility.
JIL SANDER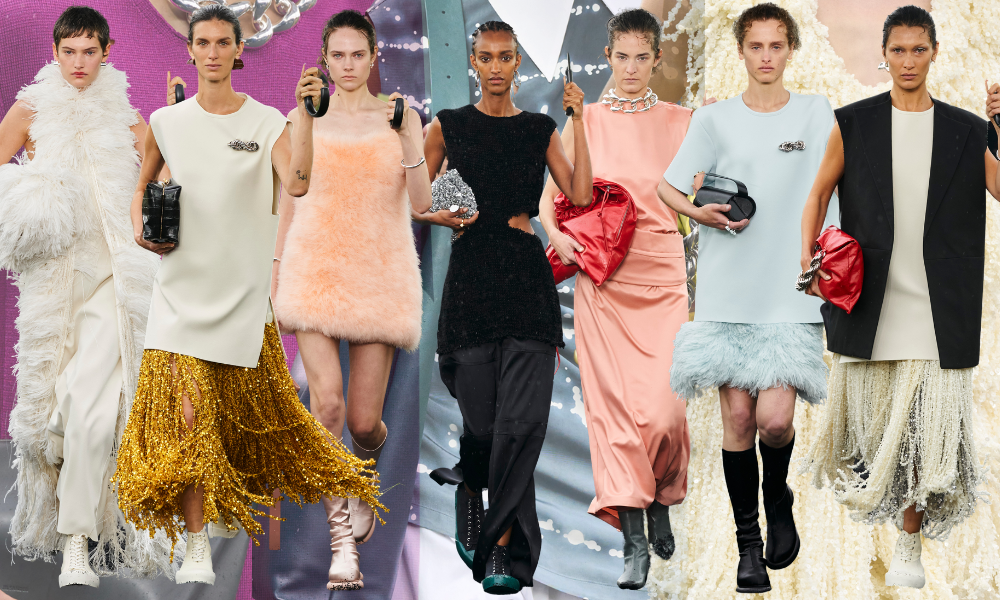 When it rains, it pours and although it may have been drizzling at Jil Sander's Spring/Summer '23 showcase, it poured a new co-ed vision by Luke and Lucie Meier. Whilst the designers are highly respected for their attention to detail and craftsmanship, this collection was a BURO. favourite as it delivered a modern take on everyday staples. There was a monochrome offering in loose silhouettes and a light colour palette that dominated the simple workwear offerings (think evening dresses, cargo pants, tank tops, sleeveless cotton dresses and more), but without losing the eccentric element. This glam-factor was captured through strapless confetti dresses, knit dresses with baked-in sequins, feathers peeking from the hem of dresses and sequined knit fringe seen on a group of the finale looks.
MONCLER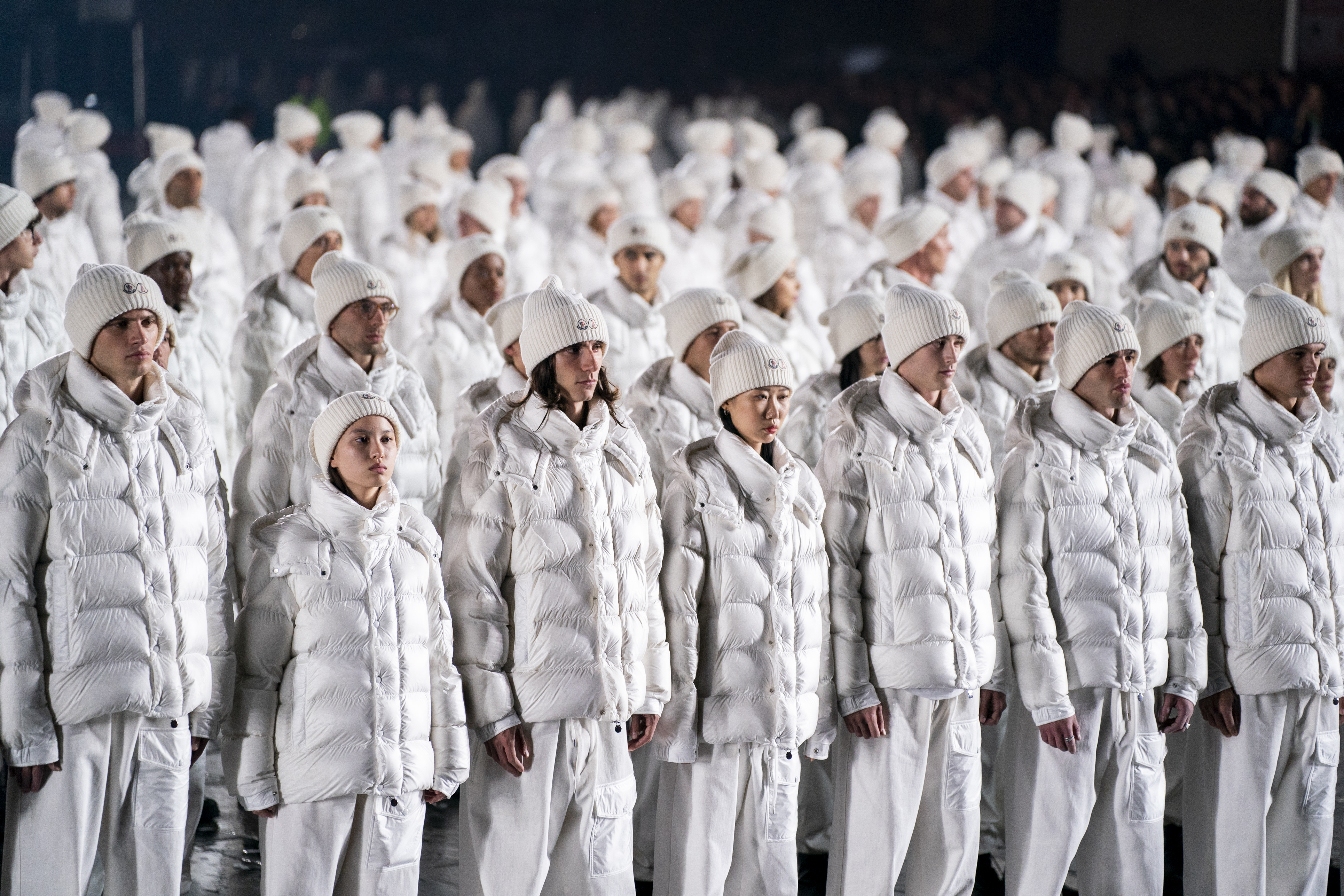 To wrap up Milan Fashion Week, Moncler celebrated its 70th anniversary with a grand performance in Milan, more specifically, a takeover at the Duomo di Milano. It resulted in an epic synchronized expression as it featured a sea of musicians, dancers, models and ballerinas (1,952 heads to be exact) all dressed in all-white Moncler, including the new '70' edition of the Maya jacket that will be the central subject of the house's anniversary sales campaign, Does the number of heads sound familiar? 1,952 also references the year Moncler was born.
ALSO READ: THE 8 COLLECTIONS YOU MIGHT HAVE MISSED FROM #MFW.