WHITE Milano, the leading womenswear tradeshow, is one of the most anticipated events of Milan Fashion Week. Hosted in the heart of Milan's Tortona Fashion district, this season, WHITE Milano will serve as a platform to amplify the voices of Saudi design talent. The Saudi 100 Brands initiative has collaborated with WHITE Milano to present a selection of the best Saudi fashion designers. Taking place from September 22 to 25 this year, the spotlight shines on over 43 designers from the Saudi 100 Brands initiative.
Launched in 2021, the Saudi 100 Brands initiative has been a driving force behind the empowerment of Saudi designers, nurturing their fashion, luxury, and jewelry businesses. The platform offers key resources and mentorship to elevate Saudi brands, not only locally but also on the international stage. The presence of Saudi 100 brands' designers at WHITE Milano is a testament to the program's rapid rise in the global fashion scene.
This season, Saudi designers are ready to make their mark on the Italian fashion capital.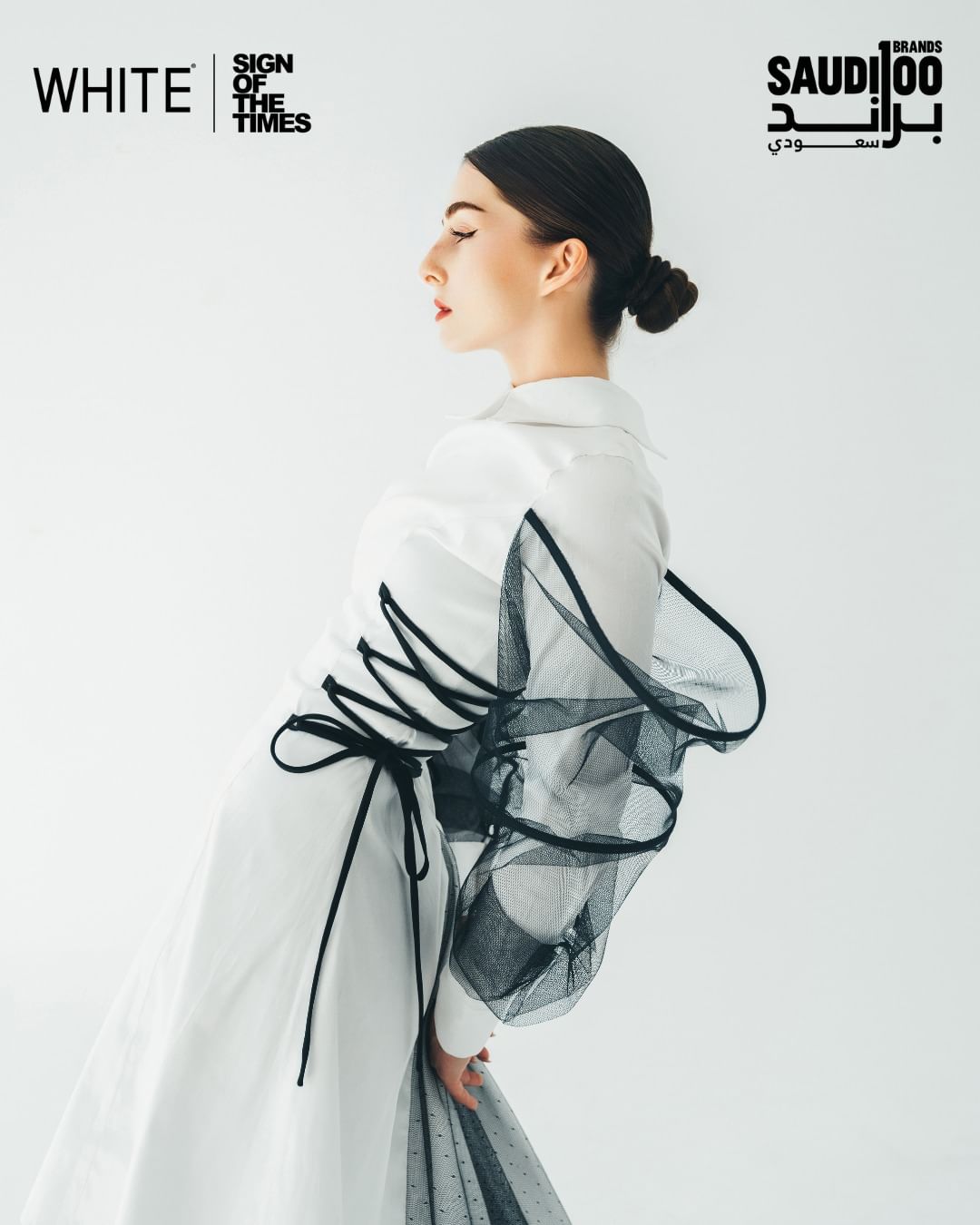 Ashwaq AlMarshad, the first Saudi designer to be stocked in Harvey Nichols Riyadh's haute couture department is expanding her presence across borders with her participation in WHITE Milano. In the accessories category, Saja's "Al-Sefah" SS24 bag the collection introduces the world to Saudi's traditional craft of palm leaf weaving, inspired by artisans from Al-Ahsa, one of Saudi's six UNESCO World Heritage sites and home to the world's largest palm oasis. USCITA–Saudi's premier gender-fluid label also finds itself on the WHITE Milano agenda.
Established Saudi label are taking part in this year's Saudi 100 Brands showcase at WHITE Milano include: Nouf Alsudairi, RBA NY, Mazroud, Sarah Intabi, Nh_designer, Vaya Fashion, Renove fashion by Najla Al Mansour, Agmarat, AlMaha Designs, Dananeer, Dar Bella Fashion House, Ivori fashion, Mona AlShebil, The Dropped Collection, The Naqadis, The Untitled Project, Rosa Canina, Yataghan Jewelry, Jayla.
But that's just the tip of the iceberg. The Saudi 100 Brands showcase at WHITE Milano features a compelling lineup of emerging Saudi designers, each with a unique vision and style. These include: Rebirth, RM Jewelry, La Précieuse, RMRM, MD 29, SIGN, Derza, NAN, Norms, Reema Bawardy, 35 Design, JF, Noura Alghilaisi, Reham Nassier, Khharaz by Shamma, Samar Nasraldin, Ain, AD by Areej, Haifa AlHumaid, Lu Vixen, and Yasmeen Marzouq Jewelry.
Burak Cakmak, CEO of Saudi Arabia's Fashion Commission shared his thoughts on the collaboration, stating "WHITE Milano is one of the most important events on the fashion calendar for emerging brands looking to make it big. With growing consumer and investor interest in Saudi fashion globally, our designers are excited to connect with buyers to see where the most exciting new opportunities to pursue are."
Famed for its biannual exhibitions, WHITE Milano showcases over 1,000 collections and boasts a footfall of over 20,000 visitors from across the globe for each edition. This year, the Saudi 100 Brands showcase will be housed in Padiglione Visconti, the new 1,000 square-meter multi-purpose space that is part of the Laboratori of the illustrious Teatro alla Scala. As international buyers and fashion aficionados flock to Milan, the Saudi 100 Brands designers are geared up to leave their indelible mark on the global fashion scene. With their dedication to craftsmanship, innovation, and cultural significance, these Saudi designers are not just presenting their collections but a piece of their heritage to the world.
ALSO READ: RUNWAY RECAP: 6 UNFORGETTABLE MOMENTS FROM LONDON FASHION WEEK SS24.