As always, Paris Fashion Week was a whirlwind, to say the least. With 108 shows and presentations stretching across ten days in the French capital, Paris Fashion Week Spring/Summer 2024 has left us a lot to digest. From designer departures that left us teary-eyed and unexpected runway casts to surprise performances, Paris Fashion Week was packed with jaw-dropping runway extravaganza.
As we draw the curtain on the final and the biggest of the four fashion weeks, here's a recap of the key moments of Paris Fashion Week Spring/Summer 2024.
THE SAFARI JACKET MADE A COMEBACK AT SAINT LAURENT.
Some things never change, like Saint Laurent showcasing its latest drop against the sparkling Eiffel Tower. There has, however, been a significant shift at Saint Laurent. Since last season, Anthony Vacarello has eschewed his signature Rock 'n' Roll aesthetic in favor of pared-back, tailored looks. For Spring/Summer 2024, the Saint Laurent woman is turning to the brand's iconic Safari jacket, which was front and center this season. The collection featured utilitarian silhouettes, earthy tones, and a harmonious blend of practicality and style, a refreshing departure from the brand's all-black ensembles. The front row was graced by stars like Hailey Bieber, Rosé from Blackpink, Kate Moss, Demi Moore, Tracee Ellis Ross, and Austin Butler, adding glamour to the spectacle.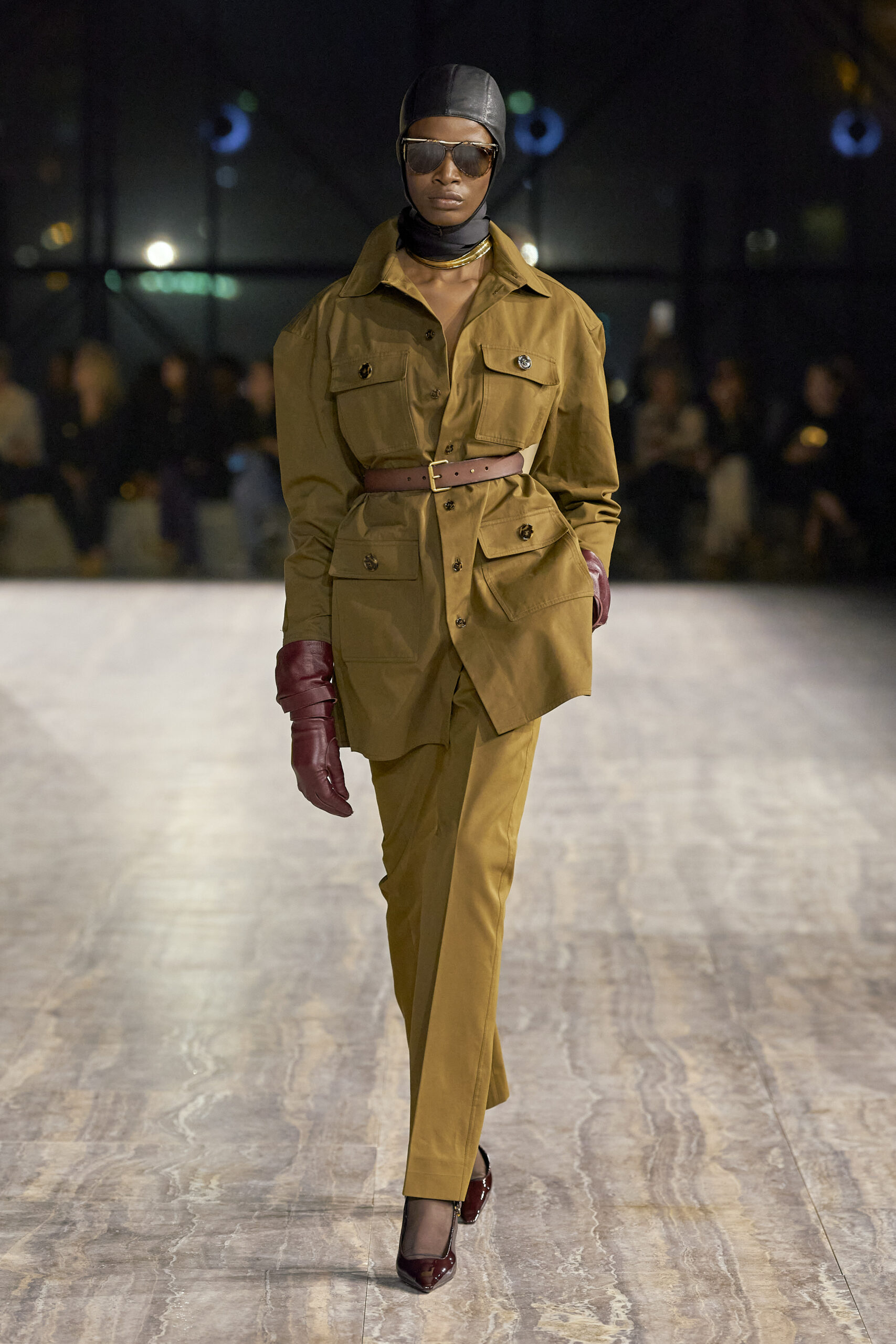 FLORALS? FOR SPRING? BALMAIN KNOWS HOW TO MAKE IT GROUNDBREAKING.
Every rose has its thorn, they say, and at Balmain, this manifested as stolen inventory in the weeks leading up to the Maison's Spring/Summer 2024 show. Not the one to shy away in the face of adversity, Olivier Rousteing promised to deliver a spectacular show, albeit the hiccup, and that he did. Rousteing's Balmain Spring/Summer 2024 collection bloomed with a celebration of founder Pierre Balmain's legacy and love for roses. The collection featured a stunning array of floral prints and embellishments, boasting the brand's fine craftsmanship with floral trims crafted from unconventional materials like patent leather, rubber, latex, porcelain, and recycled plastic bottles. Vibrant 3-D florals and birds adorned sculptural cage dresses, while more wearable pieces featured polka dots and romantic rose prints.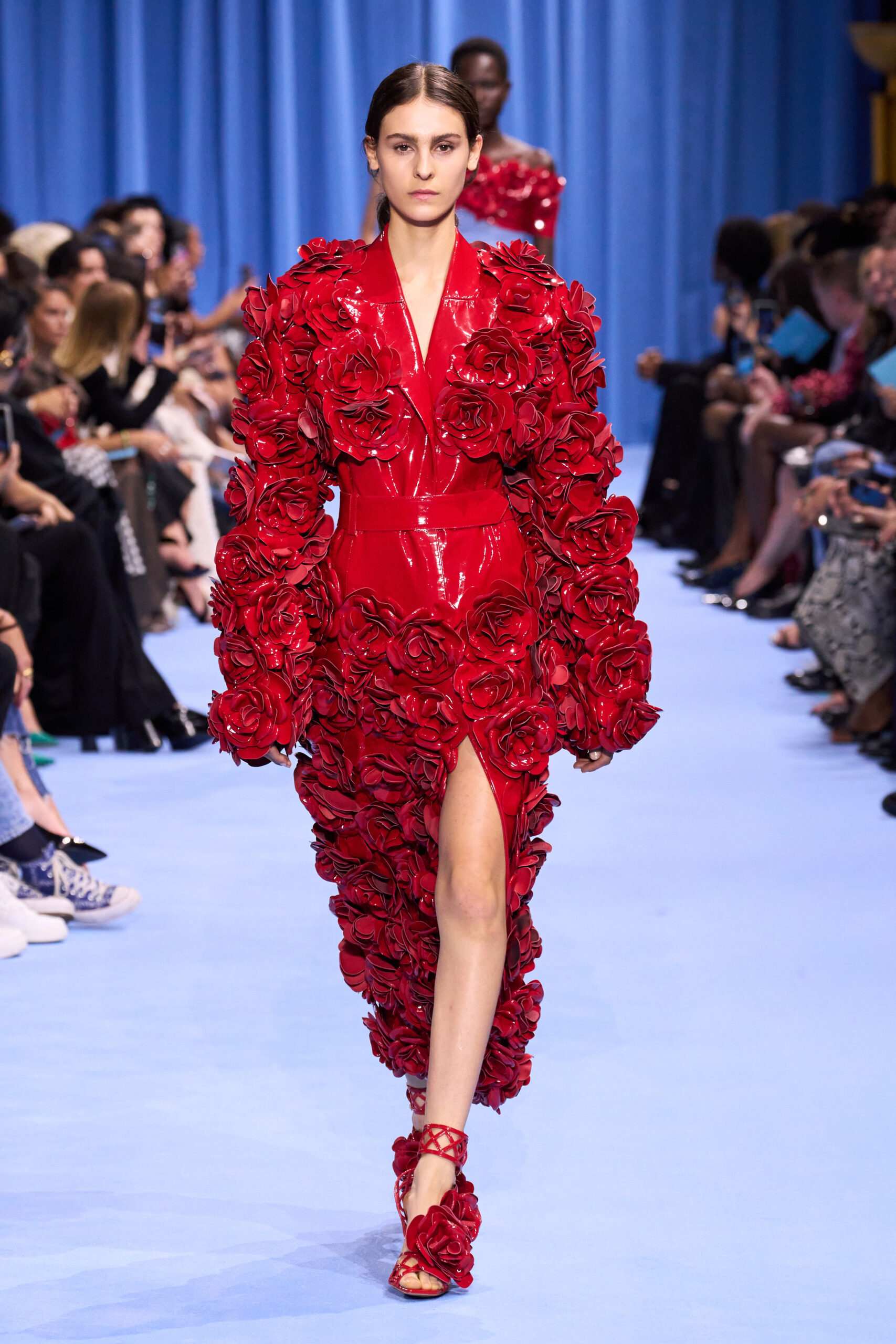 NOTHING IS AS IT SEEMS AT SCHIAPARELLI.
Schiaparelli's Spring/Summer 2024 collection, under the creative direction of Daniel Roseberry, continued the brand's legacy of surrealism and whimsy. The show celebrated founder Elsa Schiaparelli's distinctive symbolism, like the lock and keyhole, lobsters, the signature golden toes, ear and eyeball motifs, and more, drawing us into a fantasy where nothing is what it appears to be. Take, for example, Kendall Jenner's showstopping red dress that, at first glance, seems to be embellished with beads. Roseberry masterfully honors Schiaparelli's avant-garde spirit while propelling it into the modern era, infusing every garment with a burst of imagination.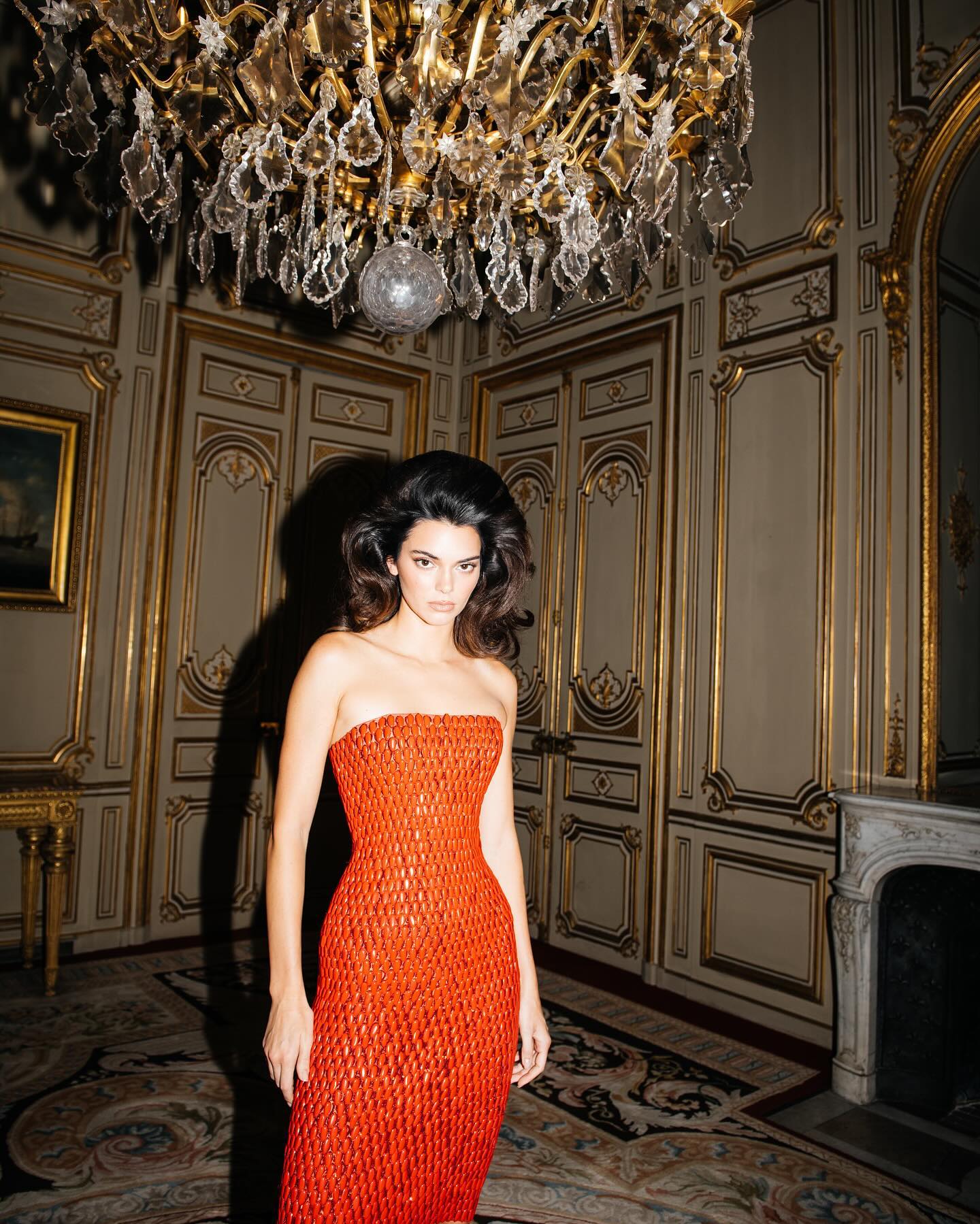 GIVENCHY EMBRACED MINIMALISM.
Matthew M. Williams' Givenchy Spring/Summer 2024 women's collection marked a shift towards a more sensual exploration of feminine dressing and a harmonious blend of classic and contemporary. The show took place in an open-concept space designed by Gabriel Calatrava at École-Militaire in Paris. Drawing from Givenchy's rich archives and legacy, Williams presented a collection that celebrated the brand's timeless elegance, featuring romantic chiffon, mud silk, and floral motifs. The show boasted a star-studded guestlist, including celebrities like Cher, Evan Mock, Jared Leto, Madelyn Cline, Dove Cameron, Sabrina Carpenter, and Tyga, taking up the front rows.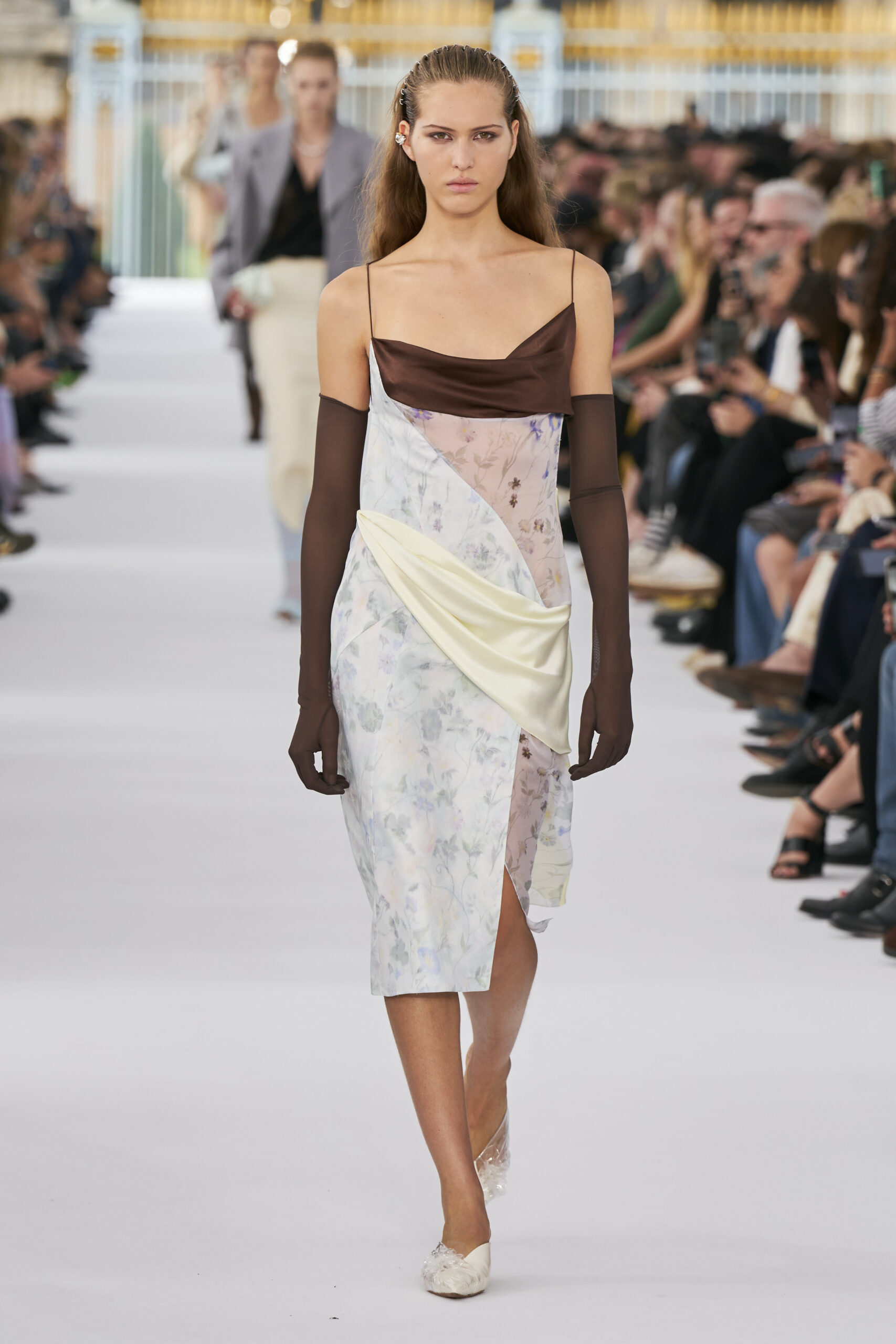 JULIEN DOSSENA AMPLIFIED PACO RABANNE'S FUTURISTIC VISION.
Rabanne's iconic chainmail dresses and accessories are a slice of fashion history. While Julien Dossena might have dropped 'Paco' from the brand's name, he continues to honor the brand's unique aesthetic and legacy with every new collection. Dossena's Spring/Summer 2024 collection for Rabanne defied the trend of quiet luxury with an army of sci-fi warriors that exuded strength and sensuality. He drew inspiration from the warrior women from fictional reals, crafting a chainmail armor of gilded textures. The collection, titled 'Origins of the Future,' echoed 1970s Paco Rabanne photographs, featuring hooded mini chainmail dresses, sarouel trousers, and rustic, handcrafted textures.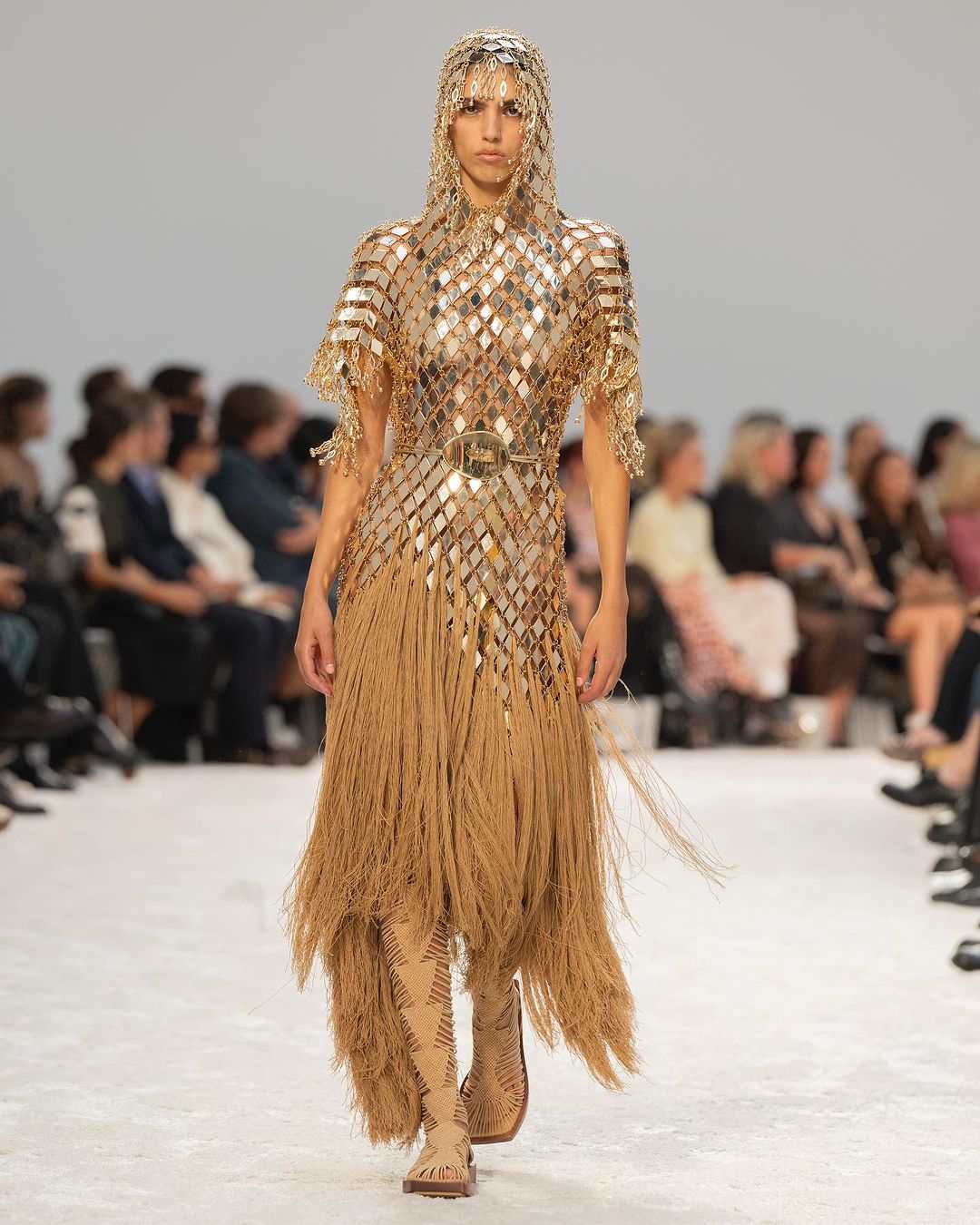 WELCOME TO STELLA MCCARTNEY'S SUSTAINABLE MARKET.
Stella McCartney's Spring/Summer 2024 show welcomed guests to a sustainable marketplace at Paris's Marché Saxe-Breteuil, where the designer's eco-conscious innovation partners presented their sustainable efforts. Guests had the opportunity to explore the market before and after the show. On the runway, models donned softly tailored pieces that aimed to transcend the boundaries of gender and age. McCartney drew inspiration from her musical background, her parents' relationship, and her strong environmental commitment. The collection featured bohemian dresses and vibrant floral separates, reflecting McCartney's creative vision and dedication to sustainability.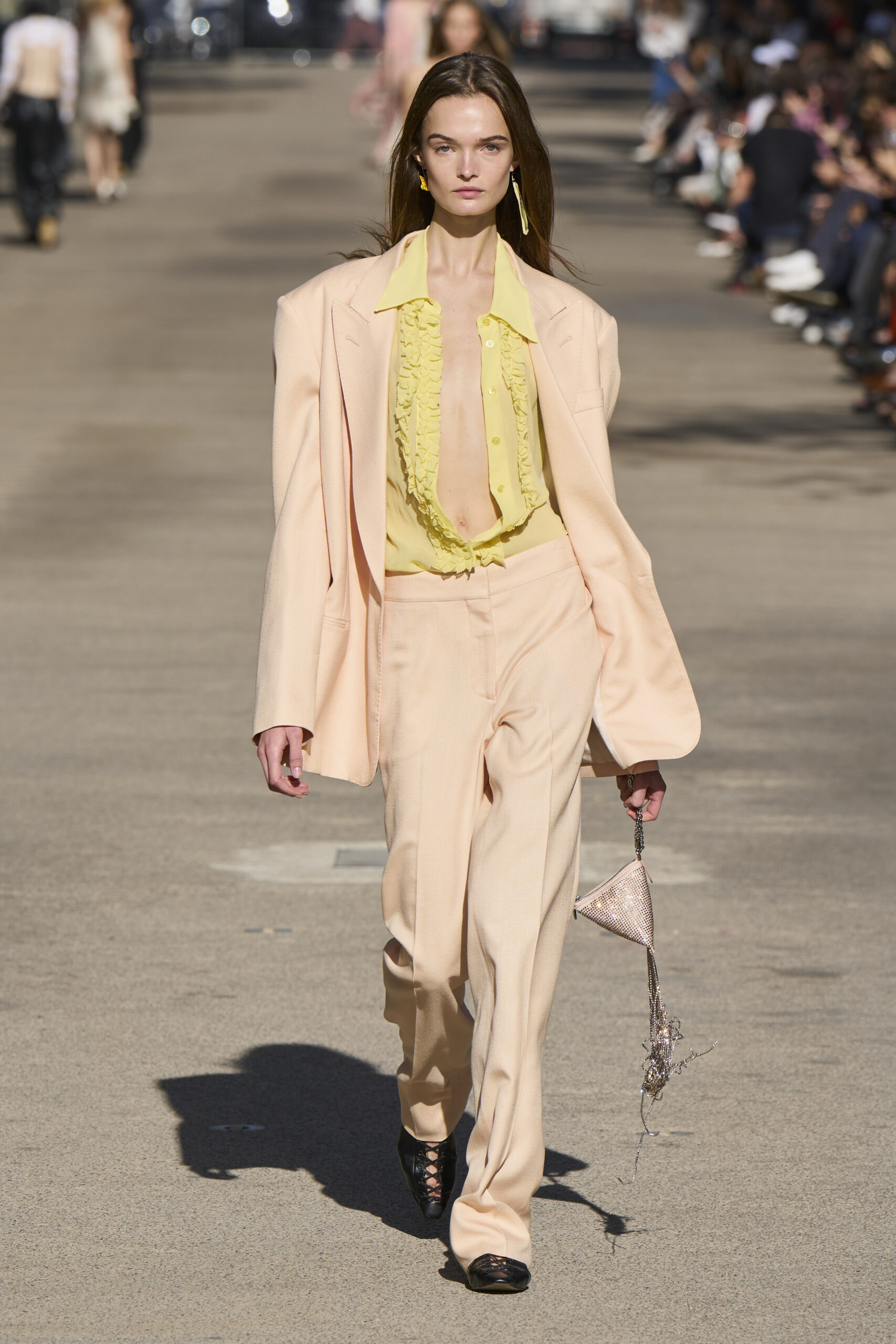 JONATHAN ANDERSON INTRODUCED WEARABLE ART AT LOEWE.
For the Spring/Summer 2024 show for Loewe, Jonathan Anderson built upon the themes introduced in his menswear collection in June. The Spanish label continued its collaboration with artist Lynda Benglis, featuring six monumental bronze sculptures within the show space. Anderson highlighted the high, nipped waist silhouette he introduced in his menswear lineup. The collection emphasized clean-cut silhouettes, including sleeveless ponchos and shimmering tops, with a focus on wearability. Suede and leather coats featured inventive design elements like lapelled accents, and the iconic Loewe 'Squeeze' bag took center stage in various sizes and colors, complemented by sandal-style loafers and fuzzy moccasins. Anderson's approach for the season maintained Loewe's commitment to artistry and creativity.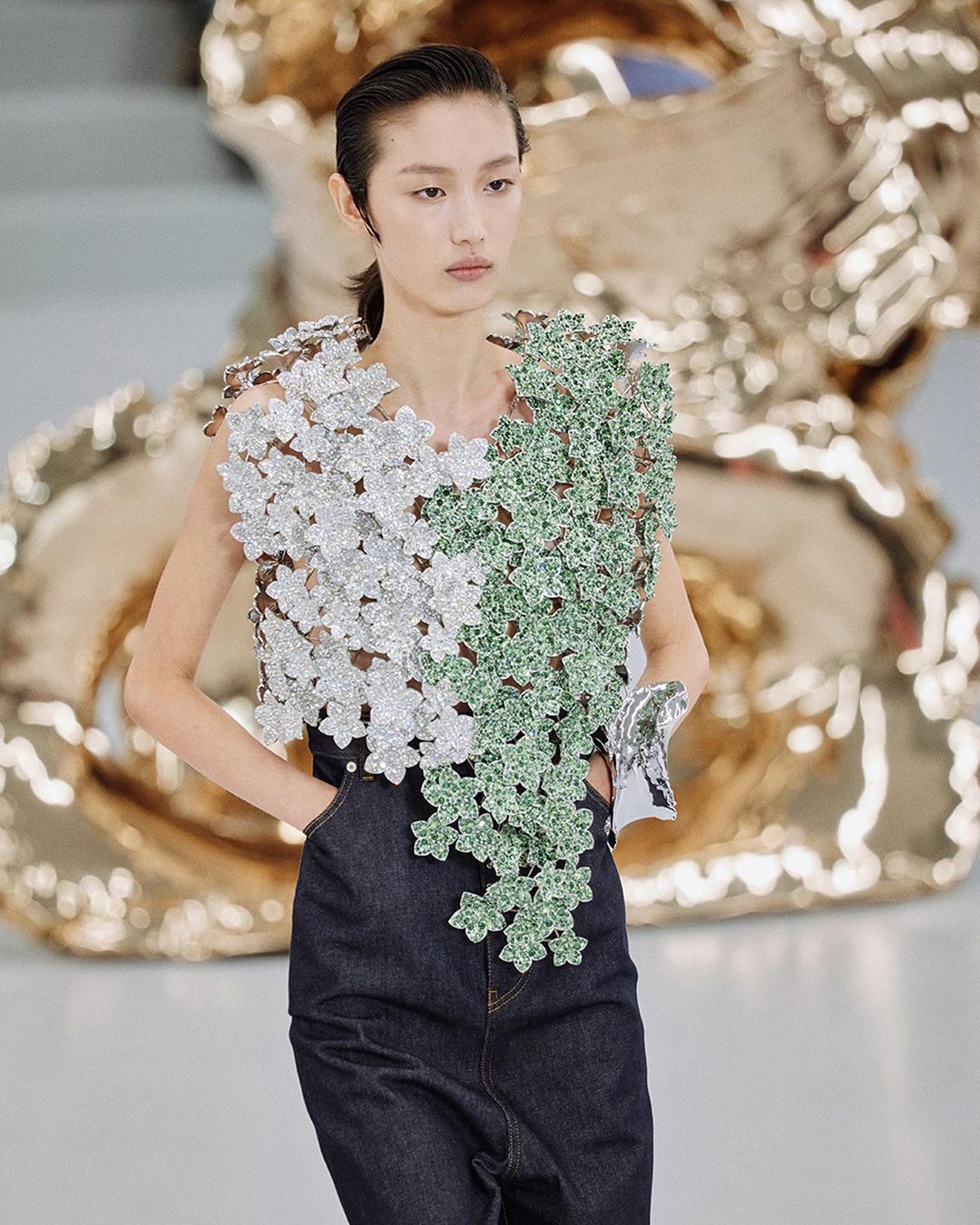 GABRIELA HEARST AND SARAH BURTON TOOK THEIR FINAL LAPS AT CHLOÉ AND ALEXANDER MCQUEEN, RESPECTIVELY.
Gabriela Hearst bid a vibrant farewell to Chloé during the Spring/Summer 2024 show, infusing her South American ranching heritage with the label's romantic French touch. In a joyful celebration that marked the start of Hispanic Heritage Month in Paris, Hearst invited members of Rio de Janeiro's legendary Mangueira samba school to perform on the runway. As she danced with the samba school in a studded bolero jacket and leather skirt, Hearst's departure from Chloé was anything but somber, embodying the spirit of a joyful farewell.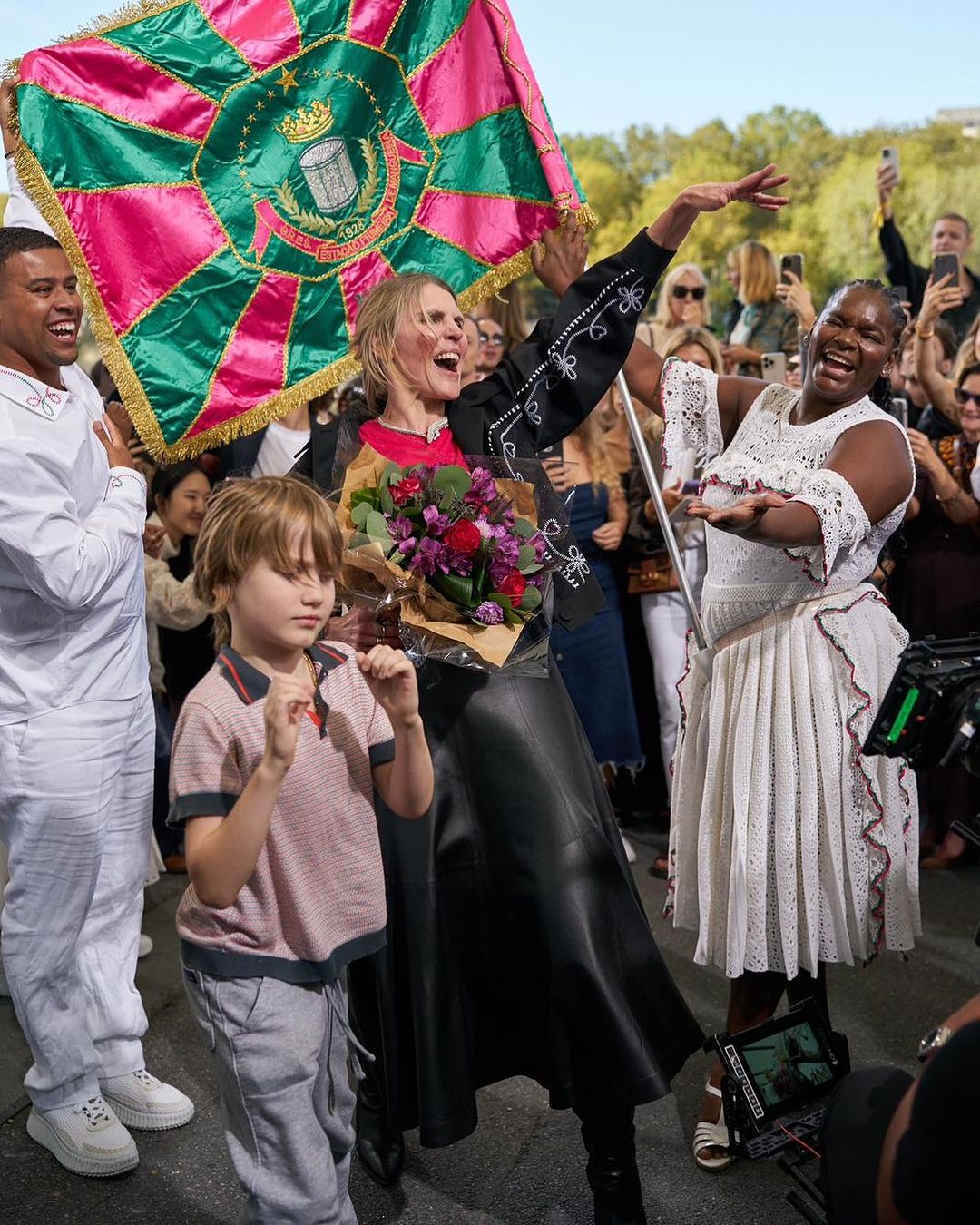 On the other hand, Sarah Burton received a heartwarming farewell as she took her final bow at Alexander McQueen after working for the brand for 26 years, 13 of which were spent at its helm. The collection showcased Burton's finest design concepts, emphasizing intricately detailed surfaces, avant-garde silhouettes, and bold uniforms for empowered women. The finale featured Naomi Campbell in a shimmering, armor-like fringe dress that was both powerful and feminine, capturing the essence of the modern McQueen woman. As Burton bid farewell to the brand, there wasn't a single dry eye in the room.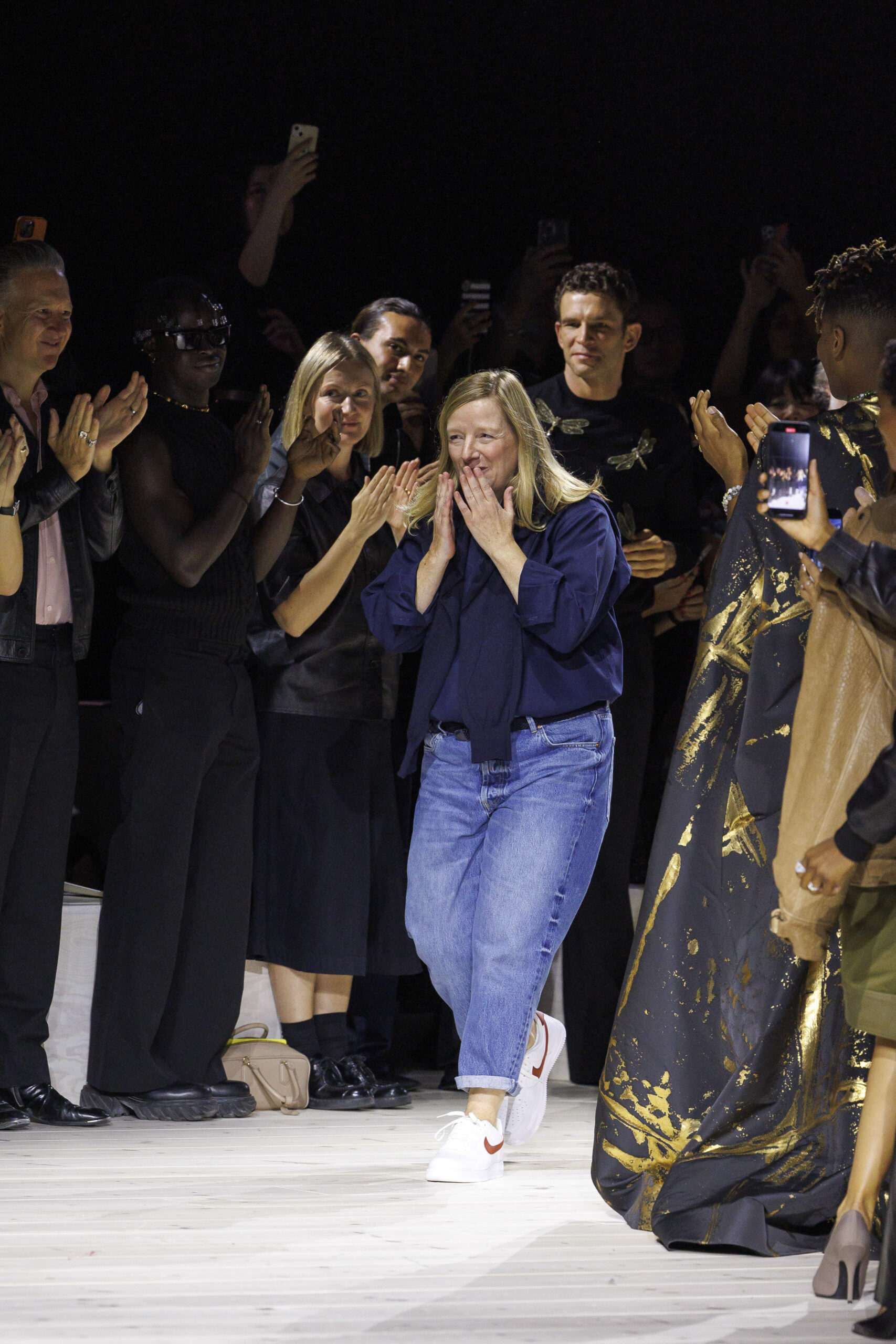 A SPRINGTIME FANTASY UNFOLDED AT HERMÈS.
The perfect spring day dawned on the Hermès Spring/Summer 2024 show, where the runway turned into a makeshift meadow complete with tall golden grass on either side. Models paraded Nadège Vanhee-Cybulsk latest designs featuring a monochrome palette, including pearly whites, chocolate browns, vibrant scarlet reds, and maroon. The collection showcased effortless shorts, perforated leather pieces, elegant wrap skirts, supple knits, and considerate spring tailoring, all echoing the timeless and sophisticated Hermès aesthetic.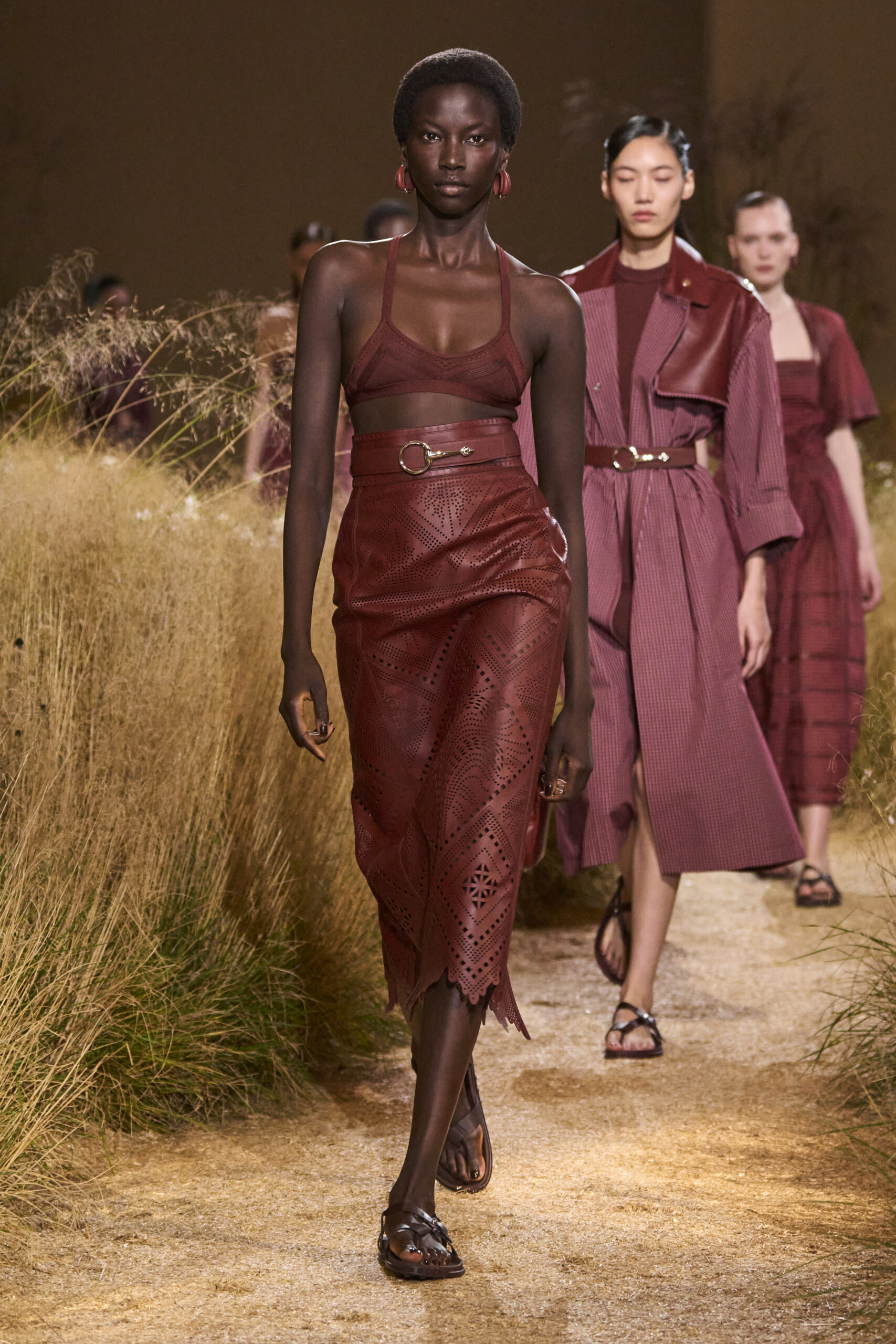 A SPECIAL CAST WALKED THE BALENCIAGA RUNWAY.
Demna's Balenciaga Spring/Summer 2024 show was a heartfelt tribute to the people who have influenced him in his fashion journey. The unexpected cast of models included his own mother, makeup artist Inge Grognard, and fashion critic Cathy Horyn, among others. Demna's collection challenged the idea of luxury and delved into the concept of identity through fashion, emphasizing that clothes are symbolic of the roles we play in life. The show featured upcycled pieces and one-of-a-kind creations, underlining Demna's commitment to staying true to his unique aesthetic and not conforming to conventional standards of beauty and luxury.
FKA TWIGS TOOK THE STAGE AT VALENTINO.
For his Spring/Summer 2024 show, ' L'Ecole,' Pierpaolo Piccioli transformed L'École des Beaux-Arts in Paris into his fashion school. The show featured a monochromatic palette of pearly whites, neutrals, and iconic Valentino red, all set to a soundtrack by FKA Twigs, who performed during the event. The collection of sculptural dresses, strong-shouldered suits, boxy T-shirts, and majestic gowns was opened by Kaia Gerber while a possé of celebrities, including Florence Pugh, Simone Ashley, Andrew Garfield, Kris Jenner, Salma Abu Deif, Sonam Kapoor, and Cher, sat in the front rows.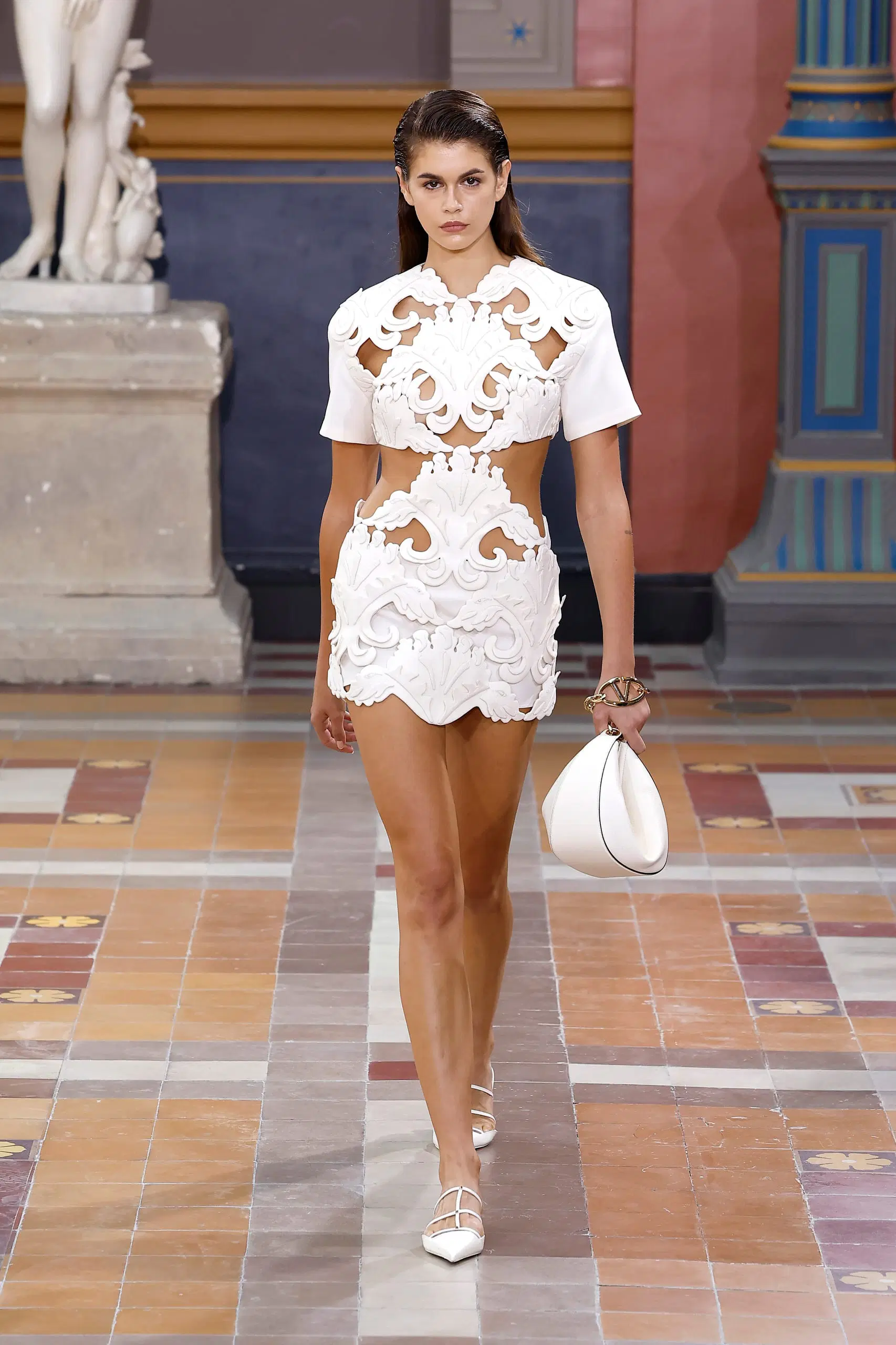 LOUIS VUITTON IMAGINED A FREE-SPIRITED SUMMER.
Louis Vuitton's Spring/Summer 2024 collection, designed by Nicolas Ghesquière, marries quintessential Parisian fashion with vintage-inspired elements. The show featured striking pieces adorned with graphic stripes and sophisticated motifs, showcasing a blend of tailored ensembles and airy silhouettes. Ghesquière played with layered volumes, incorporating belted styles and rhinestone accessories to add an audacious flair. Movement was a central theme, with swooshing skirts, crisscrossing belts, and leather moto jackets creating an artful and dynamic fashion narrative. The juxtaposition of prints, including vertical and horizontal stripes, along with references to travel, added depth and character to the collection.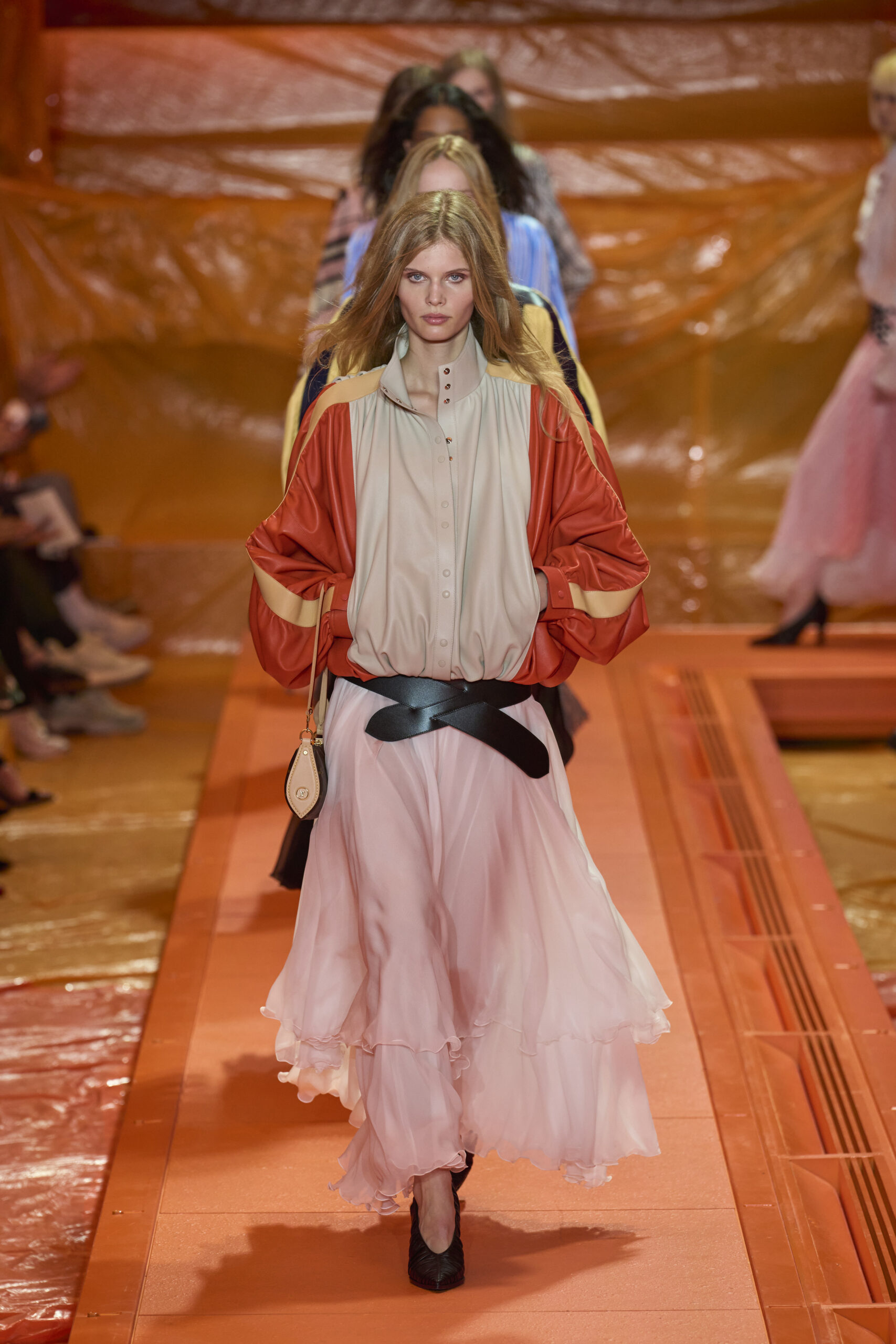 CHANEL GIRLIES DITCHED THEIR SHOES FOR FLIP-FLOPS.
Virginie Viard's Chanel Spring/Summer 2024 collection drew inspiration from the Villa Noailles in the South of France, where Coco Chanel and the villa's renowned resident, Marie-Laure de Noailles, crossed paths in the 1930s. Viard discovered parallels between Chanel's minimalist vision and the early modernist style of the villa. This influence manifested in fuss-free sleek silhouettes, maxi-length garments, and slim trousers crafted from vibrant tweeds and airy fabrics. The most covetable item from the collection came not in the form of a plush leather handbag but sleek black flip-flops stamped with the interlocking 'C' motif.
TROYE SIVAN & GIGI GIGI HADID WALKED FOR MIU MIU.
Miu Miu's Spring/Summer 2024 collection at Paris Fashion Week drew inspiration from the evolving concept of beauty in contemporary times. The show began with a digital presentation of Qatari-American artist Sophia Al-Maria's work, 'Gravity & Grace,' which explored a landscape of technological ruins. The collection featured Miu Miu's signature low-rise miniskirts, cropped blazers, and shirts, along with embellishments that embraced a more relaxed and less refined aesthetic. The star-studded front row included celebrities like Sydney Sweeney, Paris Hilton, and more, while the runway showcased a diverse cast like Gigi Hadid, Troye Sivan, and Cailee Spaeny. The show took place at Paris' Palais d'Iena, a vibrant art museum, and highlighted a resort-led approach with a playful and laid-back take on low-rise layering.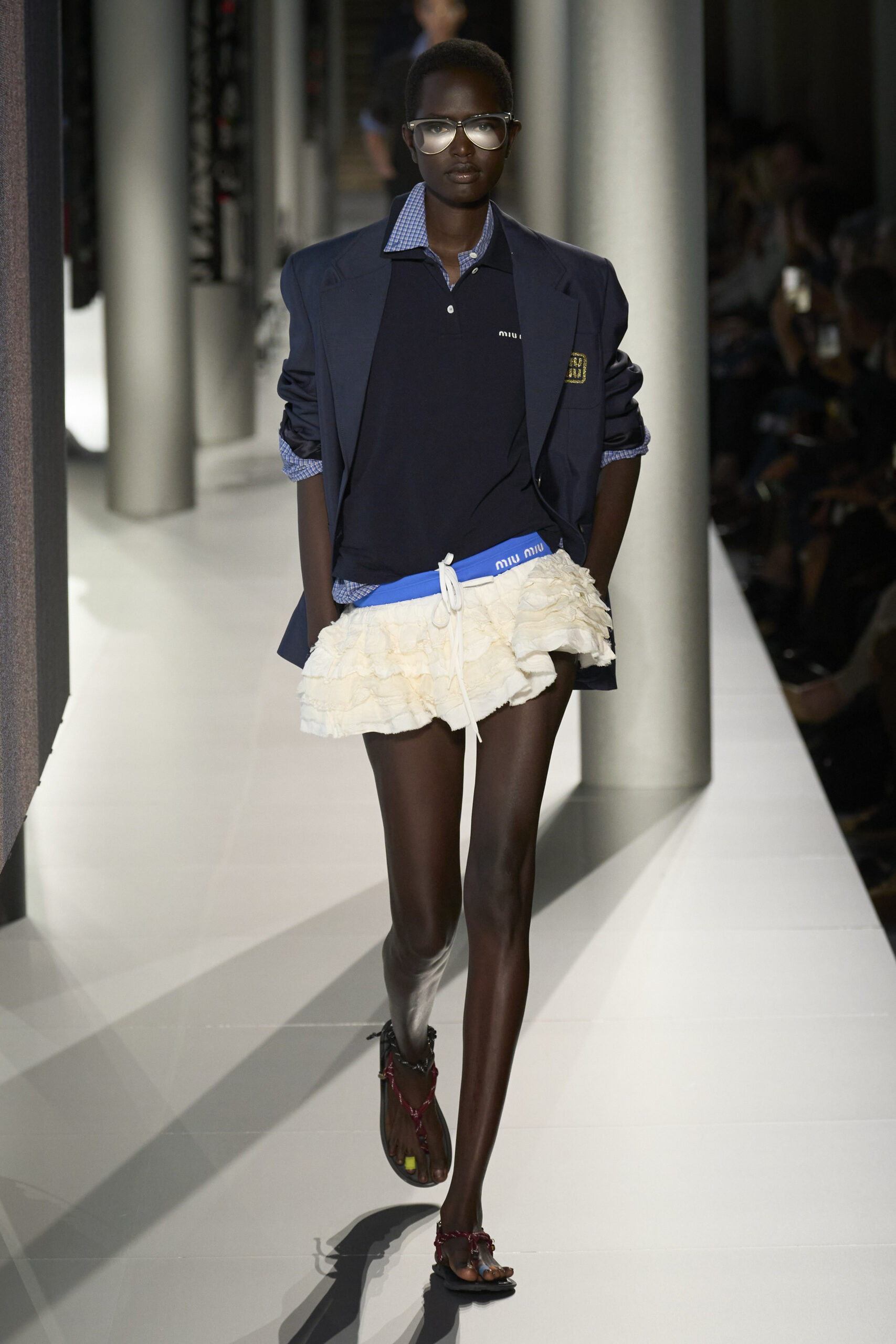 ALSO READ: #BUROWANTS: VALENTINO GARAVANI'S STUNNING VLOGO MOON BAG FROM THIS WEEK'S WISHLIST.