In the world of footwear, Christian Louboutin stands out as an undisputed hero. The legendary designer is recognized the world over for his iconic red-soled shoes that have adorned the feet of fashion icons and celebrities for decades. Now, this celebrated designer is embarking on a new kind of heroic journey, one that transcends the realms of fashion and transports him into the exhilarating universe of Marvel superheroes –his iconic reds in tow.
In an exciting collaboration that absolutely no one saw coming, Louboutin has joined forces with Marvel to mark Disney's 100th anniversary with a collection that has both fashion and comic fans buzzing with anticipation. As a designer who has made countless women and men feel like superstars with every step they take, it's only fitting that Christian Louboutin himself is being imagined as a Marvel superhero, breathing life into a collaboration that unites the elegance of shoemaking with the power-packed narratives of Marvel's iconic characters.
Louboutin's deep-rooted friendship with Disney goes back over 25 years, when the designer created several shoe styles for 101 Dalmatians. In 2012, Louboutin was tasked with reinventing the Cinderella shoe. Now, the long-standing friendship between the powerhouses of fashion and fantasy has blossomed into a collection of masterpieces.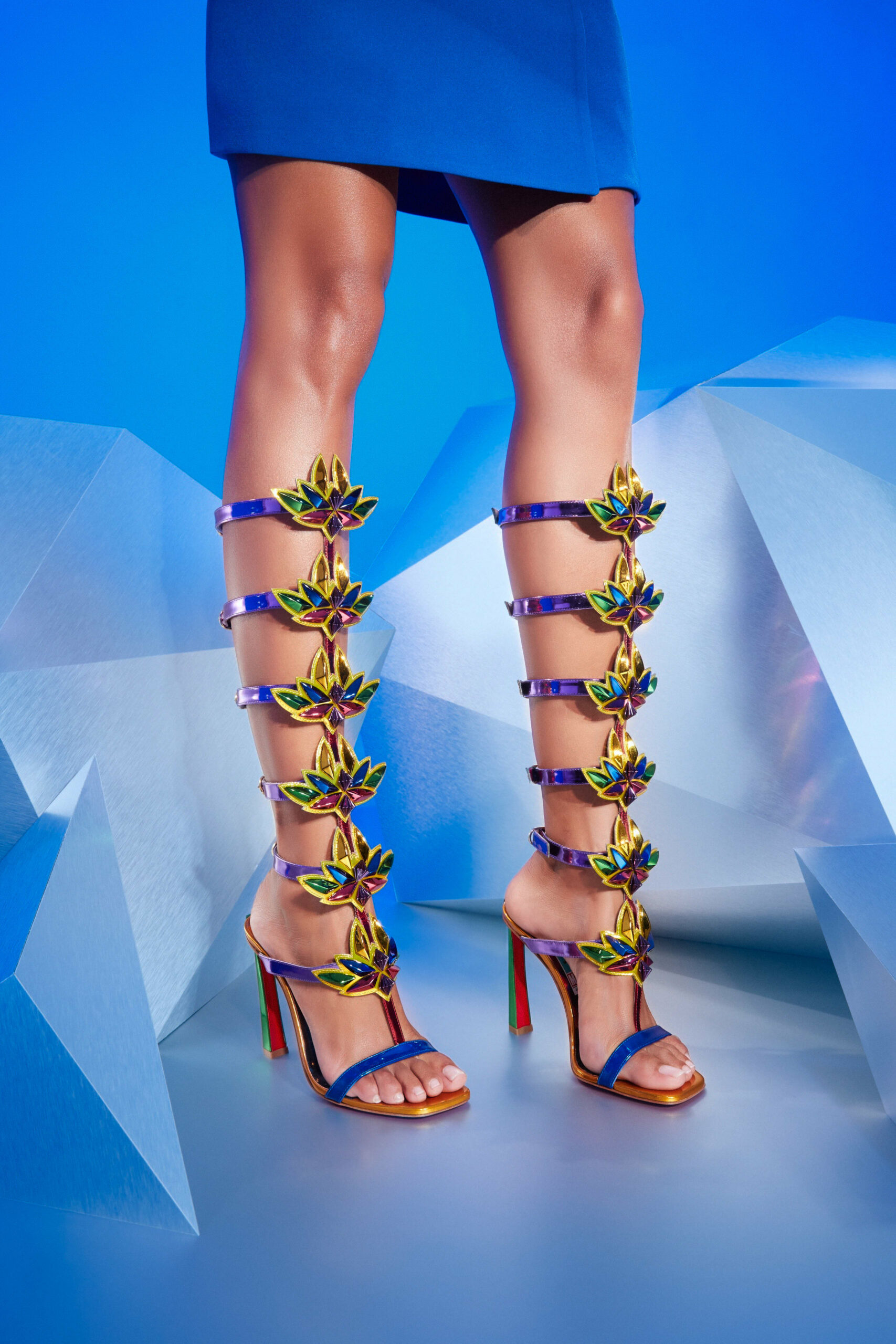 The limited-edition Louboutin x Marvel collection weaves Louboutin's craftsmanship with the spellbinding narratives of Marvel. Inspired by three distinct Marvel elements, this collection envisions Thanos' sought-after infinity stones in the form of shoe embellishments, artfully embedded with strass into heels for both men and women. Then there's Namor, Marvel's trailblazing character who first graced the pages of their comics. His influence is evident in the exclusive 'Spikes Namor' fish scale, paying homage to Namor's underwater realm. The enigmatic black and silver suit of Moon Knight, another beloved Marvel character, also inspires footwear as a part of the collection.
But what truly sets the Louboutin x Marvel collection apart is the introduction of Christian Louboutin himself as a superhero in the Marvel Universe. This groundbreaking move stems from Louboutin's lifelong admiration for Marvel, his genuine love for superheroes, and his vibrant creativity, all channeled through the unique storytelling prowess of Marvel's comic books.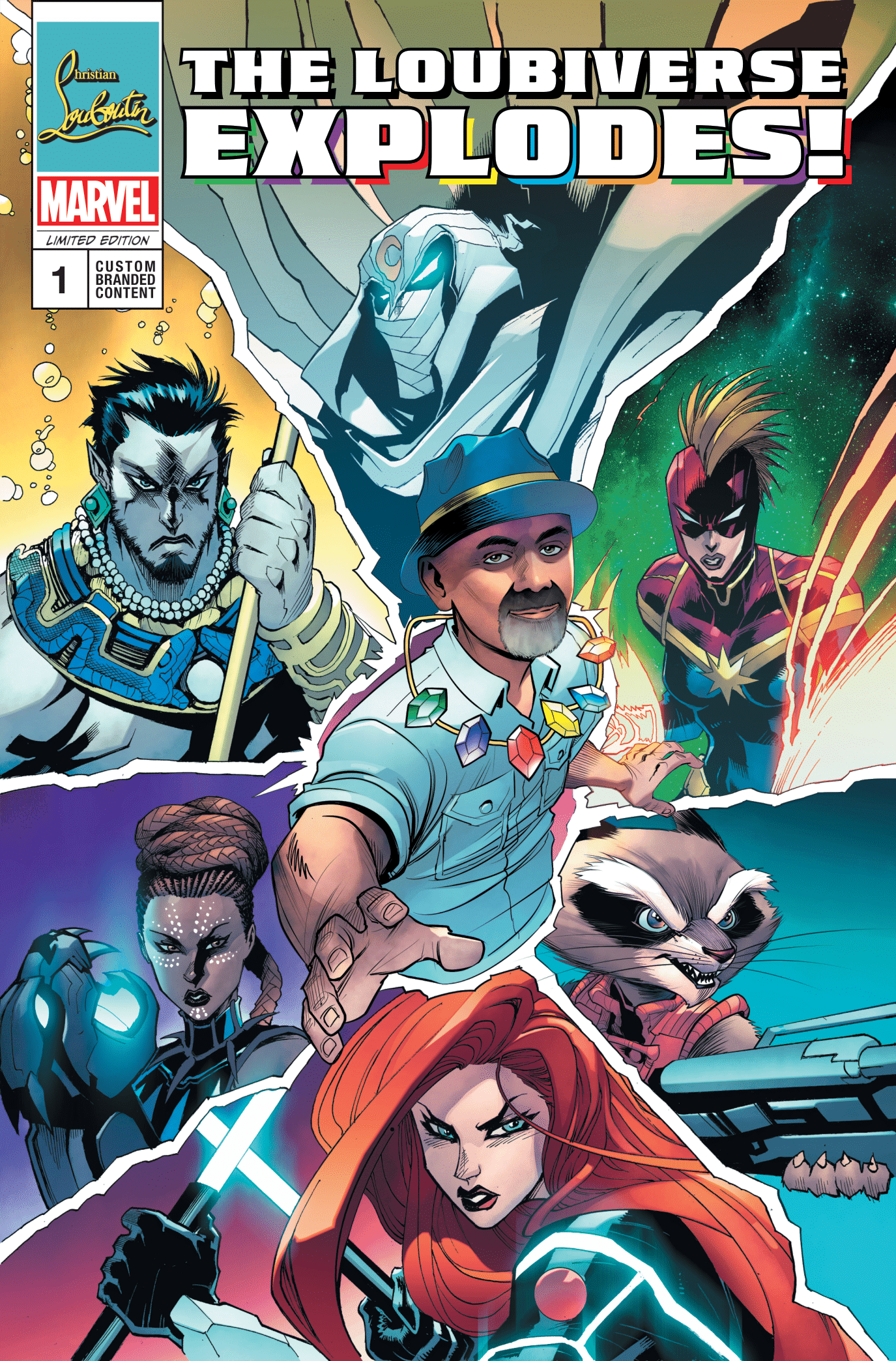 Speaking of the collection, Christian Louboutin said, "Becoming a Super Hero was breaking new ground. Who never dreamed of becoming a superhero, really? And I'm lucky enough to be turning into one with none other than Marvel! I really like the fact that they didn't try to picture me as a strong and muscular character but went deeper in the understanding of my universe. They went into the power of creativity and imagination: Someone who makes individuals dream and empowers them. When one manages to make people dream and inspire passion in them, it's as much a superpower as it is an honor."
The Infinity Stones play a pivotal role in the special-edition comic book that follows a quest led by an Egyptian archaeologist superhero –a character inspired by the designer and his North African heritage.Set against the backdrop of Egypt, this comic book adventure not only brings to life the Louboutin x Marvel collection but also features a slew of Marvel characters, including Black Widow, Shuri, the Guardians of the Galaxy, and the Avengers.
The extraordinary Louboutin x Marvel limited-edition capsule collection urges us to stretch the wings of our imagination and take flight into a mythical realm where fashion and fantasy unexpectedly yet beautifully collide.
ALSO READ: DISCOVER YOUR BOLD BLING: HERE'S WHERE TO BUY THE BEST STATEMENT JEWELRY.