Front rows at fashion week shows are a painstakingly assembled mix of celebrities, editors and influencers alike. Photographed almost as much as the runway itself, the front row (or FROW as it's affectionately known) is a key part of any show and whilst plenty of brands have had top notch FROWs, British designer Richard Quinn has undoubtedly won the month with his.
Last night, Her Majesty Queen Elizabeth II made her first ever appearance at London Fashion Week to take in Quinn's show. Much to the glee of those at the show (and their followers on Instagram), the Queen was seated next to Anna Wintour giving fans a double dose of royalty.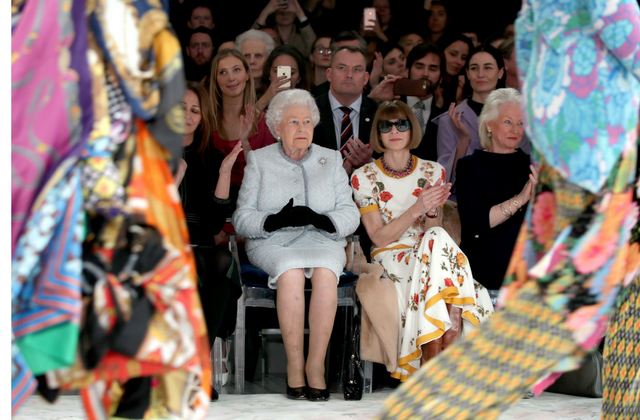 The monarch was also seated next to Caroline Rush, the CEO of the British Fashion Council (who has teamed up with the Arab Fashion Council to develop the first Arab Fashion Week in Saudi Arabia). Speaking with WWD, Rush said that Her Majesty's presence was the culmination of a continued relatonship with Buckingham palace to "highlight the UK's global position for fashion talent but also to set the bar for future talent and consider their impact in the industry, society and communities."
Her Majesty was also present to award Quinn the first ever Queen Elizabeth II Award for British Design which recognises the work of designers that are actively and positively contributing to society through their work. The monarch (who was wearing a blue tweed suit by Angela Kelly) was cheered as she stepped onto the catwalk at the show's end to officially present the award. Quinn launched his eponymous studio in 2016 after graduating from Central Saint Martins and has since established a printing studio, not only for his own line, but that is open for use by other brands also.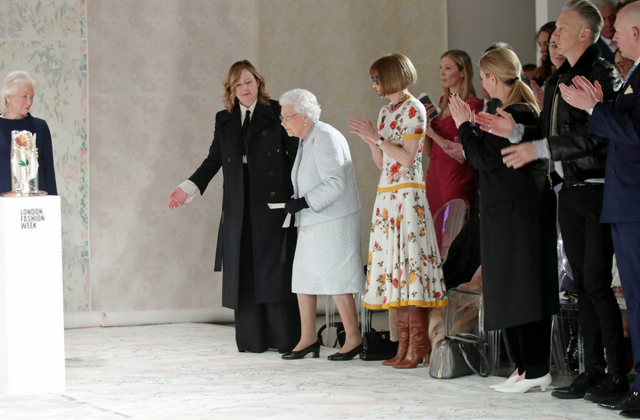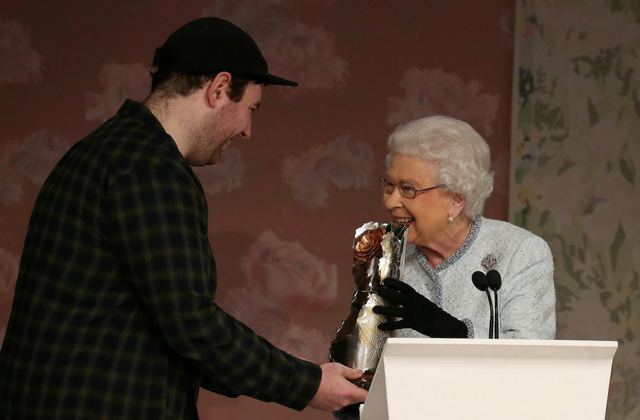 The Queen's visit was a complete secret (Quinn himself found out only a few days before and was sworn to secrecy, says WWD) with the world unaware of her attendance until the moment she arrived.
A royally good fashion moment indeed.
Now, see how Kate Middleton celebrated fashion at Buckingham Palace this week.