Ranked as one of the most popular brands online, Prada is known for its futuristic designs, ultra-feminine aesthetic and modern approach to womenswear collections. Now, the Italian maison has announced a new travelling retail project that will make it a little easier to get your hands on some of its exclusive collections.
The new concept, titled Prada Silver Line, offers consumers a collection of handbags and accessorie, exclusive to the city it is in at the time. Set to make several stops in Asia, Europe and the US, the Prada Silver Line — which is reminiscent of the American Streamliners of the '30s and '50s — will also make one stop in the Middle East next month.
Made with an interior that features floral-patterned red silk brocade covering the walls to represent the brand's luxurious and romantic codes, the platform perfectly embodies the full experience of boarding a train with life-size Prada Robots pushing luggage trolleys and a ticket kiosk that turns into a concierge which will help organise visits to the pop-up store and deliver purchases.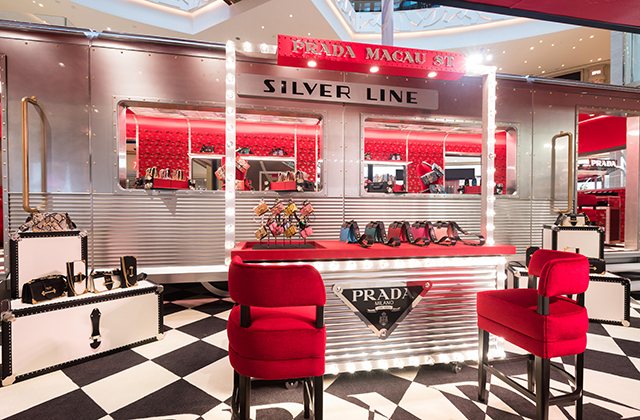 Prada Silver Line has already made its debut in Macau and is set to make its next stop in Dubai by mid-February (stay tuned!). In other fashion news, discover why Miroslava Duma presented the inaugural Innovation Award at the 2018 International Woolmark Prize to US label DYNE.