We can't actually believe it's all come to an end. Paris Fashion Week, we bid you adieu. But before we officially retire from the runway (for now) we have the last of the collections to unpack. And naturally, the best were strategically placed towards the finish line, to keep us on our toes.
Here are the collections that blew up the internet last night…
Chanel
What you need to know: Well, it was without a doubt the most important and seminal show of the decade. With Karl Lagerfeld's passing last month, everyone knew the Chanel show would make fashion history. And it did. The collection was showcased in a makeshift peaceful mountain village prefaced by #ChanelintheSnow. The first exit was made by Chanel muse and model Cara Delevingne who sported a magnificent black and white houndstooth ensemble. Following her lead were a charge of looks between fuschia pink, all-white tailored numbers and mountain-chic cardigans. And in case you missed it, Penelope Cruz finished the show in a snow-ball skirt, carrying a white rose. As is always the case for Chanel, the collection displayed a balance of feminine and masculine accents with the finest attention to detail, bringing a couture quality to every look. Brava King Karl. And now, we await the brilliance of Virginie Viard for the next season.
Miu Miu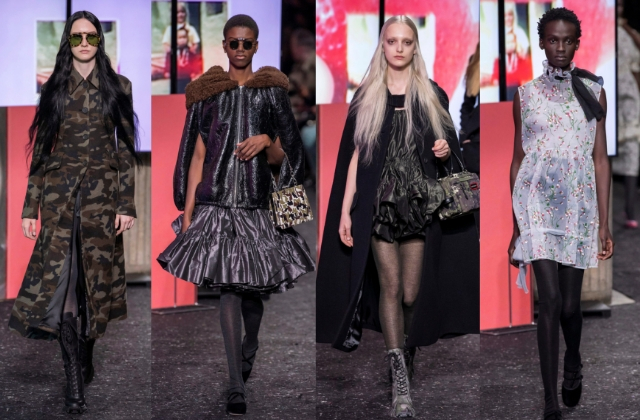 What you need to know: So, Miuccia Prada included a lot of camouflage and capes in the F/W'19 collection. This makes sense as the designer's aim was to take us through a journey against a dystopian wasteland – she said backstage, "The camouflage was a symbol of rebellion and connecting to nature." With that apocalyptic vibe, some looks saw chunky boots paired loose dresses giving a 'ready to battle' aesthetic. The show's set played to the sensory overload motif with a cacophony of visuals going on all at once including jumbled photos, short video clips on TVs and LED screens featuring grainy childhood photos, to glamour shots of Dolly Parton. It was militant glamour rolled into one…
Lacoste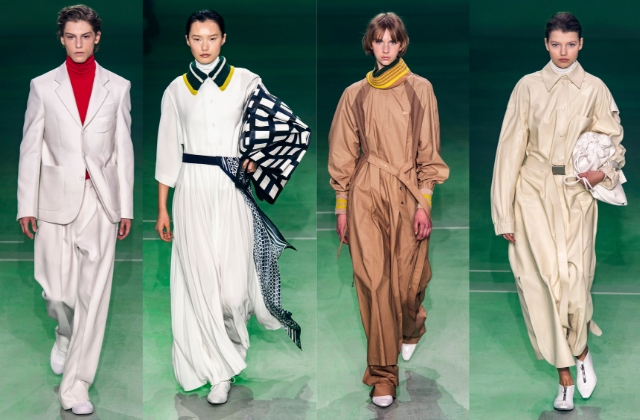 What you need to know: Cool, modern and coed come to mind when reviewing Lacoste's F/W'19 direction. The sports luxe label is always going to draw on the urban for inspiration but there was something that much more elegant about this collection. For a start, Lacoste definitely got the beige/camel memo – most looks had a distinct swathe, as well as turtlenecks. Amidst that, there were graphic colours thrown in unexpectedly on lining and cuffs for a shouty effect. But what we loved the most were the classic 'tennis whites' ­- so clean, crisp and still, sartorially sound.
Louis Vuitton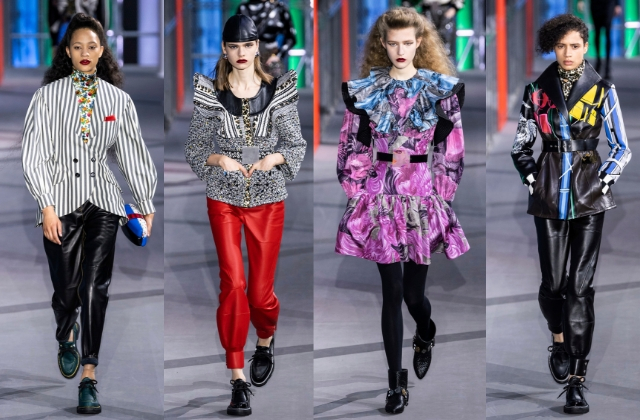 What you need to know: If this collection were assigned a decade, it would be the 1980s without question. Closing out the season, Louis Vuitton's Nicolas Ghesquière definitely left a lasting impression. The idea behind the collection was to create tribes ­- the headgear definitely alluded to that. The models made their way down a metal scaffolding flanked runway in punky metal embellishments, leather skullcaps, mesh prints and clashing textures.
Now, see some double Duchess sartorial action at an event for Prince Charles.